Abstract
Adulteration of tea tree (Melaleuca alternifolia) oil with cheaper essential oils—such as eucalyptus oil—is a major threat to the Australian tea tree oil industry. Near-infrared spectroscopy may offer a rapid, cheap and non-destructive method of assessing adulteration levels in tea tree oil. In this study, near-infrared (NIR) spectra were collected through PCR tubes containing tea tree oil samples with varying concentrations of eucalyptus oil adulterant. Partial least squares regression was able to predict the level of adulteration in the tea tree oil samples with moderate accuracy (R2pred of 0.97 and RMSEP of 5.9% v/v). Furthermore, PLS-DA could discriminate between tea tree oil samples with a high level of adulteration (> 10% eucalyptus oil) and low or no adulteration (0–5% eucalyptus oil) with 93% accuracy for cross-validation and 100% accuracy in the dependent test set. This supports the use of through-container NIRS as a potential quality control method for detecting adulteration of pure tea tree oil samples.
Graphical abstract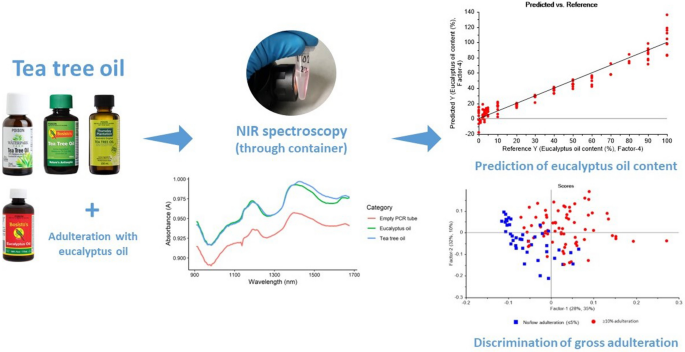 This is a preview of subscription content,
to check access.
Access this article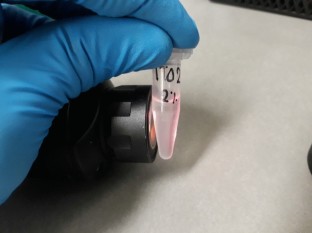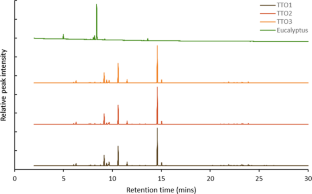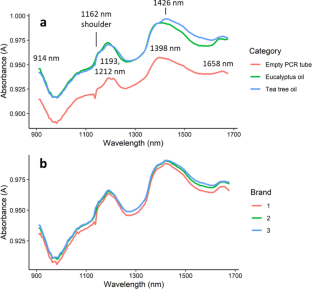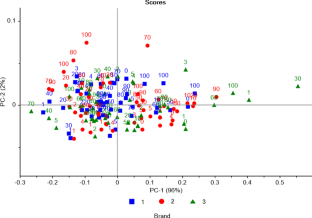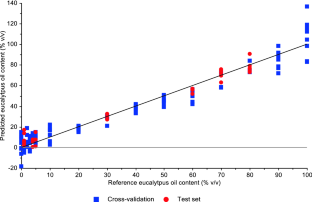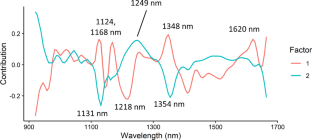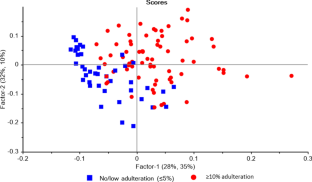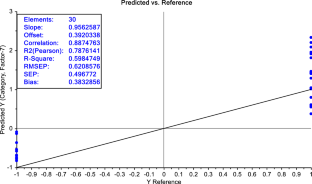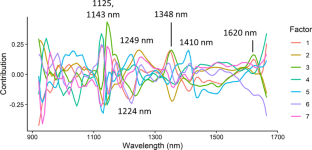 Similar content being viewed by others
References
ATTIA (2017) Adulteration. Australian Tea Tree Industry Association. https://teatree.org.au/teatree_about_quality.php. Accessed 17 Sep 2021

Bejar E (2017) Adulteration of tea tree oil (Melaleuca alternifolia and M. linariifolia). Bot Adulterants Prev Bull, 1–8

Basri KN et al (2018) FT-NIR, MicroNIR and LED-MicroNIR for detection of adulteration in palm oil via PLS and LDA. Anal Methods 10:4143–4151. https://doi.org/10.1039/C8AY01239C

Cozzolino D (2014) An overview of the use of infrared spectroscopy and chemometrics in authenticity and traceability of cereals. Food Res Int 60:262–265. https://doi.org/10.1016/j.foodres.2013.08.034

Callander JT, James PJ (2012) Insecticidal and repellent effects of tea tree (Melaleuca alternifolia) oil against Lucilia cuprina. Vet Parasitol 184:271–278. https://doi.org/10.1016/j.vetpar.2011.08.017

Cozzolino D, Phan ADT, Aker S, Smyth HE, Sultanbawa Y (2021) Can infrared spectroscopy detect adulteration of kakadu plum (Terminalia ferdinandiana) dry powder with synthetic ascorbic acid? Food Anal Methods 14:1936–1942. https://doi.org/10.1007/s12161-021-02031-2

de Groot AC, Schmidt E (2016) Tea tree oil: contact allergy and chemical composition. Contact Dermat 75:129–143. https://doi.org/10.1111/cod.12591

Dillmann JB et al (2020) Adulticidal activity of Melaleuca alternifolia (Myrtales: Myrtaceae) essential oil with high 1,8-Cineole content against stable flies (Diptera: Muscidae). J Econ Entomol 113:1810–1815. https://doi.org/10.1093/jee/toaa117

Dubnicka M, Cromwell B, Levine M (2020) Investigation of the adulteration of essential oils by GC-MS. Curr Anal Chem 16:965–969. https://doi.org/10.2174/1573411015666191127093710

Esteki M, Shahsavari Z, Simal-Gandara J (2018) Use of spectroscopic methods in combination with linear discriminant analysis for authentication of food products. Food Control 91:100–112. https://doi.org/10.1016/j.foodcont.2018.03.031

Gallart-Mateu D, Largo-Arango CD, Larkman T, Garrigues S, de la Guardia M (2018) Fast authentication of tea tree oil through spectroscopy. Talanta 189:404–410. https://doi.org/10.1016/j.talanta.2018.07.023

He Y, Bai X, Xiao Q, Liu F, Zhou L, Zhang C (2021) Detection of adulteration in food based on nondestructive analysis techniques: a review. Crit Rev Food Sci Nutr 61:2351–2371. https://doi.org/10.1080/10408398.2020.1777526

Johnson JB, Mani JS, Naiker M (2021) Infrared spectroscopy for the quality assessment of habanero chilli: a proof-of-concept study. Eng Proc 8:19. https://doi.org/10.3390/engproc2021008019

Johnson JB, Thani PR, Mani JS, Cozzolino D, Naiker M (2022) Mid-infrared spectroscopy for the rapid quantification of eucalyptus oil adulteration in Australian tea tree oil (Melaleuca alternifolia). Spectrochim Acta A Mol Biomol Spectrosc 283:121766. https://doi.org/10.1016/j.saa.2022.121766

Kennard RW, Stone LA (1969) Computer aided design of experiments. Technometrics 11:137–148

Messager S, Hammer KA, Carson CF, Riley TV (2005) Assessment of the antibacterial activity of tea tree oil using the European EN 1276 and EN 12054 standard suspension tests. J Hosp Infect 59:113–125. https://doi.org/10.1016/j.jhin.2004.07.015

Plant Health Australia (2020) Tea tree - Industry overview. https://www.planthealthaustralia.com.au/industries/tea-tree/. Accessed 17 Sep 2021

Piovan A, Caniato R, Brun P, Dalla Costa V, Filippini R (2021) Rapid and feasible TLC screening of tea tree oil commercial samples. J Pharmacogn Phytochem 10:175–180. https://doi.org/10.22271/phyto.2021.v10.i1c.13304

Souza CF, Baldissera MD, Silva LdL, Geihs MA, Baldisserotto B (2018) Is monoterpene terpinen-4-ol the compound responsible for the anesthetic and antioxidant activity of Melaleuca alternifolia essential oil (tea tree oil) in silver catfish? Aquaculture 486:217–223. https://doi.org/10.1016/j.aquaculture.2017.12.025

Tankeu S, Vermaak I, Kamatou G, Viljoen A (2014) Vibrational spectroscopy as a rapid quality control method for Melaleuca alternifolia Cheel (tea tree oil). Phytochem Anal 25:81–88. https://doi.org/10.1002/pca.2470

Valand R, Tanna S, Lawson G, Bengtström L (2020) A review of Fourier transform infrared (FTIR) spectroscopy used in food adulteration and authenticity investigations. Food Addit Contam A 37:19–38. https://doi.org/10.1080/19440049.2019.1675909

Westad F, Schmidt A, Kermit M (2008) Incorporating chemical band-assignment in near infrared spectroscopy regression models. J near Infrared Spectrosc 16:265–273. https://doi.org/10.1255/jnirs.786

Wang M, Zhao J, Avula B, Wang Y-H, Chittiboyina AG, Parcher JF, Khan IA (2015) Quality evaluation of terpinen-4-ol-type Australian tea tree oils and commercial products: an integrated approach using conventional and chiral GC/MS combined with chemometrics. J Agric Food Chem 63:2674–2682. https://doi.org/10.1021/acs.jafc.5b00147

Wohlmuth H, Dowell A, Russell M (2017) Adulteration of tea tree oil in Australia and overseas. Aust J Herb Med 29:6

Wong YF, Davies NW, Chin S-T, Larkman T, Marriott PJ (2015) Enantiomeric distribution of selected terpenes for authenticity assessment of Australian Melaleuca alternifolia oil. Ind Crops Prod 67:475–483. https://doi.org/10.1016/j.indcrop.2015.01.066

Yu D, Wang J, Shao X, Xu F, Wang H (2015) Antifungal modes of action of tea tree oil and its two characteristic components against Botrytis cinerea. J Appl Microbiol 119:1253–1262. https://doi.org/10.1111/jam.12939
Acknowledgements
The authors thank TerryWhite Chemmart Rockhampton Central for supplying the tea tree oil samples.
Funding
This work was supported by a New Staff Grant (RSH/5343) awarded by Central Queensland University to one of the authors (MN).
Ethics declarations
Conflict of interest
The authors have no conflicts of interest to declare.
Additional information
Publisher's Note
Springer Nature remains neutral with regard to jurisdictional claims in published maps and institutional affiliations.
Rights and permissions
Springer Nature or its licensor (e.g. a society or other partner) holds exclusive rights to this article under a publishing agreement with the author(s) or other rightsholder(s); author self-archiving of the accepted manuscript version of this article is solely governed by the terms of such publishing agreement and applicable law.
About this article
Cite this article
Johnson, J.B., Thani, P.R. & Naiker, M. Through-container detection of tea tree oil adulteration using near-infrared spectroscopy (NIRS). Chem. Pap. 77, 2009–2017 (2023). https://doi.org/10.1007/s11696-022-02603-4
Received:

Accepted:

Published:

Issue Date:

DOI: https://doi.org/10.1007/s11696-022-02603-4
Keywords