Abstract
CuCo2O4 nanoparticle has been synthesized, characterized and firstly used as solid-phase extractant for the dispersive solid-phase extraction of Pb(II) in the presented work. The important parameters like pH of the working media, type of eluent solution and its volume, adsorbent amount, adsorption–desorption contact times, sample volume have been optimized. Lead (II) ions were quantitatively recovered on CuCo2O4 nanoparticle at pH 6.0 with 10 mg of adsorbent and eluted by using 2 mL of 1 M HCl. The influences of some cations and anions on the recoveries were also investigated. While the preconcentration factor was 25, the limit of detection was calculated as 6.5 µg/L. The method was checked by applying the method to certified reference material (TMDA-53.3). The method was successfully applied to various food, cigarette and water samples.
Access options
Buy single article
Instant access to the full article PDF.
US$ 39.95
Tax calculation will be finalised during checkout.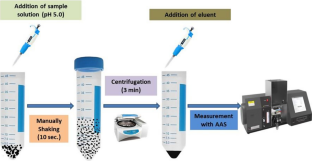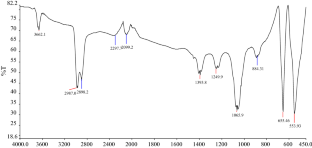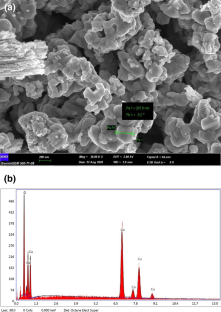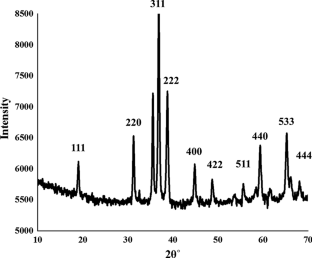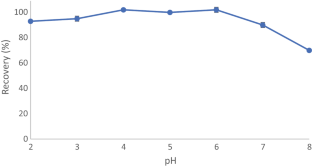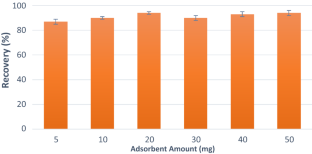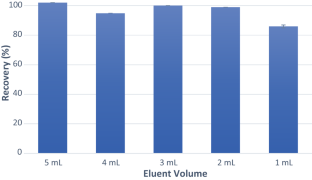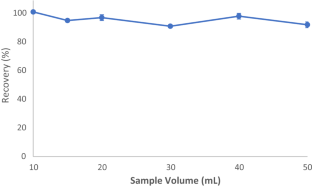 References
Adugna E, Hymete A, Birhanu G, Ashenef A (2020) Determination of some heavy metals in honey from different regions of Ethiopia. Cogent Food Agric 6:1764182

Akhtar A, Kazi TG, Afridi HI et al (2020) Simultaneous preconcentration of toxic elements in eye makeup products through single drop ionic liquid based non-dispersive microextraction method using narrow glass column: multivariate application. Microchem J 157:104963

Altunay N, Katin KP (2020) Ultrasonic-assisted supramolecular solvent liquid-liquid microextraction for determination of manganese and zinc at trace levels in vegetables: experimental and theoretical studies. J Mol Liq 310:113192

Azzouz A, Kailasa SK, Lee SS et al (2018) Review of nanomaterials as sorbents in solid-phase extraction for environmental samples. TrAC: Trends Anal Chem 108:347–369

Baghban N, Yilmaz E, Soylak M (2017) Nanodiamond/MoS2 nanorod composite as a novel sorbent for fast and effective vortex-assisted micro solid phase extraction of lead(II) and copper(II) for their flame atomic absorption spectrometric detection. J Mol Liq 234:260–267

Bikkarolla SK, Papakonstantinou P (2015) CuCo2O4 nanoparticles on nitrogenated graphene as highly efficient oxygen evolution catalyst. J Power Sources 281:243–251

BoopathiRaja R, Parthibavarman M, Nishara Begum A (2019) Hydrothermal induced novel CuCo2O4 electrode for high performance supercapacitor applications. Vacuum 165:96–104

Das AK, Kim NH, Lee SH et al (2018) Facile synthesis of CuCo2O4 composite octahedrons for high performance supercapacitor application. Compos Part B Eng 150:269–276

Duran A, Tuzen M, Soylak M (2012) Trace metal concentrations in cigarette brands commonly available in Turkey: relation with human health. Toxicol Environ Chem 94:1893–1901

Kenduzler E, Dinc MD, Trak D et al (2020) Separation/preconcentration and determination of Lead(II) in drinking, spring and lake water samples. J Anal Chem 75:1264–1269

El-Shahawi MS, Alsibaai AA, Bashammakh AS et al (2021) A highly sensitive electrochemical probe for trace determination and chemical speciation of lead in water and foodstuffs using Thorin-I as a selective chelating agent. Chem Pap 75:2395–2406

Fahimirad B, Asghari A, Rajabi M (2017) Magnetic graphitic carbon nitride nanoparticles covalently modified with an ethylenediamine for dispersive solid-phase extraction of lead(II) and cadmium(II) prior to their quantitation by FAAS. Microchim Acta 184:3027–3035

Ghaedi M, Niknam K, Kokhdan SN, Soylak M (2013) Combination of flotation and flame atomic absorption spectrometry for determination, preconcentration and separation of trace amounts of metal ions in biological samples. Human Exp Toxicol 32:504–512

Ghaedi M, Mokhtari P, Montazerozohori M et al (2014) Multiwalled carbon nanotube impregnated with bis(5-bromosalicylidene)-1,3-propandiamine for enrichment of Pb2+ ion. J Ind Eng Chem 20:638–643

Gouda AA, Subaihi A, El Hay SSA (2019) Green Supramolecular solvent-based liquid-phase microextraction method for spectrophotometric determination of aluminum in food, water, hair and urine samples. Curr Anal Chem 16:641–651

Gugushe AS, Mpupa A, Nomngongo PN (2019) Ultrasound-assisted magnetic solid phase extraction of lead and thallium in complex environmental samples using magnetic multi-walled carbon nanotubes/zeolite nanocomposite. Microchem J 149:103960

Islek Coskun Y (2020) Biosorption of copper by a natural byproduct material: pressed black cumin cakes. Anal Lett 53:1247–1265

Kakavandi MG, Behbahani M, Omidi F, Hesam G (2017) Application of ultrasonic assisted-dispersive solid phase extraction based on ion-imprinted polymer nanoparticles for preconcentration and trace determination of lead ions in food and water samples. Food Anal Methods 10:2454–2466

Kanat G, Yeter D (2020) Optimization and reduction of industrial load in a wastewater basin, Desalin. Water Treat 205:316–327

Khan M, Yilmaz E, Soylak M (2016) Vortex assisted magnetic solid phase extraction of lead(II) and cobalt(II) on silica coated magnetic multiwalled carbon nanotubes impregnated with 1-(2-pyridylazo)-2-naphthol. J Mol Liq 224:639–647

Kiris E (2020) Health risk assessment of trace elements in medicinal plants consumed as medicine and food in Rize, Turkey. Fresenius Environ Bull 29:5259–5270

Liang P, Wang F, Hu ZA (2018) Controlled synthesis of ordered sandwich CuCo2O4/reduced graphene oxide composites via layer-by-layer heteroassembly for high-performance supercapacitors. Chem Eng J 350:627–636

Memon NA, Memon FN, Kara HK et al (2020) Selective online solid-phase extraction of copper using p-morpholino-methylcalix[4]arene appended silica-based column. Sep Sci Technol 55:1650–1655

Menghwar P, Yilmaz E, Soylak M (2019) A hybrid material composed of multiwalled carbon nanotubes and MoSe2 nanorods as a sorbent for ultrasound-assisted solid-phase extraction of lead(II) and copper(II). Microchim Acta 186:666

Movaghgharnezhad S, Mirabi A, Toosi MR, Rad AS (2020) Synthesis of cellulose nanofibers functionalized by dithiooxamide for preconcentration and determination of trace amounts of Cd(II) ions in water samples. Cellulose 27:8885–8898

Nakhowong R, Chueachot R (2017) Synthesis and magnetic properties of copper cobaltite (CuCo2O4) fibers by electrospinning. J Alloys Compd 715:390–396

Onel S, Ergin G (2020) Multistep treatment of a complex electrolyte for removal of heavy metal ions and recycling in electrochemical machining. J Manuf Sci Eng 142:074502

Ozcan C, Akozcan S (2020) Determination of Ni, Pb and Cd in drinking fountain water in Kirklareli/Turkey by FAAS after preconcentration on quercetin modified using granular activated carbon. Desalin Water Treat 175:219–228

Pashaei S, Hosseinzadeh A, Mohammadi-Aghdam S, Saadat Y, Hosseinzadeh S (2021) Fabrication and characterization of carboxylated and aminolated multiwalled carbon nanotube/polyethersulfone (PES) membranes for the removal of heavy metals from wastewater. Polym-Plast Tech Mat 60:994–1004

Plotka-Wasylka J, Szczepanska N, de la Guardia M, Namiesnik J (2016) Modern trends in solid phase extraction: new sorbent media. TrAC Trends Anal Chem 77:23–43

Pohl P (2020) A revisited FAAS method for very simple and fast determination of total concentrations of Cu, Fe, Mn and Zn in grape juices with sample preparation developed by modeling experimental design and optimization. Microchem J 157:104998

Pourreza N, Rastegarzadeh S, Larki A (2014) Simultaneous preconcentration of Cd(II), Cu(II) and Pb(II) on Nano-TiO2 modified with 2-mercaptobenzothiazole prior to flame atomic absorption spectrometric determination. J Ind Eng Chem 20:2680–2686

Prasad R, Singh P (2013) Low temperature complete combustion of a lean mixture of LPG emissions over cobaltite catalysts. Catal Sci Technol 3:3223–3233

Saracoglu S, Soylak M, Elci L (2001) Enrichment and separation of traces of cadmium, chromium, lead and manganese ions in urine by using magnesium hydroxide coprecipitation method. Trace Elem Electroly 18:129–133

Saracoglu S, Soylak M, Elci L (2003) The enrichment/separation of Fe Co, Pb, Cd, and Cr on ambersorb 563 prior to their flame atomic absorption spectrometric determinations. J Anal Chem 58:1127–1131

Sarikurkcu C, Sarikurkcu RT, Akata I, Tepe B (2020) Metal concentration and health risk assessment of fifteen wild mushrooms collected from the Ankara university campus (Turkey). Environ Sci Pollut Res 27:32474–32480

Saydan Kanberoglu G, Yilmaz E, Soylak M (2020) Fabrication and characterization of SiO2@Fe3O4@nanodiamonds for vortex-assisted magnetic solid-phase extraction of lead in cigarette samples prior to FAAS detection. J Iran Chem Soc 17:1627–1634

Sereshti H, Duman O, Tunc S et al (2020) Nanosorbent-based solid phase microextraction techniques for the monitoring of emerging organic contaminants in water and wastewater samples. Microchim Acta 187:e00081

Soylak M, Aydin FA, Saracoglu S, Elci L, Dogan M (2002a) Chemical analysis of drinking water samples from Yozgat-Turkey. Pol J Environ Stud 11:151–156

Soylak M, Saracoglu S, Elci L, Dogan M (2002b) Determination of trace amounts of some metal ions after separation/preconcentration with calmagite on amberlite XAD-1180 by atomic absorption spectrometry. Int J Environ Anal Chem 82:225–231

Soylak M, Unsal YE (2011) Double-walled carbon nanotubes as a solid phase extractor for separation-preconcentration of traces of gold from geological and water samples. Int J Environ Anal Chem 91:440–447

Soylak M, Topalak Z (2015) Enrichment-separation and determinations of cadmium(II) and lead(II)-1-phenyl-1H-tetrazole-5-thiol chelates on Diaion SP-207 by solid phase extraction-flame atomic absorption spectrometry. Arab J Chem 8:720–725

Soylak M, Ozalp O, Uzcan F (2021) Magnetic nanomaterials for the removal, separation and preconcentration of organic and inorganic pollutants at trace levels and their practical applications: a review. Trends Environ Anal Chem 29:e00109

Tabak A, Sevimli K, Kaya M, Caglar B (2019) Preparation and characterization of a novel activated carbon component via chemical activation of tea woody stem. J Therm Anal Calorim 138:3885–3895

Topal T, Onac C (2020) Determination of heavy metals and pesticides in different types of fish samples collected from four different locations of aegean and marmara sea. J Food Qual 2020:8101532

Turkmen M, Aydin T (2021) Seasonal and spatial accumulation of heavy metals in Cystoseira barbata C. Agardh 1820 from Northeastern black sea coast. indian J Geo-Mar Sci 50:339–342

Turkoglu O, Soylak M (2002) The synthesis of the β, and δ Phases of Bi2O3 Stabilized by Gd2O3. Asian J Chem 14:1698–1704

Tuzen M, Unsal YE, Soylak M et al (2013) Solid-phase extraction of lead and copper on a polyhydroxybutyrate-b-polydimethyl siloxane (PHB-b-PDMS) block copolymer disc and flame atomic absorption spectrometric determination of them in water and food samples. Int J Food Sci Technol 48:2384–2390

Unsal YE, Soylak M, Tuzen M (2014) Sequential extraction procedure for the determination of some trace elements in fertilizer samples. J AOAC Int 97:1034–1038

Varank G, Guvenc SY, Demir A et al (2020) Modeling and optimizing electro-persulfate processes using Fe and Al electrodes for paper industry wastewater treatment. Water Sci Technol 81:345–357

Venkateswarlu S, Yoon M (2015) Core-shell ferromagnetic nanorod based on amine polymer composite (Fe3O4@DAPF) for fast removal of Pb(II) from aqueous solutions. ACS Appl Mater Interfaces 7:25362–25372

Wang Q, Wang C, Wang J et al (2020) Sensitive determination of phenylurea herbicides in soybean milk and tomato samples by a novel hypercrosslinked polymer based solid-phase extraction coupled with high performance liquid chromatography. Food Chem 317:126410

Yazici E, Büyükpınar Ç, Bodur S, Okan, et al (2021a) Ultrasonic assisted glass bead loaded gas liquid separator-photochemical vapor generation-T-shaped slotted quartz tube-flame atomic absorption spectrophotometry system for antimony determination in tap water and wastewater samples. Chem Pap 75:1377–1386

Yazici E, Büyükpınar Ç, Bodur S et al (2021b) An accurate analytical method for the determination of antimony in tea and tap water samples: photochemical vapor generation-atom trapping prior to FAAS measurement. Chem Pap 75:3309–3316

Yilmaz E, Sarp G, Uzcan F, Ozalp O, Soylak M (2021) Application of magnetic nanomaterials in bioanalysis. Talanta 229:122285

Yin H, Zhu J, Chen J et al (2018) Hierarchical CuCo2O4/C microspheres assembled with nanoparticle-stacked nanosheets for sensitive non-enzymatic glucose detection. J Mater Sci 53:11951–11961

Zhao B, He M, Chen B, Hu B (2019) Fe3O4 nanoparticles coated with double imprinted polymers for magnetic solid phase extraction of lead(II) from biological and environmental samples. Microchim Acta 186:775
Acknowledgements
The authors are grateful for the financial support of the Unit of the Scientific Research Projects of Erciyes University (FBG-2020-10013) (Kayseri, Turkey). Prof. Dr. Mustafa Soylak thanks to Turkish Academy of Sciences (TUBA) for financial support.
Additional information
Publisher's Note
Springer Nature remains neutral with regard to jurisdictional claims in published maps and institutional affiliations.
About this article
Cite this article
Uzcan, F., Soylak, M. CuCo2O4 as affective adsorbent for dispersive solid-phase extraction of lead from food, cigarette and water samples before FAAS detection. Chem. Pap. (2021). https://doi.org/10.1007/s11696-021-01797-3
Received:

Accepted:

Published:
Keywords
Dispersive solid-phase extraction

CuCo2O4 nanoparticles

FAAS

Food

Environmental samples