Abstract
The present study is focused on the development of methodology for testing drug sensitivity to hydrolytic degradation in different pH conditions in solid-state. To test hydrolytic degradations in solid-state, methodology using different silica and silicates with varying pH (3.9–9.7) was developed. Hydrolytic degradations in varying pH conditions of two drugs, bisoprolol and sofosbuvir were examined in solution as well as in solid-state using HPLC. Impurity profiles in solid-state and in solution differed for sofosbuvir. A bisoprolol hydrolytic curve measured in solid-state showed different dependence between pH and degradation than in solution. The main difference between testing the effects of pH on API stability in solution and in solid-state is that different degradation mechanisms are taking place. It was confirmed that degradation mechanisms observed in solid-state testing are much closer to degradation mechanisms observed for solid dosage forms than degradation mechanism observed while using standard method of testing in solution.
Graphic abstract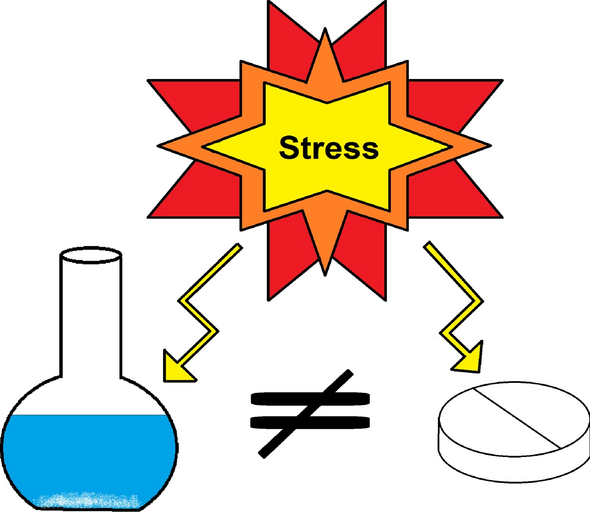 Access options
Buy single article
Instant access to the full article PDF.
USD 39.95
Price excludes VAT (USA)
Tax calculation will be finalised during checkout.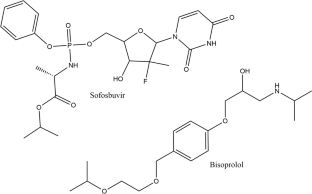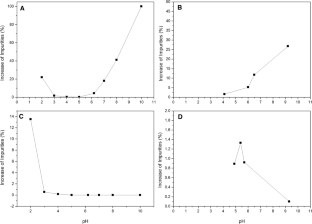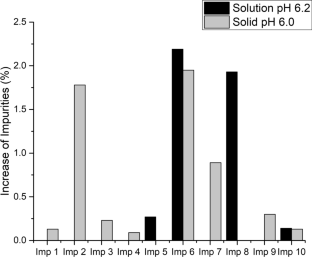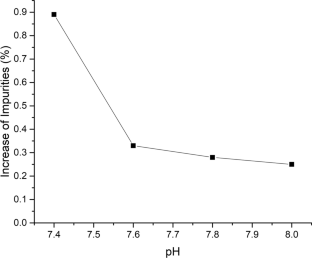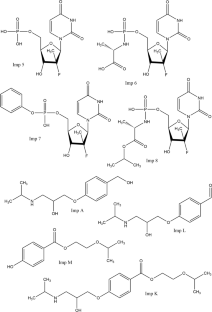 Availability of data and material
Available from corresponding author on request.
References
Alsante KM et al (2014) Recent trends in product development and regulatory issues on impurities in active pharmaceutical ingredient (API) and drug products. Part 1: predicting degradation related impurities and impurity considerations for pharmaceutical dosage forms . AAPS PharmSciTech 15:198–212. https://doi.org/10.1208/s12249-013-0047-x

Alsante KM, Ando A, Brown R, Ensing J, Hatajik TD, Kong W, Tsuda Y (2007) The role of degradant profiling in active pharmaceutical ingredients and drug products. Adv Drug Deliv Rev 59:29–37. https://doi.org/10.1016/j.addr.2006.10.006

Badawy SI, Hussain MA (2007) Microenvironmental pH modulation in solid dosage forms. J Pharm Sci 96:948–959. https://doi.org/10.1002/jps.20932

Baertschi SW, Alsante KM, Reed RA (2005) Pharmaceutical stress testing: predicting drug degradation, 1st edn. Taylor & Francis Group, Boca Raton

British Pharmacopoeia (2021) Bisoprolol tablets, pp 1–6

Campbell JM et al (2019) The Degradation chemistry of GSK2879552: salt selection and microenvironmental ph modulation to stabilize a cyclopropyl amine. J Pharm Sci 108:2858–2864. https://doi.org/10.1016/j.xphs.2019.04.026

Douša M, Gibala P, Pekárek T (2015) New approach of validation using internal normalization technique for quantification of related substances in raw material, intermediates and pharmaceutical substances by HPLC. J Pharm Biomed Anal 114:133–138. https://doi.org/10.1016/j.jpba.2015.05.015

Dulin VA (1995) Degradation of bisoprololfumarate in tablets formulated with dicalcium phosphate. Drug Dev Ind Pharm 21:393–409. https://doi.org/10.3109/03639049509026631

Eslami S, Sarlak M (2018) Forced degradation tests of ampicillin in medication forms. MBTJ 2:113–117. https://doi.org/10.22034/mbt.2018.80812

Görög S (2000) The nature and origin of the impurities in drug substances. Progress Pharm Biomed Anal 4:9–22

Hua Z et al (2019) PPCP degradation and DBP formation in the solar/free chlorine system: effects of pH and dissolved oxygen. Water Res 150:77–85. https://doi.org/10.1016/j.watres.2018.11.041

International conference on harmonisation: stability testing for new dosage forms, ICH Q1C, ICH (1996). https://urldefense.proofpoint.com/v2/url?u=https-3A__www.ich.org_page_quality-2Dguidelines&d=DwIFBA&c=vh6FgFnduejNhPPD0fl_yRaSfZy8CWbWnIf4XJhSqx8&r=7GjDei_PxQva2JNOfHbJQKIolTp KkGdW_4o9-CecCzX9fDPu7SrgsodpYCPByYz6&m=rlXIzx_3Wh-76okro7TbLnXo2Qjvc60EulnpEKTbbB0&s=KxF0VfYCh340_wa4qGKOHLTId6ws10688ws5Kfg9yGw&e

Marothu VK, Yerramothu P, Gorrepati M, Majeti S, Mamidala SK, Nelutla A (2015) Application of HPLC to assess the compatibility of bisoprolol fumarate with selected excipients in mixtures by isothermal stress testing. Ann Pharm Fr. https://doi.org/10.1016/j.pharma.2015.05.001

Mitrevska I, Kikovska-Stojanovska E, Petrusevski G, Chachorovska M, Memed-Sejfulah S, Ugarkovic S (2017) Identification and structural characterization of unidentified impurity in bisoprolol film-coated tablets. AdvChem 2017:1–16. https://doi.org/10.1155/2017/3047517

Petřík J, Heřt J, Řezanka P, Vymyslický F, Douša M (2020) Development of HPLC method for the purity test by design of experiments and determination of activation energy of hydrolytic degradation reactions of sofosbuvir. Curr Pharm Anal 16:976–987. https://doi.org/10.2174/1573412915666190225161007

Ph. Eur. 10.3 (2020) Bisoprolol fumarate, pp 1710–1714

Po ALW, Mroso PV, Irwin WJ (1983) Modeling decomposition in the solid state: stability of salsalate in suspension in the presence of excipients. Int J Pharm 16:115–123

Raijada DK, Prasad B, Paudel A, Shah RP, Singh S (2010) Characterization of degradation products of amorphous and polymorphic forms of clopidogrel bisulphate under solid state stress conditions. J Pharm Biomed Anal 52:332–344. https://doi.org/10.1016/j.jpba.2009.05.001

Ravisankar P, Swathi V, Babu PS, Sulthana MS, Gousepeer SK (2017) Current trends in performance of forced degradation studies and stability indicating studies of drugs. J Pharm BiolSci 12:17–36. https://doi.org/10.9790/3008-1206021736

Rawat T, Pandey IP (2015) Forced degradation studies for drug substances and drug products- scientific and regulatory considerations. J Pharm Sci Res 7:238–241

Renuka P, Ramakrishna M, Babu DJM (2016) A new chromatographic method developed stability indicating for the simultaneus estimation of bisoprolol and hydrochlorothiazid in pharmaceutical dosage forms. World J Pharmacy Pharm Sci 5:1322–1331. https://doi.org/10.20959/wjpps20168-7412

Reynolds DW, Facchine KL, Mullaney JF, Alsante KM, Hatajik TD, Motto MG (2002) Available guidance and best practices for conducting forced degradation studies. Pharm Technol 26:48–56

Ribeiro AR, Lutze HV, Schmidt TC (2018) Base-catalyzed hydrolysis and speciation-dependent photolysis of two cephalosporin antibiotics, ceftiofur and cefapirin. Water Res 134:253–260. https://doi.org/10.1016/j.watres.2017.12.048

Rowe RC, Sheskey PJ, Quinn ME (2009) Handbook of pharmaceutical excipients , 6th edn. Pharmaceutical Press and American Pharmacist Association, London and Washington

Swain D, Samanthula G, Bhagat S, Bharatam PV, Akula V, Sinha BN (2016) Characterization of forced degradation products and in silico toxicity prediction of Sofosbuvir: a novel HCV NS5B polymerase inhibitor. J Pharm Biomed Anal 120:352–363. https://doi.org/10.1016/j.jpba.2015.12.045

Szalka M, Kostka J, Rokaszewski E, Kaczmarski K (2012) Analysis of related substances in bisoprolol fumarate on sub-2-μm adsorbents. Acta Chromatograph 24:163–183. https://doi.org/10.1556/AChrom.24.2012.2.2

Tran PH, Tran TT, Lee KH, Kim DJ, Lee BJ (2010) Dissolution-modulating mechanism of pH modifiers in solid dispersion containing weakly acidic or basic drugs with poor water solubility. Expert Opin Drug Deliv 7:647–661. https://doi.org/10.1517/17425241003645910

Waterman KC, Adami RC (2005) Accelerated aging: prediction of chemical stability of pharmaceuticals. Int J Pharm 293:101–125. https://doi.org/10.1016/j.ijpharm.2004.12.013

Yancey A, Armbruster A, Tackett S (2014) Sofosbuvir, a new nucleotide analogue, for the treatment of chronic hepatitis C infection. J Pharm Technol 31:29–37. https://doi.org/10.1177/8755122514548897

Yang B, Mao X, Pi L, Wu Y, Ding H, Zhang W (2017) Effect of pH on the adsorption and photocatalytic degradation of sulfadimidine in Vis/g-C3N4 progress. Environ Sci Pollut Res 24:8658–8670. https://doi.org/10.1007/s11356-017-8448-0

Zimmer M (2018) Forced degradation and long-term stability testing for oral drug products: a practical approach. In: Methods for stability testing of pharmaceuticals. Methods in pharmacology and toxicology. pp 75–98. https://doi.org/10.1007/978-1-4939-7686-7_4
Acknowledgements
The authors would like to thank to The PARC for all the support during the research.
Funding
This work received support from Zentiva, k.s and from the Specific University Research (project MŠMT no. 21-SVV/2019).
Ethics declarations
Conflict of interest
On behalf of all authors, the corresponding author states that there is no conflict of interest.
Additional information
Publisher's Note
Springer Nature remains neutral with regard to jurisdictional claims in published maps and institutional affiliations.
About this article
Cite this article
Petřík, J., Heřt, J. & Řezanka, P. Development of methodology for the study of API sensitivity to hydrolytic degradations at different pH conditions in solid-state. Chem. Pap. 75, 5739–5747 (2021). https://doi.org/10.1007/s11696-021-01630-x
Received:

Accepted:

Published:

Issue Date:

DOI: https://doi.org/10.1007/s11696-021-01630-x
Keywords
Solid-state degradation

Hydrolysis

PH