Abstract
Headspace–solid-phase microextraction coupled to gas chromatography–tandem mass spectrometry (HS–SPME–GC–MS) method was used to determine the composition and content of volatiles in dried flower buds of Lonicera macranthoides obtained by five processing methods (PMs). Sixty-five compounds were identified, which included alcohols, aldehydes, ketones, hydrocarbons, acids, esters, terpenoids, and others. Alcohols were the most abundant compounds in most of the samples while acids were present in negligible amounts. Samples obtained by sun drying (PM4) and by heating in an oven with a programmed temperature cycle (PM2) were characterized by higher amounts of esters and terpenoids. PM4 resulted in larger numbers of compounds albeit in lower amounts. The principal component analysis confirmed that terpenoids and esters were the most prominent volatiles from PM2. The HS–SPME–GC–MS method can be used to rapidly ascertain the volatile content in L. macranthoides samples; the results herein provided provide a valuable source for comparing the effects of applying different processing methods.
Access options
Buy single article
Instant access to the full article PDF.
USD 39.95
Price excludes VAT (USA)
Tax calculation will be finalised during checkout.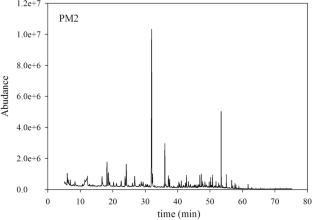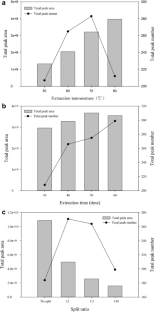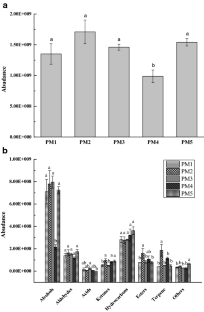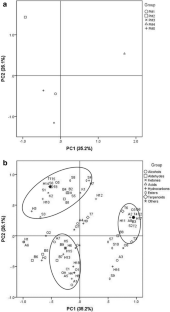 References
Ashoor A, Nordman JC, Veltri D, Yang KH, Al KL, Shuba Y, Mahgoub M, Howarth FC, Sadek B, Shehu A, Kabbani N, Oz M (2013) Menthol binding and inhibition of α7-nicotinic acetylcholine receptors. PLoS ONE 8:e67674

Brokl M, Bishop L, Wright CG, Liu C, McAdam K, Focant JF (2014) Multivariate analysis of mainstream tobacco smoke particulate phase by headspace solid-phase micro extraction coupled with comprehensive two-dimensional gas chromatography-time-of-flight mass spectrometry. J Chromatogr A 1370:216–229

Cai H, Cao G, Li L, Liu X, Ma XQ, Tu S, Lou Y, Qin KM, Li SL, Cai B (2013) Profiling and characterization of volatile components from non-fumigated and sulfur-fumigated flos lonicerae japonicae using comprehensive two-dimensional gas chromatography time-of-flight mass spectrometry coupled with chemical group separation. Molecules 18:1368–1382

Carmen G, Hancu G (2014) Antimicrobial and antifungal activity of Pelargonium roseum essential oils. Adv Pharm Bull 4:511–514

Cheng K, Wang H, Chen K (2010) Advances in the research on the safety of menthol. Liaoning J Tradit Chinese Med 37:377–379

Das B, Mandal D, Dash SK, Chattopadhyay S, Tripathy S, Dolai DP, Dey SK, Roy S (2016) Eugenol provokes ROS-mediated membrane damage-associated antibacterial activity against clinically isolated multidrug-resistant staphylococcus aureus strains. Infect Dis (Auckl) 9:11–19

Guan R, Wang L, Qu Y, Zhou J, Du X, Lin H, Lin J (2014) GC-MS Volatile constituents in Lonicerae Japonicae Flos " Jiu Feng Yi Hao " by GC-MS. Chin Tradit Pat Med 36:2367–2371

Hou M, Tang Q, Zhang X, Li Y, Xu X (2013) Comparative studies on pharmacodynamics of Lonicera macranthoides and Lonicera japonica. Chinese Tradit Herbal Drugs 44(03):309–314

Huang Y, Wu HE, Wei ZY, Xiao YF, Yu XL (2011) Chemical Constituents and Anti- bacterial Activity of Essential Oil form Adenosma indianum. Chinese J Exp Tradit Med Formulae 17:79–82

Jiang JH, Li XH, Gao XQ, Gao TH, Chen FM, Feng YJ, Huang LB (2006) Volatile constituents from platycladus orentails and their antitumor activities. Forest Res 19:311–315

Karabagias IK, Nikolaou C, Karabagias VK (2019) Volatile fingerprints of common and rare honeys produced in Greece: in search of PHVMs with implementation of the honey code. Eur Food Res Technol 245(1):23–39

Ma Y, Ma L, Zhan K (2005) Volatile of magnolia from different sources and processing methods by GC-MS. J Sichuan Tradit Chinese Med 2005(23):17–18

Newton CJ, Xie YX, Burgoyne CH, Adams I, Atkin SL, Abidia A, McCollum PT (2003) Fluvastatin induces apoptosis of vascular endothelial cells: blockade by glucocorticoids. Cardiovasc Surg 11:52–60

Peng J, Gong Y, Wang J, Liu Y, Liang Z (2006) Effects of Different Drying Methods on Officinal Qualities of Flos lonicerace. Acta Bot Boreal Occident Sin 26:2044–2050

Peng X, Li W, Wang W, Bai G (2010) Cloning and characterization of a cDNA coding a hydroxycinnamoyl-CoA quinate hydroxycinnamoyl transferase involved in chlorogenic acid biosynthesis in lonicera japonica. Planta Med 76:1921–1926

Perestrelo R, Silva CL, Rodrigues F, Caldeira M, Câmara JS (2016) A powerful approach to explore the potential of medicinal plants as a natural source of odor and antioxidant compounds. J Food Sci Technol 53:132–144

Qin X, Hao C, He S, Wu G, Tan L, Xu F, Hu R (2014) Volatile organic compound emissions from different stages of cananga odorata flower development. Molecules 19:8965–8980

Raffo A, Carcea M, Castagna C, Magrì A (2015) Improvement of a headspace solid phase microextraction-gas chromatography/mass spectrometry method for the analysis of wheat bread volatile compounds. J Chromatogr A 1406:266–278

Sawoszczuk T, Syguła-Cholewińska J, del Hoyo-Meléndez JM (2015) Optimization of headspace solid phase microextraction for the analysis of microbial volatile organic compounds emitted by fungi: application to historical objects. J Chromatogr A 1409:30–45

Tang W, Li G, Jin X (2014) Effects of different drying methods on volatile oil from angelicae sinensis radix. Chin J Exp Tradit Med Formulae 20:9–12

Tong Q, Zhou R, Yue Y, He Y, Qu W (2005) Analysis of volatile of Lonicera macranthoides in hunan Province by GC-MS. Chinese Tradit Patent Med 27:52–55

Vasilev N, Schmitz C, Grömping U, Fischer R, Schillberg S (2014) Assessment of cultivation factors that affect biomass and geraniol production in transgenic tobacco cell suspension cultures. PLoS ONE 9:1–7

Vukovica N, Kacaniova M, Hleba L, Sukdolak S (2012) Chemical composition of the essential oils from the flower, leaf and stem of Lonicera japonica. Nat Prod Commun 7:641–644

Wittig C, Scheuer C, Parakenings J, Menger MD, Laschke MW (2015) Geraniol suppresses angiogenesis by downregulating vascular endothelial growth factor (VEGF)/VEGFR-2 signaling. PLoS ONE 10:1–19

Wu C, Wang J, Kang W (2009) The volatile of Lonicera japonica in the drying in the shade and drying by baking analyzed by HS-SPME-GC-MS. Chin Tradit Pat Med 31:1246–1249

Wu C, Wang F, Liu J et al (2015) A comparison of volatile fractions obtained from Lonicera macranthoides via different extraction processes: ultrasound, microwave, Soxhlet extraction, hydrodistillation, and cold maceration. Integr Med Res 4(3):171–177

Xiao Z, Zhou X, Niu Y, Yu D, Zhu J, Zhu G (2015) Optimization and application of headspace-solid-phase micro-extraction coupled with gas chromatography – mass spectrometry for the determination of volatile compounds in cherry wines. J Chromatogr B 978:122–130

Yang C, Wang Y, Liang Z, Fan P, Wu B, Yang L, Wang Y, Li S (2009) Volatiles of grape berries evaluated at the germplasm level by headspace-SPME with GC-MS. Food Chem 114:1106–1114

Yuan S, Liu Z, Lian H, Yang C, Lin Q, Yin H, Dang Z (2016) Simultaneous determination of estrogenic odorant alkylphenols, chlorophenols, and their derivatives in water using online headspace solid phase microextraction coupled with gas chromatography-mass spectrometry. Environ Sci Pollut Res Int 23:19116–19125

Zhang C, Qi M, Shao Q et al (2007) Analysis of the volatile compounds in Ligusticum chuanxiong Hort using HS-SPME–GC-MS. J Pharm Biomed 44(2):464–470

Zhao Z (2004) Study on synthesis route of bioactive squalene from turpentine. Chem Indus For Prod S1:20–24
Acknowledgments
This work was supported by the National Natural Science Foundation of China (No. 31370360&81703845) and the National Administration of Traditional Chinese Medicine (JDZX2015275).
Additional information
Publisher's Note
Springer Nature remains neutral with regard to jurisdictional claims in published maps and institutional affiliations.
About this article
Cite this article
Zhang, J., Yang, C., Zhu, L. et al. Evaluation of the volatile from Lonicera macranthoides obtained with different processing methods by headspace–solid-phase microextraction–gas chromatography–tandem mass spectrometry (HS–SPME–GC–MS). Chem. Pap. 75, 3847–3857 (2021). https://doi.org/10.1007/s11696-021-01560-8
Received:

Accepted:

Published:

Issue Date:

DOI: https://doi.org/10.1007/s11696-021-01560-8
Keywords
Lonicerae flos

HS–SPME–GC–MS

Volatiles

Processing methods

PCA