Abstract
A simple and fast ultrasound-assisted extraction (UAE) method was optimized employing a chemometric technique to determine caffeic acid, vanillic acid, quercetin 3-β-d-glucoside, p-coumaric acid, vanillin, trans-ferulic acid, benzoic acid, quercetin, kaempferol and myricetin in quinoa seeds. Applying a central composite design, UAE conditions were established at 39 °C for 10 min, which is up to 12-fold lower than reported extraction times. Chromatography was performed on Phenomenex Kinetex XB C18 (150 mm × 4.6 mm, S-5 µm) column using a binary mobile phase composed of ammonium formate (0.01 mol L−1, pH 3.0) and acetonitrile (0.1% formic acid) at a flow rate of 0.5 mL min−1. Validation was performed following International Conference on Harmonization recommendations. Calibration data fitted a linear regression model with R2 > 0.999. Repeatability (n = 6) and intermediate precision (n = 3) in matrix showed relative standard deviation (RSD) values lower than 2.89 and 3.61%, respectively. Selectivity was evaluated by mass spectrometry (MS), without observing interference compounds. The proposed method was applied to determine the phenolic compound content in ten quinoa seeds samples from different varieties, finding a concentration range from 1.1 to 2.0 mg kg−1. The proposed method proved to be a fast and selective alternative to evaluate phenolic compounds in quinoa seeds.
Access options
Buy single article
Instant access to the full article PDF.
USD 39.95
Price excludes VAT (USA)
Tax calculation will be finalised during checkout.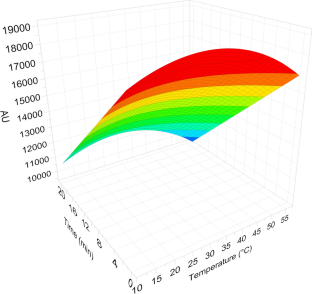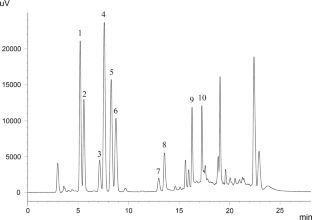 References
Ajila CM, Brar SK, Verma M, Tyagi RD, Godbout S, Valéro JR (2011) Extraction and analysis of polyphenols: recent trends. Crit Rev Biotechnol 31:227–249. https://doi.org/10.3109/07388551.2010.513677

Alvarez-Jubete L, Wijngaard H, Arendt EK, Gallagher E (2010) Polyphenol composition and in vitro antioxidant activity of amaranth, quinoa buckwheat and wheat as affected by sprouting and baking. Food Chem 119:770–778. https://doi.org/10.1016/j.foodchem.2009.07.032

Angeli V et al (2020) Quinoa (Chenopodium quinoa Willd.): an overview of the potentials of the "golden grain" and socio-economic and environmental aspects of its cultivation and marketization. Foods 9:216. https://doi.org/10.3390/foods9020216

Azmir J et al (2013) Techniques for extraction of bioactive compounds from plant materials: a review. J Food Eng 117:426–436. https://doi.org/10.1016/j.jfoodeng.2013.01.014

Carciochi RA, Manrique GD, Dimitrov K (2015) Optimization of antioxidant phenolic compounds extraction from quinoa (Chenopodium quinoa) seeds. J Food Sci Technol 52:4396–4404. https://doi.org/10.1007/s13197-014-1514-4

Ferreira SLC et al (2007) Statistical designs and response surface techniques for the optimization of chromatographic systems. J Chromatogr A 1158:2–14. https://doi.org/10.1016/j.chroma.2007.03.051

Fischer S, Wilckens R, Jara J, Aranda M (2013) Variation in antioxidant capacity of quinoa (Chenopodium quinoa Willd.) subjected to drought stress. Ind Crop Prod 46:341–349. https://doi.org/10.1016/j.indcrop.2013.01.037

Fischer S et al (2017) Protein and antioxidant composition of quinoa (Chenopodium quinoa Willd.) sprout from seeds submitted to water stress, salinity and light conditions. Ind Crop Prod 107:558–564. https://doi.org/10.1016/j.indcrop.2017.04.035

Galarce-Bustos O, Novoa L, Pavon-Perez J, Henriquez-Aedo K, Aranda M (2019) Chemometric Optimization of QuEChERS extraction method for polyphenol determination in beers by liquid chromatography with ultraviolet detection food anal. Methods 12:448–457. https://doi.org/10.1007/s12161-018-1376-x

Gómez-Caravaca AM, Segura-Carretero A, Fernández-Gutiérrez A, Caboni MF (2011) Simultaneous determination of phenolic compounds and saponins in quinoa (Chenopodium quinoa Willd) by a liquid chromatography-diode array detection-electrospray ionization–time-of-flight mass spectrometry methodology. J Agric Food Chem 59:10815–10825. https://doi.org/10.1021/jf202224j

Gómez-Caravaca AM, Iafelice G, Verardo V, Marconi E, Caboni MF (2014) Influence of pearling process on phenolic and saponin content in quinoa (Chenopodium quinoa Willd.). Food Chem 157:174–178. https://doi.org/10.1016/j.foodchem.2014.02.023

Harborne JB (1992) Williams CA (2000) advances in flavonoid research since. Phytochemistry 55:481–504. https://doi.org/10.1016/S0031-9422(00)00235-1

Hirose Y, Fujita T, Ishii T, Ueno N (2010) Antioxidative properties and flavonoid composition of Chenopodium quinoa seeds cultivated in Japan. Food Chem 119:1300–1306. https://doi.org/10.1016/j.foodchem.2009.09.008

Ignat I, Volf I, Popa VI (2011) A critical review of methods for characterisation of polyphenolic compounds in fruits and vegetables. Food Chem 126:1821–1835. https://doi.org/10.1016/j.foodchem.2010.12.026

International Conference on Harmonization (ICH) (2005) Validation of analytical procedures: text and methodology. Methodology Q2(R1):1

Jovanović AA, Đorđević VB, Zdunić GM, Pljevljakušić DS, Šavikin KP, Gođevac DM, Bugarski BM (2017) Optimization of the extraction process of polyphenols from Thymus serpyllum L. herb using maceration, heat- and ultrasound-assisted techniques. Sep Purif Technol 179:369–380. https://doi.org/10.1016/j.seppur.2017.01.055

Khoddami A, Wilkes MA, Roberts TH (2013) Techniques for analysis of plant phenolic compounds. Molecules 18:2328–2375. https://doi.org/10.3390/molecules18022328

Noratto GD, Murphy K, Chew BP (2019) Quinoa intake reduces plasma and liver cholesterol, lessens obesity-associated inflammation, and helps to prevent hepatic steatosis in obese db/db mouse. Food Chem 287:107–114. https://doi.org/10.1016/j.foodchem.2019.02.061

Ogungbenle HN (2003) Nutritional evaluation and functional properties of quinoa (Chenopodium quinoa) flour. Int J Food Sci Nutr 54:153–158. https://doi.org/10.1080/0963748031000084106

Pineda A, Carrasco J, Pena-Farfal C, Henriquez-Aedo K, Aranda M (2012) Preliminary evaluation of biogenic amines content in Chilean young varietal wines by HPLC. Food Control 23:251–257. https://doi.org/10.1016/j.foodcont.2011.07.025

Repo-Carrasco-Valencia R, Hellström JK, Pihlava J-M, Mattila PH (2010) Flavonoids and other phenolic compounds in Andean indigenous grains: Quinoa (Chenopodium quinoa), kañiwa (Chenopodium pallidicaule) and kiwicha (Amaranthus caudatus). Food Chem 120:128–133. https://doi.org/10.1016/j.foodchem.2009.09.087

Senes CER, Nicácio AE, Rodrigues CA, Manin LP, Maldaner L, Visentainer JV (2020) Evaluation of dispersive solid-phase extraction (d-SPE) as a clean-up step for phenolic compound determination of Myrciaria cauliflora. Peel Food Anal Methods 13:155–165. https://doi.org/10.1007/s12161-019-01566-9

Stoven S, Murray JA, Marietta EV (2013) Latest in vitro and in vivo models of celiac disease. Expert Opin Drug Discov 8:445–457. https://doi.org/10.1517/17460441.2013.761203

Tang Y, Li X, Zhang B, Chen PX, Liu R, Tsao R (2015) Characterisation of phenolics, betanins and antioxidant activities in seeds of three Chenopodium quinoa Willd. Genotypes Food Chem 166:380–388. https://doi.org/10.1016/j.foodchem.2014.06.018

Tang Y, Zhang B, Li X, Chen PX, Zhang H, Liu R, Tsao R (2016) Bound phenolics of quinoa seeds released by acid, alkaline, and enzymatic treatments and their antioxidant and α-Glucosidase and pancreatic lipase inhibitory effects. J Agric Food Chem 64:1712–1719. https://doi.org/10.1021/acs.jafc.5b05761

van den Driessche JJ, Plat J, Mensink RP (2018) Effects of superfoods on risk factors of metabolic syndrome: a systematic review of human intervention trials. Food Funct 9:1944–1966. https://doi.org/10.1039/C7FO01792H

Vinatoru M (2001) An overview of the ultrasonically assisted extraction of bioactive principles from herbs. Ultrason Sonochem 8:303–313. https://doi.org/10.1016/S1350-4177(01)00071-2

Wang L, Weller CL (2006) Recent advances in extraction of nutraceuticals from plants. Trends Food Sci Technol 17:300–312. https://doi.org/10.1016/j.tifs.2005.12.004
Acknowledgements
This work is part of Jonathan Carrasco Sandoval research work to obtain the degree of Doctor in Science and Analytical Technology from the University of Concepcion, Chile. Authors want to thank to the National Commission of Scientific and Technological Research (CONICYT) of the Chilean Government for the doctoral scholarship granted. Authors want to thank the National Fund for Scientific and Technological Development (FONDECYT) project N° 1140661 and 1171857, Fund for Scientific and Technological Equipment (FONDEQUIP) project N° 130209 for financially support.
Ethics declarations
Conflict of interest
On behalf of all authors, the corresponding author states that there is no conflict of interest.
Additional information
Publisher's Note
Springer Nature remains neutral with regard to jurisdictional claims in published maps and institutional affiliations.
About this article
Cite this article
Carrasco-Sandoval, J., Rebolledo, P., Peterssen-Fonseca, D. et al. A fast and selective method to determine phenolic compounds in quinoa (Chenopodium quinoa Will) seeds applying ultrasound-assisted extraction and high-performance liquid chromatography. Chem. Pap. 75, 431–438 (2021). https://doi.org/10.1007/s11696-020-01313-z
Received:

Accepted:

Published:

Issue Date:

DOI: https://doi.org/10.1007/s11696-020-01313-z
Keywords
Ultrasound-assisted extraction

Quinoa

Polyphenols

Chromatography

Design of experiment