Abstract
Solvent or liquid–liquid extraction represents a highly valuable technique for the selective recovery of metals from the aqueous phase due to the ease of operation and short turnaround times. Ligands bearing soft donor atoms including nitrogen and sulfur are ideal candidates for selective silver recovery due to their preference for silver binding. Herein, novel N1,N3-bis(2-(benzylthio)ethyl)propanediamide derivatives bearing sulfur and nitrogen donor atoms were prepared in low to high yields and tested for Ag+ extraction from ternary aqueous solutions also containing Cu2+ and Pb2+ following a well-established solvent extraction protocol. It was observed that electronics effects at the 4-aryl position in the propanediamide (or malondiamide) derivatives had a significant effect on the selectivity, but little effect on the efficiency of Ag+ extraction with the 4-methoxy analogue proving the most selective. Steric hindrance provided by dimethyl substitutions at the α-positions to the sulfur atoms had negative effects on Ag+ extraction efficiency and selectivity, while diethyl steric hindrance at the methylene center lowered selectivity but increased extraction efficiency for Ag+. Detailed binding studies reveal that one of the malondiamide derivatives which lacked the electronic and steric hindrance groups studied coordinated Ag+ in a 1:1 fashion suggesting a tetrahedral complex geometry. Overall, the results show that simple modification of the electronics and sterics of the N1,N3-bis(2-(benzylthio)ethyl)propanediamides, can improve their selectivity for Ag+ recovery from the aqueous phase.
Graphic abstract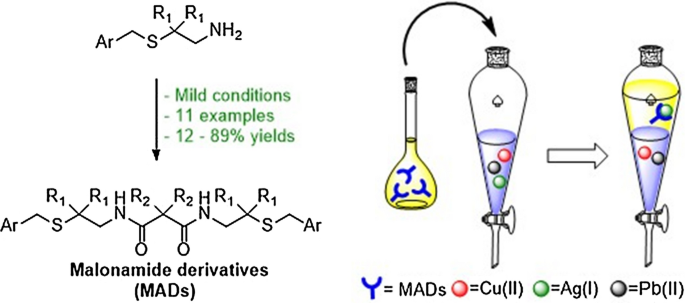 Access options
Buy single article
Instant access to the full article PDF.
USD 39.95
Price excludes VAT (USA)
Tax calculation will be finalised during checkout.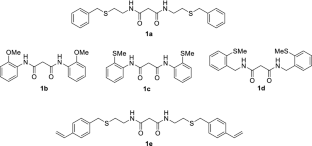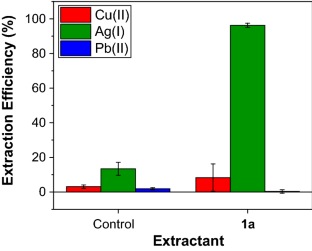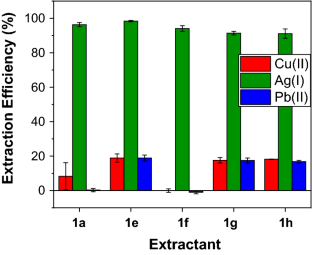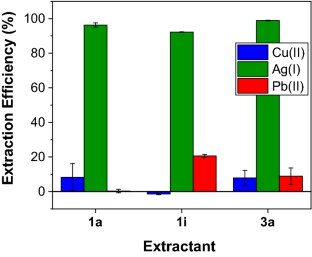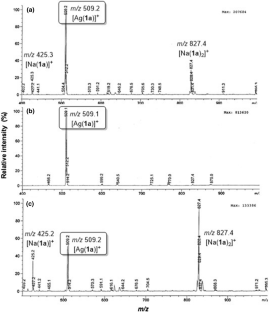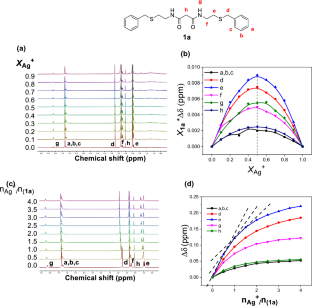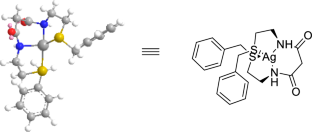 References
Aderibigbe AD, Crane RA, Lees MR, Clark AJ (2020) Selective uptake of Ag (I) from aqueous solutions using ionic liquid-modified iron oxide nanoparticles. J Nanoparticle Res 216:1–14. https://doi.org/10.1007/s11051-020-04944-1

Alam MS, Inoue K, Yoshizuka K, Dong Y, Zhang P (1997) Solvent extraction of silver from chloride media with some commercial sulfur-containing extractants. Hydrometallurgy 44:245–254. https://doi.org/10.1016/S0304-386X(96)00053-9

Avarmaa K, Klemettinen L, O'Brien H, Taskinen P (2019) Urban mining of precious metals via oxidizing copper smelting. Miner Eng 133:95–102. https://doi.org/10.1016/j.mineng.2019.01.006

Bray DJ, Clegg JK, Wenzel M, Gloe K, McMurtrie JC, Jolliffe KA, Gloe K, Lindoy LF (2015) Selective solvent extraction of silver(I) by tris-pyridyl tripodal ligands and X-ray structure of a silver(I) coordination polymer incorporating one such ligand. Aust J Chem 68:549–554. https://doi.org/10.1071/CH14540

Carroll FI, White JD, Wall ME (1963) Organic sulfur compounds. I. Synthesis of sec-Mercaptoalkylamine Hydrochlorides1a, b. J Org Chem 28:1236–1239. https://doi.org/10.1021/jo01040a017

Chen C, Wang J (2008) Removal of Pb(II), Ag(I), Cs(I) and Sr(II) from aqueous solution by brewery's waste biomass. J Hazard Mater 151:65–70. https://doi.org/10.1016/j.jhazmat.2007.05.046

Crane RA, Sinnett DE, Cleall PJ, Sapsford DJ (2017) Physicochemical composition of wastes and co-located environmental designations at legacy mine sites in the south west of England and Wales: Implications for their resource potential. Resour Conserv Recycl 123:117–134. https://doi.org/10.1016/j.resconrec.2016.08.009

Daubinet A (2001) Design, synthesis and evaluation of silver-specific ligands. Rhodes University, Grahamstown

Daubinet A, Kaye PT (2002) Designer ligands. VIII. Thermal and microwave-assisted synthesis of silver(I)-selective ligands. Synth Commun 32:3207–3217. https://doi.org/10.1081/SCC-120013745

El-Shafey ESI, Al-Kindy SMZ (2013) Removal of Cu(II) and Ag(I) from aqueous solution on a chemically-carbonized sorbent from date palm leaflets. Environ Technol (UK) 34:395–406. https://doi.org/10.1080/09593330.2012.698647

Fielding L (2000) Determination of association constants (Ka) from solution NMR data. Tetrahedron 56:6151–6170. https://doi.org/10.1016/S0040-4020(00)00492-0

Ghosh S, Tochtrop GP (2009) A new strategy for the synthesis of β-benzylmercaptoethylamine derivatives. Tetrahedron Lett 50:1723–1726. https://doi.org/10.1016/j.tetlet.2009.01.133

Grigorieva NA, Fleitlikh IY, Logutenko OA (2018) Silver extraction from hydrochloric acid solutions with the disulfide of bis(2,4,4-trimethylpentyl)dithiophosphinic acid. Solvent Extr Ion Exch 36:162–174. https://doi.org/10.1080/07366299.2018.1446675

Hiruta Y, Watanabe T, Nakamura E, Iwasawa N, Sato H, Hamada K, Citterio D, Suzuki K (2014) Steric hindrance effects in tripodal ligands for extraction and back-extraction of Ag(I). RSC Adv 4:9791–9798. https://doi.org/10.1039/c3ra45700a

Jańczewski D, Reinhoudt DN, Verboom W, Malinowska E, Pietrzak M, Hill C, Allignol C (2007) Tripodal (N-alkylated) CMP(O) and malonamide ligands: synthesis, extraction of metal ions, and potentiometric studies. New J Chem 31:109–120. https://doi.org/10.1039/b613254e

Kolpakova N, Sabitova Z, Sachkov V, Medvedev R, Nefedov R, Orlov V (2019) Determination of Au(III) and Ag(I) in carbonaceous shales and pyrites by stripping voltammetry. Minerals 9:78. https://doi.org/10.3390/min9020078

Manchanda VK, Pathak PN (2004) Amides and diamides as promising extractants in the back end of the nuclear fuel cycle: an overview. Sep Purif Technol 35:85–103. https://doi.org/10.1016/j.seppur.2003.09.005

Nishihama S, Hirai T, Komasawa I (2001) Review of advanced liquid-liquid extraction systems for the separation of metal ions by a combination of conversion of the metal species with chemical reaction. Ind Eng Chem Res 40:3085–3091. https://doi.org/10.1021/ie010022

Ocak Ü, Alp H, Gökçe P, Ocak M (2006) The synthesis of new N2 S2-Macrocyclic schiff base ligands and investigation of their ion extraction capability from aqueous media. Sep Sci Technol 41:391–401. https://doi.org/10.1080/01496390500496942

Ohto K, Yamaga H, Murakami E, Inoue K (1997) Specific extraction behavior of amide derivative of calix[4]arene for silver (I) and gold (III) ions from highly acidic chloride media. Talanta 44:1123–1130. https://doi.org/10.1016/S0039-9140(97)00019-2

Ölmez T (2009) The optimization of Cr(VI) reduction and removal by electrocoagulation using response surface methodology. J Hazard Mater 162:1371–1378. https://doi.org/10.1016/j.jhazmat.2008.06.017

Patil AB, Pathak PN, Shinde VS, Mohapatra PK (2014) Synthesis and evaluation of N, N′-dimethyl-N, N′-dicyclohexyl-malonamide (DMDCMA) as an extractant for actinides. Sep Sci Technol 49:2927–2932. https://doi.org/10.1080/01496395.2014.943772

Pearson RG (1968) Hard and soft acids and bases, HSAB, part I: Fundamental principles. J Chem Educ 45:581–587. https://doi.org/10.1021/ed045p581

Renny JS, Tomasevich LL, Tallmadge EH, Collum DB (2013) Method of continuous variations: applications of job plots to the study of molecular associations in organometallic chemistry. Angew Chem-Int Ed 52:11998–12013. https://doi.org/10.1002/anie.201304157

Saha R, Guha S, Sahana A, Das D (2013) N, N-bis-(2-benzimidazolylmethyl)L-methionine: an efficient Ag(I) extractant. J Anal Chem 68:398–402. https://doi.org/10.1134/S1061934813050146

Sahan M, Kucuker MA, Demirel B, Kuchta K, Hursthouse A (2019) Determination of metal content of waste mobile phones and estimation of their recovery potential in Turkey. Int J Environ Res Public Health 16:887. https://doi.org/10.3390/ijerph16050887

Selim KA, El HFI, Khalek MAA, Osama I (2017) Kinetics and thermodynamics of some heavy metals removal from industrial effluents through electro-flotation process. Colloid Surf Sci 2:47–53. https://doi.org/10.11648/j.css.20170202.11

Shimojo K, Goto M (2004) Solvent extraction and stripping of silver ions in room-temperature ionic liquids containing calixarenes. Anal Chem 76:5039–5044. https://doi.org/10.1021/ac049549x

Sole KC, Hiskey JB (1992) Solvent extraction characteristics of thiosubstituted organophosphinic acid extractants. Hydrometallurgy 30:345–365. https://doi.org/10.1016/0304-386X(92)90093-F

Sun PP, Min BJ, Kim STA, Cho SY (2017) Separation of silver (I) and zinc(II) from nitrate solutions by solvent extraction with LIX63. Mater Trans 58:287–290. https://doi.org/10.2320/matertrans.M2016316

Swiegers GF, Malefetse TJ (2000) New self-assembled structural motifs in coordination chemistry. Chem Rev 100:3483–3537. https://doi.org/10.1021/cr990110s

Taillades G, Sarradin J (2004) Silver: High performance anode for thin film lithium ion batteries. J Power Sources 125:199–205. https://doi.org/10.1016/j.jpowsour.2003.07.004

Toure M, Arrachart G, Duhamet J, Pellet-Rostaing S (2018) Tantalum and niobium selective extraction by alkyl-acetophenone. Metals (Basel) 8:1–11. https://doi.org/10.3390/met8090654

Virolainen S, Tyster M, Haapalainen M, Sainio T (2015) Ion exchange recovery of silver from concentrated base metal-chloride solutions. Hydrometallurgy 152:100–106. https://doi.org/10.1016/j.hydromet.2014.12.011

Zanain M, Lovitt R (2013) Removal of silver from wastewater using cross flow microfiltration. E3S Web Conf 1:25005. https://doi.org/10.1051/e3sconf/20130125005
Funding
The authors would like to thank The Commonwealth Scholarship Commission in the United Kingdom and The University of Warwick for funding the research under grant number NGCS-2015-448.
Ethics declarations
Conflict of interest
The authors declare no conflict of interest.
Additional information
Publisher's Note
Springer Nature remains neutral with regard to jurisdictional claims in published maps and institutional affiliations.
Electronic supplementary material
Below is the link to the electronic supplementary material.
About this article
Cite this article
Aderibigbe, A.D., Clark, A.J. Synthesis, silver (I) extraction and silver (I) binding studies of novel N1,N3-bis(2-(benzylthio)ethyl)propanediamide derivatives. Chem. Pap. 75, 397–410 (2021). https://doi.org/10.1007/s11696-020-01307-x
Received:

Accepted:

Published:

Issue Date:

DOI: https://doi.org/10.1007/s11696-020-01307-x
Keywords
Malondiamide derivatives

Selective silver(I) extraction

Electronics

Sterics

Job plot

1H NMR titration