Abstract
In this work the preparation of fibers array with electric field switchable wettability is described. Piezoelectric properties of polyvinylidene fluoride (PVDF) and chemical reactivity of polymethylmethacrylate (PMMA) are used. Electrospinning blend fibers were fabricated from both of polymers and deposited on glass (non-conductive) and aluminum (conductive) substrates. The samples were modified with diazonium salts (ADT-C8F17), causing the hydrophobic surface characteristics. Applying an external electric field (EF) on these surfaces results in fibers rearrangement and dramatic changes in surface hydrophilicity. The wettability of the surface and the shape of the droplet were studied reporting the effect of varying the orientation of the electric field and using different substrates with different conductivity, which allowed us to control the shape of the deionized water drop interfering with the applied voltage. Moreover, reporting the results of shifting the polarity of the water by dissolving NaCl salt in different concentrations was reported.
Access options
Buy single article
Instant access to the full article PDF.
USD 39.95
Price excludes VAT (USA)
Tax calculation will be finalised during checkout.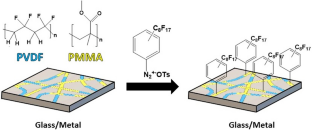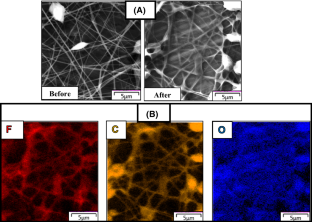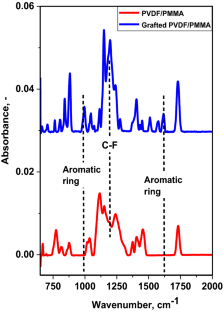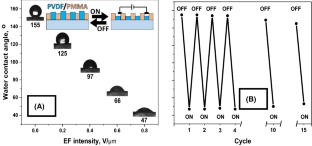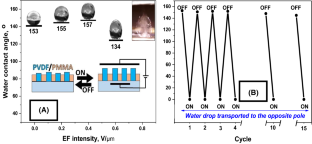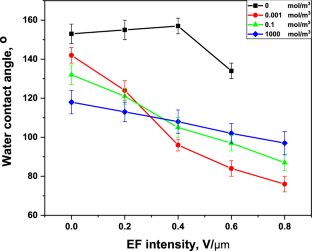 References
Buten C, Kortekaas L, Ravoo BJ (2020) Design of active interfaces using responsive molecular components. Adv Mater. https://doi.org/10.1002/adma.201904957

Gam-Derouich S, Pinson J, Decorse P et al (2018) Diazonium salt chemistry for the design of nano-textured anti-icing surfaces. Chem Commun 65:8983–8986. https://doi.org/10.1039/C8CC02601G

Guo F, Guo ZG (2016) Inspired smart materials with external stimuli responsive wettability: a review. RSC Adv 6:36623–36641. https://doi.org/10.1039/c6ra04079a

Guselnikova O, Elashnikov R, Postnikov P et al (2018) Smart, piezo-responsive polyvinylidenefluoride/polymethylmethacrylate surface with triggerable water/oil wettability and adhesion. ACS Appl Mater Interfaces 10:37461–37469. https://doi.org/10.1021/acsami.8b06840

Guselnikova O, Postnikov P, Elashnikov R et al (2019) Multiresponsive wettability switching on polymer surface: effect of surface chemistry and/or morphology tuning. Adv Mater Interfaces. https://doi.org/10.1002/admi.201801937

Heinz P, Bretagnol F, Mannelli I et al (2008) Poly(N-isopropylacrylamide) grafted on plasma-activated poly(ethylene oxide): Thermal response and interaction with proteins. Langmuir 24:6166–6175. https://doi.org/10.1021/la800575f

Idriss H, Guselnikova O, Postnikov P et al (2020) Versatile and scalable icephobization of airspace composite by surface morphology and chemistry tuning. ACS Appl Polym Mater 2:977–986. https://doi.org/10.1021/acsapm.9b01185

Kakade B, Mehta R, Durge A et al (2008) Electric field induced, superhydrophobic to superhydrophilic switching in multiwalled carbon nanotube papers. Nano Lett 8:2693–2696. https://doi.org/10.1021/nl801012r

Katz E (2016) Magneto-switchable electrodes and electrochemical systems. Electroanalysis 28:904–919. https://doi.org/10.1002/elan.201500635

Lou XD, Huang Y, Yang X, et al. (2020) External stimuli responsive liquid-infused surfaces switching between slippery and nonslippery states: fabrications and applications. Adv Funct Mater 10: 1901130. https://doi.org/10.1002/adfm.201901130

Manabe K, Matsubayashi T, Tenjimbayashi M et al (2016) Controllable broadband optical transparency and wettability switching of temperature activated solid/liquid-infused nanofibrous membranes. ACS Nano 10:9387–9396. https://doi.org/10.1021/acsnano.6b04333

Pan R, Cai MY, Liu WJ et al (2019) Extremely high Cassie-Baxter state stability of superhydrophobic surfaces via precisely tunable dual-scale and triple-scale micro-nano structures. J Mater Chem A 7:18050–18062. https://doi.org/10.1039/c9ta04484a

Rosario R, Gust D, Hayes M et al (2002) Photon-modulated wettability changes on spiropyran-coated surfaces. Langmuir 18:8062–8069. https://doi.org/10.1021/la025963l

Socrates G (2004) Infrared and raman characteristic group frequencies: tables and charts. 3rd edn. Wiley, pp 34–161

Song WL (2014) Adhesion switch on a gecko-foot inspired smart nanocupule surface. Nanoscale 6:13435–13439. https://doi.org/10.1039/c4nr04090b

Sun W, Zhou SX, You B et al (2013) A facile method for the fabrication of superhydrophobic films with multiresponsive and reversibly tunable wettability. J Mater Chem A 1:3146–3154. https://doi.org/10.1039/c2ta01293f
Acknowledgements
This work was financially supported by GA of Czech Republic [19-24603Y].
Ethics declarations
Conflict of interest
On behalf of all authors, the corresponding author states that there is no conflict of interest.
Additional information
Publisher's Note
Springer Nature remains neutral with regard to jurisdictional claims in published maps and institutional affiliations.
About this article
Cite this article
Idriss, H., Elashnikov, R., Guselnikova, O. et al. Reversible wettability switching of piezo-responsive nanostructured polymer fibers by electric field. Chem. Pap. 75, 191–196 (2021). https://doi.org/10.1007/s11696-020-01290-3
Received:

Accepted:

Published:

Issue Date:

DOI: https://doi.org/10.1007/s11696-020-01290-3
Keywords
Smart polymers

PVDF/PMMA

Surface modification

Switchable wettability

Electric field