Abstract
In this work, cesium partially exchanged Keggin heteropolyacid (HPA) salts were prepared, characterized, and evaluated as solid catalysts in monoterpenes etherification reactions with alkyl alcohols. A comparison of the activity of soluble HPAs and their insoluble cesium salts showed that among three different Keggin anions the phosphotungstate was the most efficient catalyst. Assessments on the effects of the level of the protons exchange by cesium cations demonstrated that Cs2.5H0.5PW12O40 solid salt was the most active and selective phosphotungstate catalyst, converting β-pinene to α-terpinyl methyl ether. The influences of the main reaction parameters such as reaction temperature, time, catalyst load, substrate nature (i.e., alcohols and monoterpenes) were investigated. We have demonstrated that the simultaneous presence of the cesium ions and protons in the catalyst plays an essential role, being the 2.5–0.5 the optimum molar ratio. The Cs2.5H0.5PW12O40 salt was efficiently recovered and reused without loss of catalytic activity.
Graphic abstract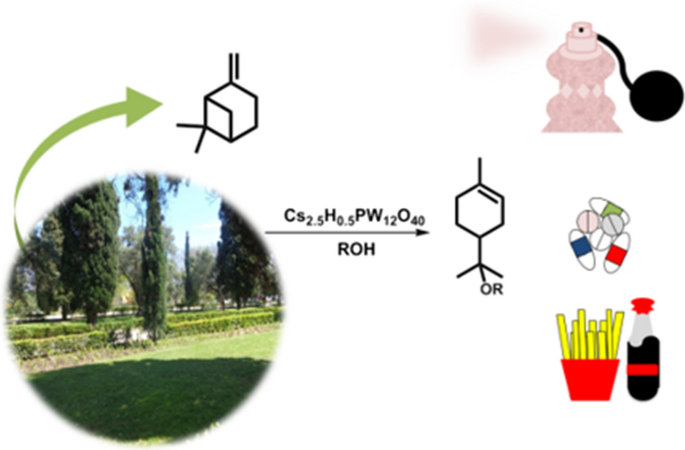 Access options
Buy single article
Instant access to the full article PDF.
USD 39.95
Price excludes VAT (USA)
Tax calculation will be finalised during checkout.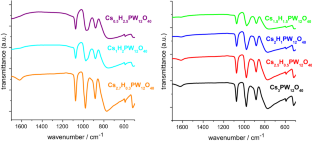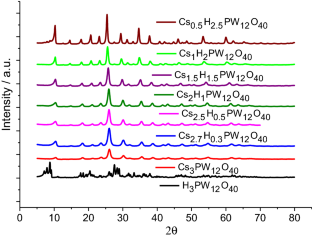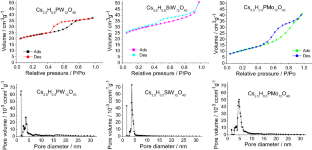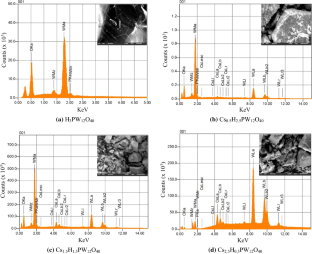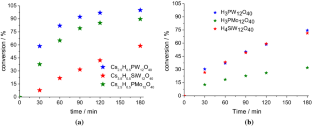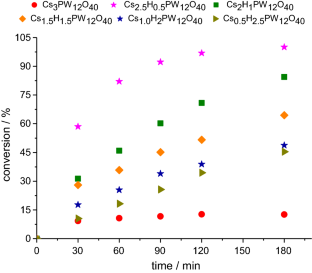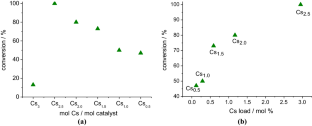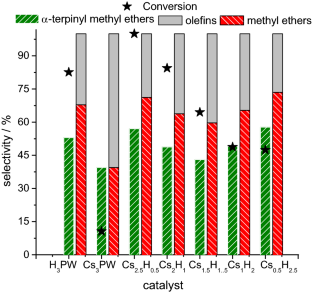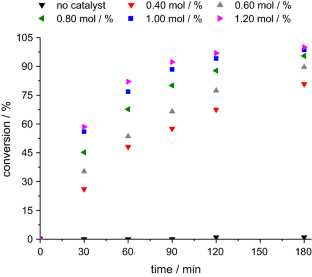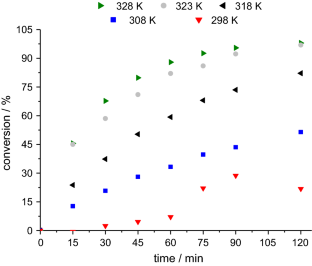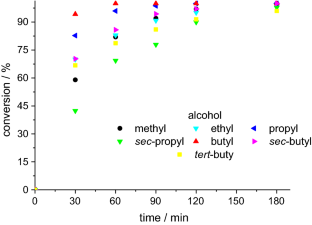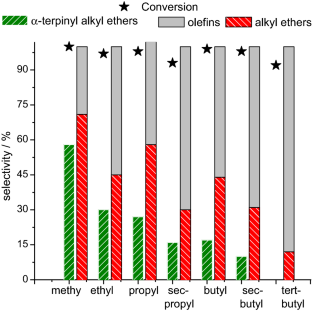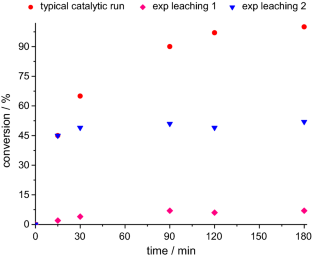 References
Bajuk-Bogdanovic D, Holclajtner-Antunovic I, Todorovic M, Mioc UB, Zakrzewska J (2008) A study of 12-tungstosilicic and 12-molybdophosphoric acids in solution. J Serb Chem Soc 73:197

Berry FJ, Derrick GR, Mortimer M (2014) Identification and characterization of stable phases of silicotungstic acid, H4SiW12O40·nH2O. Polyhedron 68:17–22

Besson M, Gallezot P, Pinel C (2013) Conversion of biomass into chemicals over metal catalysts. Chem Rev 114:1827–1870

Caiado M, Machado A, Santos RN, Matos I, Fonseca IM, Ramosb AM, Vital J, Valentec AA, Castanheiro JE (2013) Alkoxylation of camphene over silica-occluded tungstophosphoric acid. Appl Catal A 451:36–42

Castanheiro JE, Fonseca IM, Ramos AM, Oliveira R, Vital J (2005) Hydration of α-pinene over molybdophosphoric acid immobilized in hydrophobically modified PVA membranes. Catal Today 104:296–304

Castanheiro JE, Guerreiro L, Fonseca IM, Ramos AM, Vital J (2008) Mesoporous silica containing sulfonic acid groups as catalysts for the alpha-pinene methoxylation. Stud Surf Sci Catal 174:1319–1322

Castanheiro JE, Fonseca IM, Ramos AM, Vital J (2017) Tungstophosphoric acid immobilized in SBA-15 as an efficient heterogeneous acid catalyst for the conversion of terpenes and free fatty acids. Microp Mesop Mat 249:16–24

Catrinescu C, Fernandes C, Castilho P, Breend C, Ribeiro Carrott MML, Cansado IPP (2013) Selective methoxylation of limonene over ion-exchanged and acid-activated clays. Appl Catal A 467:38–46

Catrinescu C, Fernandes C, Castilho P, Breend C (2015) Selective methoxylation of α-pinene to α-terpinyl methyl ether over Al3+ ion-exchanged clays. Appl Catal A 489:171–179

Cavani F (1998) Heteropolycompound-based catalysts: a blend of acid and oxidizing properties. Catal Today 41(1–3):73–86

Coronel NC, da Silva MJ (2018) Lacunar keggin heteropolyacid salts: soluble, solid and solid-supported catalysts. J Clust Sci 29:195–205

da Silva MJ, Liberto NA (2016) Soluble and solid supported Keggin heteropolyacids as catalysts in reactions for biodiesel production: challenges and recent advances. Curr Org Chem 20:1263–1283

da Silva MJ, Teixeira MG (2017) An unexpected behavior of H3PMo12O40 heteropolyacid catalyst on the biphasic hydrolysis of vegetable oils. RSC Adv 7:8192–8199

da Silva MJ, Silva VWG, Laier LO (2010) Novel H3PW12O40: catalysed esterification reactions of fatty acids at room temperature for biodiesel production. Catal Lett 135:207–211

da Silva MJ, Carari DM, da Silva AM (2015) Fe(III)-catalyzed α-terpinyl derivatives synthesis from β-pinene via reactions with hydrogen peroxide in alcoholic solutions. RSC Adv 5:10529–10536

da Silva MJ, Julio AA, Mosqueira Ayala DA, de Miranda LM (2018) Fe(SO4)3-catalyzed synthesis of terpenic alcohols esters: a simple and bifunctional reusable solid catalyst. Chem Select 3:5742–5748

de Mattos FC, de Carvalho EN, Freitas EF, Paiva MF, Ghesti GF, Macedo JL, Dias SC, Dias JA (2017) Acidity and characterization of 12-tungstophosphoric acid supported on silica-alumina. J Braz Chem Soc 28:336–347

de Oliveira AA, da Silva ML, da Silva MJ (2009) Palladium-catalysed oxidation of bicycle monoterpenes by hydrogen peroxide in acetonitrile solutions: a metal reoxidant-free and environmentally benign oxidative process. Catal Lett 130:424–431

Dias JA, Caliman E, Dias SC (2004) Effects of cesium ion exchange on acidity of 12-tungstophosphoric acid. Micropor Mesopor Mat 76:221–232

Essayem N, Coudurier G, Fournier M, Vedrine J (1995) Acidic and catalytic properties of CsxH3-xPW12O40 heteropolyacid compounds. Catal Lett 34:223–235

Fernandes SA, Cardoso AL, da Silva MJ (2012) A novel kinetic study of H3PW12O40-catalyzed oleic acid esterification with methanol via 1H NMR spectroscopy. Fuel Proces Technol 96:98–103

Han X, Yan W, Chen K, Hung C, Liu L, Wu P, Huang S, Liu S (2014) Heteropolyacid-based ionic liquids as effective catalysts for the synthesis of benzaldehyde glycol acetal. Appl Catal A 485:149–156

Han X, Ouyang K, Xiong C, Tang X, Chen Q, Wang K, Liu L, Hung C, Liu S (2017) Transition-metal incorporated heteropolyacid-ionic liquid composite catalysts with tunable Brønsted/Lewis acidity for acetalization of benzaldehyde with ethylene glycol. Appl Cat A 543:115–124

Hensen K, Mahaim C, Hölderich WF (1997a) Alkoxylation of limonene and alpha-pinene over beta zeolite as heterogeneous catalyst. Appl Catal A 149:311–329

Hensen K, Mahaim C, Holderich WF (1997b) Alkoxylation of limonene and alpha-pinene over beta zeolite as heterogeneous catalyst. Appl Catal A 149:311–329

Kamiya Y, Sano S, Miura Y, Uchida Y, Ogawa Y, Iwase Y, Okuhara T (2010) Tungstosilicic acid Cs3HSiW12O40 as a size-selective solid acid catalyst. Chem Lett 39:881–883

Kim JK, Choi JH, Song JH, Yi J, Song IK (2012) Etherification of n-butanol to di-n-butyl ether over HnXW12O40 (X = Co2+, B3+, Si4+, and P5+) Keggin heteropolyacid catalysts. Catal Commun 27:5–8

Kozhevnikov IV (1998) Catalysis by heteropoly acids and multicomponent polyoxometalates in liquid-phase reactions. Chem Rev 98:171–198

Kozhevnikov IV, Kloetstra KR, Sinnema A, Zandbergen HW, Bekkum H (1996) Study of catalysts comprising heteropoly acid H3PW12O40 supported on MCM-41 molecular sieve and amorphous sílica. J Mol Catal A 114:287–298

Li J, Liang X (2017) Magnetic solid acid catalyst for biodiesel synthesis from waste oil. Energ Convers Manag 141:126–132

Liu L, Wang B, Du Y, Borgna A (2015) Supported H4SiW12O40/Al2O3 solid acid catalysts for dehydration of glycerol to acrolein: evolution of catalyst structure and performance with calcination temperature. Appl Catal A 489:32–41

Martins FP, Rodrigues FA, da Silva MJ (2018) Fe2(SO4)3-catalyzed levulinic acid esterification: production of fuel bioadditives. Energies 11:1263–1274

Matos I, Silva MF, Ruiz-Rosas R, Vital J, Rodríguez-Mirasol J, Cordero T, Castanheiro JE, Fonseca IM (2014) Methoxylation of α-pinene over mesoporous carbons and microporous carbons: a comparative study. Micropor Mesopor Mater 199:66–73

Misono M, Ono I, Koyano G, Aoshima A (2000) Heteropolyacids. Versatile green catalysts usable in a variety of reaction media. Pure Appl Chem 72:1305–1311

Mizuno N, Misono M (1997) Heteropolyacid catalysts. Curr Opin Solid State Mater Sci 2:84–89

Narasimharao K, Brown DR, Lee AF, Newman AD, Siril PF, Tavener SJ, Wilson K (2007) Structure-activity relations in Cs-doped heteropolyacid catalysts for biodiesel production. J Catal 248:226–234

Odyakov VF, Zhizhina EG, Rodikova YA, Gogin LL (2015) Mo-V-phosphoric heteropoly acids and their salts: aqueous solution preparation—challenges and perspectives. Eur J Inorg Chem 2015:3618–3631

Okuhara T, Watanabe H, Nishimura T, Inumaru K, Misono M (2000) Microstructure of cesium hydrogen salts of 12-tungstophosphoric acid relevant to novel acid catalysis. Chem Mater 12:2230–2238

Park HW, Park S, Park DR, Choi JH, Song IK (2010) Decomposition of phenethyl phenyl ether to aromatics over CsxH3.0−xPW12O40 (X = 2.0–3.0) heteropolyacid catalysts. Catal Commun 12:1–4

Pito DS, Fonseca IM, Ramos AM, Vital J, Castanheiro JE (2009) Methoxylation of α-pinene over poly (vinyl alcohol) containing sulfonic acid groups. Chem Eng J 147:302–306

Pito DS, Matos I, Fonseca IM, Ramos AM, Vital J, Castanheiro JE (2010) Methoxylation of α-pinene over heteropolyacids immobilized in sílica. Appl Catal A 373:140–146

Pizzio LR, Blanco MN (2003) Isoamyl acetate production catalyzed by H3PW12O40 on their partially substituted Cs or K salts. Appl Catal A 255:265–277

Pizzio LR, Blanco MN (2007) A contribution to the physicochemical characterization of nonstoichiometric salts of tungstosilicic acid. Microp Mesop Mat 103:40–47

Pizzio LR, Vasquez PG, Caceres CV, Blanco MN (2003) Supported Keggin type heteropolycompounds for ecofriendly reactions. Appl Catal A 256:125–139

Rafiee E, Nejad FK, Joshaghani M (2011) CsxH3-xPW12O40 heteropoly salts catalyzed quinoline synthesis via Friedlander reaction. Chin Chem Lett 22:288–291

Saladino R, Bernini R, Neri V, Crestini C (2009) A novel and efficient catalytic epoxidation of monoterpenes by homogeneous and heterogeneous methyltrioxorhenium in ionic liquids. Appl Catal A 360:171–176

Srilakshmi C, Lingaiah N, Suryanarayana I, Prasad PSS, Ramesh K, Anderson BG, Niemantsverdriet JW (2005) In situ synthesis of ammonium salt of 12-molybdophosphoric acid on iron phosphate and the ammoxidation functionality of the catalyst in the transformation of 2-methylpyrazine to 2-cyanopyrazine. Appl Catal A 296:54–62

Yang JI, Lee DW, Lee JH, Hyun JC, Lee KY (2000) Selective and high catalytic activity of CsnH4−nPMo11VO40 (n ≥ 3) for oxidation of ethanol. Appl Catal A 194:123–127

Zheng A, Huang S-J, Liu S-B, Deng F (2011) Acid properties of solid acid catalysts characterized by solid-state 31P NMR of adsorbed phosphorous probe molecules. Phys Chem Chem Phys 13:14889–14901
Acknowledgements
This study was financed in part by the Coordenação de Aperfeiçoamento de Pessoal de Nível Superior—Brasil (CAPES)—Finance Code 001.
Funding
The authors are grateful for the financial support from CNPq and FAPEMIG (Brazil).
Ethics declarations
Conflict of interest
There are no conflicts of interest to declare.
Additional information
Publisher's Note
Springer Nature remains neutral with regard to jurisdictional claims in published maps and institutional affiliations.
Electronic supplementary material
Below is the link to the electronic supplementary material.
About this article
Cite this article
da Silva, M.J., Lopes, N.P.G., Ferreira, S.O. et al. Monoterpenes etherification reactions with alkyl alcohols over cesium partially exchanged Keggin heteropoly salts: effects of catalyst composition. Chem. Pap. 75, 153–168 (2021). https://doi.org/10.1007/s11696-020-01288-x
Received:

Accepted:

Published:

Issue Date:

DOI: https://doi.org/10.1007/s11696-020-01288-x
Keywords
Cesium partially exchanged heteropoly salts

Monoterpenes

Etherification