Abstract
N-doped TiO2 fiber membranes were prepared by electrospinning method and adsorptive chitosan was added as a nitrogen source. The obtained TiO2 fiber membranes were analyzed by scanning electron microscopy, transmission electron microscopy, X-ray diffraction, Raman spectroscopy and X-ray photoelectron spectroscopy (XPS). The results show that the film has adsorption properties; furthermore, the morphology of the TiO2 fiber with a chitosan content of 0.5 g after calcination provides the best catalytic performance; An anatase–rutile titania was found in the oxidized fiber film found in the Raman spectrum TiO2; XPS demonstrated that the introduction of chitosan could replace N atom with partial lattice oxygen in TiO2. Moreover, the degradation rate of methylene blue of the material was about 60–80% after 4-h reaction, and the maximum degradation rate was achieved by nanofiber film with chitosan concentration of 0.5 g.
Access options
Buy single article
Instant access to the full article PDF.
USD 39.95
Price excludes VAT (USA)
Tax calculation will be finalised during checkout.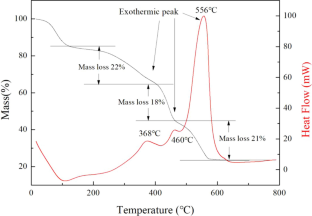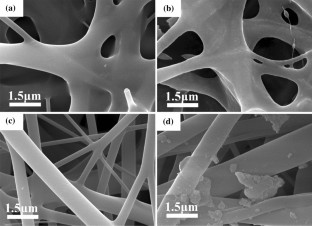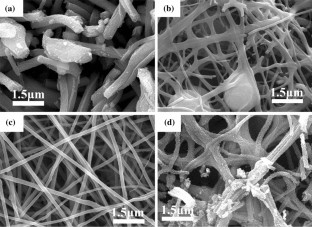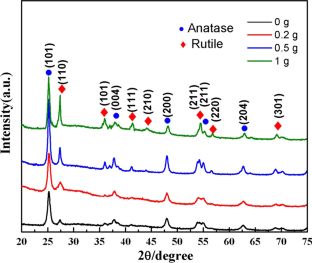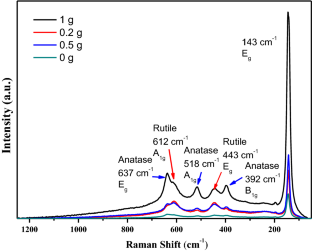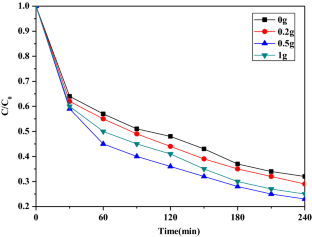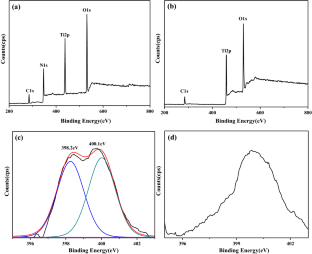 Abbreviations
XPS:

X-ray photoelectron spectroscopy

XRD:

X-ray diffraction

TEM:

Transmission electron microscopy

SEM:

Scanning electron microscopy

N-Doped:

Nitrogen-Doped

PVP:

Polyvinylpyrrolidone

TBOT:

Tetrabutyl titanate
References
Daghrir R, Drogui P, Robert D (2013) Modified TiO2 For Environmental Photocatalytic Applications: a Review. Ind Eng Chem Res 52(10):3581–3599. https://doi.org/10.1021/ie303468t

Dunnill CW, Parkin IP (2011) Nitrogen-doped TiO2 thin films: photocatalytic applications for healthcare environments. Dalton Trans 40(8):1635–1640. https://doi.org/10.1039/c0dt00494d

Guibal E (2004) Interactions of metal ions with chitosan-based sorbents: a review. Sep Purif Technol 38(1):43–74. https://doi.org/10.1016/j.seppur.2003.10.004

Huang C, Bian J, Guo Y, Huang M, Zhang R-Q (2019) Thermal vacuum de-oxygenation and post oxidation of TiO2 nanorod arrays for enhanced photoelectrochemical properties. J Mater Chem A 7(10):5434–5441. https://doi.org/10.1039/C8TA11830B

Jaimy KB, Safeena VP, Ghosh S, Hebalkar NY, Warrier KGK (2012) Photocatalytic activity enhancement in doped titanium dioxide by crystal defects. Dalton Trans 41(16):4824–4832. https://doi.org/10.1039/C2DT12018F

Jiao Y, Peng C, Guo F, Bao Z, Yang J, Schmidt-Mende L, Dunbar R, Qin Y, Deng Z (2011) Facile synthesis and photocatalysis of size-distributed TiO2 hollow spheres consisting of 116 plane-oriented nanocrystallites. J Phys Chem C 115(14):6405–6409. https://doi.org/10.1021/jp200491u

Jin YJ, Linghu J, Chai J, Chua CS, Wong LM, Feng YP, Yang M, Wang S (2018) Defect evolution enhanced visible-light photocatalytic activity in nitrogen-doped anatase TiO2 thin films. J Phys Chem C 122(29):16600–16606. https://doi.org/10.1021/acs.jpcc.8b04517

Li Z, Bian H, Xiao X, Shen J, Zhao C, Lu J, Li YY (2019) Defective black TiO2 nanotube arrays for enhanced photocatalytic and photoelectrochemical applications. ACS Appl Nano Mater 2(11):7372–7378. https://doi.org/10.1021/acsanm.9b01878

Liu C, Yang Y, Li W, Li J, Li Y, Shi Q, Chen Q (2015) Highly efficient photoelectrochemical hydrogen generation using ZnxBi2S3+x sensitized platelike WO3 photoelectrodes. ACS Appl Mater Interfaces 7(20):10763-s10770. https://doi.org/10.1021/acsami.5b00830

Luo Y, Liu X, Huang J (2013) Heterogeneous nanotubular anatase/rutile titania composite derived from natural cellulose substance and its photocatalytic property. CrystEngComm. https://doi.org/10.1039/c3ce40446c

Pan X, Gao X, Chen X, Lee HN, Liu Y, Withers RL, Yi Z (2017) Design synthesis of nitrogen-doped TiO2@carbon nanosheets toward selective nitroaromatics reduction under mild conditions. ACS Catal 7(10):6991–6998. https://doi.org/10.1021/acscatal.7b02322

Sharotri N, Sharma D, Sud D (2019) Experimental and theoretical investigations of Mn-N-co-doped TiO2 photocatalyst for visible light induced degradation of organic pollutants. J Mater Res Technol 8(5):3995–4009. https://doi.org/10.1016/j.jmrt.2019.07.008

Su Y, Deng L, Zhang N, Wang X, Zhu X (2009) Photocatalytic degradation of C.I. Acid Blue 80 in aqueous suspensions of titanium dioxide under sunlight. React Kinet Catal Lett 98(2):227–240. https://doi.org/10.1007/s11144-009-0059-4

Sun S, Gao P, Yang Y, Yang P, Chen Y, Wang Y (2016) N-doped TiO2 nanobelts with coexposed (001) and (101) facets and their highly efficient visible-light-driven photocatalytic hydrogen production. ACS Appl Mater Interfaces 8(28):18126–18131. https://doi.org/10.1021/acsami.6b05244

Ullattil SG, Ramakrishnan RM (2018) Defect-rich brown TiO2–x porous flower aggregates: selective photocatalytic reversibility for organic dye degradation. ACS Appl Nano Mater 1(8):4045–4052. https://doi.org/10.1021/acsanm.8b00824

Unuabonah EI, Günter C, Weber J, Lubahn S, Taubert A (2013) Hybrid clay: a new highly efficient adsorbent for water treatment. ACS Sustain Chem Eng 1(8):966–973. https://doi.org/10.1021/sc400051y

Vasu K, Sreedhara MB, Ghatak J, Rao CNR (2016) Atomic layer deposition of p-type epitaxial thin films of undoped and N-doped anatase TiO2. ACS Appl Mater Interfaces 8(12):7897–7901. https://doi.org/10.1021/acsami.6b00628

Wang F, Ho JH, Jiang Y, Amal R (2015) Tuning phase composition of TiO2 by Sn4+ doping for efficient photocatalytic hydrogen generation. ACS Appl Mater Interfaces 7(43):23941–23948. https://doi.org/10.1021/acsami.5b06287

Wang W, Liu Y, Qu J, Chen Y, Shao Z (2016) Nitrogen-doped TiO2 microspheres with hierarchical micro/nanostructures and rich dual-phase junctions for enhanced photocatalytic activity. RSC Adv 6(47):40923–40931. https://doi.org/10.1039/C6RA02966C

Wang Q, Cui Y, Huang R, Zhong L, Yan P, Zhang S, Zhao Q, Jiang D, Tang A, Yang H (2020) A heterogeneous Fenton reaction system of N-doped TiO2 anchored on sepiolite activates peroxymonosulfate under visible light irradiation. Chem Eng J 383:123142. https://doi.org/10.1016/j.cej.2019.123142

Xie F, Wu H, Mou J, Lin D, Xu C, Wu C, Sun X (2017) Ni3N@Ni-Ci nanoarray as a highly active and durable non-noble-metal electrocatalyst for water oxidation at near-neutral pH. J Catal 356:165–172. https://doi.org/10.1016/j.jcat.2017.10.013

Yang G, Jiang Z, Shi H, Xiao T, Yan Z (2010) Preparation of highly visible-light active N-doped TiO2 photocatalyst. J Mater Chem 20(25):5301–5309

Yao Y, Xu C, Yu S, Zhang D, Wang S (2013) Facile synthesis of Mn3O4–reduced graphene oxide hybrids for catalytic decomposition of aqueous organics. Ind Eng Chem Res 52(10):3637–3645. https://doi.org/10.1021/ie303220x

Zhang S, Wang D (2015) Preparation of novel BiOBr/CeO2 heterostructured photocatalysts and their enhanced photocatalytic activity. RSC Adv 5(113):93032–93040. https://doi.org/10.1039/C5RA13581H

Zhang G, Kim G, Choi W (2014) Visible light driven photocatalysis mediated via ligand-to-metal charge transfer (LMCT): an alternative approach to solar activation of titania. Energy Environ Sci 7(3):954–966. https://doi.org/10.1039/c3ee43147a

Zhang Z, Lu Z-H, Tan H, Chen X, Yao Q (2015) CeOx-modified RhNi nanoparticles grown on rGO as highly efficient catalysts for complete hydrogen generation from hydrazine borane and hydrazine. J Mater Chem A 3(46):23520–23529. https://doi.org/10.1039/C5TA06197K
Acknowledgements
This work was supported by National Natural Science Foundation of China (21407050); The Natural Science Foundation of the Jiangsu province (BK20180103); Qing Lan Project of Jiangsu Province; Jiangsu Collaborative Innovation Center of Technology and Material for Water Treatment.
Ethics declarations
Conflict of interest statement
On behalf of all authors, we state that there is no conflict of interest to this work. We declare that we have no financial and personal relationships with other people or organizations that can inappropriately influence our work. There is no professional or other personal interest of any nature or kind in any product, service and/or company that could be construed as influencing the position presented in, or the review of, the manuscript entitled.
Additional information
Publisher's Note
Springer Nature remains neutral with regard to jurisdictional claims in published maps and institutional affiliations.
About this article
Cite this article
Gao, J., Zhang, L., Qian, J. et al. Electrospinning synthesis of N-doped TiO2 fiber membranes and its enhanced photocatalysis performance. Chem. Pap. 75, 115–122 (2021). https://doi.org/10.1007/s11696-020-01286-z
Received:

Accepted:

Published:

Issue Date:

DOI: https://doi.org/10.1007/s11696-020-01286-z
Keywords
Chitosan fiber membrane

N-doped TiO2

Photocatalysis performance

Waste water treatment