Abstract
This paper aims to present the influence of anode catalyst supports, current collector open ratio, liquid electrolyte layer incorporated membrane, and methanol concentration on the passive Direct methanol fuel cell (DMFC) performance. Current collectors with three different opening ratios of 45.40%, 55.40% and 63.05% were considered in the present study. For the three current collectors, the fuel cell is operated with diluted methanol solution (concentration varied from 1 to 5 M) as the anodic fuel. The experimental results showed that the current collector with 55.40% open ratio at 3 M of methanol concentration produced the MPD compared to the other two open ratios. A liquid electrolyte (LE) layer was inserted in between the two half MEAs to recuce the methanol crossover. It was noticed that the LE-DMFC gave the best performance with all the three current collector having different opne ratios. Similarly, the effect of two anaode catalyst layers was also studied. From the experimental results, it was noticed that the fuel cell performance improved by using the MEA with two layers of anode catalyst of Pt-Ru/Carbon black + Pt-Ru/C.
Access options
Buy single article
Instant access to the full article PDF.
USD 39.95
Price excludes VAT (USA)
Tax calculation will be finalised during checkout.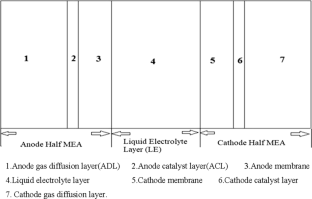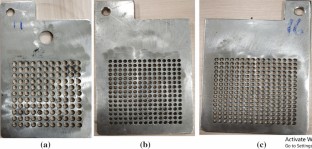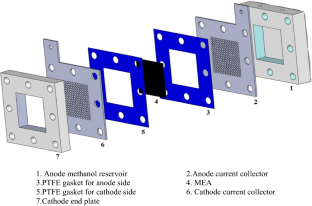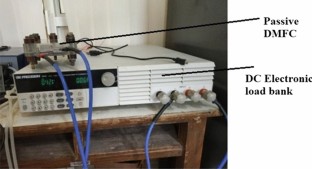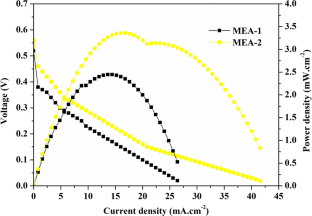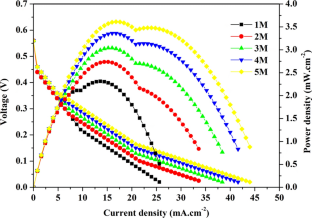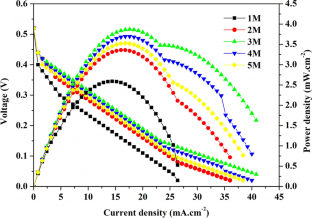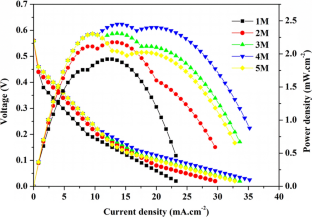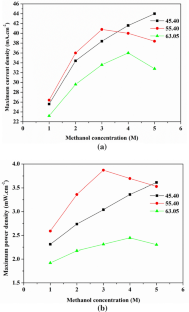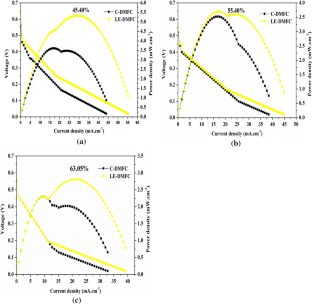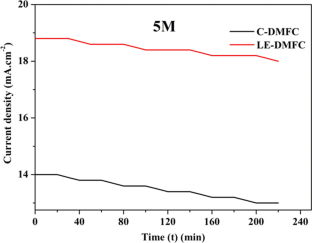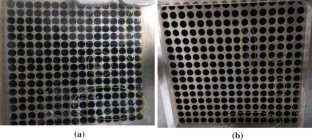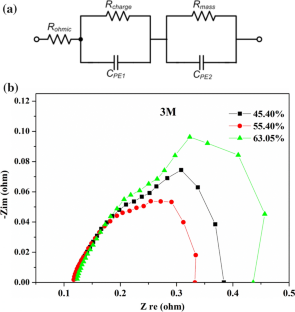 Abbreviations
LE:

Liquid electrolyte

CC:

Current collector

OR:

Open ratio

MEA:

Membrane electrode assembly

MPD:

Maximum power density

MCD:

Maximum current density

MOR:

Methanol oxidation reaction

ORR:

Oxyen reduction reaction
Acknowledgements
The authors acknowledged the financial support provided by DST-SERB,Govt. of India and TEQIP-II-CoE, National Institute of Technology, Warangal, Telagana, India.
Additional information
Publisher's Note
Springer Nature remains neutral with regard to jurisdictional claims in published maps and institutional affiliations.
About this article
Cite this article
Boni, M., Surapaneni, S.R., Golagani, N.S. et al. Experimental investigations on the effect of current collector open ratio on the performance of a passive direct methanol fuel cell with liquid electrolyte layer. Chem. Pap. 75, 27–38 (2021). https://doi.org/10.1007/s11696-020-01277-0
Received:

Accepted:

Published:

Issue Date:

DOI: https://doi.org/10.1007/s11696-020-01277-0
Keywords
Passive DMFC

Anode catalyst supports

Perforated current collectors

Liquid electrolyte layer

Methanol concentration

Fuel cell performance