Abstract
The structure of poly aniline (PANI), poly para phenylenediamine (PpPDA), and poly benzidine (PBz) is strongly dependent on the synthesis conditions and procedure. For this reason there is an ambiguity in the proposed structure of the polymers in the literature. A density functional theory (DFT) calculation were performed to establish the structure of synthesized PANI, PpPDA, and PBz. Different structures were considered for each polymer and fully optimized. Then their electrical and optical properties were calculated. Experimental band gaps of studied polymers were obtained using cyclic voltammetry technique and compared with those calculated by DFT. Optical band gap was also obtained from UV–visible spectrum of each polymer dissolved in DMSO solvent. Optical band gap value obtained for aniline is 1.90 eV which is close to the experimental band gap value reported for emeraldine form of poly aniline. Comparing calculated and experimental HOMO–LUMO gaps decline the formation of benzoid (PPDA-a) and phenenzine (PPDA-b) structures during synthesis of PpPDA. However, the exact structure of PpPDA was recognized through comparing experimental and simulated optical properties. Calculated electronic and optical band gaps of phenanzine structure of synthesized benzidine (PBz-c) are close to those of experimental ones and are confirmed by the spectroscopic results. Obtained results show that theoretical calculations play an important role in the detection of complex polymer structures.
Access options
Buy single article
Instant access to the full article PDF.
USD 39.95
Price excludes VAT (USA)
Tax calculation will be finalised during checkout.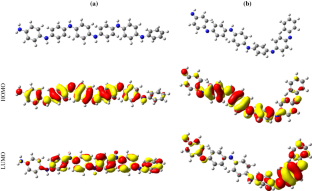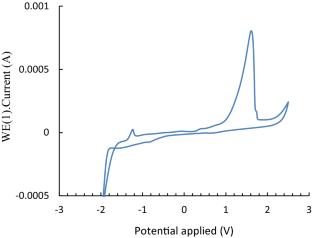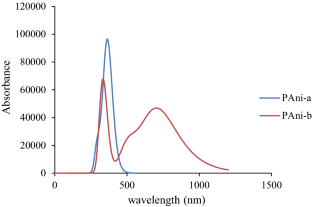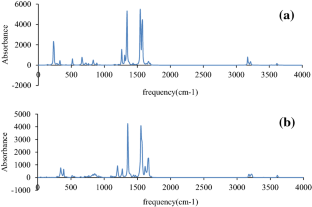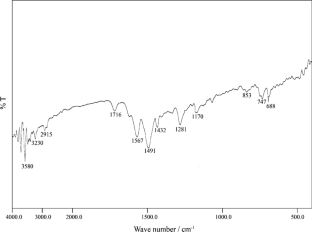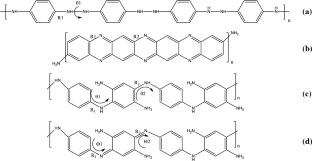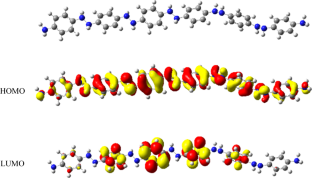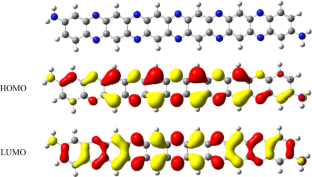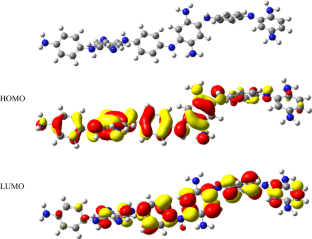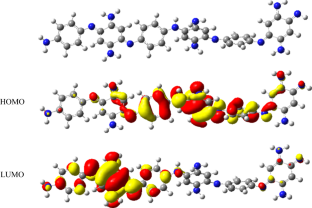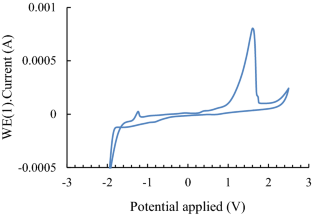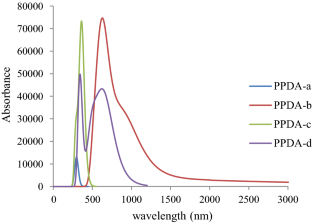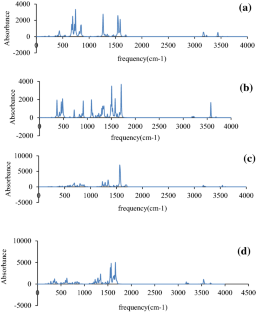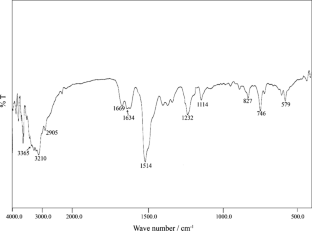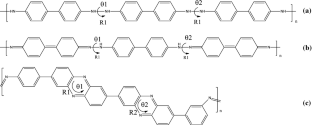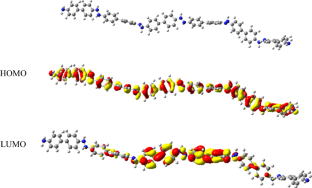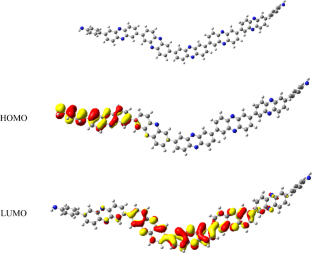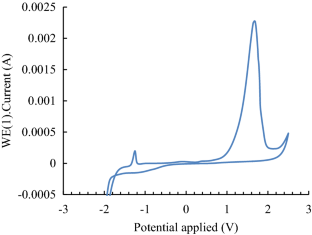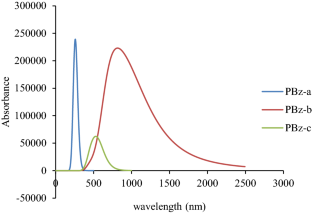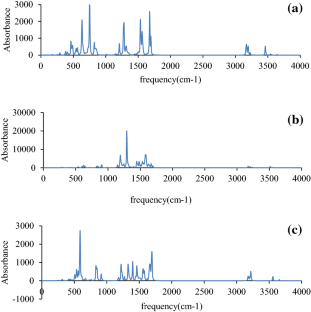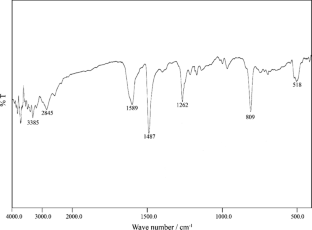 References
Al-Hossainy AF, Zoromba MS (2019) Doped-poly (para-nitroaniline- co-aniline): synthesis, semiconductor characteristics, density, functional theory and photoelectric properties. J Alloy Compd 789:670–683. https://doi.org/10.1016/j.jallcom.2019.03.118

Al-Hossainy AF, Kh. Thabet H, Zoromba MS, Ibrahim A (2018) Facile synthesis and fabrication of a poly(ortho-anthranilic acid) emeraldine salt thin film for solar cell applications. New J Chem 42:10386–10395. https://doi.org/10.1039/C8NJ01204K

Amer I, Young DA (2013) Chemically oxidative polymerization of aromatic diamines: the first use of aluminium-triflate as a co-catalyst. Polymer 54:505–512. https://doi.org/10.1016/j.polymer.2012.11.078

Baibarac M, Baltog I, Smaranda I, Scocioreanu M, Lefrant S (2011) Hybrid organic–inorganic materials based on poly(o-phenylenediamine) and polyoxometallate functionalized carbon nanotubes. J Mol Struct 985:211–218. https://doi.org/10.1016/j.molstruc.2010.10.044

Bazito FFC, Silveira LT, Torresi RM, Córdoba-de-Torresi SI (2008) On the stabilization of conducting pernigraniline salt by the synthesis and oxidation of polyaniline in hydrophobic ionic liquids. Phys Chem Chem Phys 10:1457–1462. https://doi.org/10.1039/B714458J

Bhatt R, Bhaumik I, Ganesamoorthy S, Karnal AK, Swami MK, Patel HS, Gupta PK (2012) Urbach tail and bandgap analysis in near stoichiometric LiNbO3 crystals. Phys Status Solidi A 209:176–180. https://doi.org/10.1002/pssa.201127361

Cardona CM, Li W, Kaifer AE, Stockdale D, Bazan GC (2011) Electrochemical considerations for determining absolute frontier orbital energy levels of conjugated polymers for solar cell applications. Adv Mater 23:2367–2371. https://doi.org/10.1002/adma.201004554

Casado J, Hernández V, Rami X, Rez FJ, López-Navarrete JT (1999) Ab initio HF and DFT calculations of geometric structures and vibrational spectra of electrically conducting doped oligothiophenes. J Mol Struct THEOCHEM 463:211–216. https://doi.org/10.1016/S0166-1280(98)00416-3

Chan HSO, Ng SC, Hor TSA, Sun J, Tan KL, Tan BTG (1991) Poly(m-phenylenediamine): Synthesis and characterization by X-ray photoelectron spectroscopy. Eur Polym J 27:1303–1308. https://doi.org/10.1016/0014-3057(91)90069-Z

Cheng F, Tang W, Li C, Chen J, Liu H, Shen P, Dou S (2006) Conducting poly(aniline) nanotubes and nanofibers: controlled synthesis and application in lithium/poly(aniline) rechargeable batteries. Chemistry 12:3082–3088. https://doi.org/10.1002/chem.200500883

Ćirić-Marjanović G (2013) Recent advances in polyaniline research: Polymerization mechanisms, structural aspects, properties and applications. Synth Met 177:1–47. https://doi.org/10.1016/j.synthmet.2013.06.004

Davis EA, Mott NF (1970) Conduction in non-crystalline systems V, Conductivity, optical absorption and photoconductivity in amorphous semiconductors. Philos Mag 22:0903–0922. https://doi.org/10.1080/14786437008221061

Dennington R, Keith T, Millam J (2009) GaussView, Version 5. Semichem Inc., Shawnee Mission

D'Eramo F, Silber JJ, Arévalo AH, Sereno LE (2000) Electrochemical detection of silver ions and the study of metal–polymer interactions on a polybenzidine film electrode. J Electroanal Chem 494:60–68. https://doi.org/10.1016/S0022-0728(00)00329-6

do Nascimento GM, Constantino VRL, Temperini MLA (2004) Spectroscopic characterization of doped poly(benzidine) and its nanocomposite with cationic clay. J Phys Chem B 108:5564–5571. https://doi.org/10.1021/jp037262i

Franco FC Jr, Padama AAB (2016) DFT and TD-DFT study on the structural and optoelectronic characteristics of chemically modified donor-acceptor conjugated oligomers for organic polymer solar cells. Polymer 97:55–62. https://doi.org/10.1016/j.polymer.2016.05.025

Frisch MJ et al (2009) Gaussian 09. Gaussian Inc, Wallingford

Guimard NK, Gomez N, Schmidt CE (2007) Conducting polymers in biomedical engineering. Prog Polym Sci 32:876–921. https://doi.org/10.1016/j.progpolymsci.2007.05.012

Heinze J (1984) Cyclic voltammetry—"electrochemical spectroscopy". New analytical methods (25). Angew Chem Int Edn Engl 23:831–847. https://doi.org/10.1002/anie.198408313

Kamran M, Ullah H, A-u-HA S, Bilal S, Tahir AA, Ayub K (2015) Combined experimental and theoretical study of poly(aniline-co-pyrrole) oligomer. Polymer 72:30–39. https://doi.org/10.1016/j.polymer.2015.07.003

Li X-G, Huang M-R, Duan W, Yang Y-L (2002) Novel multifunctional polymers from aromatic diamines by oxidative polymerizations. Chem Rev 102:2925–3030. https://doi.org/10.1021/cr010423z

Li T, Yuan C, Zhao Y, Chen Q, Wei M, Wang Y (2013) Facile Synthesis and characterization of poly (o-phenylenediamine) submicrospheres doped with glycine. J Macromol Sci Part A 50:330–333. https://doi.org/10.1080/10601325.2013.755882

Manivel P, Sathiyanarayanan S, Venkatachari G (2008) Synthesis of poly(p-phenylene diamine) and its corrosion inhibition effect on iron in 1M HCl. J Appl Polym Sci 110:2807–2814. https://doi.org/10.1002/app.28772

Min Y-L, Wang T, Zhang Y-G, Chen Y-C (2011) The synthesis of poly(p-phenylenediamine) microstructures without oxidant and their effective adsorption of lead ions. J Mater Chem 21:6683–6689. https://doi.org/10.1039/C1JM10169B

Muthirulan P, Rajendran N (2012) Poly(o-phenylenediamine) coatings on mild steel: electrosynthesis, characterization and its corrosion protection ability in acid medium. Surf Coat Technol 206:2072–2078. https://doi.org/10.1016/j.surfcoat.2011.09.008

Nateghi MR, Savabieh B (2014) Study of polyaniline oxidation kinetics and conformational relaxation in aqueous acidic solutions. Electrochim Acta 121:128–135. https://doi.org/10.1016/j.electacta.2013.12.111

Naveen Kumar M, Nagabhooshanam M, Anand Rao M, Bhagvanth Rao M (2001) Preparation and characterization of doped polybenzidine. Cryst Res Technol 36:309–317. https://doi.org/10.1002/1521-4079(200103)36:3<309:AID-CRAT309>3.0.CO;2-9

Prokeš J, Stejskal J, Křivka I, Tobolková E (1999) Aniline-phenylenediamine copolymers. Synth Metals 102:1205–1206. https://doi.org/10.1016/S0379-6779(98)01223-5

Salzner U (2008) Investigation of charge carriers in doped thiophene oligomers through theoretical modeling of their UV/Vis spectra. J Phys Chem A 112:5458–5466. https://doi.org/10.1021/jp800606m

Sapurina I, Stejskal J (2008) The mechanism of the oxidative polymerization of aniline and the formation of supramolecular polyaniline structures. Polym Int 57:1295–1325. https://doi.org/10.1002/pi.2476

Sayyah SM, El-Deeb MM, Kamal SM, Azooz RE (2009) Electropolymerization of o-phenylenediamine on Pt-electrode from aqueous acidic solution: Kinetic, mechanism, electrochemical studies and characterization of the polymer obtained. J Appl Polym Sci 112:3695–3706. https://doi.org/10.1002/app.29802

Sestrem RH, Ferreira DC, Landers R, Temperini MLA, do Nascimento GM (2009) Structure of chemically prepared poly-(para-phenylenediamine) investigated by spectroscopic techniques. Polymer 50:6043–6048. https://doi.org/10.1016/j.polymer.2009.10.028

Sestrem RH, Ferreira DC, Landers R, Temperini MLA (2010) Synthesis and spectroscopic characterization of polymer and oligomers of ortho-phenylenediamine. Eur Polym J 46:484–493. https://doi.org/10.1016/j.eurpolymj.2009.12.007

Shahhosseini L, Nateghi MR, Sheikh-Sivandi S (2016) Electrochemical synthesis of polymer based on 4-(2-thienyl)benzenamine in aqueous solutions: electrochemical properties, characterization and application. Synth Met 211:66–74. https://doi.org/10.1016/j.synthmet.2015.11.015

Stejskal J (2015) Polymers of phenylenediamines. Prog Polym Sci 41:1–31. https://doi.org/10.1016/j.progpolymsci.2014.10.007

Stejskal J, Gilbert RG (2002) Polyaniline. Preparation of a conducting polymer(IUPAC Technical Report). Pure Appl Chem 74:857–867. https://doi.org/10.1351/pac200274050857

Stejskal J, Kratochvíl P, Jenkins AD (1996) The formation of polyaniline and the nature of its structures. Polymer 37:367–369. https://doi.org/10.1016/0032-3861(96)81113-X

Stejskal J, Sapurina I, Trchová M (2010) Polyaniline nanostructures and the role of aniline oligomers in their formation. Prog Polym Sci 35:1420–1481. https://doi.org/10.1016/j.progpolymsci.2010.07.006

Sulimenko T, Stejskal J, Prokeš J (2001) Poly(phenylenediamine) Dispersions. J Colloid Interface Sci 236:328–334. https://doi.org/10.1006/jcis.2000.7415

Sworakowski J (2018) How accurate are energies of HOMO and LUMO levels in small-molecule organic semiconductors determined from cyclic voltammetry or optical spectroscopy? Synth Met 235:125–130. https://doi.org/10.1016/j.synthmet.2017.11.013

Sworakowski J, Janus K (2017) On the reliability of determination of energies of HOMO levels in organic semiconducting polymers from electrochemical measurements. Org Electron 48:46–52. https://doi.org/10.1016/j.orgel.2017.05.031

Sworakowski J, Lipiński J, Janus K (2016) On the reliability of determination of energies of HOMO and LUMO levels in organic semiconductors from electrochemical measurements A simple picture based on the electrostatic model. Org Electron 33:300–310. https://doi.org/10.1016/j.orgel.2016.03.031

Tomasi J, Mennucci B, Cammi R (2005) Quantum mechanical continuum solvation models. Chem Rev 105:2999–3094. https://doi.org/10.1021/cr9904009

Ullah H, A-u-HA S, Ayub K, Bilal S (2013) Density functional theory study of poly(o-phenylenediamine) oligomers. J Phys Chem C 117:4069–4078. https://doi.org/10.1021/jp311526u

Ullah H, Shah HA, Bilal S, Ayub K (2014) Doping and dedoping processes of polypyrrole: DFT study with hybrid functionals. J Phys Chem C 118:17819–17830. https://doi.org/10.1021/jp505626d

Wu L-L, Luo J, Lin Z-H (1996) Spectroelectrochemical studies of poly-o-phenylenediamine. Part 1 situ resonance Raman spectroscopy. J Electroanal Chem 417:53–58. https://doi.org/10.1016/S0022-0728(96)04759-6

Yang S, Liao F (2012) Poly(p-phenylenediamine) nanofibers having conjugated structures, a novel, simple and highly selective fluorescent probe for l-cysteine. Synth Met 162:1343–1347. https://doi.org/10.1016/j.synthmet.2012.05.019

Yang L, Feng J-K, Ren A-M, Sun J-Z (2006) The electronic structure and optical properties of carbazole-based conjugated oligomers and polymers: a theoretical investigation. Polymer 47:1397–1404. https://doi.org/10.1016/j.polymer.2005.12.065

Yang S, Ye C, Song X, He L, Liao F (2014) Theoretical calculation based synthesis of a poly(p-phenylenediamine)–Fe3O4 composite: a magnetically recyclable photocatalyst with high selectivity for acid dyes. RSC Adv 4:54810–54818. https://doi.org/10.1039/C4RA11138A

Zoromba MS, Abdel-Aziz MH, Bassyouni M, Bahaitham H, Al-Hossainy AF (2018) Poly(o-phenylenediamine) thin film for organic solar cell applications. J Solid State Electrochem 22:3673–3687. https://doi.org/10.1007/s10008-018-4077-x
Additional information
Publisher's Note
Springer Nature remains neutral with regard to jurisdictional claims in published maps and institutional affiliations.
About this article
Cite this article
Majidizadeh Fini, A., Kalantari Fotooh, F., Nateghi, M.R. et al. Combined experimental and theoretical investigation of optical and structural properties of poly aniline derivatives. Chem. Pap. 75, 9–25 (2021). https://doi.org/10.1007/s11696-020-01273-4
Received:

Accepted:

Published:

Issue Date:

DOI: https://doi.org/10.1007/s11696-020-01273-4
Keywords
Poly aniline

Band gap

DFT calculations

Electrical and optical properties