Abstract
To recover dyes and reuse adsorbents in the process of dye wastewater treatment, a new composite adsorbent based on viscose fiber cloth and Cu–BTEC MOFs was designed. The MOF materials were evenly distributed on the fiber surface via an in situ hot pressing process. The adsorbent could effectively adsorb methylene blue as the model dye in the solution, and the adsorption efficiency could reach 84% in 4 h. When the adsorbent is spent after several adsorption cycles, it could be recovered to a higher adsorption efficiency by UV catalytic regeneration. Hence, the explored material should be applicable in the field of wastewater treatment.
Graphic abstract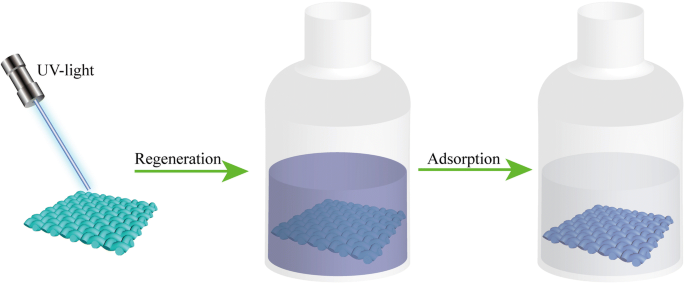 Access options
Buy single article
Instant access to the full article PDF.
USD 39.95
Price includes VAT (USA)
Tax calculation will be finalised during checkout.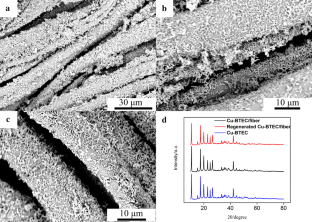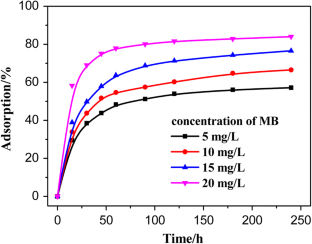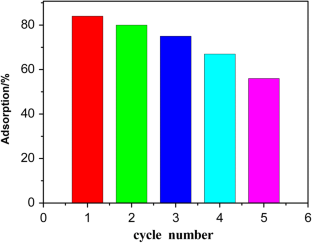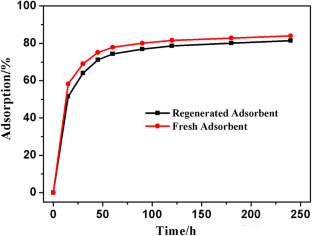 Acknowledgements
This project was financially supported by the Henan Province Program for Science and Technology Development (16210221247), the Program of Henan Province Department of Education (15A430053) and the Basic Scientific Research Program of Zhongyuan University of Technology (K2018QN018).
Additional information
Publisher's Note
Springer Nature remains neutral with regard to jurisdictional claims in published maps and institutional affiliations.
Electronic supplementary material
Below is the link to the electronic supplementary material.
About this article
Cite this article
Jia, X., Wang, X., Zhang, L. et al. A regenerated adsorbent by ultraviolet irradiation based on viscose fiber cloth/Cu–BTEC MOFs for methylene blue adsorption. Chem. Pap. 74, 4135–4139 (2020). https://doi.org/10.1007/s11696-020-01219-w
Received:

Accepted:

Published:

Issue Date:
Keywords
Viscose fiber

Metal–organic framework material

Adsorption

Regeneration by UV

Methylene blue