Abstract
In this study, three different precipitation systems of increasing complexities were used to study formation of calcium oxalate hydrates under hyperoxaluria conditions. For this purpose, three different precipitation systems have been studied: (a) a simple system (a system containing constituent ions), (b) NaCl system (a system consisted of constituent ions and 0.3 mol dm−3 NaCl), and (c) artificial urine system (a system containing constituent ions that are of the type and quantity mimicking real urine) at initial pH (pHi = 6.5) value, with and without added vitamin C. The vitamin C has been extensively tested for its ability to inhibit or promote the process of calcium oxalate precipitation or the formation of specific hydrate modification. In order to determine whether calcium oxalate crystallization could be affected by the presence of vitamin C in precipitation systems with increasing complexity, different amounts of vitamin C (in the mass range from 100 to 1000 mg) were added to the precipitation systems. The results indicated that in all investigated simple systems, calcium oxalate monohydrate (COM) is observed to be dominant precipitated hydrate phase, while in NaCl systems precipitation of COM and calcium oxalate trihydrate (COT) mixture occurrs, except in reference NaCl system (without addition of vitamin C) where COM precipitated exclusively. In reference artificial urine system, calcium oxalate dihydrate was observed to be dominant precipitated hydrate phase, while addition of vitamin C promoted precipitation of COT. Significant differences are mainly observed in crystal morphology and the content of individual hydrate phases. Electrochemical measurements have indicated the existence of electrostatic interactions between seed crystals and ascorbic acid, even at low masses of added vitamin C.
This is a preview of subscription content, log in to check access.
Access options
Buy single article
Instant access to the full article PDF.
US$ 39.95
Price includes VAT for USA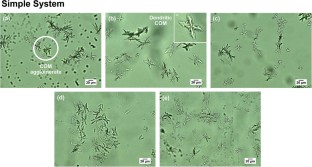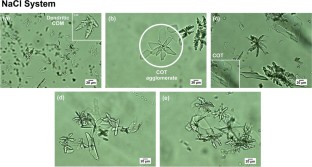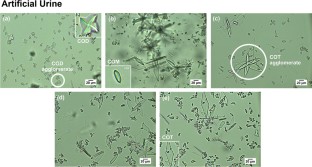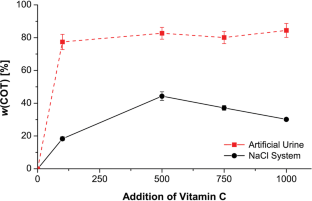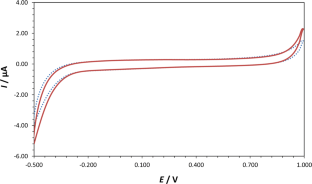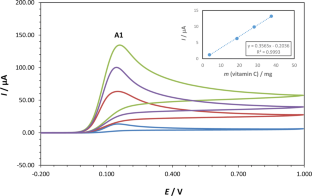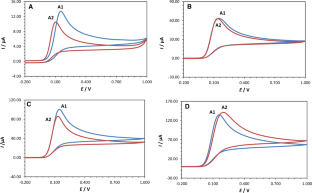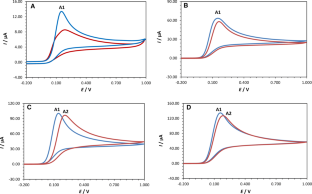 References
Alelign T, Petros B (2018) Kidney stone disease: an update on current concepts. Adv Urol 4:1–12. https://doi.org/10.1155/2018/3068365

Brečević LJ, Kralj D (2010) Factors influencing the formation of calcium oxalate hydrates in vitro. Med Vjesn 42(3–4):127–136

Brown P, Ackermann D, Finlayson B (1989) Calcium oxalate dihydrate (weddellite) precipitation. J Cryst Growth 98(3):285–292. https://doi.org/10.1016/0022-0248(89)90143-7

Conti C, Casati M, Colombo C, Realini M, Brambilla L, Zerbi G (2014) Phase transformation of calcium oxalate dihydrate–monohydrate: effects of relative humidity and new spectroscopic data. Spectrochim Acta Part A Mol Biomol Spectrosc 128:413–419. https://doi.org/10.1016/j.saa.2014.02.182

Curhan GC, Willett WC, Speizer FE, Stampfer MJ (1999) Intake of vitamins B6 and C and the risk of kidney stones in women. J Am Soc Nephrol 10:840–845

Echigo T, Kimata M, Kyono A, Shmizu M, Hatta T (2005) Re-investigation of the crystal structure of whewellite [Ca(C2O4)·H2O] and the dehydration mechanism of caoxite [Ca(C2O4)·3H2O]. Mineral Mag 69:77–88. https://doi.org/10.1180/0026461056910235

Ferraro PM, Curhan GC, Gambaro G, Taylor EN (2016) Total, dietary, and supplemental vitamin C intake and risk of incident kidney stones. Am J Kidney Dis 67:400–407. https://doi.org/10.1053/j.ajkd.2015.09.005

Fu L, Zheng Y-H, Fu Z-X (2015) Ascorbic acid amperometric sensor using a graphene-wrapped hierarchical TiO2 nanocomposite. Chem Pap 69:655–661. https://doi.org/10.1515/chempap-2015-0079

Gasinska A, Gajewska D (2007) Tea and coffee as the main sources of oxalate in diets of patients with kidney oxalate stones. Rocz Panstw Zakl Hig 58(1):61–67

Gerster H (1997) No contribution of ascorbic acid to renal calcium oxalate stones. Ann Nutr Metab 41(5):269–282. https://doi.org/10.1159/000177954

Harrison FE (2012) A critical review of vitamin C for the prevention of age-related cognitive decline and Alzheimer's disease. J Alzheimers Dis 29:711–726. https://doi.org/10.3233/JAD-2012-111853

Heijnen W, Jellinghaus W, Klee WE (1985) Calcium oxalate trihydrate in urinary calculi. Urol Res 13:281–283. https://doi.org/10.1007/BF00262657

Hess B, Ryall RL, Kavanagh JP, Khan SR, Kok DJ, Rodgers AL, Tiselius HG (2001) Methods for measuring crystallization in urolithiasis research: why, how and when? Eur Urol 40(2):220–230. https://doi.org/10.1159/000049776

Hickey S, Saul AW (2008) Vitamin C: the real story, the remarkable and controversial healing factor. Basic Health Publications ISBN-13: 9781591202233

Hughes C, Dutton S, Truswell A (1981) High intakes of ascorbic acid and urinary oxalate. J Hum Nutr 35:274–280

Ihli J, Wang Y-W, Cantaert B, Kim Y-Y, Green DC, Bomans PHH, Sommerdijk NAJM, Meldrum FC (2015) Precipitation of amorphous calcium oxalate in aqueous solution. Chem Mater 27:3999–4007. https://doi.org/10.1021/acs.chemmater.5b01642

Kaloustian J, El-Moselhy TF, Portugal H (2003) Determination of calcium oxalate (mono- and dihydrate) in mixtures with magnesium ammonium phosphate or uric acid: the use of simultaneous thermal analysis in urinary calculi. Clin Chim Acta 334:117–129. https://doi.org/10.1016/S0009-8981(03)00228-6

Knight J, Madduma-Liyanage K, Mobley JA, Assimos DG, Holmes RP (2016) Ascorbic acid intake and oxalate synthesis. Urolithiasis 44(4):289–297. https://doi.org/10.1007/s00240-016-0868-7

Kok DJ, Papapoulos SE, Blomen LJ, Bijvoet OL (1988) Modulation of calcium oxalate monohydrate crystallization kinetics in vitro. Kidney Int 34(3):346–350

Laffite G, Leroy C, Bonhomme C, Bonhomme-Coury L, Letavernier E, Daudon M, Frochot V, Haymann JP, Rouzière S, Lucas IT, Bazin D, Babonneau F, Abou-Hassan A (2016) Calcium oxalate precipitation by diffusion using laminar microfluidics: toward a biomimetic model of pathological microcalcifications. Lab Chip 16:1157–1160. https://doi.org/10.1039/C6LC00197A

Levine M, Rumsey SC, Daruwala R, Park JB, Wang Y (1999) Criteria and recommendations for vitamin C intake. JAMA 281(15):1415–1423. https://doi.org/10.1001/jama.281.15.1415

Maurice-Estepa L, Levillain P, Lacour B, Daudon M (2000) Advantage of zero-crossing-point first-derivative spectrophotometry for the quantification of calcium oxalate crystalline phases by infrared spectrophotometry. Clin Chim Acta 298:1–11. https://doi.org/10.1016/s0009-8981(00)00224-2

Millan A (2001) Crystal growth shape of whewellite polymorphs: influence of structure distortions on crystal shape. Cryst Growth Des 1(3):245–254. https://doi.org/10.1021/cg0055530

Neira-Carrillo A, Vásquez-Quitral P, Sánchez M, Vargas-Fernández A, Silva JF (2015) Control of calcium oxalate morphology through electrocrystallization as an electrochemical approach for preventing pathological disease. Ionics 21(11):3141–3149. https://doi.org/10.1007/s11581-015-1558-0

Ngai KS, Tan WT, Zainal Z, Zawawi RM, Zidan M (2013) Voltammetry detection of ascorbic acid at glassy carbon electrode modified by single-walled carbon nanotube/zinc oxide. Int J Electrochem Sci 8:10557–10567

Noonan SC, Savage GP (1999) Oxalate content of foods and its effect on humans. Asia Pac J Clin Nutr 8:64–74. https://doi.org/10.1046/j.1440-6047.1999.00038.x

Ouyang JM (2006) Effect of temperature on growth and aggregation of calcium oxalate in presence of various carboxylic acids in silica gel systems. Mater Sci Eng, C 26:679–682. https://doi.org/10.1016/j.msec.2005.06.060

Ouyang JM, Deng SP, Zhou N, Tieke B (2005) Effect of tartrates with various counterions on the precipitation of calcium oxalate in vesicle solutions. Colloids Surf A 256:21–27. https://doi.org/10.1016/j.colsurfa.2004.09.035

Padayatty SJ, Sun AY, Chen Q, Espey MG, Drisko J, Levine M (2010) Vitamin C: intravenous use by complementary and alternative medicine practitioners and adverse effects. PLoS ONE 5(7):e11414. https://doi.org/10.1371/journal.pone.0011414

Proietti S, Moscatello S, Famiani F, Battistelli A (2009) Increase of ascorbic acid content and nutritional quality in spinach leaves during physiological acclimation to low temperature. Plant Physiol Biochem 47(8):717–723. https://doi.org/10.1016/j.plaphy.2009.03.010

Rimer JD, Kolbach-Mandel AM, Ward MD, Wesson JA (2017) The role of macromolecules in the formation of kidney stones. Urolithiasis 45:57–74. https://doi.org/10.1007/s00240-016-0948-8

Robitaille L, Mamer OA, Miller WH, Levine M, Assouline S, Melnychuk D, Rousseau C, Lj H (2008) Oxalic acid excretion after intravenous ascorbic acid administration. Metabolism 58(2):263–269. https://doi.org/10.1016/j.metabol.2008.09.023

Schaefer A, Bausch W (1979) Bedeutung der Spurenelementverteilung in Calciumoxalat-Harnsteinen. Fortschr Urol Nephrol 14:236–241

Sheng X, Ward MD, Wesson JA (2003) Adhesion between molecules and calcium oxalate crystals: critical interactions in kidney stone formation. J Am Chem Soc 125:2854–2855. https://doi.org/10.1021/ja029575h

Škrtić D, Marković M, Komunjer L, Füredi-Milhofer H (1984) Precipitation of calcium oxalates from high ionic strength solutions: I. Kinetics of spontaneous precipitation of calcium oxalate trihydrate. J Cryst Growth 66(2):431–440. https://doi.org/10.1016/0022-0248(84)90227-6

Stanković A, Šafranko S, Kontrec J, Njegić Džakula B, Lyons DM, Marković B, Kralj D (2019) Calcium oxalate precipitation in model systems mimicking the conditions of hyperoxaluria. Cryst Res Technol 54(6):1–11. https://doi.org/10.1002/crat.201800210

Šter A, Šafranko S, Bilić K, Marković B, Kralj D (2018) The effect of hydrodynamic and thermodynamic factors and the addition of citric acid on the precipitation of calcium oxalate dihydrate. Urolithiasis 46(3):243–256. https://doi.org/10.1007/s00240-017-0991-0

Suliborska K, Baranowska M, Bartoszek A, Chrzanowski W, Namieśnik J (2019) Determination of antioxidant activity of vitamin C by voltammetric methods. In: Proceedings, vol 11, p 23. https://doi.org/10.3390/proceedings2019011023

Sun XY, Ouyang JM, Liu AJ, Ding YM, Gan QZ (2015) Preparation, characterization, and in vitro cytotoxicity of COM and COD crystals with various sizes. Mater Sci Eng, C 57:147–156. https://doi.org/10.1016/j.msec.2015.07.032

Sun Y, Ouyang JM, Xu M (2016) Synthesis, characterization, and cytotoxicity assay of calcium oxalate dihydrate crystals in various shapes. CrystEngComm 18:5463–5473. https://doi.org/10.1039/c6ce00697c

Tajmir-Riahi HA (1990) Coordination chemistry of vitamin C. Part I. Interaction of l-ascorbic acid with alkaline earth metal ions in the crystalline solid and aqueous solution. J Inorg Biochem 40:181–188. https://doi.org/10.1016/0162-0134(90)80051-X

Thongboonkerd V, Semangoen T, Chutipongtanate S (2006) Factors determining types and morphologies of calcium oxalate crystals: molar concentrations, buffering, pH, stirring and temperature. Clin Chim Acta 367:120–131. https://doi.org/10.1016/j.cca.2005.11.033

Tolbert BM (1985) Metabolism and function of ascorbic acid and its metabolites. Int J Vitam Nutr Res Suppl 27:121–138

Tunik L, Füredi-Milhofer H, Garti N (1998) Adsorption of sodium diisooctyl sulfosuccinate onto calcium oxalate crystals. Langmuir 14:3351–3355. https://doi.org/10.1021/la9708041

Urivetzky M, Kessaris D, Smith AD (1992) Ascorbic acid overdosing: s risk factor for calcium oxalate nephrolithiasis. J Urol 147:1215–1218. https://doi.org/10.1016/s0022-5347(17)37521-3

Wandzilak T, D'Andre S, Davis P, Williams H (1994) Effect of high dose vitamin C on urinary oxalate levels. J Urol 151:834–837. https://doi.org/10.1016/s0022-5347(17)35100-5
Ethics declarations
Conflict of interest
On behalf of all authors, the corresponding author states that there is no conflict of interest.
Additional information
Publisher's Note
Springer Nature remains neutral with regard to jurisdictional claims in published maps and institutional affiliations.
About this article
Cite this article
Stanković, A., Šafranko, S., Jurišić, K. et al. Investigation of system complexity and addition of vitamin C on calcium oxalate precipitation. Chem. Pap. 74, 3279–3291 (2020). https://doi.org/10.1007/s11696-020-01157-7
Received:

Accepted:

Published:

Issue Date:
Keywords
Calcium oxalate monohydrate

Calcium oxalate trihydrate

Vitamin C

Precipitation in vitro