Abstract
The G-quadruplex DNA is commonly present in several protooncogenic-DNA promoters and participates in many important biological processes such as replication, transcription, and translation. Because of their supposed role in cancer, G-quadruplex DNA is often studied as a target for anti-cancer drugs. Quaternary protoberberine and tetrahydroprotoberberine alkaloids (corysamine, coptisine, stylopine), which are supposed to selectively bind these structures, have been compared in terms of stability with selected types of DNA. Influence of selected alkaloids on the stability of double-stranded DNA and non-canonical forms of DNA was observed by determining association constants of alkaloid–DNA complexes using spectroscopic methods—molecular absorption spectrometry, fluorescence spectrometry, and mass spectrometry. Furthermore, the effect of given alkaloids on the melting temperature of these DNA structures was determined using CD spectrometry. Competitive dialysis and electrospray mass spectrometry were performed for affinity comparison of certain alkaloids to different DNA structures including G-quadruplexes. These experiments have proven that corysamine and coptisine prefer interaction with G-quadruplexes in comparison to dsDNA and ssDNA, whereas tetrahydroprotoberberine alkaloid stylopine does not interact with any DNA whatsoever.
Access options
Buy single article
Instant access to the full article PDF.
US$ 39.95
Tax calculation will be finalised during checkout.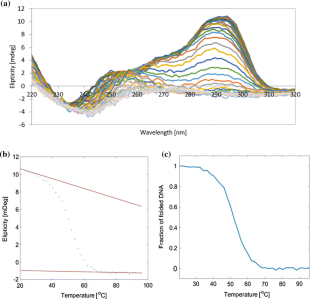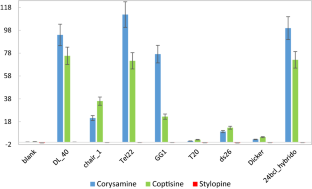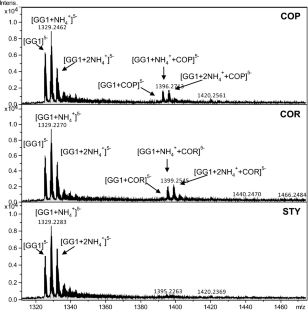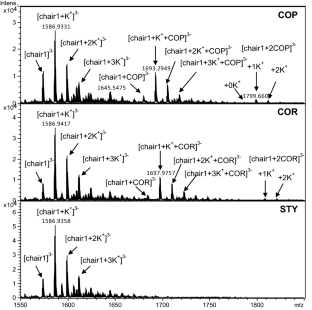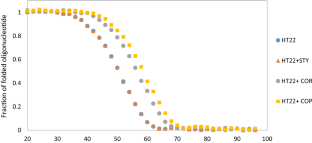 References
Ashihara A, Clifford M, Crozier A (2006) Plant secondary metabolites: occurrence, structure and role in the human diet. Wiley, Oxford, pp 102–107

Bai LP, Cai ZW, Zhao ZZ, Nakatani K, Jiang ZH (2008) Site-specific binding of chelerythrine and sanguinarine to single pyrimidine bulges in hairpin DNA. Anal Bioanal Chem 392:709–716. https://doi.org/10.1007/s00216-008-2302-7

Balthasart F, Plavec J, Gabelica V (2013) Ammonium ion binding to DNA G-quadruplexes: do electrospray mass spectra faithfully reflect the solution-phase species? J Am Soc Mass Spectrom 24:1–8. https://doi.org/10.1007/s13361-012-0499-3

Bhadra K, Kumar GS (2011a) Interaction of berberine, palmatine, coralyne, and sanguinarine to quadruplex DNA: a comparative spectroscopic and calorimetric study. Biochim Biophys Acta Gen Subj 1810:485–496. https://doi.org/10.1016/j.bbagen.2011.01.011

Bhadra K, Kumar GS (2011b) Therapeutic potential of nucleic acid-binding isoquinoline alkaloids: binding aspects and implications for drug design. Med Res Rev 31:821–862. https://doi.org/10.1002/med.20202

Blackburn GM (2006) Nucleic acids in chemistry and biology, 3rd edn. Royal Society of Chemistry, Cambridge

Breslauer KJ (1995) Extracting thermodynamic data from equilibrium melting curves for oligonucleotide order–disorder transitions. Energ Biol Macromol 259:221–242

Burge S, Parkinson GN, Hazel P, Todd AK, Neidle S (2006) Quadruplex DNA: sequence, topology and structure. Nucleic Acids Res 34:5402–5415. https://doi.org/10.1093/nar/gkl655

Chen WH, Chan CL, Cai Z, Luo GA, Jiang ZH (2004) Study on noncovalent complexes of cytotoxic protoberberine alkaloids with double-stranded DNA by using electrospray ionization mass spectrometry. Bioorg Med Chem Lett 14:4955–4959. https://doi.org/10.1016/j.bmcl.2004.07.037

Chen WH, Qin Y, Cai ZW, Chan CL, Luo GA, Jiang ZH (2005) Spectrometric studies of cytotoxic protoberberine alkaloids binding to double-stranded DNA. Bioorg Med Chem 13:1859–1866. https://doi.org/10.1016/j.bmc.2004.10.049

Dostal J, Slavik J (2000) Recent knowledge on sanguinarine and related alkaloids. Chem Listy 94:15–20

Eich E (2008) Solanaceae and convolvulaceae: secondary metabolites. Springer, Berlin

Gabelica V, De Pauw E, Rosu F (1999) Interaction between antitumor drugs and a double-stranded oligonucleotide studied by electrospray ionization mass spectrometry. J Mass Spectrom 34:1328–1337. https://doi.org/10.1002/(SICI)1096-9888(199912)34:12%3c1328:AID-JMS889%3e3.0.CO;2-F

Gargallo R, Tauler R, Izquierdo-Ridorsa A (1997) Application of a multivariate curve resolution procedure to the analysis of second-order melting data of synthetic and natural polynucleotides. Anal Chem 69:1785–1792. https://doi.org/10.1021/Ac960809n

Grycová L, Dostál J, Marek R (2007) Quaternary protoberberine alkaloids. Elsevier, Amsterdam, pp 150–175

Jarosova P, Paroulek P, Rajecky M, Rajecka V, Taborska E, Eritja R, Aviñó A, Mazzini S, Gargallo R, Taborsky P (2018) Naturally occurring quaternary benzo[c]phenanthridine alkaloids selectively stabilize G-quadruplexes. Phys Chem Chem Phys 20:21772–21782. https://doi.org/10.1039/C8CP02681E

Kuryavyi V, Majumdar A, Shallop A, Chernichenko N, Skripkin E, Jones R, Patel DJ (2001) A double chain reversal loop and two diagonal loops define the architecture of a unimolecular DNA quadruplex containing a pair of stacked G(syn)·G(syn)·G(anti)·G(anti) tetrads flanked by a G·(T-T) triad and a T·T·T triple. J Mol Biol 310:181–194. https://doi.org/10.1006/jmbi.2001.4759

Lou C, Yokoyama S, Saiki I, Hayakawa Y (2015) Selective anticancer activity of hirsutine against HER2-positive breast cancer cells by inducing DNA damage. Oncol Rep 33:2072–2076. https://doi.org/10.3892/or.2015.3796

Maizels N, Gray LT (2013) The G4 genome. PLoS Genet. https://doi.org/10.1371/journal.pgen.1003468

Marchand A, Rosu F, Zenobi R, Gabelica V (2018) Thermal denaturation of DNA G-quadruplexes and their complexes with ligands: thermodynamic analysis of the multiple states revealed by mass spectrometry. J Am Chem Soc 140:12553–12565. https://doi.org/10.1021/jacs.8b07302

Musso L, Mazzini S, Rossini A, Castagnoli L, Scaglioni L, Artali R, Di Nicola M, Zunino F, Dallavalle S (2018) c-MYC G-quadruplex binding by the RNA polymerase I inhibitor BMH-21 and analogues revealed by a combined NMR and biochemical approach. Biochim Biophys Acta Gen Subj 1862:615–629. https://doi.org/10.1016/j.bbagen.2017.12.002

Ou TM, Lu YJ, Tan JH, Huang ZS, Wong KY, Gu LQ (2008) G-quadruplexes: targets in anticancer drug design. ChemMedChem 3:690–713. https://doi.org/10.1002/cmdc.200700300

Papi F, Ferraroni M, Rigo R, Da Ros S, Bazzicalupi C, Sissi C, Gratteri P (2017) Role of the benzodioxole group in the interactions between the natural alkaloids chelerythrine and coptisine and the human telomeric G-quadruplex DNA. A multiapproach investigation. J Nat Prod 80:3129–3136. https://doi.org/10.1021/acs.jnatprod.7b00350

Puglisi JD, Tinoco I (1989) Absorbency melting curves of RNA. Methods Enzymol 180:304–325

Riva B, Ferreira R, Musso L, Artali R, Scaglioni L, Mazzini S (2015) Molecular recognition in naphthoquinone derivatives—G-quadruplex complexes by NMR. Biochim Biophys Acta Gen Subj 1850:673–680. https://doi.org/10.1016/j.bbagen.2014.12.002

Rosu F, Pirotte S, De Pauw E, Gabelica V (2006) Positive and negative ion mode ESI–MS and MS/MS for studying drug-DNA complexes. Int J Mass Spectrom 253:156–171. https://doi.org/10.1016/j.ijms.2005.11.027

Weldon PJ, Cardoza YJ, Vander Meer RK, Hoffmann WC, Daly JW, Spande TF (2013) Contact toxicities of anuran skin alkaloids against the fire ant (Solenopsis invicta). Naturwissenschaften 100:185–192. https://doi.org/10.1007/s00114-013-1010-0
Acknowledgements
This work was supported by funds from the Faculty of Medicine MU to a junior researcher Ondřej Peš and by the Specific University Research Grant (MUNI/A/1286/2017, MUNI/A/0976/2018) provided by the Ministry of Education, Youth and Sports of the Czech Republic. The support of Biomolecular Interactions and Crystallization Core facility of CEITEC—Central European Institute of Technology (ID number CZ.1.05/1.1.00/02.0068, financed from European Regional Development Fund) is greatly acknowledged.
Ethics declarations
Conflict of interest
The authors declare that they do not have any conflict of interest in this publication.
Additional information
Publisher's Note
Springer Nature remains neutral with regard to jurisdictional claims in published maps and institutional affiliations.
About this article
Cite this article
Jarošová, P., Sándor, R., Slaninková, A. et al. Quaternary protoberberine alkaloids and their interactions with DNA. Chem. Pap. 73, 2965–2973 (2019). https://doi.org/10.1007/s11696-019-00857-z
Received:

Accepted:

Published:

Issue Date:
Keywords
Protoberberine alkaloids

Non-canonical structures

G-quadruplex

dsDNA

Competitive dialysis

CD

Melting temperatures

Mass spectrometry