Abstract
In this study, manganese dioxide decorated typha tassel carbonized material was prepared. The pyrolysis of the carbonaceous material occurred in a tube furnace at 800 °C under nitrogen atmosphere. MnO2 nanoparticles on typha tassel (CT) were synthesized with sol–gel method. The final product was denoted as MTT electrode (MnO2-CT). The carbonaceous material was characterized with infrared spectroscopy, X-ray photoelectron spectroscopy, scanning electron microscopy and X-ray diffraction methods. Electrode usability performance of the material was examined via electrochemical techniques. An electrochemical method was developed with stripping voltammetry for the analysis of heavy metals such as Pb2+ and Cd2+ on the MCT electrode. The linear equations for Cd2+ and Pb2+ were computed. The limit of detection (S/N = 3) was 0.05 μg/L for Cd2+ and 0.01 μg/L for Pb2+ within the range of 0.5–50 μg/L and 0.2–50 μg/L, respectively. The method was successfully applied to the simultaneous determination of Cd2+ and Pb2+ in tap water and milk samples.
Access options
Buy single article
Instant access to the full article PDF.
USD 39.95
Price excludes VAT (USA)
Tax calculation will be finalised during checkout.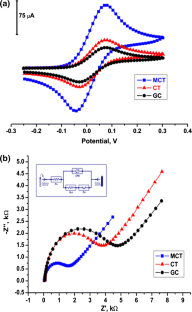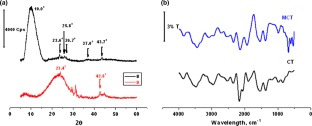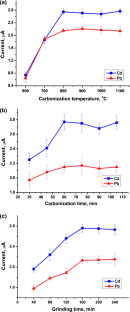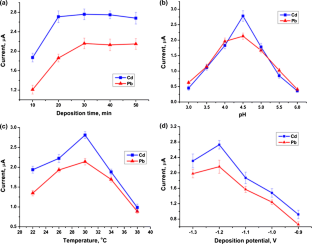 References
Angell CL, Lewis IC (1978) Raman spectroscopy of mesophase pitches. Carbon 16:431

Arof AK, Kufian MZ, Syukur MF, Aziz MF, Abdelrahman AE, Majid SR (2012) Electrochim Acta 74:39

Arun Raja L, Thirumoorthy P, Karthik A, Subramanian R, Rajendran V (2017) J Alloys Compd 706:470

Ashori E, Nazari F, Illas F (2014) Int J Hydrog Energy 39:6610

Chamjangali MA, Kouhestani H, Masdarolomoor F, Daneshinejad H (2015) Sens Actuators B Chem 216:384

Chen L, Su Z, He X, Liu Y, Qin C, Zhou Y, Li Z, Wang L, Xie Q, Yao S (2012) Electrochem Commun 15:34

Deng J, Chen L, Sun Y, Ma M, Fu L (2015) Carbon 92:177

Erkal A, Ustunda I, Yavuz S, Ustundağ Z (2015) J Electrochem Soc 162:H213

Erkal A, Aşık İ, Yavuz S, Kariper A, Üstündağ ZB (2016) J Electrochem Soc 163:H269

Geim AK (2009) Science 324:1530

Georgakilas V, Perman JA, Tucek J, Zboril R (2015) Chem Rev 115:4744

Guo Z, Li D-D, Luo X-K, Li Y-H, Zhao Q-N, Li M-M, Zhao Y-T, Sun T-S, Ma C (2017) J Colloid Interface Sci 490:11

Gutierrez-Segura E, Solache-Rios M, Colin-Cruz A (2009) J Hazard Mater 170:1227

Han G, Liu Y, Zhang L, Kan E, Zhang S, Tang J, Tang W (2014) Sci Rep 4:4824

Huang Y-J, Li W-S (2013) J Inorg Mater 28:341

Iijima S, Toshinari I (1993) Nature 363:603

Jena A, Munichandraiah N, Shivashankar SA (2013) J Power Sour 237:156

Jones DR, Jarrett JM, Tevis DS, Franklin M, Mullinix NJ, Wallon KL, Derrick Quarles C, Caldwell KL, Jones RL (2017) Talanta 162:114

Joseph D, Oberlin A (1983) Carbon 21:565

Keawkim K, Chuanuwatanakul S, Chailapakul O, Motomizu S (2013) Food Control 31:14

Kosynkin DV, Higginbotham AL, Sinitskii A, Lomeda JR, Dimiev A, Price BK, Tour JM (2009) Nature 458:872

Li X, Zhou H, Fu C, Wang F, Ding Y, Kuang Y (2016) Sens Actuators B Chem 236:144

Lin H, Li M, Mihailovič D (2015) Electrochim Acta 154:184

Liu X-J, Guo M-L, Yin X-Y, Huang J (2013) Mater Lett 106:30

Liu H, Li T, Wang X, Zhang W, Zhao T (2014) J Anal Appl Pyrolysis 110:442

Lv Y, Gan L, Liu M, Xiong W, Xu Z, Zhu D, Wright DS (2012) J Power Sour 209:152

Lv M, Wang X, Li J, Yang X, Zhang CA, Yang J, Hu H (2013) Electrochim Acta 108:412

Montilla F, Morallon E, Vazquez JL, Alcaniz-Monge J, Cazorla-Amoros D, Linares-Solano A (2002) Carbon 40:2193

Mysyk R, Gao Q, Raymundo-Piñero E, Béguin F (2012) Carbon 50:3367–3374

Naderi HR, Norouzi P, Ganjali MR (2016) Appl Surf Sci 366:552

Nie G, Lu X, Lei J, Wang C (2015) Electrochim Acta 180:1033

Qi L, Yan Z, Huo Y, Hai XM, Zhang ZQ (2016) Biosens Bioelectron 87:566

Ramirez-Castro C, Schütter C, Passerini S, Balducci A (2016) Electrochim Acta 206:452

Rutyna I, Korolczuk M (2014) Sens Actuators B Chem 204:136

Sarkar A, Kocaefe D, Kocaefe Y, Bhattacharyay D, Sarkar D, Morais B (2016) Energy Fuels 30:3549

Saxena M, Sarkar S (2012) Diam Relat Mater 24:11

Sharma S, Uttam KN (2017) Vib Spectrosc 92:135

Taner B, Özcan E, Üstündağ Z, Keskin S, Solak AO, Ekşi H (2010) Thin Solid Films 519:289

Üstündağ İ, Erkal A (2017) Sens Mater 29:85

Üstündağ İ, Erkal A, Koralay T, Kadıoğlu YK, Jeon S (2016) J Anal Chem 71:685

Wang L-Y, Wang Y, Zhang H-X, Wang X-M (2015) New Carbon Mater 30:48

Wang B, Qiu J, Feng H, Wang N, Sakai ET (2016) Electrochim Acta 212:710

Wu M-B, Li R-C, He X-J, Zhang H-B, Sui W-B, Tan M-H (2015) New Carbon Mater 30:86

Xia H, Wang Y, Lin J, Lu L (2012) Nanoscale Res Lett 7:1

Xiao L, Xu H, Zhou S, Song T, Wang H, Li S, Gan W, Yuan Q (2014) Electrochim Acta 143:143

Yan W, Seifermann SM, Pierrat P, Brase S (2015) Org Biomol Chem 13:25

Yang S, Yang H, Ma H, Guo S, Cao F, Gong J, Deng Y (2011) Chem Commun (Camb) 47:2619

Yavuz S, Erkal A, Kariper İA, Solak AO, Jeon S, Mülazımoğlu İE, Üstündağ Z (2015) Food Anal Method 9:322

Zhai Y, Xu B, Zhu Y, Qing R, Peng C, Wang T, Li C, Zeng G (2016) Mater Sci Eng C 61:449

Zhao G, Yin Y, Wang H, Liu G, Wang Z (2016) Electrochim Acta 220:267

Zhong W-S, Ren T, Zhao L-J (2016) J Food Drug Anal 24:46

Zhu L, Xu L, Huang B, Jia N, Tan L, Yao S (2014) Electrochim Acta 115:471
Additional information
Publisher's Note
Springer Nature remains neutral with regard to jurisdictional claims in published maps and institutional affiliations.
Electronic supplementary material
Below is the link to the electronic supplementary material.
About this article
Cite this article
Güleşen, M., Erkal-Aytemur, A., Yavuz, S. et al. Evaluation of nanomanganese decorated typha tassel carbonaceous electrode: preparation, characterization, and simultaneous determination of Cd2+ and Pb2+. Chem. Pap. 73, 2869–2878 (2019). https://doi.org/10.1007/s11696-019-00839-1
Received:

Accepted:

Published:

Issue Date:

DOI: https://doi.org/10.1007/s11696-019-00839-1
Keywords
Carbonaceous material

MnO2 decorated typha tassel

Electrode material

Differential pulse anodic stripping voltammetry