Abstract
The depth-resolved analysis by means of the laser-induced breakdown spectroscopy (LIBS) is a useful tool in the investigation of multi-layered structures of paintings. The LIBS technique is considered micro-destructive, as it is associated with the formation of the ablation crater. It is important to optimize the laser pulse parameters to minimize the crater size and also to avoid some possible side effects of the laser radiation, such as the material redeposition and the light- or heat-induced pigment discoloration. In the present work, mock-up painting samples were used to investigate the influence of laser radiation characteristics on the ablation process. The first LIBS set-up contains a Nd:YAG laser at the second harmonic frequency (laser wavelength 532 nm, pulse duration ~ 10 ns) and the second set-up is comprised of a modified laser-ablation system equipped with a Nd:YAG laser at the fourth harmonic frequency (laser wavelength 266 nm, pulse duration ~ 5 ns). The influence of different laser wavelengths and different laser energies on the properties of the craters was examined. The effects caused by the laser-ablation process were described.
Access options
Buy single article
Instant access to the full article PDF.
US$ 39.95
Tax calculation will be finalised during checkout.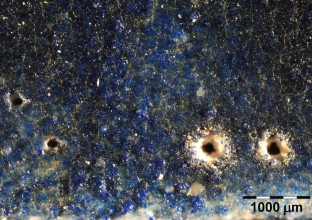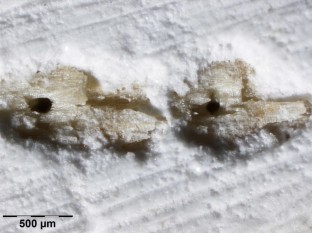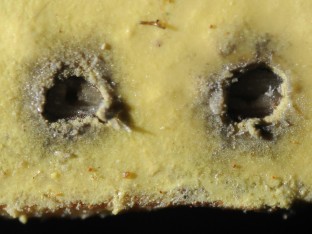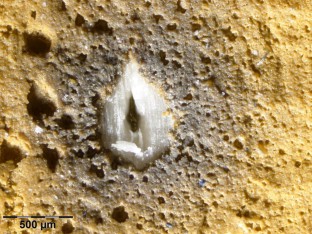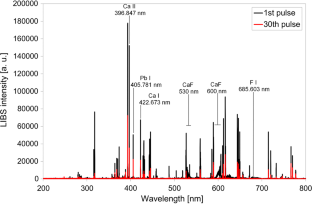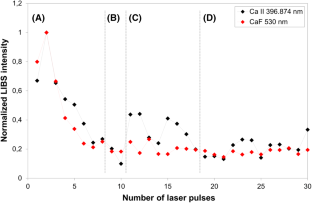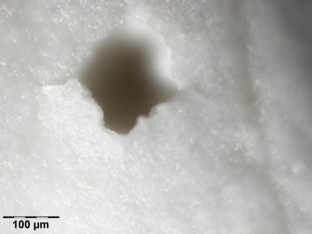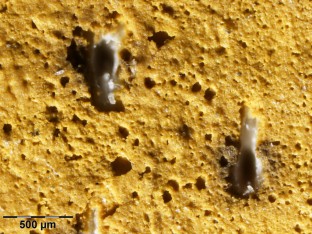 References
Alberghina MF et al (2015) LIBS and XRF analysis for a stratigraphic study of pictorial multilayer surfaces. Periodico Di Mineralogia 84(3A):569–589 (ISSN 0369-8963)

Alfeld M, Broekaert JAC (2013) Mobile depth profiling and sub-surface imaging techniques for historical paintings—a review. Spectroch Acta Part B Atom Spectrosc 88:211–230 (ISSN 0584-8547)

Bai XS et al (2017) Influence of ns-laser wavelength in laser-induced breakdown spectroscopy for discrimination of painting techniques. Spectrochim Acta Part B Atom Spectrosc 134:81–90 (ISSN 0584-8547)

Coccato A, Moens L, Vandenabeele P (2017) On the stability of mediaeval inorganic pigments: a literature review of the effect of climate, material selection, biological activity, analysis and conservation treatments. Heritage Sci 5:25 (ISSN 2050-7445)

De Santis A, Mattei E, Pelosi C (2007) Micro-Raman and stratigraphic studies of the paintings on the 'Cembalo' model musical instrument (AD 1650) and laser-induced degradation of the detected pigments. J Raman Spectrosc 38(10):1368–1378 (ISSN 0377-0486)

Delaney JK et al (2008) The role of varnishes in modifying light reflection from rough surfaces: a study of changes in light scattering caused by variations in varnish topography and development of a drying model. Stud Conserv 53(3):170–186 (ISSN 0039-3630)

Doubal J (2014) Research into methods of cleaning silicate sandstones used for historical monuments. J Archit Conserv 20(2):123–138 ISSN 1355-6207

Fontana R et al (2013) A study of surface optical properties for characterizing the cleaning process of paintings. In: Conference on optics for arts, architecture, and archaeology IV, 2013, Munich, Germany. Spie-Int Soc Optical Engineering, May 15–16

Fotakis C et al (2006) Lasers in the preservation of cultural heritage: principles and applications. Taylor & Francis, Milton Park, p 336 (ISBN 9780750308731)

Kaszewska EA et al (2013) Depth-resolved multilayer pigment identification in paintings: combined use of laser-induced breakdown spectroscopy (LIBS) and optical coherence tomography (OCT). Appl Spectrosc 67(8):960–972 ISSN 0003-7028

Kosarova V et al (2013) Microanalysis of clay-based pigments in painted artworks by the means of Raman spectroscopy. J Raman Spectrosc 44(11):1570–1577 ISSN 0377-0486

Liang H et al (2004) Application of OCT to examination of easel paintings. In: 2nd European workshop on optical fibre sensors, 2004, Santander, Spain, Jun 09–11, pp 378–381

Marcaida I et al (2018) In situ non-invasive characterization of the composition of Pompeian pigments preserved in their original bowls. Microchem J 139:458–466 (ISSN 0026-265X)

Marinelli M et al (2017) Time resolved laser induced fluorescence for characterization of binders in contemporary artworks. J Cult Heritage 23:98–105 (ISSN 1296-2074)

Mazzocchin GA, Baraldi P, Barbante C (2008) Isotopic analysis of lead present in the cinnabar of Roman wall paintings from the Xth Regio "(Venetia et Histria)" by ICP-MS. Talanta 74(4):690–693 (ISSN 0039-9140)

Mulholland R et al (2017) Identifying eighteenth century pigments at the Bodleian library using in situ Raman spectroscopy, XRF and hyperspectral imaging. Heritage Sci 5:19 (ISSN 2050-7445)

Munizmiranda M et al (1996) Spectroscopic investigation and normal mode analysis of As4S4 polymorphs. Spectrochim Acta Part A Mol Biomol Spectrosc 52(11):1391–1401 (ISSN 0584-8539)

Porizka P et al (2017) Detection of fluorine using laser-induced breakdown spectroscopy and Raman spectroscopy. J Anal Atom Spectrom 32(10):1966–1974 (ISSN 0267-9477)

Pospíšilová E et al (2018) Depth-resolved analysis of historical painting model samples by means of laser-induced breakdown spectroscopy and handheld X-ray fluorescence. Spectrochim Acta Part B Atom Spectrosc 147:100–108 (ISSN 0584-8547)

Pouli P et al (2003) Studies towards a thorough understanding of the laser-induced discoloration mechanisms of medieval pigments. J Cult Heritage 4:271S–275S (ISSN 1296-2074)

Pouli P et al (2001) Analysis of the laser-induced reduction mechanisms of medieval pigments. Appl Surf Sci 173(3–4):252–261 (ISSN 0169-4332)

Pozo-Antonio JS et al (2016) Effectiveness of granite cleaning procedures in cultural heritage: a review. Sci Total Environ 571:1017–1028 (ISSN 0048-9697)

Schmidt CM, Walton MS, Trentelman K (2009) Characterization of lapis lazuli pigments using a multitechnique analytical approach: implications for identification and geological provenancing. Anal Chem 81(20):8513–8518 (ISSN 0003-2700)

Scholten JH et al (2000) Controlled laser cleaning of painted artworks using accurate beam manipulation and on-line LIBS-detection. J Cult Heritage 1:S215–S220 (ISSN 1296-2074)

Senesi GS et al (2016) Laser cleaning and laser-induced breakdown spectroscopy applied in removing and characterizing black crusts from limestones of Castello Svevo, Bari, Italy: a case study. Microchem J 124:296–305 (ISSN 0026-265X)

Siano S et al (2003) Laser cleaning methodology for the preservation of the Porta del Paradiso by Lorenzo Ghiberti. J Cult Heritage 4:140S–146S (ISSN 1296-2074)

Siano S et al (2012) Laser cleaning in conservation of stone, metal, and painted artifacts: state of the art and new insights on the use of the Nd:YAG lasers. Appl Phys A Mater Sci Process 106(2):419–446 (ISSN 0947-8396)

Syta O et al (2014) Analytical procedure for characterization of medieval wall-paintings by X-ray fluorescence spectrometry, laser ablation inductively coupled plasma mass spectrometry and Raman spectroscopy. Spectrochim Acta Part B Atom Spectrosc 101:140–148 (ISSN 0584-8547)

Targowski P et al (2010) Structural examination of easel paintings with optical coherence tomography. Acc Chem Res 43(6):826–836 (ISSN 0001-4842)

Wang XC et al (2016) The mechanism of ArF laser-induced fluorescence of dense plume matter. J Anal Atom Spectrom 31(12):2363–2374 (ISSN 0267-9477)

Westlake P et al (2012) Studying pigments on painted plaster in Minoan, Roman and Early Byzantine Crete. A multi-analytical technique approach. Anal Bioanal Chem 402(4):1413–1432 (ISSN 1618-2642)
Acknowledgements
This study was supported by the Ministry of Education, Youth and Sports of the Czech Republic under the project CEITEC 2020 [LQ1601] and by the Czech Science Foundation project [GA17-25687S]. The Student Project Grant at MU (Specific Research, Rector's Program) [MUNI/A/1288/2017] is also highly appreciated. We would also like to thank ALMA Laboratory, AFA, for providing the samples.
Ethics declarations
Conflict of interest
On behalf of all authors, the corresponding author states that there is no conflict of interest.
Additional information
Publisher's Note
Springer Nature remains neutral with regard to jurisdictional claims in published maps and institutional affiliations.
About this article
Cite this article
Pospíšilová, E., Novotný, K., Pořízka, P. et al. Influence of laser wavelength and laser energy on depth profiling of easel painting samples. Chem. Pap. 73, 2937–2943 (2019). https://doi.org/10.1007/s11696-019-00803-z
Received:

Accepted:

Published:

Issue Date:
Keywords
LIBS

Ablation craters

Fluorine detection