Abstract
Egyptian wet process phosphoric acid (WPPA) produced from El-Sebaiya phosphate area by Abu Zaabal Company contains about 2.6% iron. The high concentration of iron is the main reason for many problems and inhibits using the acid in various industrial and fertilizers applications. In this study, two types of additives were studied to decrease the iron content from WPPA using oxalic acid and potassium hexyl xanthate (PHX). Different factors were studied, including, the redox potential, amount of used oxalic acid and PHX, phosphoric acid concentration, stirring time and temperature. The obtained data revealed that 80.0 and 59.3% of the iron can be removed successfully without any loss of P2O5 content using oxalic acid and PHX, respectively. The XRF analysis of the used oxalic acid before and after the treatment of WPPA has confirmed the formation of ferrous oxalate after the treatment of WPPA using the oxalic acid.
Access options
Buy single article
Instant access to the full article PDF.
USD 39.95
Price excludes VAT (USA)
Tax calculation will be finalised during checkout.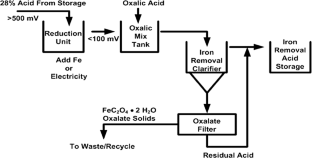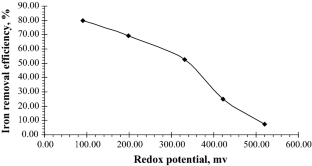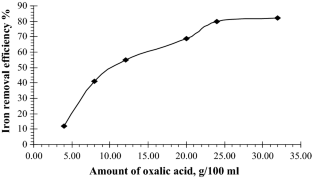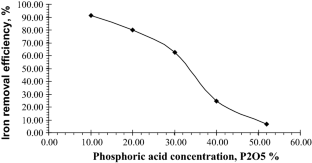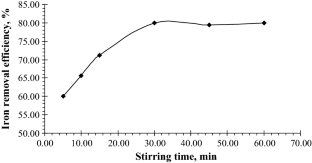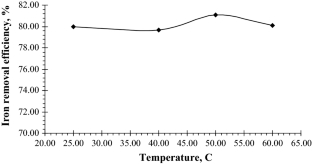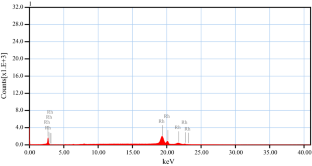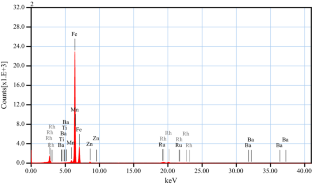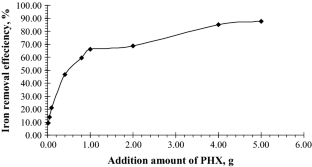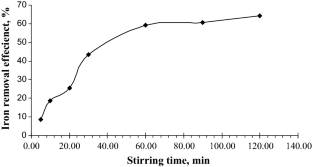 References
Amin MI (2010) Removal of metallic and non-metallic impurities from wet process phosphoric acid using different separation techniques. PhD Thesis, Chemistry Department, Faculty of Science, Mansoura University

Eid AE, Hanna AA, Youssef NS, El-Zahany EA (1999) Study on solvent extraction of phosphoric acid from phosphate ores-HCl digestion liquor using pure and mixed solvent. Asian J Chem 11:213–224

El-Asmy AA, Serag HM, Mahdy MA, Amin MI (2008) Purification of phosphoric acid by minimizing iron, copper, cadmium and fluoride. Sep Purif Technol 61:287–292

El-Shall H, Abdel-Aal EA (2001) Decreasing iron content in wet process phosphoric acid. Final report, Department of Materials Science and Technology, Florida University

Hanna AA (1999) Reducing iron content in crude phosphoric acid by potassium ferrocyanide. Indian J Chem Technol 1999:6–276

Hanna AA, Youssef NS, Ali AF (1995) Purification of wet process phosphoric acid by solvent extraction. Egypt J Chem 38:311–317

Haraldsen HFT (1991) Method for removal of heavy metals especially cadmium from phosphoric acid containing solutions. United State Patent No. 4, 986, 970, http://www.chemweb.com

Ismail AK (1998) Iron removal from phosphoric acid by precipitation process. Central Metallurgicl R&D Institute, Cairo

Jacobs (2015) New process for removing iron from phosphoric acid. Final report, Florida Institute of phosphate research 1855 West Main Street Bartow, Florida 33830 USA
Acknowledgements
The authors gratefully thank Prof. Dr. Kamal Abd El-Baky for his support in achieving this work.
Ethics declarations
Conflict of interest
On behalf of all authors, the corresponding author states that there is no conflict of interest.
Additional information
Publisher's Note
Springer Nature remains neutral with regard to jurisdictional claims in published maps and institutional affiliations.
About this article
Cite this article
Amin, M.I., Gado, H.S., Youssef, W.M. et al. Precipitation of iron from wet process phosphoric acid using oxalic acid and potassium hexyl xanthate (PHX). Chem. Pap. 73, 1871–1877 (2019). https://doi.org/10.1007/s11696-019-00735-8
Received:

Accepted:

Published:

Issue Date:

DOI: https://doi.org/10.1007/s11696-019-00735-8
Keywords
Precipitation

Phosphoric acid

Iron

Oxalic acid

Potassium hexyl xanthate