Abstract
Pd-catalyzed coupling reactions like the Sonogashira coupling reaction are very useful tools for the formation of new carbon–carbon bonds under mild reaction conditions. Coupling reactions are also used for elaboration of organic compounds in drug and material discovery. Terminal alkynes have a very critical role in Sonogashira coupling reaction. Therefore, design and synthesis of new terminal alkynes are very important for the preparation of organic compounds. In the present study, a novel alkyne 3-ethynyl-2-(thiophen-2-yl)benzo[b]thiophene 13 was synthesized, and it was tested for Sonogashira coupling reaction with different iodoaryl compounds. It was investigated whether our terminal alkyne 13 having a special construction might be a useful precursor for the synthesis of potentially active organic molecules.
Access options
Buy single article
Instant access to the full article PDF.
USD 39.95
Price excludes VAT (USA)
Tax calculation will be finalised during checkout.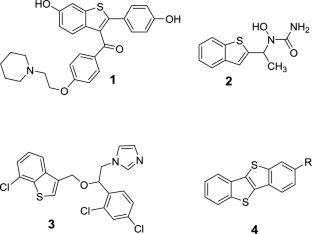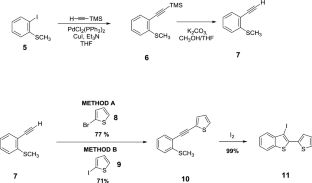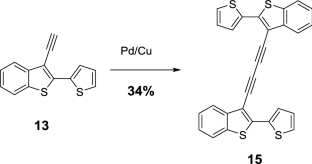 References
Algso MAS, Kivrak A, Konus M, Yilmaz C, Kurt-Kizildogan A (2018) Synthesis and biological evaluation of novel benzothiophene derivatives. J Chem Sci. https://doi.org/10.1007/s12039-018-1523-3

Brasholz M, Reissig HU, Zimmer R (2009) Sugars, alkaloids, and heteroaromatics: exploring heterocyclic chemistry with alkoxyallenes. Acc Chem Res 42(1):45–56. https://doi.org/10.1021/ar800011h

Chen CC, Chen CM, Wu MJ (2014) Transition metal-catalyzed cascade cyclization of aryldiynes to halogenated benzo b naphtho 2,1-d thiophene derivatives. J Org Chem 79(10):4704–4711. https://doi.org/10.1021/jo500377v

Coa JC, Castrillon W, Cardona W, Carda M, Ospina V, Munoz JA, Velez ID, Robledo SM (2015) Synthesis, leishmanicidal, trypanocidal and cytotoxic activity of quinoline-hydrazone hybrids. Eur J Med Chem 101:746–753. https://doi.org/10.1016/j.ejmech.2015.07.018

Croxtall JD, Plosker GL (2009) Sertaconazole A review of ıts use in the management of superficial mycoses in dermatology and gynaecology. Drugs 69(3):339–359

Guo SH, He YW, Murtaza I, Tan JH, Pan JY, Guo YT, Zhu YN, He Y, Meng H (2018) Alkoxy substituted 1 benzothieno 3,2-b 1 benzothiophene derivative with improved performance in organic thin film transistors. Org Electron 56:68–75. https://doi.org/10.1016/j.orgel.2018.02.003

Katritzky AR, Karelson M, Sild S, Krygowski TM, Jug K (1998) Aromaticity as a quantitative concept. 7. Aromaticity reaffirmed as a multidimensional characteristic. J Org Chem 63(15):5228–5231. https://doi.org/10.1021/jo970939b

Kazemizadeh AR, Shajari N, Shapouri R, Adibpour N, Teimuri-Mofrad R (2016) Synthesis and anti-brucella activity of some new 1,3,4-oxadiazole derivatives containing a ferrocene unit. J Iran Chem Soc 13(7):1349–1355. https://doi.org/10.1007/s13738-016-0849-3

Kivrak A, Larock RC (2010) Synthesis of dihydrobenzisoxazoles by the 3 + 2 cycloaddition of arynes and oxaziridines. J Org Chem 75(21):7381–7387. https://doi.org/10.1021/jo101656c

Kumar S, Mujahid M, Verma AK (2017) Regioselective 6-endo-dig iodocyclization: an accessible approach for iodo-benzo a phenazines. Org Biomol Chem 15(21):4686–4696. https://doi.org/10.1039/c7ob00671c

Lu WD, Wu MJ (2007) Halocyclization of 2-alkynylthioanisoles by cupric halides: synthesis of 2-substituted 3-halobenzo b thiophenes. Tetrahedron 63(2):356–362. https://doi.org/10.1016/j.tet.2006.10.068

Meixner CN, Aref MW, Gupta A, McNerny EMB, Brown D, Wallace JM, Allen MR (2017) Raloxifene improves bone mechanical properties in mice previously treated with zoledronate. Calcif Tissue Int 101(1):75–81. https://doi.org/10.1007/s00223-017-0257-4

Miao MZ, Xu HP, Luo Y, Jin MC, Chen ZK, Xu JF, Ren HJ (2017) A modular approach to highly functionalized 3-sulfonylfurans via conjugate addition of 3-cyclopropylideneprop-2-en-1-ones with sodium sulfinates and sequential 5-endo-trig iodocyclization. Org Chem Front 4(9):1824–1828. https://doi.org/10.1039/c7qo00362e

Pathak RB, Chovatia PT, Parekh HH (2012) Synthesis, antitubercular and antimicrobial evaluation of 3-(4-chlorophenyl)-4-substituted pyrazole derivatives. Bioorg Med Chem Lett 22(15):5129–5133. https://doi.org/10.1016/j.bmcl.2012.05.063

Rafiq SM, Sivasakthikumaran R, Mohanakrishnan AK (2014) Lewis acid/Bronsted acid mediated benz-annulation of thiophenes and electron-rich arenes. Org Lett 16(10):2720–2723. https://doi.org/10.1021/ol501006t

Rahmouni A, Souiei S, Belkacem MA, Romdhane A, Bouajila J, Ben Jannet H (2016) Synthesis and biological evaluation of novel pyrazolopyrimidines derivatives as anticancer and anti-5-lipoxygenase agents. Bioorg Chem 66:160–168. https://doi.org/10.1016/j.bioorg.2016.05.001

Richardson DR, Kalinowski DS, Lau S, Jansson PJ, Lovejoy DB (2009) Cancer cell iron metabolism and the development of potent iron chelators as anti-tumour agents. Biochim Biophys Acta Gen Subj 1790(7):702–717. https://doi.org/10.1016/j.bbagen.2008.04.003

Sarret C, Pichard S, Afenjar A, Boespflug-Tanguy O (2017) Lack of long-term neurologic efficacy of zileuton in Sjogren–Larsson's syndrome. Neuropediatrics 48(3):205–206. https://doi.org/10.1055/s-0037-1601856

Shakdofa MME, Shtaiwi MH, Morsy N, Abdel-rassel TMA (2014) Metal complexes of hydrazones and their biological, analytical and catalytic applications: a review. Main Group Chem 13(3):187–218. https://doi.org/10.3233/mgc-140133

Sun LL, Deng CL, Tang RY, Zhang XG (2011) CuI/TMEDA-catalyzed annulation of 2-bromo alkylbenzenes with Na2S: synthesis of benzo b thiophenes. J Org Chem 76(18):7546–7550. https://doi.org/10.1021/jo201081v

Togo H, Iida S (2006) Synthetic use of molecular iodine for organic synthesis. Synlett 14:2159–2175. https://doi.org/10.1055/s-2006-950405

Vogel VG, Costantino JP, Wickerham DL, Cronin WM, Cecchini RS, Atkins JN, Bevers TB, Fehrenbacher L, Pajon ER, Wade JL, Robidoux A, Margolese RG, James J, Lippman SM, Runowicz CD, Ganz PA, Reis SE, McCaskill-Stevens W, Ford LG, Jordan VC, Wolmark N, Nsabp (2006) Effects of tamoxifen vs raloxifene on the risk of developing invasive breast cancer and other disease outcomes—the NSABP study of tamoxifen and raloxifene (STAR) P-2 trial. JAMA J Am Med Assoc 295(23):2727–2741. https://doi.org/10.1001/jama.295.23.joc60074

Weiser M, Levi L, Burshtein S, Hagin M, Matei VP, Podea D, Miclutia I, Tiugan A, Pacala B, Grecu IG, Noy A, Zamora D, Davis JM (2017) Raloxifene plus antipsychotics versus placebo plus antipsychotics in severely Ill decompensated postmenopausal women with schizophrenia or schizoaffective disorder: a randomized controlled trial. J Clin Psychiatry 78(7):E758. https://doi.org/10.4088/jcp.15m10498

Yaragorla S, Pareek A, Dada R, Saini PL (2017) Single-step synthesis of 3-iodoquinolines from 2-aminophenyl ketones through a regioselective (6-endo-dig) electrophilic cyclization. Eur J Org Chem 31:4600–4608. https://doi.org/10.1002/ejoc.201700668

Yue DW, Larock RC (2004) Synthesis of 3-iodoindoles by electrophilic cyclization of N, N-dialkyl-2-(1-alkynyl)anilines. Org Lett 6(6):1037–1040. https://doi.org/10.1021/ol0498996

Zora M, Kivrak A, Yazici C (2011) Synthesis of pyrazoles via electrophilic cyclization. J Org Chem 76(16):6726–6742. https://doi.org/10.1021/jo201119e
Acknowledgements
The authors thank The Scientific and Technological Research Council of Turkey (Project no: 115Z020) for providing financial support for obtaining reactant and reagents, and Van Yüzüncü Yil University (Project no: FBA-2017-6007) for providing financial support for obtaining solvents, glasswares and salts. We thank University of Duhok for the scholarship given to Muheb A.S. Algso. The authors would also like to acknowledge networking contribution by the COST Action CM1407.
Electronic supplementary material
Below is the link to the electronic supplementary material.
Characterization of the new benzo[b]thiophene products including 1H NMR, 13C NMR, and FTIR spectra, as well as mass characterization data. (DOC 42003 kb)
About this article
Cite this article
Algso, M.A.S., Kivrak, A. New strategy for the synthesis of 3-ethynyl-2-(thiophen-2-yl)benzo[b]thiophene derivatives. Chem. Pap. 73, 977–985 (2019). https://doi.org/10.1007/s11696-018-0640-2
Received:

Accepted:

Published:

Issue Date:

DOI: https://doi.org/10.1007/s11696-018-0640-2
Keywords
Alkynes

Benzothiophenes

Sonogashira coupling reaction

C–C bond formation reactions