Abstract
Nickel is one of the most important strategic metals. With the depletion of high-grade nickel sulfide ores, electroplating wastewater as a kind of secondary resources, its utilization has great significance in nickel recycling industries. A novel extractant, [(2-ethyl-hexylamino)-pyridin-4-yl-methyl]-phosphonic acid diethyl ester (L) was synthesized and used with D2EHPA (di-2-ethyl-hexyl phosphoric acid) to extract and recover nickel from simulation electroplating wastewater. The optimum conditions were determined by single-stage extraction process, and the extraction efficiency and the selectivity of Ni could be greatly enhanced by synergistic binary mixture of L–D2EHPA system. The coordination mode of Ni-extracted complex was studied through the analysis of Fourier transform infrared spectroscopy. It was cued that Ni ions might be coordinated with the N atom from the pyridine ring of L and the O atom of P=O in D2EHPA. Moreover, hydrogen bonds between the O atom of P=O in D2EHPA and the H atom of water molecules might be formed.
Access options
Buy single article
Instant access to the full article PDF.
US$ 39.95
Tax calculation will be finalised during checkout.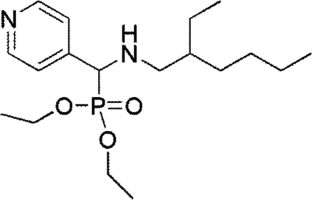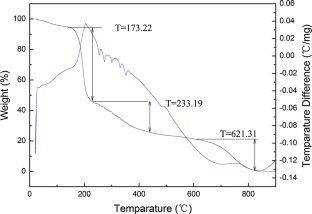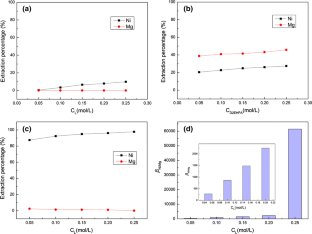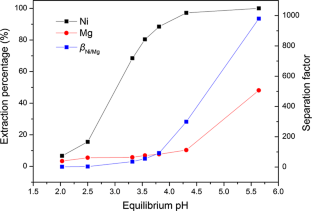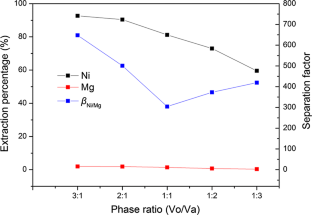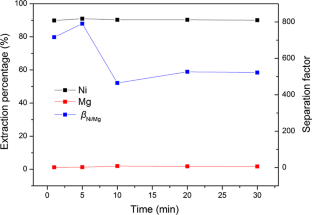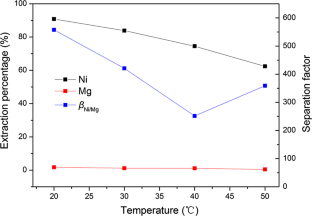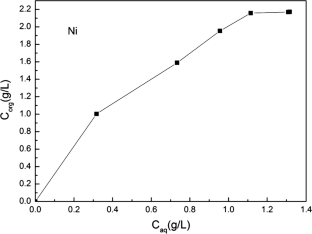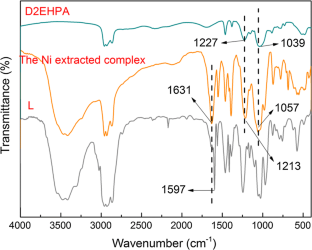 References
Babu BR, Bhanu SU, Meera KS (2009) Waste minimization in electroplating industries: a review. J Environ Sci Health Pt C-Environ 27(3):155–177. https://doi.org/10.1080/10590500903124158

Chen H, Hu L, Chen M, Wu L (2014) Nickel-cobalt layered double hydroxide nanosheets for high-performance supercapacitor electrode materials. Adv Funct Mater 24(7):934–942. https://doi.org/10.1002/adfm.201301747

Cheng C, Barnard KR, Zhang W, Zhu Z, Pranolo Y (2016) Recovery of nickel, cobalt, copper and zinc in sulphate and chloride solutions using synergistic solvent extraction. Chin J Chem Eng 24(2):237–248. https://doi.org/10.1016/j.cjche.2015.06.002

Coman V, Robotin B, Ilea P (2013) Nickel recovery/removal from industrial wastes: a review. Resour Conserv Recycl 73(2):229–238. https://doi.org/10.1016/j.resconrec.2013.01.019

Contestabile M, Panero S, Scrosati B (2001) A laboratory-scale lithium-ion battery recycling process. J Power Sources 92(1):65–69. https://doi.org/10.1016/S0378-7753(00)00523-1

Domínguez A, Valero A, Valero A (2013) Exergy accounting applied to metallurgical systems: the case of nickel processing. Energy 62:37–45. https://doi.org/10.1016/j.energy.2013.03.089

Guimarães AS, Mansur MB (2018) Selection of a synergistic solvent extraction system to remove calcium and magnesium from concentrated nickel sulfate solutions. Hydrometallurgy 175:250–256. https://doi.org/10.1016/j.hydromet.2017.12.001

Gupta B, Deep A, Singh V, Tandon SN (2003) Recovery of cobalt, nickel, and copper from sea nodules by their extraction with alkylphosphines. Hydrometallurgy 70(1):121–129. https://doi.org/10.1016/S0304-386X(03)00052-5

Jafari H, Abdollahi H, Gharabaghi M, Balesini AA (2018) Solvent extraction of zinc from synthetic Zn-Cd-Mn chloride solution using D2EHPA: optimization and thermodynamic studies. Sep Purif Technol. https://doi.org/10.1016/j.seppur.2018.01.020

Kumbasar RA (2009) Selective extraction and concentration of cobalt from acidic leach solution containing cobalt and nickel through emulsion liquid membrane using PC-88A as extractant. Sep Purif Technol 64(3):273–279. https://doi.org/10.1016/j.seppur.2008.10.011

Li B, Liu F, Wang J, Chen L, Li L, Hou P, Li A, Bai Z (2012) Efficient separation and high selectivity for nickel from cobalt-solution by a novel chelating resin: batch, column and competition investigation. Chem Eng J 195–196(7):31–39. https://doi.org/10.1016/j.cej.2012.04.089

Liu Y, Lee M (2013) Separation of cobalt and nickel from aqueous solution. J Korean Inst Resour Recycl 22(1):11–19

Mondal S, Kumar V, Sharma JN, Hubli RC, Suri AK (2012) Evaluation of n -octyl(phenyl)phosphinic acid (OPPA) as an extractant for separation of cobalt(II) and nickel(II) from sulphate solutions. Sep Purif Technol 89:66–70. https://doi.org/10.1016/j.seppur.2012.01.015

Okewole AI, Antunes E, Nyokong T, Tshentu ZR (2013) The development of novel nickel selective amine extractants: 2,2′-Pyridylimidazole functionalised chelating resin. Miner Eng 54:88–93. https://doi.org/10.1016/j.mineng.2013.04.019

Pinto ISS, Sadeghi SM, Soares HMVM (2015) Separation and recovery of nickel, as a salt, from an EDTA leachate of spent hydrodesulphurization catalyst using precipitation methods. Chem Eng Sci 122:130–137. https://doi.org/10.1016/j.ces.2014.09.012

Preston JS (1994) The selective solvent extraction of cadmium by mixtures of carboxylic acids and trialkylphosphine sulphides. Part 1. The origin and scope of the synergistic effect. Hydrometallurgy 36:61–78. https://doi.org/10.1016/0304-386X(94)90042-6

Preston J, Preez AD (1995) The solvent extraction of nickel and cobalt by mixtures of carboxylic acids and pyridine carboxylate esters. Solv Extr Ion Exch 13(3):465–494. https://doi.org/10.1080/07366299508918286

Ritcey G (2006) Solvent extraction in hydrometallurgy: present and future. Tsinghua Sci Technol 11(2):137–152. https://doi.org/10.1016/S1007-0214(06)70168-7

Sulaiman RNR, Othman N (2017) Synergistic green extraction of nickel ions from electroplating waste via mixtures of chelating and organophosphorus carrier. J Hazard Mater 340:77–84. https://doi.org/10.1016/j.jhazmat.2017.06.060

Tanaka M, Alam S (2010) Solvent extraction equilibria of nickel from ammonium nitrate solution with LIX84I. Hydrometallurgy 105(1):134–139. https://doi.org/10.1016/j.hydromet.2010.08.009

Wan NW, Hanafiah MA (2008) Removal of heavy metal ions from wastewater by chemically modified plant wastes as adsorbents: a review. Bioresour Technol 99(10):3935–3948. https://doi.org/10.1016/j.biortech.2007.06.011

Wang RC, Lin YC, Wu SH (2009) A novel recovery process of metal values from the cathode active materials of the lithium-ion secondary batteries. Hydrometallurgy 99(3):194–201. https://doi.org/10.1016/j.hydromet.2009.08.005

Wang F, He F, Zhao J, Sui N, Xu L, Liu H (2012) Extraction and separation of cobalt(II), copper(II) and manganese(II) by Cyanex272, PC-88A and their mixtures. Sep Purif Technol 93(3):8–14. https://doi.org/10.1016/j.seppur.2012.03.018

Xing P, Wang C, Ju Z, Li D, Yin F, Chen Y, Xu S, Yang Y (2012) Cobalt separation from nickel in sulfate aqueous solution by a new extractant: di-decylphosphinic acid (DDPA). Hydrometallurgy 113–114(3):86–90. https://doi.org/10.1016/j.hydromet.2011.12.005

Yang X, Zhang Y, Bao S (2016) Separation and recovery of sulfuric acid from acidic vanadium leaching solution of stone coal via solvent extraction. J Environ Chem Eng 4(1):1399–1405. https://doi.org/10.1016/j.jece.2015.11.038

Zhang Y, Zhang TA, Lv G, Zhang G, Liu Y, Zhang W (2016) Synergistic extraction of vanadium(IV) in sulfuric acid media using a mixture of D2EHPA and EHEHPA. Hydrometallurgy 166:87–93. https://doi.org/10.1016/j.hydromet.2016.09.003
Acknowledgements
This work was financially supported by the National Science Foundation of China (Grant no. 51374238).
Electronic supplementary material
Below is the link to the electronic supplementary material.
About this article
Cite this article
He, D., Cao, Z., Zhang, G. et al. Recovery of nickel from electroplating wastewater with a new extractant. Chem. Pap. 73, 583–589 (2019). https://doi.org/10.1007/s11696-018-0616-2
Received:

Accepted:

Published:

Issue Date:
Keywords
Electroplating wastewater

Synthesis

Synergistic extraction

Nickel

Mechanism