Abstract
Eu(III) and Tb(III) Schiff base complexes are applicable in various fields such as sensing, assays, screening protocols in vitro, and imaging studies in vitro or in vivo. Fluorescent europium and terbium complexes and their interaction with cell penetrating peptide (KKKRKC) can represent an excellent key for understanding pathway of peptide transportation though cell membrane and the application of Schiff base complexes as potential antibacterial drugs. The Schiff base–metal complexes and its conjugates with peptide were tested for their antibacterial activity against Pseudomonas aeruginosa and Salmonella typhimurium. Schiff base–metal complexes conjugated with peptide show minor toxicity in normal human PNT1A cells and high antibacterial activity against P. aeruginosa and S. typhimurium, where IC50 down to 125.9 and/or 36.1 µM were found for P. aeruginosa and S. typhimurium, respectively. Our results strongly suggest that Schiff base–metal complexes conjugated with peptide have great potential to be developed into highly effective antibacterial drug.
Access options
Buy single article
Instant access to the full article PDF.
USD 39.95
Price excludes VAT (USA)
Tax calculation will be finalised during checkout.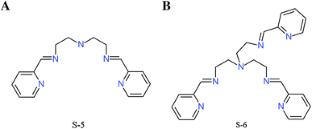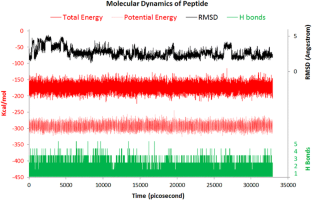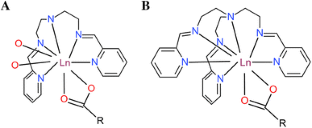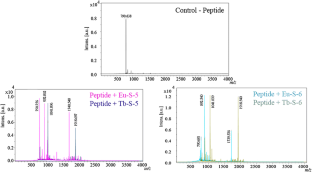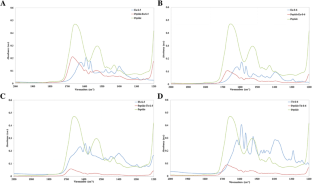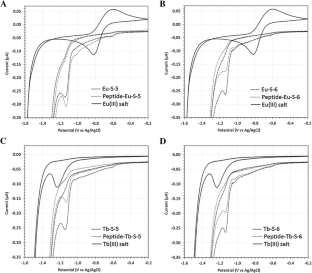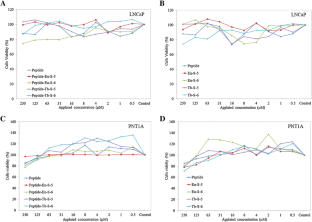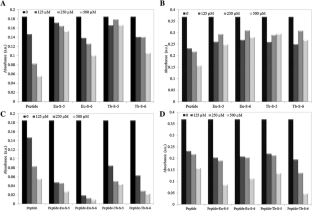 References
Adochitei A, Drochioiu G (2011) Rapid characterization of peptide secondary structure by FT-IR spectroscopy. Revue Roumaine De Chimie 56:783–791

Agh-Atabay NM, Dulger B, Gucin F (2005) Structural characterization and antimicrobial activity of 1,3-bis(2-benzimidazyl)-2-thiapropane ligand and its Pd(II) and Zn(II) halide complexes. Eur J Med Chem 40:1096–1102. https://doi.org/10.1016/j.ejmech.2005.05.006

Bakshi K, Liyanage MR, Volkin DB, Middaugh CR (2014) Fourier transform infrared spectroscopy of peptides. In: Nixon AE (ed) Therapeutic peptides: methods and protocols, vol 1088. Humana Press Inc, Totowa, pp 255–269

Barth A (2007) Infrared spectroscopy of proteins. Biochim Biophys Acta Bioenergy 1767:1073–1101. https://doi.org/10.1016/j.bbabio.2007.06.004

Bassett AP, Magennis SW, Glover PB, Lewis DJ, Spencer N, Parsons S, Williams RM, De Cola L, Pikramenou Z (2004) Highly luminescent, triple- and quadruple-stranded, dinuclear Eu, Nd, and Sm(III) lanthanide complexes based on bis-diketonate ligands. J Am Chem Soc 126:9413–9424. https://doi.org/10.1021/ja048022z

Bayrak H, Demirbas A, Karaoglu SA, Demirbas N (2009) Synthesis of some new 1,2,4-triazoles, their Mannich and Schiff bases and evaluation of their antimicrobial activities. Eur J Med Chem 44:1057–1066. https://doi.org/10.1016/j.ejmech.2008.06.019

Berney M, Hammes F, Bosshard F, Weilenmann HU, Egli T (2007) Assessment and interpretation of bacterial viability by using the LIVE/DEAD BacLight kit in combination with flow cytometry. Appl Environ Microbiol 73:3283–3290. https://doi.org/10.1128/aem.02750-06

Carter KP, Young AM, Palmer AE (2014) Fluorescent sensors for measuring metal ions in living systems. Chem Rev 114:4564–4601. https://doi.org/10.1021/cr400546e

Chohan ZH, Munawar A, Supuran CT (2001) Transition metal ion complexes of Schiff-bases. Synthesis, characterization and antibacterial properties. Met Based Drugs 8:137–143. https://doi.org/10.1155/mbd.2001.137

Chohan ZH, Farooq MA, Scozzafava A, Supuran CT (2002) Antibacterial Schiff bases of oxalyl-hydrazine/diamide incorporating pyrrolyl and salicylyl moieties and of their zinc(II) complexes. J Enzyme Inhib Med Chem 17:1–7. https://doi.org/10.1080/14756360290005598

Chudobova D, Cihalova K, Dostalova S, Ruttkay-Nedecky B, Rodrigo MAM, Tmejova K, Kopel P, Nejdl L, Kudr J, Gumulec J, Krizkova S, Kynicky J, Kizek R, Adam V (2014) Comparison of the effects of silver phosphate and selenium nanoparticles on Staphylococcus aureus growth reveals potential for selenium particles to prevent infection. FEMS Microbiol Lett 351:195–201. https://doi.org/10.1111/1574-6968.12353

Fan YH, He XT, Bi CF, Guo F, Bao Y, Chen R (2007) Synthesis, characterization, and antibacterial activity of new rare-earth ion complexes with unsymmetrical Schiff base ligand. Russ J Coord Chem 33:535–538. https://doi.org/10.1134/s107032840707010x

Galindo-Murillo R, Cheatham TE (2014) DNA binding dynamics and energetics of cobalt, nickel, and copper metallopeptides. ChemMedChem 9:1252–1259. https://doi.org/10.1002/cmdc.201402020

Goormaghtigh E, Cabiaux V, Ruysschaert JM (1990) Secondary structure and dosage of soluble and membrane-proteins by attenuated total reflection fourier-transform infrared-spectroscopy on hydrated films. Eur J Biochem 193:409–420. https://doi.org/10.1111/j.1432-1033.1990.tb19354.x

Hampe O, Klyatskaya S, Karpuschkin T, Vonderach M, Weis P, Ruben M, Kappes MM (2012) Mass spectrometric characterization of a dinuclear terbium phthalocyaninato complex. Int J Mass Spectrom 325:183–188. https://doi.org/10.1016/j.ijms.2012.06.011

Hauser CP, Thielemann DT, Adlung M, Wickleder C, Roesky PW, Weiss CK, Landfester K (2011) Luminescent polymeric dispersions and films based on oligonuclear lanthanide clusters. Macromol Chem Phys 212:286–296. https://doi.org/10.1002/macp.201000461

Kopel P, Sindelar Z, Klicka R (1998) Complexes of iron(III) salen and saloph Schiff bases with bridging dicarboxylic and tricarboxylic acids. Transit Met Chem 23:139–142. https://doi.org/10.1023/a:1006990925318

Kopel P, Dolezal K, Langer V, Jun D, Adam V, Kuca K, Kizek R (2014) Trithiocyanurate complexes of iron, manganese and nickel and their anticholinesterase activity. Molecules 19:4338–4354. https://doi.org/10.3390/molecules19044338

Kopel P, Wawrzak D, Langer V, Cihalova K, Chudobova D, Vesely R, Adam V, Kizek R (2015) Biological activity and molecular structures of bis(benzimidazole) and trithiocyanurate complexes. Molecules 20:10360–10376. https://doi.org/10.3390/molecules200610360

Lambert PA (2002) Mechanisms of antibiotic resistance in Pseudomonas aeruginosa. J R Soc Med 95:22–26

Lemire JA, Harrison JJ, Turner RJ (2013) Antimicrobial activity of metals: mechanisms, molecular targets and applications. Nat Rev Microbiol 11:371–384. https://doi.org/10.1038/nrmicro3028

Lian N, Zhao HC, Sun CY, Chen SL, Lu Y, Jin LP (2003) A study on terbium sensitized chemiluminescence of ciprofloxacin and its application. Microchem J 74:223–230. https://doi.org/10.1016/s0026-265x(03)00032-8

Lotze J, Reinhardt U, Seitz O, Beck-Sickinger AG (2016) Peptide-tags for site-specific protein labelling in vitro and in vivo. Mol BioSyst 12:1731–1745. https://doi.org/10.1039/c6mb00023a

Martinez-Abad A, Sanchez G, Lagaron JM, Ocio MJ (2012) On the different growth conditions affecting silver antimicrobial efficacy on Listeria monocytogenes and Salmonella enterica. Int J Food Microbiol 158:147–154. https://doi.org/10.1016/j.ijfoodmicro.2012.07.010

Mazumder UK, Gupta M, Karki SS, Bhattacharya S, Rathinasamy S, Sivakumar T (2005) Synthesis and pharmacological activities of some mononuclear Ru(II) complexes. Bioorg Med Chem 13:5766–5773. https://doi.org/10.1016/j.bmc.2005.05.047

Milosavljevic V, Kopel P, Rodrigo MAR, Cihalova K, Moulick A, Wawrzak D, Kizek R (2015) Study of cell penetrating peptide and europium(III) and terbium (III) Schiff base complexes interaction. J Met Nanotechnol 3:81–89

Milosavljevic V, Haddad Y, Rodrigo MAM, Moulick A, Polanska H, Hynek D, Heger Z, Kopel P, Adam V (2016) The zinc–schiff base–novicidin complex as a potential prostate cancer therapy. PLoS One 11:1–19. https://doi.org/10.1371/journal.pone.0163983

Mussbach F, Franke M, Zoch A, Schaefer B, Reissmann S (2011) Transduction of peptides and proteins into live cells by cell penetrating peptides. J Cell Biochem 112:3824–3833. https://doi.org/10.1002/jcb.23313

Pelgrift RY, Friedman AJ (2013) Nanotechnology as a therapeutic tool to combat microbial resistance. Adv Drug Deliv Rev 65:1803–1815. https://doi.org/10.1016/j.addr.2013.07.011

Percival SL, Thomas J, Linton S, Okel T, Corum L, Slone W (2012) The antimicrobial efficacy of silver on antibiotic-resistant bacteria isolated from burn wounds. Int Wound J 9:488–493. https://doi.org/10.1111/j.1742-481X.2011.00903.x

Polishchuk AV, Karaseva ET, Medkov MA, Karasev VE (2004) Europium(III) compounds with cyprofloxacine and norfloxacine: spectral and luminescent properties and antibacterial activity. Russ J Coord Chem 30:828–831. https://doi.org/10.1023/B:RUCO.0000047473.53273.0d

Premkumar T, Govindarajan S (2006) Antimicrobial study on trivalent lighter rare-earth complexes of 2-pyrazinecarboxylate with hydrazinium cation. World J Microbiol Biotechnol 22:1105–1108. https://doi.org/10.1007/s11274-006-9149-x

Ragin AD, Morgan RA, Chmielewski J (2002) Cellular import mediated by nuclear localization signal peptide sequences. Chem Biol 9:943–948. https://doi.org/10.1016/s1074-5521(02)00189-8

Shintoyo S, Fujinami T, Matsumoto N, Tsuchimoto M, Weselski M, Bienko A, Mrozinski J (2015) Synthesis, crystal structure, luminescent and magnetic properties of europium(III) and terbium(III) complexes with a bidentate benzoate and a tripod N7 ligand containing three imidazole, LnIII(H3L)benzoate (ClO4)2·H2O center dot 2MeOH (LnII = EuIII and TbIII). Polyhedron 91:28–34. https://doi.org/10.1016/j.poly.2015.02.020

Toprak E, Veres A, Michel JB, Chait R, Hartl DL, Kishony R (2012) Evolutionary paths to antibiotic resistance under dynamically sustained drug selection. Nat Genet 44:U101–U140. https://doi.org/10.1038/ng.1034

Wells TNC, Scully P, Paravicini G, Proudfoot AEI, Payton MA (1995) Mechanism of irreversible inactivation of phosphomannose isomerases by silver ions and flamazine. Biochemistry 34:7896–7903. https://doi.org/10.1021/bi00024a014

Yang L, Tao DL, Yang XL, Li YF, Guo YM (2003) Synthesis, characterization, and antibacterial activities of some rare earth metal complexes of pipemidic acid. Chem Pharm Bull 51:494–498. https://doi.org/10.1248/cpb.51.494

Yang SNY, Takeda AAS, Fontes MRM, Harris JM, Jans DA, Kobe B (2010) Probing the specificity of binding to the major nuclear localization sequence-binding site of importin-alpha using oriented peptide library screening. J Biol Chem 285:19935–19946. https://doi.org/10.1074/jbc.M109.079574

Zangana KH, Pineda EM, Winpenny REP (2014) Tetrametallic lanthanide(III) phosphonate cages: synthetic, structural and magnetic studies. Dalton Trans 43:17101–17107. https://doi.org/10.1039/c4dt02630f
Acknowledgements
The financial support from the project CEITEC 2020 (LQ 1601) from the Ministry of Education, Youth and Sports of the Czech Republic under the National Sustainability Programme II, is highly acknowledged.
Ethics declarations
Conflict of interest
The authors declare that no competing interests exist.
About this article
Cite this article
Kynicky, J., Milosavljevic, V., Jelinkova, P. et al. Europium and terbium Schiff base peptide complexes as potential antimicrobial agents against Salmonella typhimurium and Pseudomonas aeruginosa. Chem. Pap. 72, 1437–1449 (2018). https://doi.org/10.1007/s11696-018-0400-3
Received:

Accepted:

Published:

Issue Date:

DOI: https://doi.org/10.1007/s11696-018-0400-3
Keywords
Schiff base

Europium

Terbium

Cell penetrating peptide

Antimicrobial agents