Abstract
Biofiltration is one of the techniques used to reduce odorants in the air. It is based on the aerobic degradation of pollutants by microorganisms located in the filter bed. The research presents the possibility of using the electronic nose prototype for monitoring and efficiency assessment of air biofiltration. The study was conducted using model gas mixtures containing representatives of three groups of chemical compounds: n-hexane (alkanes), acetone (ketones) and toluene (aromatic hydrocarbons). Based on the proposed linear models it has been shown that the determination of concentrations of these substances in the ternary mixture is possible at relatively low concentrations. It was also shown that the used filter medium (pine bark) had the highest removal efficiency of acetone.
Access options
Buy single article
Instant access to the full article PDF.
US$ 39.95
Tax calculation will be finalised during checkout.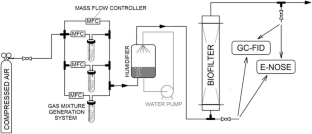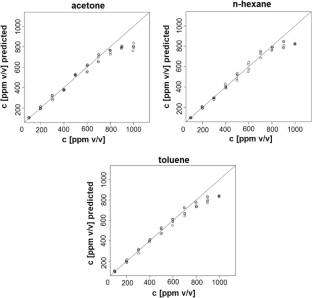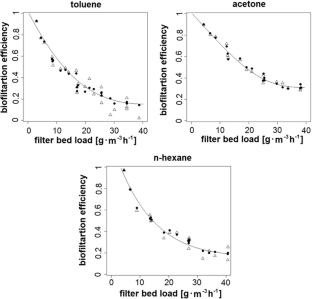 References
Barbusinski K, Kalemba K, Kasperczyk D, Urbaniec K, Kozik V (2017) Biological methods for odor treatment—a review. J Clean Prod 152:223–241. doi:10.1016/j.jclepro.2017.03.093

Boeker P (2014) On 'Electronic Nose' methodology. Sens Actuator B Chem 204:2–17. doi:10.1016/j.snb.2014.07.087

Burgess JE, Parson SA, Stuetz RM (2001) Developments in odour control and waste gas treatment biotechnology: a review. Biotechnol Adv 19:35–63. doi:10.1016/S0734-9750(00)00058-6

Cabeza IO, López R, Giraldez I, Stuetz RM, Diaz MJ (2013) Biofiltration of α-pinene vapours using municipal solid waste (MSW)—pruning residues (P) composts as packing materials. J Chem Eng 233:149–158. doi:10.1016/j.cej.2013.08.032

Capelli L, Sironi S, Del Rosso R (2014) Electronic noses for environmental monitoring applications. Sensors 14:19979–20007. doi:10.3390/s14111997

Delhoménie MC, Heitz M (2005) Biofiltration of air: a review. Crit Rev Biotechnol 25:283–293. doi:10.1080/07388550590935814

Fang J-J, Yang N, Cen D-Y, Shao L-M, He P-J (2012) Odor compounds from different sources of landfill: characterization and source identification. Waste Manag 32:1401–1410. doi:10.1016/j.wasman.2012.02.013

Gancarz M, Wawrzyniak J, Gawrysiak-Witulska M, Wiącek D, Nawrocka A, Tadla M, Rusinek R (2017) Application of electronic nose with MOS sensors to prediction of rapeseed quality. Measurement 103:227–234. doi:10.1016/j.measurement.2017.02.042

Gębicki J, Szulczyński B, Kamiński M (2015) Determination of authenticity of brand perfume using electronic nose prototypes. Meas Sci Technol 26(12):125103. doi:10.1088/0957-0233/26/12/125103

Gębicki J, Dymerski T, Namieśnik J (2016) Application of ultrafast gas chromatography to recognize odor nuisance. Environ Prot Eng 42(2):97–106. doi:10.5277/epe160206

Gutiérrez MC, Martín MA, Pagans E, Vera L, García-Olmo J, Chica AF (2015) Dynamic olfactometry and GC–TOFMS to monitor the efficiency of an industrial biofilter. Sci Total Environ 512–513:572–581. doi:10.1016/j.scitotenv.2015.01.074

Lehtinen J, Veijanen A (2011) Odour monitoring by combined TD–GC–MS–Sniff technique and dynamic olfactometry at the wastewater treatment plant of low H2S concentration. Water Air Soil Pollut 218:185–196. doi:10.1007/s11270-010-0634-3

Leson G, Winer AM (1991) Biofiltration: an innovative air pollution control technology for VOC emissions. J Air Waste Manag 41(8):1045–1054. doi:10.1080/10473289.1991.10466898

Lewkowska P, Cieślik B, Dymerski T, Konieczka P, Namieśnik J (2016) Characteristics of odors emitted from municipal wastewater treatment plant and methods for their identification and deodorization techniques. Environ Res 151:573–586. doi:10.1016/j.envres.2016.08.030

López R, Cabeza IO, Giraldez Diaz MJ (2011) Biofiltration of composting gases using different municipal solid waste-pruning residue composts: monitoring by using an electronic nose. Bioresour Technol 102(17):7984–7993. doi:10.1016/j.biortech.2011.05.085

Muldiar S, Giri B, Padoley K, Satpute D, Dixit R, Bhatt P, Pandey R, Juwarkar A, Vaidya A (2010) Bioreactors for treatment of VOCs and odours—a review. J Environ Manag 91(5):1039–1054. doi:10.1016/j.jenvman.2010.01.006

Sohn JH, Dunlop M, Hudson N, Kim TI, Yoo YH (2009) Non-specific conducting polymer-based array capable of monitoring odour emissions from a biofiltration system in a piggery building. Sens Actuator B Chem 135(2):455–464. doi:10.1016/j.snb.2008.10.007

Sówka I, Miller U, Adamiak W, Skrętowicz M (2013) Use of some surfactants to increase the efficiency of biofiltration of industrial gases. Przem Chem 92(7):1354–1357 (in Polish)

Sówka I, Miller U, Sobczynski P (2014) Emission of odors from municipal waste composting processes. Przem Chem 93(5):795–798. doi:10.12916/przemchem.2014.795 (in Polish)

Szulczyński B, Gębicki J (2017) Currently commercially available chemical sensors employed for detection of volatile organic compounds in outdoor and indoor air. Environments 4(1):21. doi:10.3390/environments4010021

Zarra T, Reiser M, Naddeo V, Belgiorno V, Kranert M (2014) Odour emissions characterization from wastewater treatment plants by different measurement methods. Chem Eng Trans 40:37–42. doi:10.3303/CET1440007
Acknowledgements
The investigations were financially supported by the Grant No. UMO-2015/19/B/ST4/02722 from the National Science Centre. Also, the authors want to thank Professor M. Kamiński for sharing equipment to perform gas chromatography analysis.
About this article
Cite this article
Szulczyński, B., Gębicki, J. & Namieśnik, J. Monitoring and efficiency assessment of biofilter air deodorization using electronic nose prototype. Chem. Pap. 72, 527–532 (2018). https://doi.org/10.1007/s11696-017-0310-9
Received:

Accepted:

Published:

Issue Date:
Keywords
Odorants

Biofiltration

Electronic nose

Metal oxide sensors

Odours concentration

GC-FID