Abstract
Complex analysis of the impact of post-production conditions on antioxidant status, content of selected polyphenols, color, and concentration of selected metals was evaluated in the group of ten most popular medical plants conventionally produced in the Czech Republic. Ultraviolet visible near infrared spectroscopy (UV–VIS–NIR), electron paramagnetic resonance (EPR), high-performance liquid chromatography (HPLC), and inductively coupled plasma optical emission spectrometry (ICP-OES) were employed for these purposes. The entire data set of the obtained experimental characteristics was processed by multivariate statistical methods to assess the influence of the way of processing on sample properties. On the basis of 11 characteristics identified by the analysis of variance (ANOVA) as the most significantly different, successful differentiation of medical plant samples was achieved according to post-harvest treatment, families, and individual medical plant species by means of canonical discrimination method, reaching 100, 89.5, and 100% correctness, respectively. The importance of the sample processing on their properties and on the concentration of target naturally containing compounds with health-promoting and antioxidant properties was thus proved unambiguously.
This is a preview of subscription content, log in to check access.
Access options
Buy single article
Instant access to the full article PDF.
US$ 39.95
Price includes VAT for USA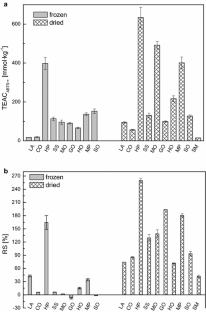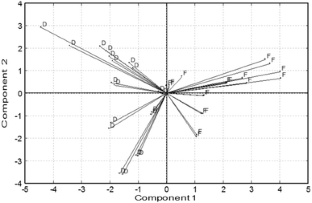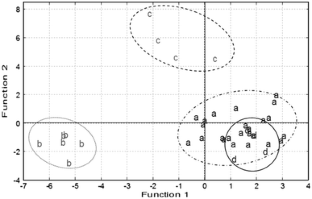 References
Abbas ZK, Saggu S, Sakeran MI, Zidan N, Rehman H, Ansari AA (2015) Phytochemical, antioxidant and mineral composition of hydroalcoholic extract of chicory (Cichorium intybus L.) leaves. Saudi J Biol Sci 22(3):322–325. doi:10.1016/j.sjbs.2014.11.015

Adámková A, Kouřimská L, Kadlecová B (2015) The effect of drying on antioxidant activity of selected Lamiaceae herbs. Potravinárstvo Slovak J Food Sci 9(1):252–257. doi:10.5219/474

Agryropoulos D, Müller J (2011) Effect of convective drying on quality of lemon balm (Melissa officinalis L.). Procesia Food Sci 1:1932–1939. doi:10.1016/j.profoo.2011.09.284

Agryropoulos D, Müller J (2014) Kinetics of change in color and rosmarinic acid equivalents during convective drying of lemon balm (Melissa officinalis L.). J Appl Res Med Aromat Plants 1(1):15–22. doi:10.1016/j.jarmap.2013.12.001

Akinmoladun AC, Ibukun EO, Afor E, Akinrinlola BL, Onibon TR, Akinboboye AO, Obuotor EM, Farombi EO (2007) Chemical constituents and antioxidant activity of Alstonia boonei. Afr J Biotechnol 6(10):1197–1201

Alam MN, Bristi NJ, Rafiquzzaman MD (2013) Review on in vivo and in vitro methods evaluation of antioxidant activity. Saudi Pharm J 21(2):143–152. doi:10.1016/j.jsps.2012.05.002

Alam MA, Juraimi AS, Rafii MY, Abdul Hamid A, Aslani F, Hasan MM, Mohd Zainudin MA, Uddin MK (2014) Evaluation of antioxidant compounds, antioxidant activities, and mineral composition of 13 collected purslane (Portulaca oleracea L.) accessions. Biomed Res Int. doi:10.1155/2014/296063

Albano E, Parola M (2015) Studies on hepatic disorders. Springer International Publishing, Switzerland

Anawar HM, Canha N, Freitas MC, Santa Regina I, Garcia-Sanchez A (2011) Effects of different drying processes on the concentrations of metals and metalloids in plant materials. J Radioanal Nucl Chem 289(1):29–34. doi:10.1007/s10967-011-1051-9

Arabhosseini A, Padhye S, Huisman W, Boxtel A, Müller J (2011) Effect of drying on the color of tarragon (Artemisia dracunculus L.) leaves. Food Bioprocess Technol 4(7):1281–1287. doi:10.1007/s11947-009-0305-9

Arslan D, Özcan MM (2008) Evaluation of drying methods with respect to drying kinetics, mineral content and color characteristics of rosemary leaves. Energy Convers Manag 49(5):1258–1264. doi:10.1016/j.enconman.2007.08.005

Arslan D, Özcan MM, Menges HO (2010) Evaluation of drying methods with respect to drying parameters, some nutritional and color characteristics of peppermint (Mentha × piperita L.). Energy Convers Manag 51(12):2769–2775. doi:10.1016/j.enconman.2010.06.013

Baâtour O, Tarchoun I, Nasri N, Kaddour R, Harrathi J, Drawi E, Nasri-Ayachi B, Marzouk B, Lachaâl M (2012) Effect of growth stages on phenolics content and antioxidant activities of shoots in sweet marjoram (Origanum majorana L.) varieties under salt stress. Afr J Biotechnol 11(99):16486–16493. doi:10.5897/AJB12.1722

Bajaj S, Khan A (2012) Antioxidants and diabetes. Indian J Endocrinol Metab 16(2):267–271. doi:10.4103/2230-8210.104057

Bhatt ID, Rawat S, Rawal RS (2012) Antioxidants in medical plants. In: Biotechnology for medical plants. Springer, Berlin

Boonsong P, Laohakunjit N, Kerdchoechuen O (2011) Detection of pigments and natural colorants from Thai herbal plants for possible use as coloring dyes. Hortscience 46(2):265–272

Borges LL, Alves SF, Sampaio BL, Conceição EC, Bara MTF, Paula JR (2013) Environmental factors affecting the concentration of phenolic compounds in Myrcia tomentosa leaves. Rev Bras Farmacogn 23(2):230–238. doi:10.1590/S0102-695X2013005000019

Buřičová L, Réblová Z (2008) Czech medical plants as possible sources of antioxidants. Czech J Food Sci 26(2):132–138

Butnariu M, Grozea I (2012) Antioxidant (antiradical) compounds. J Bioequivalence Bioavailab. doi:10.4172/jbb.10000e18

Chang CH, Lin H-Y, Chang CY, Liu Y-C (2006) Comparison on the antioxidant properties of fresh, freeze-dried and hot-air-dried tomatoes. J Food Eng 77(3):478–485. doi:10.1016/j.jfoodeng.2005.06.061

Chrpová D, Kouřimská L, Gordon HM, Heřmanová V, Roubíčková I, Pánek J (2010) Antioxidant activity of selected phenols and herbs used in diets for medical conditions. Czech J Food Sci 28(4):317–325

Coetze PP, Steffens FE, Eiselen RJ, Augustyn OP, Balcaen L, Vanhaecke F (2005) Multi-element analysis of South African wines by ICP-MS and their classification according to geographical origin. J Agric Food Chem 53(13):5060–5066. doi:10.1021/jf048268n

Danso-Boateng E (2013) Effect of drying methods on nutrient quality of Basil (Ocimum viride) leaves cultivated in Ghana. Int Food Res J 20(4):569–1573

Derakhshani Z, Hassani A, Pirzad A, Abdollahi R, Dalkani M (2012) Evaluation of phenolic content and antioxidant capacity in some medicinal herbs cultivated in Iran. Bot Serbica 36(2):117–122

Djeridanea A, Yousfia M, Nadjemib B, Boutassounaa D, Stockerc P, Vidalc N (2006) Antioxidant activity of some Algerian medicinal plants extracts containing phenolic compounds. Food Chem 97(4):654–660. doi:10.1016/j.foodchem.2005.04.028

Do QD, Angkawijaya AE, Tran-Nguyen PL, Huynh LH, Soetaredjo FE, Ismadji S, Ju Y-H (2014) Effect of extraction solvent on total phenol content, total flavonoid content, and antioxidant activity of Limnophila aromatica. J Food Drug Anal 22(3):296–302. doi:10.1016/j.jfda.2013.11.001

Ebrahimzadeh MA, Nabavi SF, Nabavi SM, Eslami B (2010) Antioxidant and antihemolytic activities of Mentha piperita. Pharmacologyonline 1:744–752

Elhamirad AH, Zamanipoor MH (2012) Thermal stability of some flavonoids and phenolic acids in sheep tallow olein. Eur J Lipid Sci Technol 114(5):602–606. doi:10.1002/ejlt.201100240

Er M, Tugay O, Özcan MM, Ulukuş D, Al-Juhaimi F (2013) Biochemical properties of some Salvia L. species. Environ Monit Assess 185(6):5193–5198. doi:10.1007/s10661-012-2935-z

Fernandes AJ, Ferreira MR, Randau KP, de Souza TP, Soares LA (2012) Total flavonoids content in the raw material and aqueous extractives from Bauhinia monandra Kurz (Caesalpiniaceae). Sci World J. doi:10.1100/2012/923462

Firuzi O, Javidnia K, Gholami M, Soltani M, Miri R (2010) Antioxidant activity and total phenolic content of 24 Lamiaceae species growing in Iran. Nat Prod Commun 5(2):261–264

Flora SJS (2009) Structural, chemical and biological aspects of antioxidants for strategies against metal and metalloid exposure. Oxid Med Cell Longev 2(4):191–206. doi:10.4161/oxim.2.4.9112

Gioti EM, Fiamegos YC, Skalkos DC, Stalikas CD (2009) Antioxidant activity and bioactive components of the aerial parts of Hypericum perforatum L. from Epirus, Greece. Food Chem 117(3):398–404. doi:10.1016/j.foodchem.2009.04.016

Gonçalves S, Gomes D, Costa P, Romano A (2013) The phenolic content and antioxidant activity of infusions from Mediterranean medicinal plants. Ind Crops Prod 43:465–471. doi:10.1016/j.indcrop.2012.07.066

Grindlay G, Maestre S, Gras L, Mora J (2006) Introduction of organic solvent solutions into inductively coupled plasma-atomic emission spectrometry using a microwave assisted sample introduction system. J Anal At Spectrom 21:1403–1411. doi:10.1039/b606995a

Hossain MA, Shah MD (2015) A study on the total phenols content and antioxidant activity of essential oil and different solvent extracts of endemic plant Merremia borneensis. Arabian J Chem 8(1):66–71. doi:10.1016/j.arabjc.2011.01.007

Huang W-Y, Cai Y-Z, Zhang Y (2010) Natural phenolic compounds from medicinal herbs and dietary plants: potential use for cancer prevention. Nutr Cancer J 62(1):1–20. doi:10.1080/01635580903191585

Karadeniz A, Çinbilgel I, Gün SŞ, Çetin A (2015) Antioxidant activity of some Turkish medicinal plants. Nat Prod Res 29(24):2308–2312. doi:10.1080/14786419.2015.1005618

Karakas FP, Turker AU, Karakas A, Mshvildadze V (2016) Cytotoxic, anti-inflammatory and antioxidant activities of four different extracts of Galega officinalis L. (Goat's rue). Trop J Pharm Res 15(4):751–757. doi:10.4314/tjpr.v15i4.12

Karamucki T, Jakubowska M, Rybarczyk A, Szaruga R, Gardzielewska J, Natalczyk-Szymkowska W (2006) Relationship between CIE L*a*b* and CIE L*C*h scale color parameters determined when applying Illuminant C and observer 2° and illuminant D65 and observer 10° and proximate chemical composition and quality traits of porcine Longissimus lumborum muscle. Pol J Food Nutr Sci 15(2):129–135

Khairy HM, El-Sheikh MA (2015) Antioxidant activity and mineral composition of three Mediterranean common seaweeds from Abu-Qir Bay, Egypt. Saudi J Biol Sci 22(5):623–630. doi:10.1016/j.sjbs.2015.01.010

Klemow KM, Bartlow A, Crawford J, Kocher N, Shah J, Ritsick M (2011) Herbal medicine: biomolecular and clinical aspects, 2nd edn, Chapter 11. CRC Press/Taylor & Francis, Boca Raton

Kolasani A, Xu H, Millikan M (2011) Determination and comparison of mineral elements in traditional Chinese herbal formulae at different decoction times used to improve kidney function—chemometric approach. Afr J Tradit Complement Altern Med 8(5):191–197. doi:10.4314/ajtcam.v8i5S.25

Končić MZ, Barbarić M, Perković I, Zorc B (2011) Antiradical, chelating and antioxidant activities of hydroxamic acids and hydroxyureas. Molecules 16(8):6232–6242. doi:10.3390/molecules16086232

Kortei NK, Odamtenn GT, Obodai M, Appiah V, Akonor PT (2015) Determination of color parameters of gamma irradiated fresh and dried mushrooms during storage. Croat J Food Technol Biotechnol Nutr 10(1–2):66–71

Kostic DA, Velickovic JM, Mitic SS, Mitic MN, Randjelovic SS, Arsic BB, Pavlovic AN (2013) Correlation among phenolic, toxic metals and antioxidant activity of the extracts of plant species from Southeast Serbia. Bull Chem Soc Ethiop 27(2):169–178. doi:10.4314/bcse.v27i2.2

Kouřimská L, Sabolová M, Dvořáková B, Roubíčková I, Pánek J, Nový P (2014) Antioxidant activity of Lamiaceae herbs grown under organic and conventional farming. Sci Agric Bohemica 45(1):19–25 (ISSN: 1211–3174)

Kouřimská L, Ešlerová K, Khatri Y (2016) The effect of storage on quality of herbs genus Origanum. Potravin Slovak J Food Sci 10(1):207–214. doi:10.5219/608

Kulhari A, Sheorayan A, Bajar S, Sarkar S, Chaudhury A, Kalia RK (2013) Investigation of heavy metals in frequently utilized medicinal plants collected from environmentally diverse locations of north western India. Springerplus. doi:10.1186/2193-1801-2-676

Kumar S, Panley AK (2013) Chemistry and biological activities of flavonoids: an overview. Sci World J 2013. doi: 10.1155/2013/162750

Mahmood T, Anwar F, Abbas M, Saari N (2012) Effect of maturity on phenolics (phenolic acids and flavonoids) profile of strawberry cultivars and mulberry species from Pakistan. Int J Mol Sci 13(4):4591–4607. doi:10.3390/ijms13044591

Martinov M, Mujic IO, Müller J (2007) Impact of drying air temperature on course of drying and quality of Hypericum perforatum L. J Med Spice Plants 12(3):136–140

Mašković PZ, Mladenović JD, Cvijović MS, Aćamović-Doković G, Solujić SR, Radojković MM (2011) Phenolic content, antioxidant and antifungal activities of acetonic, ethanolic and petroleum ether extracts of Hypericum perforatum L. Hem Ind 65(2):159–164. doi:10.2298/HEMIND100819004M

Matkowski A, Tasarz P, Szypuła E (2008) Antioxidant activity of herb extracts from five medicinal plants from Lamiaceae, subfamily Lamioideae. J Med Plants Res 2(11):321–330

Meena H, Pandey HK, Pandey P, Arya MC, Ahmed Z (2012) Evaluation of antioxidant activity of two important memory enhancing medicinal plants Baccopa monnieri and Centella asiatica. Indian J Pharmacol 44(1):114–117. doi:10.4103/0253-7613.91880

Mohamed RMA, Fageer ASM, Eltayeb MM, Ahmed IAM (2014) Chemical composition, antioxidant capacity, and mineral extractability of Sudanese date palm (Phoenix dactylifera L.) fruits. Food Sci Nutr 2(5):478–489. doi:10.1002/fsn3.123

Mucchino C, Musci M (2014) Extraction of Al, Cu, Fe, Mn, Ni and Zn—polyphenol complexes from black tea infusions by Amberlite resins. J Sci Food Agric 94(11):2234–2238. doi:10.1002/jsfa.6547

Müller J, Heindl A (2006) Drying of medical plants. In: Medicinal and aromatic plants—agricultural, commercial, ecological, legal, pharmacological and social aspects, vol 17. Springer, Berlin, pp 237–240

Myung S-K, Ju W, Cho B, Oh S-W, Park SM, Koo B-K, Park B-J (2013) Efficacy of vitamin and antioxidant supplements in prevention of cardiovascular disease: systematic review and meta-analysis of randomized controlled trials. BMJ. doi:10.1136/bmj.f10

Okwu DE (2005) Phytochemicals, vitamins and mineral contents of two Nigerian medicinal plants. Int J Mol Med Adv Sci 1(4):375–381

Orčić DZ, Mimica-Dukić NM, Francišković MM, Petrović SS, Jovin ED (2011) Antioxidant activity relationship of phenolic compounds in Hypericum perforatum L. Chem Cent J. doi:10.1186/1752-153X-5-34

Orphanides A, Goulas V, Gekas V (2013) Effect of drying method on the phenolic content and antioxidant capacity of spearmint. Czech J Food Sci 31(5):509–513

Öztürk N, Tunçel M, Potoğlu-Erkara I (2009) Phenolic compounds and antioxidant activities of some Hypericum species: a comparative study with H. perforatum. Pharm Biol 47(2):120–127. doi:10.1080/13880200802437073

Patel VR, Patel PR, Kajal SS (2010) Antioxidant activity of some selected medicinal plants in western region of India. Adv Biol Res 4(1):23–26

Paulová H, Bochořová H, Táborská E (2004) Metody stanovení antioxidační aktivity přírodních látek in vitro. Chemické listy 98(4):174–179 (ISSN 0009-2770)

Peiretti PG, Gai F, Ortoffi M, Aigotti R, Medana C (2012) Effects of rosemary oil (Rosmarinus officinalis) on the shelf-life of minced rainbow trout (Oncorhynchus mykiss) during refrigerated storage. Foods 1(1):28–29. doi:10.3390/foods1010028

Pellegrino D (2016) Antioxidants and cardiovascular risk factors. Diseases 4(1):11

Piluzza G, Bullitta S (2011) Correlations between phenolic content and antioxidant properties in twenty-four plant species of traditional ethnoveterinary use in the Mediterranean area. Pharm Biol 49(3):240–247. doi:10.3109/13880209.2010.501083

Polovka M (2006) EPR spectroscopy: a tool to characterise stability and antioxidant properties of foods. J Food Nutr Res 45(1):1–11

Polovka M, Suhaj M (2010) Detection of caraway and bay leaves irradiation based on their extracts' antioxidant properties evaluation. Food Chem 119(1):391–401. doi:10.1016/j.foodchem.2009.07.005

Rubinskienė M, Viškelis P, Dambrauskienė E, Viškelis J, Karklelienė R (2015) Effect of drying methods on the chemical composition and color of peppermint (Mentha × piperita L.) leaves. Zemdirbyste 102(2):223–228. doi:10.13080/z-a.2015.102.029

Sankhalkar S, Vernekar V (2016) Quantitative and qualitative analysis of phenolic and flavonoid content in Moringa oleifera Lam and Ocimum tenuiflorum L. Pharmacogn Res 8(1):16–21. doi:10.4103/0974-8490.171095

Semenov GV, Krasnova IS, Suronov OA, Shuvalova ID, Posokhov ND (2015) Influence of freezing and drying on phytochemical properties of various fruit. Biosci Biotech Res Asia. doi:10.13005/bbra/1786

Sharma N, Gupta PC, Rao ChV (2012) Nutrient content, mineral content and antioxidant activity of Amaranthus viridis and Moringa oleifera leaves. Res J Med Plants 6:253–259. doi:10.3923/rjmp.2012.253.259

Shofian NM, Hamid AA, Osman A, Saari N, Anwar F, Pak Dek MS, Hairuddin MR (2011) Effect of freeze-drying on the antioxidant compounds and antioxidant activity of selected tropical fruits. Int J Mol Sci 12(7):4678–4692. doi:10.3390/ijms12074678

Siriamornpun S, Kaisoon O, Meeso N (2012) Changes in color, antioxidant activities and carotenoids (lycopene, β-carotene, lutein) of marigold flower (Tagetes erecta L.) resulting from different drying processes. J Funct Foods 4(4):757–766. doi:10.1016/j.jff.2012.05.002

Šťavíková L, Polovka M, Hohnová B, Zemanová J (2009) Multi-experimental characterization of grape skin extracts. Czech J Food Sci 26:43–48

Ştef SD, Gergen I, Ştef L, Hărmănescu M, Pop C, Drugă M, Bujancă G, Popa M (2010) Determination of the macro elements content of some medicinal herbs. Anim Sci Biotechnol 43(1):122–126

Sulaiman CT, Balachandran I (2012) Total phenolics and total flavonoids in selected Indian medical plants. Indian J Pharm Sci 74(3):258–260. doi:10.4103/0250-474X.106069

Sultana B, Anwar F, Ashraf M (2009) Effect of extraction solvent/technique on the antioxidant activity of selected medicinal plant extracts. Molecules 14:2167–2180. doi:10.3390/molecules14062167

Sytar O, Hemmerich I, Zivcak M, Rauh C, Brestic M (2016) Comparative analysis of bioactive phenolic compounds composition from 26 medicinal plants. Saudi J Biol Sci doi: 10.1016/j.sjbs.2016.01.036, (In press)

Szentmihályi K, Héthrlyi E, Virág V, Then M (2009) Mineral elements in muscat sage plant (Salvia sclarea L.) and essential oil. Acta Biologica Szegediensis 53(1):35–38

Thiagarajan R, Manikandan R (2013) Antioxidants and cataract. Free Radic Res 47(5):337–345. doi:10.3109/10715762.2013.777155

Tobolková B, Polovka M, Belajová E, Koreňovská M, Suhaj M (2014) Characterisation of some Slovak and European organic and conventional wines based on instrumental and multivariate analysis. Eur Food Res Technol 239(3):441–451

Tomsone L, Kruma Z (2014) Influence of freezing and drying in the phenol content and antioxidant activity of horseradish and lovage. In: Proceedings of the 9th Baltic conference on food science and technology "food for consumer well-being", May 8–9, 2014. Faculty of Food Technology, Latvia University of Agriculture, Jelgava

Trevizan LC, Santos D Jr, Samad RE, Vieira ND Jr, Nunes LC, Rufini IA, Krug FJ (2009) Evaluation of laser induced breakdown spectroscopy for the determination of micronutrients in plant materials. Spectrochim Acta Part B 64(5):369–377. doi:10.1016/j.sab.2009.04.003

Velicković JM, Dimitrijević DS, Mitić SS, Kostić DA (2014) The determination of the phenolic composition, antioxidative activity and heavy metals in the extracts of Calendula officinalis L. Adv Technol 3(2):46–51

Volf I, Ignat I, Neamtu M, Popa VI (2014) Thermal stability, antioxidant activity, and photo-oxidation of natural polyphenols. Chem Pap 48(1):121–129. doi:10.2478/s11696-013-0417-6

Wojdyło A, Oszmiańskia J, Czemerys R (2007) Antioxidant activity and phenolic compounds in 32 selected herbs. Food Chem 105(3):940–949. doi:10.1016/j.foodchem.2007.04.038

Zalibera M, Rapta P, Stasko A, Brindzová L, Brezová V (2009) Thermal generation of stable SO4*- spin trap adducts with super-hyperfine structure in their EPR spectra: an alternative EPR spin trapping assay for radical scavenging capacity determination in dimethylsulphoxide. Free Radic Res 43(5):457–469. doi:10.1080/10715760902846140

Zheng W, Wang SY (2001) Antioxidant activity and phenolic compounds in selected herbs. J Agric Food Chem 49(11):5165–5170
Acknowledgements
This publication is the result of the project implementation "Improvement of nutritional and sensorial parameters of fruity and vegetable drinks via an inert gases application—ITMS 26220220175" supported by the Research and Development Programme funded by the ERDF.
The infrastructure was gained via the project implementation "Establishment of the Hi-Tech centre for research on formation, elimination and assessment of contaminants in foods—ITMS 26240120041" supported by the Research and Development Programme funded by the ERDF, and by the project: Materials Research Centre at FCH BUT Sustainability and Development, REG LO1211, with financial support from the National Programme for Sustainability I (Ministry of Education, Youth and Sports). The Medicinal Herbs Centre in Brno is gratefully acknowledged for samples provision and cooperation.
Dr. Blanka Tobolková is gratefully acknowledged for technical assistance and advisory during the revision of the manuscript.
About this article
Cite this article
Butorová, L., Polovka, M., Pořízka, J. et al. Multi-experimental characterization of selected medical plants growing in the Czech Republic. Chem. Pap. 71, 1605–1621 (2017). https://doi.org/10.1007/s11696-017-0154-3
Received:

Accepted:

Published:

Issue Date:
Keywords
Medical plants

Phenolic compounds

Antioxidant activity

Color

Minerals