Abstract
This paper describes the influence of polyaniline (PANI) nanoparticles prepared in the presence of the nitrilotriacetic acid (NTA) in comparison with PANI prepared by standard techniques, on mixed microbial cultures in the form of a biological extract from soil and activated sludge and partially digested sludge, both sourced from a municipal wastewater treatment plant. The presence of PANI prepared by standard techniques in aqueous environment has a negative effect on the activity of mixed microbial cultures in the form of activated sludge, digested sludge (anaerobic conditions), and natural soil. According to biological oxygen demand (BOD) values—respirometric test, the slight inhibiting effect of nanoparticles is attributed to impurities and oligomers from aniline polymerization. The use of NTA in the production of PANI, resulted in nanotubes with channels through which NTA is incorporated into the structure. A sample thus obtained shows higher values of BOD, which is associated with the fact that NTA is released from PANI nanotube channels followed by its biodegradation.
Access options
Buy single article
Instant access to the full article PDF.
US$ 39.95
Tax calculation will be finalised during checkout.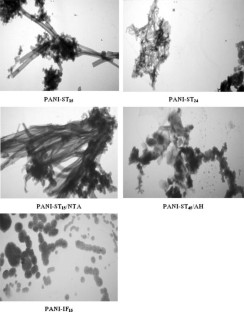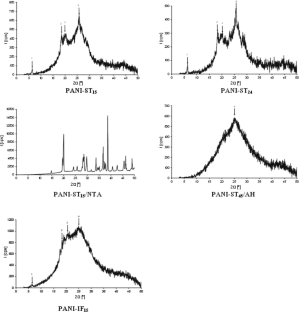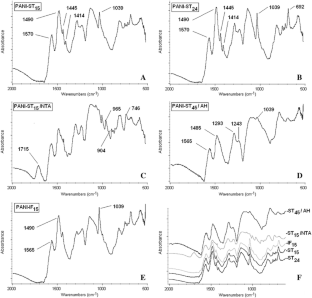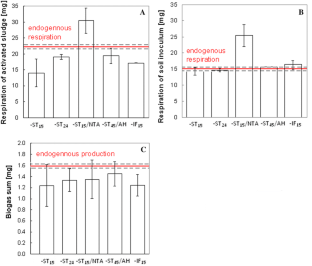 References
Abdolahi A, Hamzah E, Ibrahim Z, Hashim S (2012) Synthesis of uniform polyaniline nanofibers through interfacial polymerization. Materials 5(8):1487–1494. doi:10.3390/ma5081487

Araujo PLB, Ferreira C, Araujo FS (2011) Biodegradable conductive composites of poly(3-hydroxybutyrate) and polyaniline nanofibers: preparation, characterization and radiolytic effects. Express Polym Lett 5(1):12–22. doi:10.3144/expresspolymlett.2011.3

Arrambide G, Barrio DA, Etcheverry SB, Gambino D, Baran EJ (2010) Spectroscopic behavior and biological activity of K2[VO(O2)NTA]·2H2O. Biol Trace Elem Res 136(2):241–248. doi:10.1007/s12011-009-8538-z

Bhadra S, Khastgir D (2008) Determination of crystal structure of polyaniline and substituted polyanilines through powder X-ray diffraction analysis. Polym Test 27(7):851–857. doi:10.1016/j.polymertesting.2008.07.002

Binkauskiene E, Lugauskas A, Bukauskas V (2013) The mycological effect on morphological, electrochemical and redox properties of the polyaniline surface. Surf Interface Anal 45(11):1792–1798. doi:10.1002/sia.5324

Castagna R, Tunesi M, Saglio B, Della Pina C, Sironi A, Albani D, Bertarelli C, Falletta E (2016) Ultrathin electrospun PANI nanofibers for neuronal tissue engineering. J Appl Polym Sci 133(35):10. doi:10.1002/app.43885

Cheng D, Ng SC, Chan HSO (2005) Morphology of polyaniline nanoparticles synthesized in triblock copolymers micelles. Thin Solid Films 477(1–2):19–23. doi:10.1016/j.tsf.2004.08.105

Czech office for standards, metrology and testing (1999) Czech standard: Water Quality Evaluation of the "Ultimate" Anaerobic Biodegradability of Organic Compounds in Digested Sludge—Method by Measurement of the Biogas Production. CSN EN ISO 11734:1999. Praha

Dhand C, Das M, Sumana G, Srivastava AK, Pandey MK, Kim CG, Datta M, Malhotra BD (2010) Preparation, characterization and application of polyaniline nano spheres to biosensing. Nanoscale 2(5):747–754. doi:10.1039/b9nr00346k

Diaz AF, Logan JA (1980) Electroactive polyaniline films. J Electroanal Chem 111(1):111–114. doi:10.1016/s0022-0728(80)80081-7

Epstein AJ, Ginder JM, Zuo F, Woo HS, Tanner DB, Richter AF, Angelopoulos M, Huang WS, MacDiarmid AG (1987) Insulator-to-metal transition in polyaniline: effect of protonation in emeraldine. Synth Met 21:63–70. doi:10.1016/0379-6779(87)90067-1

Gong J, Li Y, Hu Z, Zhou Z, Deng Y (2010) Ultrasensitive NH3 gas sensor from polyaniline nanograin enchased TiO2 fibers. J Phys Chem C 114:9970–9974. doi:10.1021/jp100685r

Gupta RK, Singh RA, Dubey SS (2004) Removal of mercury ions from aqueous solutions by composite of polyaniline with polystyrene. Sep Purif Technol 38:225–232. doi:10.1016/j.seppur.2003.11.009

Hongfang L, Huang L, Huang Z, Gongtai Q, Kei S, Harima Y (2008) Preparation of conducting poly N-methylaniline microsphere and its antibacterial performance to sulfate reducing bacteria. J Wuhan Univ Technol Mater Sci Ed 23(4):536–540. doi:10.1007/s11595-006-4536-6

Jiang N, Xu Y, Dai Y, Luo W, Dai L (2012) Polyaniline nanofibers assembled on alginate microsphere for Cu2 + and Pb2 + uptake. J Hazard Mater 215–216:17–24. doi:10.1016/j.jhazmat.2012.02.026

Julinova M, Dvorackova M, Kupec J, Hubackova J, Kopcilova M, Hoffmann J, Alexy P, Nahálková A, Vaskova I (2008) Influence of technological process on biodegradation of PVA/Waxy starch blends in an aerobic and anaerobic environment. J Polym Environ 16(4):241–249. doi:10.1007/s10924-008-0109-4

Julinová M, Kupec J, Slavík R, Vašková M (2013) Initiating biodegradation of polyvinylpyrrolidone in an aqueous aerobic environment: technical note/Zainicjowanie Biodegradacji Poliwinylopirolidonu W Środowisku Wodno-Tlenowym: Notatki Techniczne. Ecol Chem Eng S 20(1):199–208. doi:10.2478/eces-2013-0015

Karthik R, Meenakshi S (2016) Biosorption of Pb(II) and Cd (II) ions from aqueous solution using polyaniline/chitin composite. Sep Sci Technol 51(5):733–742. doi:10.1080/01496395.2015.1130060

Konyushenko EN, Stejskal J, Sedenkova I, Trchova M, Sapurina I, Cieslar M, Prokes J (2006) Polyaniline nanotubes: conditions of formation. Polym Int 55(1):31–39. doi:10.1002/pi.1899

Kucekova Z, Kasparkova V, Humpolicek P, Sevcikova P, Stejskal J (2013) Antibacterial properties of polyaniline-silver films. Chem Pap 67(8):1103–1108. doi:10.2478/s11696-013-0385-x

Kumar A, Jangir LK, Kumari Y, Kumar M, Kumar V, Awasthi K (2016) Electrical behavior of dual-morphology polyaniline. J Appl Polym Sci. doi:10.1002/app.44091

Langer K, Barczynski P, Baksalary K, Filipiak M, Golczak S, Langer JJ (2007) A fast and sensitive continuous flow nanobiodetector based on polyaniline nanofibrils. Microchim Acta 159(1–2):201–206. doi:10.1007/s00604-007-0767-2

Liao Y, Zhang C, Zhang Y, Strong V, Tang J, Li XG, Kalantar-Zadeh K, Hoek EM, Wang KL, Kaner RB (2011) Carbon nanotube/polyaniline composite nanofibers: facile synthesis and chemosensors. Nano Lett 11(3):954–959. doi:10.1021/nl103322b

Lu QF, Cheng XS (2009) Preparation of high-yield polyaniline nanofibers via an unstirred polymerization. E-polymers 9(1):1007–1016

Morsi RE, Khamis EA, Al-Sabagh AM (2016) Polyaniline nanotubes: facile synthesis, electrochemical, quantum chemical characteristics and corrosion inhibition efficiency. J Taiwan Inst Chem Eng 60:573–581. doi:10.1016/j.jtice.2015.10.028

Nand AV, Ray S, Travas-Sejdic J, Kilmartin PA (2012) Characterization of antioxidant low density polyethylene/polyaniline blends prepared via extrusion. Mater Chem Phys 135(2–3):903–911. doi:10.1016/j.matchemphys.2012.05.077

Olad A, Nabavi R (2007) Application of polyaniline for the reduction of toxic Cr(VI) in water. J Hazard Mater 147:845–851. doi:10.1016/j.jhazmat.2007.01.083

Ping Z, Neugebauer H, Theiner J, Neckel A (1997) Protonation and electrochemical redox doping processes of polyaniline in aqueous solutions: investigations using in situ FTIR-ATR spectroscopy and a new doping system. J Chem Soc, Faraday Trans 93(1):121–129. doi:10.1039/A604620G

Prabhakaran MP, Ghasemi-Mobarakeh L, Ramakrishna S (2011) Electrospun composite nanofibers for tissue regeneration. J Nanosci Nanotechnol 11(4):3039–3057. doi:10.1166/jnn.2011.3753

Ruecha N, Rodthongkum N, Cate DM, Volckens J, Chailapakul O, Henry CS (2015) Sensitive electrochemical sensor using a graphene–polyaniline nanocomposite for simultaneous detection of Zn(II), Cd(II), and Pb(II). Anal Chim Acta 874:40–48. doi:10.1016/j.aca.2015.02.064

Sapurina IY, Shishov MA (2012) Oxidative polymerization of aniline: molecular synthesis of polyaniline and the formation of supramolecular structures. INTECH, New Polym Spec Appl. doi:10.5772/48758

Sapurina I, Stejskal J (2008) The mechanism of the oxidative polymerization of aniline and the formation of supramolecular polyaniline structures. Polym Int 57(12):1295–1325. doi:10.1002/pi.2476

Stejskal J, Gilbert RG (2002) Polyaniline. Preparation of a conducting polymer (IUPAC technical report). Pure Appl Chem 74(5):857–867. doi:10.1351/pac200274050857

Stejskal J, Hlavatá D, Holler P, Trchová M, Prokeš J, Sapurina I (2004) Polyaniline prepared in the presence of various acids: a conductivity study. Polym Int 53(3):294–300. doi:10.1002/pi.1406

Stejskal J, Hajná M, Kašpárková V, Humpolíček P, Zhigunov A, Trchová M (2014) Purification of a conducting polymer, polyaniline, for biomedical applications. Synth Met 195:286–293. doi:10.1016/j.synthmet.2014.06.020

Zhang RH, Ma HZ, Wang B (2010) Removal of chromium(VI) from aqueous solutions using polyaniline doped with sulfuric acid. Ind Eng Chem Res 49(20):9998–10004. doi:10.1021/ie1008794

Zhang X, Qi H, Wang S, Feng L, Ji Y, Tao L, Li S, Wei Y (2012) Cellular responses of aniline oligomers: a preliminary study. Toxicol Res 1(3):201–205. doi:10.1039/c2tx20035j

Zhihua L, Xuetao H, Jiyong S, Xiaobo Z, Xiaowei H, Xucheng Z, Tahira HE, Holmesb M, Povey M (2016) Bacteria counting method based on polyaniline/bacteria thin film. Biosens Bioelectron 81:75–79. doi:10.1016/j.bios.2016.02.022
Acknowledgements
This research was supported by projects of the Ministry of Education, Youth, and Sports of the Czech Republic within the NPU I program (Contract Grant Number LO1504) and by an internal grant from Tomas Bata University in Zlin (IGA/FT/2016/012). Many thanks go to J. Stejskal for his thoughtful review of the manuscript.
About this article
Cite this article
Vyoralová, M., Slavík, R., Julinová, M. et al. New microbial-friendly polyaniline nanoparticles on the base of nitrilotriacetic acid: comparison with PANI prepared by standard techniques. Chem. Pap. 71, 347–357 (2017). https://doi.org/10.1007/s11696-016-0105-4
Received:

Accepted:

Published:

Issue Date:
Keywords
Polyaniline

Nitrilotriacetic acid

Electrical conductivity

Protonated aniline

Nanostructure

Environmental behaviour