Abstract
Background
Tranexamic acid (TXA) has drawn growing interest over the last decade for its benefit in optimizing post-operative bleeding, yet its role in bariatric surgery is poorly understood.
Methods
The medical librarian developed and executed comprehensive searches on September 28, 2022. The population of interest included adults who underwent elective bariatric surgery. The intervention was tranexamic acid administration while the comparison was placebo or standard peri-operative therapy. The primary outcome of interest was post-operative bleeding which was defined a priori.
Results
A total of four studies were identified comprising of 475 patients. Of those, 207 (50%) received TXA at induction and all underwent laparoscopic sleeve gastrectomy (LSG). The majority of patients were female (n = 343, 80.7%) with ages ranging from 17 to 70 years of age and mean BMIs ranging from 37 to 56 kg/m2. Post-operative bleeding after LSG ranged from 0 to 28% depending on bleed definition and TXA administration with no differences in venous thromboembolic events or mortality between groups. Meta-analysis of post-operative bleeding demonstrated a statistically significant benefit with TXA administration (OR 0.40; 95% CI 0.23–0.70; p = 0.001) for patients undergoing elective LSG.
Conclusions
Intravenous tranexamic acid at the time of laparoscopic sleeve gastrectomy is associated with a significant reduction of post-operative bleeding with no observed differences in thromboembolic events or mortality. Further high-quality studies are needed to better delineate the ideal bariatric population to receives TXA in addition to the optimal timing, dose, and duration of TXA therapy.
Graphical Abstract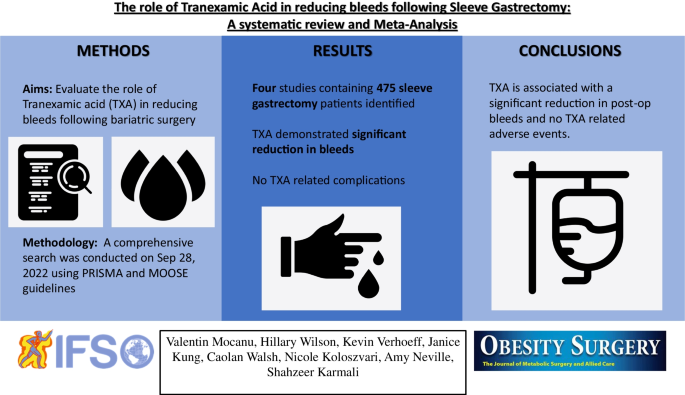 This is a preview of subscription content,
to check access.
Access this article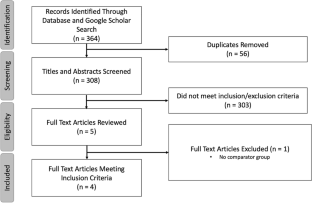 References
Leeman M, Huisbrink J, Wijnand JMA, et al. Trial protocol: preoperative administration of tranexamic acid in sleeve gastrectomy (PATAS) to reduce haemorrhage rates. A randomised controlled trial. BMJ Open. 2020;10(2). https://doi.org/10.1136/bmjopen-2019-034572.

Mocanu V, Dang J, Ladak F, Switzer N, Birch DW, Karmali S. Predictors and outcomes of bleed after sleeve gastrectomy: an analysis of the MBSAQIP data registry. Surg Obes Relat Dis. 2019;15(10):1675–81. https://doi.org/10.1016/j.soard.2019.07.017.

Gagner M, Kemmeter P. Comparison of laparoscopic sleeve gastrectomy leak rates in five staple-line reinforcement options: a systematic review. Surg Endosc. 2020;34(1):396–407. https://doi.org/10.1007/s00464-019-06782-2.

Klaassen RA, Selles CA, van den Berg JW, Poelman MM, van der Harst E. Tranexamic acid therapy for postoperative bleeding after bariatric surgery 11 Medical and Health Sciences 1103 Clinical Sciences. BMC Obes. 2018;5(1). https://doi.org/10.1186/s40608-018-0213-5.

Roberts N, James S, Delaney M, Fitzmaurice C. The global need and availability of blood products: a modelling study. Lancet Haematol. 2019;6(12):e606–15. https://doi.org/10.1016/S2352-3026(19)30200-5.

Devereaux PJ, Marcucci M, Painter TW, et al. Tranexamic acid in patients undergoing noncardiac surgery. N Engl J Med. 2022;386(21):1986–97. https://doi.org/10.1056/nejmoa2201171.

Wang K, Santiago R. Tranexamic acid – a narrative review for the emergency medicine clinician. Am J Emerg Med. 2022;56:33–44. https://doi.org/10.1016/j.ajem.2022.03.027.

Cai J, Ribkoff J, Olson S, et al. The many roles of tranexamic acid: an overview of the clinical indications for TXA in medical and surgical patients. Eur J Haematol. 2020;104(2):79–87. https://doi.org/10.1111/ejh.13348.

Ker K, Edwards P, Perel P, Shakur H, Roberts I. Effect of tranexamic acid on surgical bleeding: systematic review and cumulative meta-analysis. BMJ (Online). 2012;344(7858). https://doi.org/10.1136/bmj.e3054

Shakur H, Beaumont D, Pavord S, Gayet-Ageron A, Ker K, Mousa HA. Antifibrinolytic drugs for treating primary postpartum hemorrhage. Emergencias. 2020;32(3):203–5. https://doi.org/10.1002/14651858.CD012964.

Haj-Younes B, Sivakumar BS, Wang M, An VVG, Lorentzos P, Adie S. Tranexamic acid in hip fracture surgery: a systematic review and meta-analysis. J Orthop Surg. 2020;28(1). https://doi.org/10.1177/2309499019887995

Wong J, George RB, Hanley CM, Saliba C, Yee DA, Jerath A. Tranexamic acid: current use in obstetrics, major orthopedic, and trauma surgery. Can J Anesth. 2021;68(6):894–917. https://doi.org/10.1007/s12630-021-01967-7.

collaborators trial. Eff ects of tranexamic acid on death, vascular occlusive events, and blood transfusion in trauma patients with signifi cant haemorrhage (CRASH-2): a randomised, placebo-controlled trial CRASH-2 trial collaborators*. Lancet. 2010;376:23–32. https://doi.org/10.1016/S0140.

Stansfield R, Morris D, Jesulola E. The use of tranexamic acid (TXA) for the management of hemorrhage in trauma patients in the prehospital environment: literature review and descriptive analysis of principal themes. Shock. 2020;53(3):277–83. https://doi.org/10.1097/SHK.0000000000001389.

Haddaway NR, Collins AM, Coughlin D, Kirk S. The role of google scholar in evidence reviews and its applicability to grey literature searching. PLoS One. 2015;10(9). https://doi.org/10.1371/journal.pone.0138237.

Wan X, Wang W, Liu J, Tong T. Estimating the sample mean and standard deviation from the sample size, median, range and/or interquartile range014;14(1). https://doi.org/10.1186/1471-2288-14-135.

Higgins JPT, Thompson SG, Deeks JJ, Altman DG. Measuring inconsistency in meta-analyses testing for heterogeneity.

Chakravartty S, Sarma DR, Chang A, Patel AG. Staple line bleeding in sleeve gastrectomy—a simple and cost-effective solution. Obes Surg. 2016;26(7):1422–8. https://doi.org/10.1007/s11695-015-1986-y.

Lech P, Michalik M, Waczyński K, Osowiecka K, Dowgiałło-Gornowicz N. Effectiveness of prophylactic doses of tranexamic acid in reducing hemorrhagic events in sleeve gastrectomy. Langenbecks Arch Surg. Published online 2022. https://doi.org/10.1007/s00423-022-02630-5.

Alhomoud H. The effect of tranexamic acid on blood loss during laparoscopic sleeve gastrectomy. World J Laparosc Surg. 2016;9(1):30–3. https://doi.org/10.5005/jp-journals-10033-1266.

de Brito RM, de Oliveira CMB, Moura ECR, et al. Tranexamic acid effects in postoperative bleeding outcomes in laparoscopic sleeve gastrectomy: a controlled study. Acta Cir Bras. 2022;37(7). https://doi.org/10.1590/acb370702.

Ng W, Jerath A, Wasowicz M. Tranexamic acid: a clinical review. Anaesthesiol Intensive Ther. 2015;47(4):339–50. https://doi.org/10.5603/AIT.a2015.0011.

Jimenez JJ, Iribarren JL, Lorente L, et al. Tranexamic acid attenuates inflammatory response in cardiopulmonary bypass surgery through blockade of fibrinolysis: a case control study followed by a randomized double-blind controlled trial. Crit Care. 2007;11(6). https://doi.org/10.1186/cc6173.

Hotoleanu C. Association between obesity and venous thromboembolism. Med Pharm Rep. 2020;93(2):162–8. https://doi.org/10.15386/mpr-1372.
Ethics declarations
Ethical Approval
For this type of study, formal consent is not required.
Informed Consent
For this type of study, informed consent does not apply.
Conflict of Interest
The authors declare no competing interests.
Additional information
Publisher's Note
Springer Nature remains neutral with regard to jurisdictional claims in published maps and institutional affiliations.
Key Points
• Tranexamic acid (TXA) is an anti-fibrinolytic agent used to reduce bleeding following surgery.
• Meta-analysis demonstrated a significant reduction of post-operative sleeve bleeds in patients receiving TXA.
• There was no observed differences thromboembolic events or mortality associated with TXA.
• TXA was associated with over a half-fold decreased odds of bleeding after sleeve gastrectomy.
• TXA was not associated with increased thromboembolic events.
• Further bariatric studies are needed to delineate the optimal TXA dose and timing.
Supplementary Information
Below is the link to the electronic supplementary material.
Rights and permissions
Springer Nature or its licensor (e.g. a society or other partner) holds exclusive rights to this article under a publishing agreement with the author(s) or other rightsholder(s); author self-archiving of the accepted manuscript version of this article is solely governed by the terms of such publishing agreement and applicable law.
About this article
Cite this article
Mocanu, V., Wilson, H., Verhoeff, K. et al. Role of Tranexamic Acid (TXA) in Preventing Bleeding Following Sleeve Gastrectomy: a Systematic Review and Meta-analysis. OBES SURG 33, 1571–1579 (2023). https://doi.org/10.1007/s11695-023-06563-w
Received:

Revised:

Accepted:

Published:

Issue Date:

DOI: https://doi.org/10.1007/s11695-023-06563-w
Keywords