Abstract
Background and Purpose
Western studies have explored bariatric surgeons concerning their views on bariatric surgery (BS) and reproductive health, but Asian data were lacking. The aim of this study was to explore the perception and practice of bariatric surgeons on the reproductive health of female patients who underwent BS in China to better guide clinical practice and improve clinical outcomes.
Method
An online questionnaire of 31 questions developed by bariatric surgeons was collected by sending to one online communication group (WeChat group) whose members are Chinese bariatric surgeons.
Result
A total of 87 bariatric surgeons from mainland China were surveyed. Almost all (97.7%, 85/87) surgeons considered the reproductive health conversation for women who underwent BS to be important or very important. Only 1/4 of surgeons routinely discuss reproductive health–related issues with patients, and only 56% of doctors always ask patients for postoperative contraception. Less than 20% of bariatric surgeons have full knowledge of postoperative contraception, and nearly 40% of them believe that gynecologists should be responsible for providing contraception. More than 35% of bariatric surgeons have never been involved in the co-management of pregnancy in patients with a history of BS.
Conclusion
Although most bariatric surgeons are aware of the importance of female reproductive health, there is a large gap in the perception and clinical practice of bariatric surgeons in terms of reproductive health. It is necessary to further strengthen the education of bariatric surgeons and enhance multidisciplinary cooperation with gynecology, obstetrics, and other disciplines to bring better clinical outcomes.
Graphical Abstract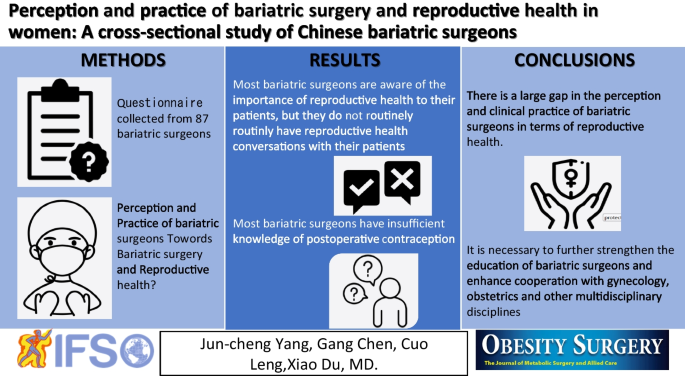 Access options
Buy single article
Instant access to the full article PDF.
USD 39.95
Price excludes VAT (USA)
Tax calculation will be finalised during checkout.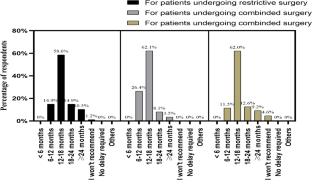 Data Availability
All relevant data are within the paper.
References
Chen X, Xiao Z, Cai Y, et al. Hypothalamic mechanisms of obesity-associated disturbance of hypothalamic-pituitary-ovarian axis. Trends Endocrinol Metab. 2022;33(3):206–17.

Snider AP, Wood JR. Obesity induces ovarian inflammation and reduces oocyte quality. Reproduction. 2019;158(3):R79–90.

Gonzalez MB, Robker RL, Rose RD. Obesity and oocyte quality: significant implications for ART and emerging mechanistic insights. Biol Reprod. 2022;106(2):338–50.

Wei W, Zhang X, Zhou B, et al. Effects of female obesity on conception, pregnancy and the health of offspring. Front Endocrinol (Lausanne). 2022;13:949228.

Lainez NM, Coss D. Obesity, Neuroinflammation, and reproductive function. Endocrinology. 2019;160(11):2719–36.

Al-Najim W, Docherty NG, le Roux CW. Food intake and eating behavior after bariatric surgery. Physiol Rev. 2018;98(3):1113–41.

Lv B, Xing C, He B. Effects of bariatric surgery on the menstruation- and reproductive-related hormones of women with obesity without polycystic ovary syndrome: a systematic review and meta-analysis. Surg Obes Relat Dis. 2022;18(1):148–60.

Musella M, Milone M, Bellini M, et al. Effect of bariatric surgery on obesity-related infertility. Surg Obes Relat Dis. 2012;8(4):445–9.

Sarwer DB, Spitzer JC, Wadden TA, et al. Changes in sexual functioning and sex hormone levels in women following bariatric surgery. JAMA Surg. 2014;149(1):26–33.

Steffen KJ, King WC, White GE, et al. Changes in sexual functioning in women and men in the 5 years after bariatric surgery. JAMA Surg. 2019;154(6):487–98.

Menke MN, King WC, White GE, et al. Conception rates and contraceptive use after bariatric surgery among women with infertility: evidence from a prospective multicenter cohort study. Surg Obes Relat Dis. 2019;15(5):777–85.

Mechanick JI, Youdim A, Jones DB, et al. Clinical practice guidelines for the perioperative nutritional, metabolic, and nonsurgical support of the bariatric surgery patient–2013 update: cosponsored by American Association of Clinical Endocrinologists, The Obesity Society, and American Society for Metabolic & Bariatric Surgery. Obesity (Silver Spring). 2013;21(Suppl 1):S1-27.

Busetto L, Dicker D, Azran C, et al. Obesity management task force of the european association for the study of obesity released "practical recommendations for the post-bariatric surgery medical management." Obes Surg. 2018;28(7):2117–21.

Chor J, Chico P, Ayloo S, et al. Reproductive health counseling and practices: a cross-sectional survey of bariatric surgeons. Surg Obes Relat Dis. 2015;11(1):187–92.

Ben Porat T, Yuval JB, Elchalal U, et al. Reproductive health counseling, attitudes, and practices: a cross-sectional survey among bariatric surgeons. Surg Obes Relat Dis. 2019;15(12):2101–6.

Mengesha BM, Carter JT, Dehlendorf CE, et al. Perioperative pregnancy interval, contraceptive counseling experiences, and contraceptive use in women undergoing bariatric surgery. Am J Obstet Gynecol. 2018;219(1):81 el-e9.

Gosman GG, King WC, Schrope B, et al. Reproductive health of women electing bariatric surgery. Fertil Steril. 2010;94(4):1426–31.

Menke MN, King WC, White GE, et al. Contraception and conception after bariatric surgery. Obstet Gynecol. 2017;130(5):979–87.

Chen W, Liang Y, Chen G, et al. Early pregnancy (</= 12 months) after bariatric surgery: does it really influence maternal and perinatal outcomes? Obes Surg. 2022;32(4):979–90.

Goldenshluger A, Elazary R, Ben Porat T. Knowledge, attitudes, and behaviors of women during pregnancy after bariatric surgery. Surg Obes Relat Dis. 2020;16(7):925–30.

Mengesha B, Griffin L, Nagle A, et al. Assessment of contraceptive needs in women undergoing bariatric surgery. Contraception. 2016;94(1):74–7.

Thornton O, Daggett E, Zia L, et al. Counseling, contraception, and conception rates in patients undergoing bariatric surgery: a retrospective review. Contraception. 2021;104(2):202–5.
Ethics declarations
Ethical Approval Statement
All procedures performed in studies involving human participants were in accordance with the ethical standards of the institutional and/or national research committee and with the 1964 Helsinki Declaration and its later amendments or comparable ethical standards.
Consent to Participate
Informed consent was obtained from all individual participants included in the study.
Conflict of Interest
The authors declare no competing interests.
Additional information
Publisher's Note
Springer Nature remains neutral with regard to jurisdictional claims in published maps and institutional affiliations.
Key Points
• The large gap in the perception and practice of bariatric surgeons in reproductive health.
• For bariatric surgeons, the importance of reproductive health remains to be improved.
• Multidisciplinary cooperation should be involved for a better health outcome.
Rights and permissions
Springer Nature or its licensor (e.g. a society or other partner) holds exclusive rights to this article under a publishing agreement with the author(s) or other rightsholder(s); author self-archiving of the accepted manuscript version of this article is solely governed by the terms of such publishing agreement and applicable law.
About this article
Cite this article
Yang, JC., Chen, G., Leng, C. et al. Perception and Practice of Bariatric Surgery and Reproductive Health in Women: a Cross-sectional Study of Chinese Bariatric Surgeons. OBES SURG 33, 1545–1552 (2023). https://doi.org/10.1007/s11695-023-06514-5
Received:

Revised:

Accepted:

Published:

Issue Date:

DOI: https://doi.org/10.1007/s11695-023-06514-5
Keyword