Abstract
Background
Emerging evidence suggest that problematic eating behaviors such as food addiction (FA) and binge eating (BE) may alter following bariatric surgery (BS) and impact weight outcomes. We aimed to examine the prevalence of FA and BE and their associations with weight outcomes 2 years post-sleeve gastrectomy (SG).
Methods
Forty-five women (mean age 32.4 ± 10.9 years) who underwent SG and completed 24 months of follow-up were evaluated prospectively at pre-, 3-, 6-, 12-, and 24-month post-SG. Data collected included anthropometrics, nutritional intake, and lifestyle patterns. The Yale Food Addiction Scale (YFAS) and the Binge Eating Scale (BES) were used to characterize FA and BE, respectively.
Results
Pre-surgery FA and BE were identified in 40.0% and 46.7% of participants, respectively. Following SG, FA and BE prevalence was 10.0%, 5.0%, 29.4%, and 14.2% (P = 0.007), and 12.5%, 4.9%, 18.4%, and 19.4% (P < 0.001) at 3, 6, 12, and 24 months, respectively. Women with BE at baseline gained significantly more weight from the nadir compared to non-BE women at baseline (P = 0.009). There was no relationship between FA at baseline and weight (P = 0.090). Weight regained from the nadir positively correlated with BES scores at baseline (r = 0.374, P = 0.019).
Conclusions
FA and BE tend to decrease during the early postoperative period, but remains in a notable rates return by 2 years post-SG. Moreover, pre-surgical BE was related to higher weight-regain. Proper management pre-BS should include a comprehensive eating pathologies assessment, as these pathologies may remain or re-emerge post-surgery and lead to worse weight outcomes.
Graphical Abstract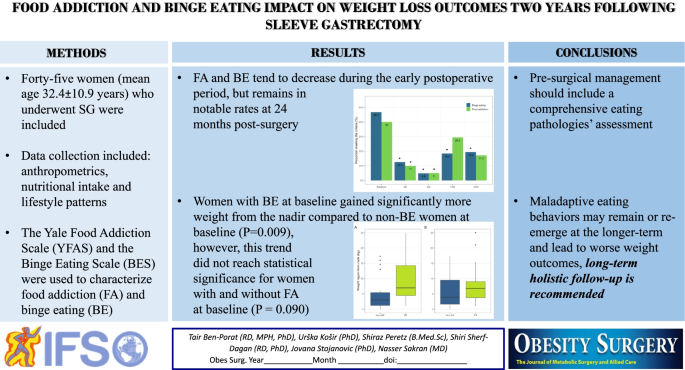 Access options
Buy single article
Instant access to the full article PDF.
USD 39.95
Price excludes VAT (USA)
Tax calculation will be finalised during checkout.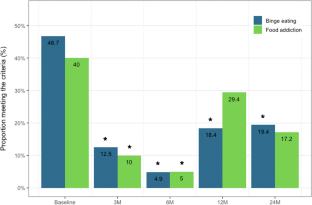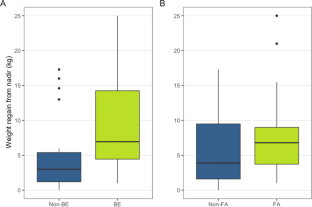 Abbreviations
BE :

Binge eating

BES :

Binge eating scale

BS :

Bariatric surgery

BMI :

Body mass index

EWL :

Excess weight loss

FA :

Food addiction

SG :

Sleeve gastrectomy

TBWL :

Total body weight loss

YFAS :

Yale Food Addiction Scale
References
Pucci A, Batterham R. Mechanisms underlying the weight loss effects of RYGB and SG: similar, yet different. J Endocrinol Invest. 2019;42(2):117–28.

Athanasiadis DI, Martin A, Kapsampelis P, et al. Factors associated with weight regain post-bariatric surgery: a systematic review. Surgical Endoscopy. 2021:1–16.

Cambi MPC, Baretta GAP, Magro DDO, et al. Multidisciplinary approach for weight regain—how to manage this challenging condition: an expert review. Obesity Surgery. 2021:1–14.

Ben-Porat T, Weiss R, Sherf-Dagan S, et al. Food addiction and binge eating during one year following sleeve gastrectomy: prevalence and implications for postoperative outcomes. Obes Surg. 2021;31(2):603–11.

Mousavi M, Tabesh MR, Khalaj A, et al. Food addiction disorder 2 years after sleeve gastrectomy; association with physical activity, body composition, and weight loss outcomes. Obesity Surgery. 2021:1–9.

Ivezaj V, Wiedemann AA, Grilo CM. Food addiction and bariatric surgery: a systematic review of the literature. Obes Rev. 2017;18(12):1386–97.

Oved I, Endevelt R, Mardy-Tilbor L, et al. Health status, eating, and lifestyle habits in the long term following sleeve gastrectomy. Obes Surg. 2021;31(7):2979–87.

Sevinçer GM, Konuk N, Bozkurt S, et al. Food addiction and the outcome of bariatric surgery at 1-year: prospective observational study. Psychiatry Res. 2016;244:159–64.

Pepino MY, Stein RI, Eagon JC, et al. Bariatric surgery-induced weight loss causes remission of food addiction in extreme obesity. Obesity (Silver Spring). 2014;22(8):1792–8.

Chiappetta S, Stier C, Hadid MA, et al. Remission of food addiction does not induce cross-addiction after sleeve gastrectomy and gastric bypass: a prospective cohort study. Obes Facts. 2020;13(3):307–20.

Ben-Porat T, Weiss R, Khalaileh A, et al. The impact of preoperative vitamin administration on skeletal status following sleeve gastrectomy in young and middle-aged women: a randomized controlled trial. International Journal of Obesity. 2021:1–12.

Herring LY, Stevinson C, Davies MJ, et al. Changes in physical activity behaviour and physical function after bariatric surgery: a systematic review and meta-analysis. Obes Rev. 2016;17(3):250–61.

Suter M, Calmes JM, Paroz A, et al. A new questionnaire for quick assessment of food tolerance after bariatric surgery. Obes Surg. 2007;17(1):2–8.

Marek RJ, Tarescavage AM, Ben-Porath YS, et al. Replication and evaluation of a proposed two-factor Binge Eating Scale (BES) structure in a sample of bariatric surgery candidates. Surg Obes Relat Dis. 2015;11(3):659–65.

Grupski AE, Hood MM, Hall BJ, et al. Examining the Binge Eating Scale in screening for binge eating disorder in bariatric surgery candidates. Obes Surg. 2013;23(1):1–6.

Ivezaj V, Wiedemann AA, Lawson JL, et al. Food Addiction in sleeve gastrectomy patients with loss-of-control eating. Obes Surg. 2019;29(7):2071–7.

Clark SM, Saules KK. Validation of the Yale Food Addiction Scale among a weight-loss surgery population. Eat Behav. 2013;14(2):216–9.

Koball AM, Borgert AJ, Kallies KJ, et al. Validation of the Yale Food Addiction Scale 2.0 in Patients Seeking Bariatric Surgery. Obesity Surgery. 2021;31(4):1533–1540.

Mack I, Olschlager S, Sauer H, et al. Does laparoscopic sleeve gastrectomy improve depression, stress and eating behaviour? A 4-year follow-up study. Obes Surg. 2016;26(12):2967–73.

Wadden TA, Faulconbridge LF, Jones-Corneille LR, et al. Binge eating disorder and the outcome of bariatric surgery at one year: a prospective, observational study. Obesity (Silver Spring). 2011;19(6):1220–8.

Spirou D, Raman J, Smith E. Psychological outcomes following surgical and endoscopic bariatric procedures: a systematic review. Obes Rev. 2020.

Nicolau J, Dotres K, Ayala L, et al. Long-Term prevalence of food addiction among bariatric surgery patients: influence on metabolic and psychological outcomes. Metab Syndr Relat Disord. 2021;19(3):152–8.

Yu Y, Klem ML, Kalarchian MA, et al. Predictors of weight regain after sleeve gastrectomy: an integrative review. Surg Obes Relat Dis. 2019;15(6):995–1005.

Miller-Matero LR, Bryce K, Saulino CK, et al. Problematic eating behaviors predict outcomes after bariatric surgery. Obes Surg. 2018;28(7):1910–5.

Sherf-Dagan S, Sinai T, Goldenshluger A, et al. Nutritional assessment and preparation for adult bariatric surgery candidates: clinical practice. Adv Nutr. 2021;12(3):1020–31.

Freire CC, Zanella MT, Segal A, et al. Associations between binge eating, depressive symptoms and anxiety and weight regain after Roux-en-Y gastric bypass surgery. Eat Weight Disord. 2021;26(1):191–9.

Fangueiro FS, França CN, Fernandez M, Ilias EJ, Colombo-Souza P. Binge eating after bariatric surgery in patients assisted by the reference service in a Brazilian hospital and the correlation with weight loss. Obes Surg. 2021;31(7):3144–50.

Koball AM, Clark MM, Collazo-Clavell M, et al. The relationship among food addiction, negative mood, and eating-disordered behaviors in patients seeking to have bariatric surgery. Surg Obes Relat Dis. 2016;12(1):165–70.

Koball AM, Ames G, Goetze RE, et al. Bariatric surgery as a treatment for food addiction? A review of the literature. Curr Addict Rep. 2020;7(1):1–8.
Ethics declarations
Ethical Approval
All procedures performed in this study were approved by the institutional review board of participating hospital, Hadassah Ein Kerem University medical center and in accordance with the ethical standards of the 1964 Helsinki Declaration and its later amendments or comparable ethical standards. The RCT study was pre-registered on the NIH registration website (TRIAL no. NCT02483026).
Informed Consent
Informed consent was obtained from all individual participants included in the study.
Conflict of Interest
The authors declare no competing interests.
Additional information
Publisher's Note
Springer Nature remains neutral with regard to jurisdictional claims in published maps and institutional affiliations.
Key Points
• Food addiction (FA) and binge eating (BE) were prevalent in up to 47% of women prior to sleeve gastrectomy (SG)
• Both FA and BE decreased during early period among women post-SG, but notable rates were found at 2 years
• Pre-surgical BE was related to higher weight regain from the nadir at 2 years post-SG
• A comprehensive eating pathologies' evaluation should be included before surgery
About this article
Cite this article
Ben-Porat, T., Košir, U., Peretz, S. et al. Food Addiction and Binge Eating Impact on Weight Loss Outcomes Two Years Following Sleeve Gastrectomy Surgery. OBES SURG 32, 1193–1200 (2022). https://doi.org/10.1007/s11695-022-05917-0
Received:

Revised:

Accepted:

Published:

Issue Date:

DOI: https://doi.org/10.1007/s11695-022-05917-0
Keywords