Abstract
Purpose
Sleeve gastrectomy is one of the most popular bariatric procedures performed. A complication of this surgery is sleeve stenosis, causing significant morbidity and the need for corrective intervention. Endoscopic treatment using pneumatic dilation has evolved as an effective, and minimally invasive, technique to successfully treat this complication. Here we report our experience with endoscopic management of sleeve stenosis at a tertiary bariatric center.
Material and Methods
We identified all patients that underwent endoscopic management of sleeve stenosis at a tertiary bariatric center from 2010. We reviewed patient demographics, operative data, interval to endoscopic treatment, and outcomes of pneumatic dilations.
Results
Sixty seven patients underwent 130 endoscopic dilations. The majority of these patients were female (71%), and at the time of sleeve gastrectomy average age was 43.3 years (range 18–68 years) and average BMI was 41.5 kg/m2 (range 31–63 kg/m2). The time interval to first endoscopic procedure was 7.2 months (range 0.75–53 months), with an average of 2 procedures per patient. During the follow-up period, the success rate of endoscopic dilatation was 76.1%, while the remaining 16 patients underwent conversion to gastric bypass. Two patients underwent emergency conversion to gastric bypass for sleeve perforation during the procedure (1.5%). There was a modest weight gain of 3 kg (4.2% total body weight) after sleeve dilatation.
Conclusions
Endoscopic management of sleeve stenosis is safe and effective, with a success rate of over 75%. During endoscopic management, there was a 1.5% risk of sleeve perforation requiring emergency surgery. Mild weight regain occurred following endoscopic sleeve dilation.
Graphical abstract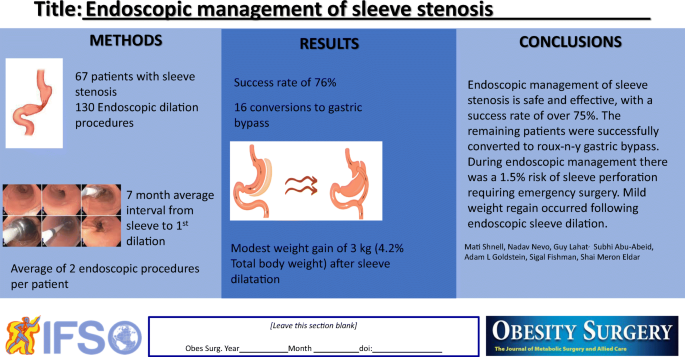 Access options
Buy single article
Instant access to the full article PDF.
USD 39.95
Price excludes VAT (USA)
Tax calculation will be finalised during checkout.
References
Angrisani L, Santonicola A, Iovino P, et al. Bariatric Surgery Survey 2018: Similarities and disparities among the 5 IFSO chapters. Obes Surg. 2021;31(5):1937–48. https://doi.org/10.1007/s11695-020-05207-7.

Dhorepatil AS, Cottam D, Surve A, Medlin W, Zaveri H, Richards C, Cottam A. Is pneumatic balloon dilation safe and effective primary modality of treatment for post-sleeve gastrectomy strictures? A retrospective study.BMC Surg. 2018 18(1):52.. https://doi.org/10.1186/s12893-018-0381-8.

Burgos AM, Csendes A, Braghetto I. Gastric stenosis after laparoscopic sleeve gastrectomy in morbidly obese patients. Obes Surg. 2013;23(9):1481–6. https://doi.org/10.1007/s11695-013-0963-6.

Zellmer JD, Mathiason MA, Kallies KJ, et al. Is laparoscopic sleeve gastrectomy a lower risk bariatric procedure compared with laparoscopicRoux-en-Y gastric bypass? A meta-analysis. Am J Surg. 2014;208(6):903–10; discussion 909-10. https://doi.org/10.1016/j.amjsurg.2014.08.002.

Levy JL, Levine MS, Rubesin SE, et al. Stenosis of gastric sleeve after laparoscopic sleeve gastrectomy: clinical, radiographic and endoscopic findings. Br J Radiol. 2018;91(1089):20170702.

Rebibo L, Hakim S, Dhahri A, et al. Gastric stenosis after laparoscopic sleeve gastrectomy: diagnosis and management. Obes Surg. 2016;26(5):995–1001. https://doi.org/10.1007/s11695-015-1883-4.

Deslauriers V, Beauchamp A, Garofalo F, et al. Endoscopic management of post-laparoscopic sleeve gastrectomy stenosis. Surg Endosc. 2018;32(2):601–9.

Aburajab MA, Max JB, Ona MA, et al. Covered esophageal stenting is effective for symptomatic gastric lumen narrowing and related complications following laparoscopic sleeve gastrectomy. Dig Dis Sci. 2017;62(11):3077–83.

Manos T, Nedelcu M, Cotirlet A, et al. How to treat stenosis after sleeve gastrectomy? Surg Obes Relat Dis. 2017;13(2):150–4.

Donatelli G, Dumont JL, Pourcher G, et al. Pneumatic dilation for functional helix stenosis after sleeve gastrectomy: long-term follow-up. Surg Obes Relat Dis. 2017;13(6):943–50.

Tabbara M, Carandina S, Bossi M, et al. Rare neurological complications after sleeve gastrectomy. Obes Surg. 2016;26(12):2843–8.

Ogra R, Kini GP. Evolving endoscopic management options for symptomatic stenosis post-laparoscopic sleeve gastrectomy for morbid obesity: experience at a large bariatric surgery unit in New Zealand. Obes Surg. 2015;25(2):242–8. https://doi.org/10.1007/s11695-014-1383-y.
Ethics declarations
All procedures performed in studies involving human participants were in accordance with the ethical standards of the institutional and/or national research committee and with the 1964 Helsinki declaration and its later amendments or comparable ethical standards.
For this type of study formal, consent is not required
Conflict of Interest
The authors declare no competing interests.
Additional information
Publisher's Note
Springer Nature remains neutral with regard to jurisdictional claims in published maps and institutional affiliations.
Key Points
1. Sleeve stenosis is complication of sleeve gastrectomy.
2. Pneumatic dilation is safe and effective with a 76% success rate and 1.5% risk of perforation.
3. Slight weight regain is expected.
About this article
Cite this article
Shnell, M., Nevo, N., Lahat, G. et al. Endoscopic Management of Sleeve Stenosis. OBES SURG 31, 4749–4753 (2021). https://doi.org/10.1007/s11695-021-05613-5
Received:

Revised:

Accepted:

Published:

Issue Date:

DOI: https://doi.org/10.1007/s11695-021-05613-5
Keywords
sleeve gastrectomy

Stenosis

Stricture

Endoscopy

Pneumatic dilation