Abstract
Purpose
To estimate the association of emotional distress with both consumption of energy-dense micronutrient-poor foods (EDF) and body mass index (BMI) and the association between EDF consumption and change in BMI, during COVID-19 pandemic in patients with prior bariatric surgery.
Materials and Methods
This cross-sectional study applied an online structured questionnaire to 75 postoperative bariatric patients during the first Portuguese lockdown. Emotional distress was assessed trough the Hospital Anxiety and Depression Scale (HADS) and dietary intake was evaluated by Food Frequency Questionnaire (FFQ). Self-reported BMI prior to and at the end of confinement was used to compute BMI change. Pre-surgery BMI was computed from measured height and weight from clinical records.
Results
After adjustment for education, sex, time since surgery, pre-surgery BMI, and exercise practice, moderate/severe scores in HADS were significantly positively associated with consumption of EDF (ẞ = 0.799; 95% CI: 0.051, 1.546), but not with BMI. Daily EDF consumption significantly increased the odds of maintaining/increasing BMI (OR = 3.34; 95% CI: 1.18, 9.45), instead of decreasing it (reference). Sweets consumption was the only subcategory of EDF significantly positively associated with the odds of a worse outcome in BMI change (OR = 4.01; 95% CI: 1.13, 14.22).
Conclusions
Among postoperative bariatric patients, higher reported levels of emotional distress during confinement are associated with increased EDF consumption. Increased EDF consumption during confinement, particularly sweets, is associated with higher odds of bariatric patients not decreasing their BMI. Additional effort is needed to address inadequate lifestyle behaviors among these patients in the context of the COVID-19 pandemic.
Graphical abstract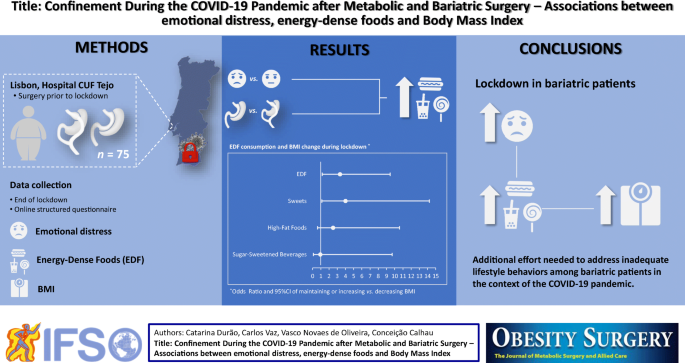 References
Yang W, Wang C, Shikora SKL. Recommendations for metabolic and bariatric surgery during the COVID-19 pandemic from IFSO. Obes Surg. 2020;30(6):2071–3.

Rubino F, Cohen RV, Mingrone G, et al. Bariatric and metabolic surgery during and after the COVID-19 pandemic: DSS recommendations for management of surgical candidates and postoperative patients and prioritisation of access to surgery. Lancet Diabetes Endocrinol. 2020;8(7):640–8.

Lazaridis II, Kraljević M, Schneider R, et al. The impact of the COVID-19 pandemic on bariatric surgery: results from a worldwide survey. Obes Surg. 2020;30(11):4428–36.

Sockalingam S, Leung SE, Cassin SE. The impact of coronavirus disease 2019 on bariatric surgery: redefining psychosocial care. Obesity (Silver Spring). 2020;28(6):1010–2.

Direção-Geral da Saúde. Casos de infeção por novo Coronavírus (COVID-19) [Internet]. Lisboa; 2020. Available from: https://www.dgs.pt/a-direccao-geral-da-saude/comunicados-e-despachos-do-director-geral/atualizacao-de-02032020-1728-casos-de-infecao-por-novo-coronavirus-covid-19-pdf.aspx. Accessed 30 July 2020.

Direção Geral da Saúde. Relatório de Situação no 016 [Internet]. 2020. Available from: https://covid19.min-saude.pt/wp-content/uploads/2020/03/i026029.pdf. Accessed 30 July 2020.

República Portuguesa: XXII Governo. Decreto n.o 2-A/2020 [Internet]. Portugal: Diário da República n.o 57/2020, 1o Suplemento, Série I de 2020-03-20; 2020. Available from: hhttps://www.portugal.gov.pt/download-ficheiros/ficheiro.aspx?v=3f8e87a6-3cf1-4d0c-b5ee-72225a73cd4f. Accessed 30 July 2020.

Halpern BMM. Bariatric and metabolic surgery during and after the COVID-19 pandemic. Lancet Diabetes Endocrinol. 2020;8(9):741–2.

Yeo C, Ahmed S, Oo AM, et al. COVID-19 and obesity-the management of pre- and post-bariatric patients amidst the COVID-19 pandemic. Obes Surg. 2020;30(9):3607–9.

Cherikh F, Frey S, Bel C, et al. behavioral food addiction during lockdown: time for awareness, time to prepare the aftermath. Obes Surg. 2020;30(9):3585–7.

Beisani M, Vilallonga R, Petrola C, Acosta A, Pérez JAC, de Gordejuela AGR, et al. Effects of COVID-19 lockdown on a bariatric surgery waiting list cohort and its influence in surgical risk perception. Langenbeck's Arch Surg. 2021;406:393–40.

Walędziak M, Różańska-Walędziak A, Pędziwiatr M, et al. Bariatric surgery during covid-19 pandemic from patients' point of view-the results of a national survey. J Clin Med. 2020;9(6):1697.

Athanasiadis DI, Hernandez E, Hilgendorf W, et al. How are bariatric patients coping during the coronavirus disease 2019 (COVID-19) pandemic? Analysis of factors known to cause weight regain among postoperative bariatric patients. Surg Obes Relat Dis. 2020;S1550-7289(20):30682-1.

Almandoz JP, Xie L, Schellinger JN, et al. Impact of COVID-19 stay-at-home orders on weight-related behaviours among patients with obesity. Clin Obes. 2020;10(5):e12386.

Freire RH, Borges MC, Alvarez-Leite JI, et al. Food quality, physical activity, and nutritional follow-up as determinant of weight regain after Roux-en-Y gastric bypass. Nutrition. 2012;28(1):53–8.

Karmali S, Brar B, Shi X, et al. Weight recidivism post-bariatric surgery: a systematic review. Obes Surg. 2013;23(11):1922–33.

Zigmond AS, Snaith RP. The Hospital Anxiety and Depression Scale. Acta Psychiatr Scand. 1983;67(6):361–70.

Silva I, Pais-Ribeiro J, Cardoso H. Contributo para a adaptação da Hospital Anxiety and Depression Scale à população portuguesa com doença crónica. Psychologica. 2006;41:193–204.

Lopes C, Aro A, Azevedo A, et al. Intake and adipose tissue composition of fatty acids and risk of myocardial infarction in a male Portuguese community sample. J Am Diet Assoc. 2007;107(2):276–86.

Fakharian A, Moghadassi HA, Vasheghani M, Moghadasi AA. Bariatric surgery during the COVID-19 pandemic—the perspective of physicians and patients. Obes Surg. 2020;1–3. https://doi.org/10.1007/s11695-020-04998-z.

Nicoletti CF, Esteves GP, Genario R, Santo MA, de Cleva R, Gualano B, Roschel H. Nutritional inadequacies among post-bariatric patients during COVID-19 quarantine in Sao Paulo, Brazil. Obes Surg. 2020;1–5. https://doi.org/10.1007/s11695-020-05107-w [Epub ahead of print].

de Angulo DR, Román AB, Ruiz VM, Vázquez PJG, Merino GR, Escandell MAO, et al. Influence of the lockdown due to COVID-19 on weight-loss results during the first year after sleeve gastrectomy. Cir Esp. 2021;99(6):428–432. https://doi.org/10.1016/j.ciresp.2020.08.003.

de Luis D, Izaola O, Primo D, Gómez E, Torres B, López Gómez JJ, et al. Factors related to weight gain in subjects with sleeve gastrectomy during lockdown by the COVID-19 pandemic. Obes Surg. 2021;31(5):2197–2202. https://doi.org/10.1007/s11695-021-05253-9.

Zakeri R, Batterham RL. Potential mechanisms underlying the effect of bariatric surgery on eating behaviour. Curr Opin Endocrinol Diabetes Obes. 2018;25(1):3–11.

Malik S, Mitchell JE, Steffen K, et al. Recognition and management of hyperinsulinemic hypoglycemia after bariatric surgery. Obes Res Clin Pract. 2016;10(1):1–14.

Tack J, Deloose E. Complications of bariatric surgery: dumping syndrome, reflux and vitamin deficiencies. Best Pract Res Clin Gastroenterol. 2014;28(4):741–9.

Burke JF, Sussman JB, Kent DMHR. Three simple rules to ensure reasonably credible subgroup analyses. BMJ. 2015;351:h5651.

Shakory S, Van Exan J, Mills JS, et al. Binge eating in bariatric surgery candidates: the role of insecure attachment and emotion regulation. Appetite. 2015;91:69–75.

Taube-Schiff M, Van Exan J, Tanaka R, et al. Attachment style and emotional eating in bariatric surgery candidates: the mediating role of difficulties in emotion regulation. Eat Behav. 2015;18:36–40.

Sisto A, Vicinanza F, Tuccinardi D, Watanabe M, Gallo IF, D'Alessio R, et al. The psychological impact of COVID-19 pandemic on patients included in a bariatric surgery program. Eat Weight Disord. 2020;1–11. https://doi.org/10.1007/s40519-020-00988-3.

Vodermaier A, Millman RD. Accuracy of the Hospital Anxiety and Depression Scale as a screening tool in cancer patients: a systematic review and meta-analysis. Support Care Cancer. 2011;19(12):1899–908.

Runfola M, Fantola G, Pintus S, et al. Telemedicine implementation on a bariatric outpatient clinic during COVID-19 pandemic in Italy: an unexpected hill-start. Obes Surg. 2020;30(12):5145–9.

Brown AM, Ardila-Gatas J, Yuan V, et al. The impact of telemedicine adoption on a multidisciplinary bariatric surgery practice during the COVID-19 pandemic. Ann Surg. 2020;272(6):e306–10.
Acknowledgments
The authors gratefully acknowledge the participants enrolled in the current study for their kindness, generosity, and time in contributing with their personal information. We also acknowledge the support from the Obesity and Metabolic Surgery Unit of Hospital CUF Tejo, CUF Healthcare Group, and the support of the Lifestyle Medicine Unit of CUF Healthcare Group by NOVA Medical School.
Ethics declarations
Informed Consent
Informed consent was obtained from all individual participants included in the study.
Ethical Approval
All procedures performed in studies involving human participants were in accordance with the ethical standards of the institutional and/or national research committee and with the 1964 Helsinki declaration and its later amendments or comparable ethical standards.
Conflict of Interest
The authors declare that they have no conflict of interest.
Additional information
Publisher's Note
Springer Nature remains neutral with regard to jurisdictional claims in published maps and institutional affiliations.
Keypoints
• In confinement, higher emotional distress is associated with higher EDF consumption, but not BMI.
• Sleeve gastrectomy is positively associated with EDF consumption during confinement.
• Higher EDF consumption is associated with a worse BMI outcome during confinement.
Supplementary information
About this article
Cite this article
Durão, C., Vaz, C., de Oliveira, V.N. et al. Confinement During the COVID-19 Pandemic After Metabolic and Bariatric Surgery—Associations Between Emotional Distress, Energy-Dense Foods, and Body Mass Index. OBES SURG 31, 4452–4460 (2021). https://doi.org/10.1007/s11695-021-05608-2
Received:

Revised:

Accepted:

Published:

Issue Date:

DOI: https://doi.org/10.1007/s11695-021-05608-2
Keywords
HADS scale

Energy-dense foods

BMI

bariatric surgery

COVID-19