Abstract
Purpose
While over 200 million opioid prescriptions are written annually for chronic pain in the USA, little has been written on the impact of opioids on bariatric surgery, specifically on the effects of prescription opioid use on weight loss post laparoscopic Roux-en-Y gastric bypass (LRYGB) and laparoscopic sleeve gastrectomy (LSG).
Materials and Methods
We completed a matched-cohort, retrospective review in 1176 consecutive patients undergoing primary bariatric surgery at a single institution. Patients were grouped into chronic prescription opioid users (POU), defined as ongoing opioid use for > 3 months at the time of surgery, and opioid-naïve controls (CON), defined as no opioid use prior to surgery. About 130 POU and 130 CON patients were then matched according to preoperative comorbid conditions and demographics.
Results
Percent total weight loss was similar at 3 weeks, 3 months, 6 months, 1 year, and 2 years in POU and CON—9.6 ± 5.8 vs 8.9 ± 4.5 (p = 0.057), 18.4 ± 7.2 vs 18.5 ± 7.2% (p = 0.901), 28.0 ± 9.4 vs 27.9 ± 12.9% (p = 0.894), 30.3 ± 13.0 vs 32.8 ± 9.0% (p = 0.387), and 31.4 ± 12.7 vs 36.9 ± 21.3% (p = 0.369), respectively. The 30-day readmission, reoperation, venothrombotic event rate, bleeding rate, and infection rate were similar in POU compared to CON patients.
Conclusions
Complications and weight loss outcomes are similar for prescription opioid users compared to opioid-naïve controls following bariatric surgery. Chronic prescription opioid use is not a contraindication to bariatric surgery.
Access options
Buy single article
Instant access to the full article PDF.
US$ 39.95
Tax calculation will be finalised during checkout.
Subscribe to journal
Immediate online access to all issues from 2019. Subscription will auto renew annually.
US$ 79
Tax calculation will be finalised during checkout.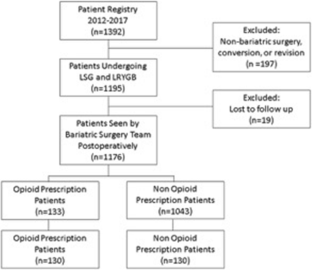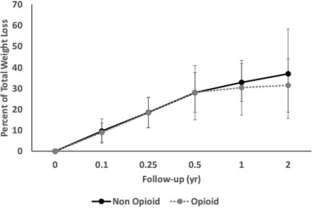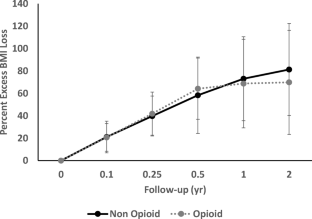 References
1.

Centers for Disease Control and Prevention (CDC). CDC grand rounds: prescription drug overdoses - a U.S. epidemic. MMWR Morb Mortal Wkly Rep. 2012;61(1):1–24.

2.

Hill MV, Mcmahon ML, Stucke RS, et al. Wide variation and excessive dosage of opioid prescriptions for common general surgical procedures. Ann Surg. 2017;265(4):709–14.

3.

Thiels CA, Anderson SS, Ubl DS, et al. Wide variation and overprescription of opioids after elective surgery. Ann Surg. 2017;266(4):564–73.

4.

Horton JD, Munawar S, Corrigan C, et al. Inconsistent and excessive opioid prescribing after common pediatric surgical operations. J Pediatr Surg. 2018;S0022-3468(18):30431–7.

5.

Cron DC, Englesbe MJ, Bolton CJ, et al. Preoperative opioid use is independently associated with increased costs and worse outcomes after major abdominal surgery. Ann Surg. 2017;265(4):695–701.

6.

Waljee JF, Cron DC, Steiger RM, et al. Effect of preoperative opioid exposure on healthcare utilization and expenditures following elective abdominal surgery. Ann Surg. 2017;265(4):715–21.

7.

Chang SH, Stoll CRT, Song J, et al. The effectiveness and risks of bariatric surgery an updated systematic review and meta-analysis, 2003-2012. JAMA Surg. 2014;149(3):275–87.

8.

Longitudinal Assessment of Bariatric Surgery (LABS) Consortium, Flum DR, Belle SH, et al. Perioperative safety in the longitudinal assessment of bariatric surgery. N Engl J Med. 2009;361(5):445–54.

9.

Smith ME, Lee JS, Bonham A, et al. Effect of new persistent opioid use on physiologic and psychologic outcomes following bariatric surgery. Surg Endosc. 2018;PAP:1–8.

10.

Brethauer SA, Kim J, el Chaar M, Papasavas P, Eisenberg D, Rogers A, Ballem N, Kligman M, and S Kothari Standardized outcomes reporting in metabolic and bariatric surgery. Surg Obes Relat Dis. 2015;489–4506.

11.

Morris BJ, Mir HR. The opioid epidemic: impact on Orthopaedic surgery. J Am Acad Orthop Surg. 2015;23(5):267–71.

12.

Bicket MC, Long JJ, Pronovost PJ. Prescription opioid analgesics commonly unused after surgery: a systematic review. JAMA Surg. 2017;152(11):1066–71.

13.

King W, Chen JY, Belle S, et al. Prescribed opioid and non-opioid analgesic medication use before and after bariatric surgery: 7 year follow-up. Abstract 167. Surg Obes Relat Dis. 2016;12:S40–7.

14.

Zywiel MG, Stroh A, Lee SY, et al. Chronic opioid use prior to total knee arthroplasty. J Bone Joint Surg. 2011;93:1988–93.

15.

Barry D, Clarke M, Petry NM. Obesity and its relationship to addictions: is overeating a form of addictive behavior? Am J Addict. 2009;18:439–51.

16.

Wang GJ, Volkow ND, Thanos PK, et al. Similarity between obesity and drug adiction as assessed by neurofunctional imaging: a concept review. J Addict Dis. 2004;23:39–53.

17.

Suzuki J, Haimovici F, Chang G. Alcohol use disorders after bariatric surgery. Obes Surg. 2012;22:201–7.
Acknowledgments
The authors would like to thank Brenda Michaels, RN, for her help with data collection.
Ethics declarations
Conflict of Interest
The authors declare that they have no conflict of interest.
Ethical Approval
All procedures performed in studies involving human participants were in accordance with the ethical standards of the institutional and/or national research committee and with the 1964 Helsinki declaration and its later amendments or comparable ethical standards.
Statement of Informed Consent
For this type of study formal consent was not required.
Additional information
Publisher's Note
Springer Nature remains neutral with regard to jurisdictional claims in published maps and institutional affiliations.
About this article
Cite this article
Shockcor, N., Adnan, S.M., Siegel, A. et al. Preoperative Opioid Prescription Patients Do Not Suffer Distinct Outcomes After Bariatric Surgery: a Matched Analysis of Outcomes. OBES SURG 30, 4014–4018 (2020). https://doi.org/10.1007/s11695-020-04772-1
Keywords
Bariatric surgery

Opioid

Weight loss

Narcotic use