Abstract
Introduction
Literature on long-term (> 10 years) outcomes in terms of weight loss, resolution of co-morbidities, and quality of life (QoL) after bariatric surgery is limited. The aim of this study was to investigate the excess weight loss (EWL), resolution of comorbidities, and QoL more than 10 years after laparoscopic Roux-en-Y gastric bypass (LRYGB) using the Bariatric Analysis and Reporting Outcome System (BAROS).
Methods
Data on patient demographics, weight, body mass index (BMI), comorbidities, type of surgery, complications, and QoL were collected from a prospectively maintained database.
Results
A total of 92 patients out of 104 who underwent LRYGB during the study period and completed a median follow-up of 130 months were successfully contacted. The median age was 48 years (IQR 42–54 years) and 85.9% had a BMI of more than 40. The median excess weight loss (EWL) was 46.5% (IQR 27.9–64.3%). Type 2 diabetes mellitus reduced from 56.5 to 23.9% (p < 0.001), hypertension from 51.1 to 39.1% (p = 0.016), and obstructive sleep apnoea from 33.7 to 12.0% (p < 0.001). Participants reported feeling better (median 0.2, IQR 0.2–0.4), engaging in more physical activity (0.1, IQR 0.1–0.3), having more satisfactory social contacts (0.4, IQR 0.2–0.5), a better ability to work (0.3, IQR − 0.1–0.5), and a healthier approach to food (0.2, IQR − 0.3–0.3) at the end of follow-up.
Conclusion
LRYGB leads to positive outcomes in terms of weight loss, reduction in comorbidities, and improvement in QoL at a follow-up of more than 10 years.
Access options
Buy single article
Instant access to the full article PDF.
US$ 39.95
Tax calculation will be finalised during checkout.
Subscribe to journal
Immediate online access to all issues from 2019. Subscription will auto renew annually.
US$ 79
Tax calculation will be finalised during checkout.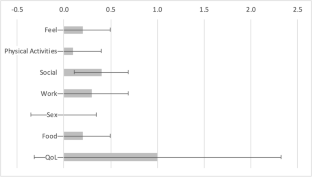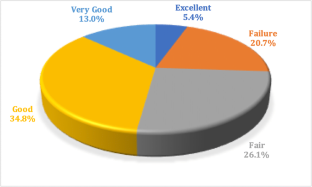 Data Availability
All data generated or analysed during this study are included in this published article.
Acknowledgements
The authors are grateful to the research committee members of Obesity Service, Luton, and Dunstable University Hospital, UK, for the support he received to carry out this research, including acceptance of the study protocol and analysis plan.
Ethics declarations
Ethics Approval
The study protocol was approved by the research committee of Obesity Service, Luton and Dunstable University Hospital including research methodology and analysis plan detailed in the manuscript.
Consent to Participate
All patients gave their informed consent to participate in this study.
Consent to Publish
We declare that consent to publish is not applicable to this study.
Competing Interests
The authors declare that they have no competing interests.
Additional information
Publisher's Note
Springer Nature remains neutral with regard to jurisdictional claims in published maps and institutional affiliations.
About this article
Cite this article
Askari, A., Dai, D., Taylor, C. et al. Long-Term Outcomes and Quality of Life at More than 10 Years After Laparoscopic Roux-en-Y Gastric Bypass Using Bariatric Analysis and Reporting Outcome System (BAROS). OBES SURG 30, 3968–3973 (2020). https://doi.org/10.1007/s11695-020-04765-0
Keywords
Long-term outcomes

Quality of life

Bariatric surgery

Gastric bypass

BAROS