Abstract
Purpose
To analyze the safety of laparoscopic ventral hernia delayed repair in bariatric patients with a composite mesh.
Materials and Methods
This retrospective single-center observational trial analyzed all bariatric/obese patients with concomitant ventral hernia who underwent laparoscopic abdominal hernia repair before bariatric surgery (group A) and laparoscopic delayed repair after weight loss obtained by the bariatric procedure (group B).
Results
Group A (30 patients) had a mean BMI of 37.8 ± 5.7 kg/m2 (range: 34.0–74.2 kg/m2); group B (170 patients) had a mean BMI of 24.6 ± 4.5 kg/m2 (range 19.0–29.8 kg/m2) (p < 0.05). Mean operative time: group A, 51.7 ± 26.6 min (range 30–120); group B 38.9 ± 21.5 min (range 25–110) (p < 0.05). Average length of stay: group A, 2.0 ± 2.7 days (range 1–5) versus group B, 2.8 ± 1.9 days (range 1–4) (p > 0.5). Recurrent hernia group A 1/30 (3.3%) versus recurrent hernia group B 4/170 (2.3%) (p > 0.5). Bulging: group A, 3/30 (10.0%) versus group B, 0/170 (0%) (p = 0.23).
Conclusion
The present study demonstrates the safety of performing LDR in patient candidates for bariatric surgery in cases of a large abdominal hernia (W2–W3) with a low risk of incarceration or an asymptomatic abdominal hernia. In the case of a small abdominal hernia (W1) or strongly symptomatic abdominal hernia, repair before bariatric surgery, along with subsequent bariatric surgery and any revision of the abdominal wall surgery with weight loss, is preferable.
Access options
Buy single article
Instant access to the full article PDF.
US$ 39.95
Tax calculation will be finalised during checkout.
Subscribe to journal
Immediate online access to all issues from 2019. Subscription will auto renew annually.
US$ 79
Tax calculation will be finalised during checkout.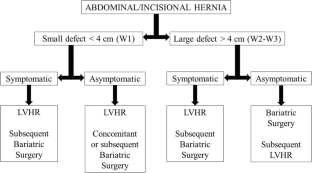 References
1.

Bosanquet DC, Ansell J, Abdelrahman T, et al. Systematic review and meta-regression of factors affecting midline incisional hernia rates: analysis of 14,618 patients. PLoS One. 2015;10(9) https://doi.org/10.1371/journal.pone.0138745.

2.

Olmi S, Magnone S, Erba L, et al. Results of laparoscopic versus open abdominal and incisional hernia repair. JSLS. 2005;9(2):189–95.

3.

Itatsu K, Yokoyama Y, Sugawara G, et al. Incidence of and risk factors for incisional hernia after abdominal surgery. Br J Surg. 2014;101:1439–47.

4.

Sanchez VM, Abi-Haidar YE, Itani KM. Mesh infection in ventral incisional hernia repair: incidence, contributing factors, and treatment. Surg Infect. 2011;12:205–10.

5.

Olmi S, Scaini A, Cesana GC, et al. Laparoscopic versus open incisional hernia repair: an open randomized controlled study. Surg Endosc. 2007;21(4):555–9.

6.

Muysoms FE, Miserez M, Berrevoet F, et al. Classification of primary and incisional abdominal wall hernias. Hernia. 2009;13(4):407–14. https://doi.org/10.1007/s10029-009-0518-x.

7.

Al Chalabi H, Larkin J, Mehigan B, et al. A systematic review of laparoscopic versus open abdominal incisional hernia repair, with meta-analysis of randomized controlled trials. Int J Surg. 2015;20:65–74. https://doi.org/10.1016/j.ijsu.2015.05.050.

8.

Olmi S, Cesana G, Sagutti L, et al. Laparoscopic incisional hernia repair with fibrin glue in select patients. JSLS. 2010;14(2):240–5. https://doi.org/10.4293/108680810X12785289144359.

9.

Novitsky YW, Cobb WS, Kercher KW, et al. Laparoscopic ventral hernia repair in obese patients: a new standard of care. Arch Surg. 2006;141(1):57–61.

10.

Pierce RA, Spitler JA, Frisella MM, et al. Pooled data analysis of laparoscopic vs. open ventral hernia repair: 14 years of patient data accrual. Surg Endosc. 2007;21(3):378–86.

11.

Olmi S, Cesana G, Erba L, et al. Emergency laparoscopic treatment of acute incarcerated incisional hernia. Hernia. 2009;13(6):605–8. https://doi.org/10.1007/s10029-009-0525-y.

12.

Tsereteli Z, Pryor BA, Heniford BT, et al. Laparoscopic ventral hernia repair (LVHR) in morbidly obese patients. Hernia. 2008;12(3):233–8.

13.

Paajanen H, Laine H. Operative treatment of massive ventral hernia using polypropylene mesh: a challenge for surgeon and anesthesiologist. Hernia. 2005;9(1):62–7.

14.

Angrisani L, Lorenzo M, Cutolo PP. Incisional hernia in obese patients. In: Incisional hernia. Updates in surgery. Milano: Springer; 2008. ISBN 978-88-470-0721-5.

15.

Eid GM, Mattar SG, Hamad G, et al. Repair of ventral hernias in morbidly obese patients undergoing laparoscopic gastric bypass should not be deferred. Surg Endosc. 2004;18(2):207–10.

16.

Newcomb WL, Polhill JL, Chen AY, et al. Staged hernia repair preceded by gastric bypass for the treatment of morbidly obese patients with complex ventral hernias. Hernia. 2008;12(5):465–9. https://doi.org/10.1007/s10029-008-0381-1.

17.

Jacob BP, Ramshaw B. The SAGES manual of hernia repair. New York: Springer-Verlag; 2013. ISBN 978-1-4614-4824-2

18.

Cozacov Y, Szomstein S, Safdie FM, et al. Is the use of prosthetic mesh recommended in severely obese patients undergoing concomitant abdominal wall hernia repair and sleeve gastrectomy? J Am Coll Surg. 2014;218(3):358–62. https://doi.org/10.1016/j.jamcollsurg.2013.12.008.

19.

Menzo EL, Hinojosa M, Carbonell A, et al. American Society for Metabolic and Bariatric Surgery and American Hernia Society consensus guideline on bariatric surgery and hernia surgery. Surg Obes Relat Dis. 2018;14(9):1221–32. https://doi.org/10.1016/j.soard.2018.07.005.
Ethics declarations
All procedures performed in studies involving human participants were in accordance with the ethical standards of the institutional and/or national research committee and with the 1964 Helsinki declaration and its later amendments or comparable ethical standards.
Conflict of Interest
The authors declare that they have no conflicts of interest.
Ethics Approval and Consent to Participate
IRB approval was not necessary. For this type of study formal consent is not required. Informed consent was obtained from all individual participants included in the study.
Additional information
Publisher's Note
Springer Nature remains neutral with regard to jurisdictional claims in published maps and institutional affiliations.
About this article
Cite this article
Olmi, S., Uccelli, M., Cesana, G.C. et al. Laparoscopic Ventral Hernia Repair in Bariatric Patients: the Role of Defect Size and Deferred Repair. OBES SURG 30, 3905–3911 (2020). https://doi.org/10.1007/s11695-020-04747-2
Received:

Revised:

Accepted:

Published:

Issue Date:
Keywords
Laparoscopic ventral hernia repair

Bariatric surgery

Sleeve gastrectomy

Composite mesh

IPOM