Abstract
Introduction
The aim of this study is to evaluate short- and long-term consequences in children born to women after different bariatric surgery (BS) procedures.
Methods
A questionnaire survey was given to the mothers referred from 1994 to 2019 to our center for pregnancy and delivery management after BS procedures: (a) malabsorptive surgery, (b) restrictive procedures, and (c) combined restrictive-malabsorptive procedures.
Results
Data from 74 children born after BS, aged 0 month to 12 years, were analyzed. The prevalence of children with underweight was 5.4%, normal weight 59.5%, overweight 16.2%, and obesity 18.9%. The prevalence of obesity was higher in children pre-school aged than that in school-aged ones. Neurodevelopmental disorders were more frequent if maternal BMI before bariatric surgery was ≥ 41 kg/m2 (p = 0.008), as well as if the pregnancy occurred less than 18 months after BS (p = 0.028). In school-aged children conceived within 18 months after BS, the highest risk of neurodevelopmental disorders (p = 0.028) and overweight (p = 0.018) was observed. The prevalence of neurodevelopmental disorders was much higher for small for gestational age babies (p = 0.048). Children born after biliopancreatic diversion (BPD) showed less maternal breastfeeding, shorter breastfeeding duration, more overweight, and more occurrence of atopic dermatitis in comparison with children born after other bariatric procedures.
Conclusions
Postnatal health in children born to women after BS was impaired by long-term consequences and by other diseases later in life. Children born after BPD were particularly at higher risk for short and long term consequences when compared to children born after other BS procedures.
Access options
Buy single article
Instant access to the full article PDF.
US$ 39.95
Tax calculation will be finalised during checkout.
Subscribe to journal
Immediate online access to all issues from 2019. Subscription will auto renew annually.
US$ 79
Tax calculation will be finalised during checkout.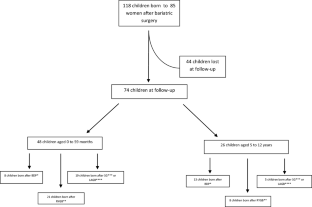 References
1.

Starling AP, Brinton JT, Glueck DH, et al. Associations of maternal BMI and gestational weight gain with neonatal adiposity in the Healthy Start study. Am J Clin Nutr United States. 2015;101:302–9.

2.

Tan HC, Roberts J, Catov J, et al. Mother's pre-pregnancy BMI is an important determinant of adverse cardiometabolic risk in childhood. Pediatr Diabetes Denmark. 2015;16:419–26.

3.

Macrì F, Pitocco D, di Pasquo E, et al. Gestational weight gain as an independent risk factor for adverse pregnancy outcomes in women with gestational diabetes. Eur Rev Med Pharmacol Sci. 2018 Jul;22(14):4403–10.

4.

Padwal R, Klarenbach S, Wiebe N, et al. Bariatric surgery: a systematic review of the clinical and economic evidence. J Gen Intern Med United States. 2011;26:1183–94.

5.

Picot J, Jones J, Colquitt JL, et al. Weight loss surgery for mild to moderate obesity: a systematic review and economic evaluation. Obes Surg United States. 2012;22:1496–506.

6.

Kizy S, Jahansouz C, Downey MC, et al. National trends in bariatric surgery 2012–2015: demographics, procedure selection, readmissions, and cost. Obes Surg. 2017 Nov;27(11):2933–9.

7.

Willmer M, Berglind D, SØrensen TI, et al. Surgically induced interpregnancy weight loss and prevalence of overweight and obesity in offspring. PLoS One. 2013;8:e82247.

8.

Institute of Medicine. Weight gain during pregnancy: reexamining the guidelines. Washington, DC: National Academies Press; 2009.

9.

Bertino E, Spada E, Occhi L, et al. Neonatal anthropometric charts: the Italian neonatal study compared with other European studies. J Pediatr Gastroenterol Nutr. 2010;51(3):353–61.

10.

De Carolis S, Botta A, Del Sordo G, et al. Influence of biliopancreatic diversion on pregnancy outcomes in comparison to other bariatric surgery procedures. Obes Surg. 2018;28(10):3284–92.

12.

Smith J, Cianflone K, Biron S, et al. Effects of maternal surgical weight loss in mothers on intergenerational transmission of obesity. J Clin Endocrinol Metab. 2009;94(11):4275–83.

13.

Kral JG, Biron S, Simard S, et al. Large maternal weight loss from obesity surgery prevents transmission of obesity to children who were followed for 2 to 18 years. J Pediatrics. 2006;118(6):e1644–9.

14.

Barisione M, Carlini F, Gradaschi R, et al. Body weight at developmental age in siblings born to mothers before and after surgically induced weight loss. Surg Obes Relat Dis. 2012;8(4):387–91.

15.

Guénard F, Deshaies Y, Cianflone K, et al. Differential methylation in glucoregulatory genes of offspring born before vs. after maternal gastrointestinal bypass surgery. Proc Natl Acad Sci U S A. 2013;110(28):11439–44.

16.

Fernandez-Twinn DS, Ozanne SE. Mechanism by which poor early growth programs type2 diabetes, obesity and the metabolic syndrome. Physiol Behav. 2006;88(3):234–43.

17.

Hue O, Marcotte J, Berrigan F, et al. Increased plasma levels of toxic pollutants accompanying weight loss induced by hypocaloric diet or by bariatric surgery. Obes Surg. 2006;16(9):1145–54.

18.

Godfrey KM, Reynolds RM, Prescott SL, et al. Influence of maternal obesity on the long-term health of offspring. Lancet Diabetes Endocrinol. 2017;5(1):53–64.

19.

Korhonen P, Haataja P, Ojala R, et al. Asthma and atopic dermatitis after early-, late-, and post-term birth. Pediatr Pulmonol. 2018 Mar;53(3):269–77.

20.

Kaska L, Kobiela J, Abacjew-Chmylko A, et al. Nutrition and pregnancy after bariatric surgery. ISRN Obes. 2013;2013:492060.

21.

Hazart J, Le Guennec D, Accoceberry M, et al. Maternal nutritional deficiencies and small for gestational age neonates at birth of women who have undergone bariatric surgery. J Pregnancy. 2017;2017:4168541.

22.

Hammeken LH, Betsagoo R, Jensen AN, et al. Nutrient deficiency and obstetrical outcomes in pregnant women following Roux-en-Y gastric bypass: a retrospective Danish cohort study with a matched comparison group. Eur J Obstet Gynecol Reprod Biol. 2017;216:56–60.

23.

Gdalevich M, Mimouni D, David M, et al. Breast-feeding and the onset of atopic dermatitis in childhood: a systematic review and meta-analysis of prospective studies. J Am Acad Dermatol. 2001;45(4):520–7. Review

24.

Gadgil MD, Chang HY, Richards TM, et al. Laboratory testing for and diagnosis of nutritional deficiencies in pregnancy before and after bariatric surgery. J Women's Health (Larchmt). 2014;23(2):129–37.
Ethics declarations
Conflict of Interest
The authors declare that they have no conflict of interest.
Ethical Approval
For this type of study, formal consent is not required.
Informed Consent
Informed consent was obtained from all individual participants included in the study.
Additional information
Publisher's Note
Springer Nature remains neutral with regard to jurisdictional claims in published maps and institutional affiliations.
About this article
Cite this article
Del Sordo, G., Botta, A., Salvi, S. et al. Postnatal Health in Children Born to Women After Bariatric Surgery. OBES SURG 30, 3898–3904 (2020). https://doi.org/10.1007/s11695-020-04738-3
Keywords
Bariatric surgery

Biliopancreatic diversion

Pregnancy outcome

Postnatal health

Children obesity