Abstract
Purpose
Obesity affects approximately 45–55% of persons with schizophrenia and is more difficult to manage in these individuals than in the general population, apart from being an additional factor for morbidity and premature mortality. Although bariatric surgery is considered the most effective long-term treatment for severe obesity, there are few reports on the outcomes of this procedure in persons with schizophrenia. This study aimed to evaluate weight loss and psychiatric symptoms in persons with obesity and schizophrenia after bariatric surgery.
Materials and Methods
Five persons with schizophrenia and moderate to severe obesity who underwent bariatric surgery were followed up for 2 years. Anthropometric data were collected, and psychiatric symptoms were evaluated using the Positive and Negative Syndrome Scale (PANSS), which assessed the pre- and postoperative occurrence and severity of symptoms of schizophrenia.
Results
The mean body mass index before surgery was 43.5 ± 5.2 kg/m2 and decreased to 28.1 ± 1.9 kg/m2 1 year postoperatively. The mean percentage of total postoperative weight loss was 30.7 ± 6.8% after 6 months, 34.7 ± 7.9% after 1 year, and 34.3 ± 5.5% after 2 years. Before surgery, all subjects were in remission based on the PANSS. Postoperative evaluations showed that the participants had no relapse of psychiatric symptoms (p > 0.05 for the three PANSS dimensions throughout the follow-up period). There were no considerable changes in their medication regimens.
Conclusions
These findings suggest that bariatric surgery may be a viable treatment option for stable patients with schizophrenia if they have a preoperative assessment and close management and involvement by mental health professionals throughout the course of treatment.
Access options
Buy single article
Instant access to the full article PDF.
US$ 39.95
Tax calculation will be finalised during checkout.
Subscribe to journal
Immediate online access to all issues from 2019. Subscription will auto renew annually.
US$ 79
Tax calculation will be finalised during checkout.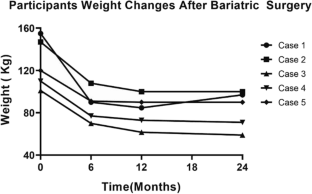 References
1.

Laursen TM, Nordentoft M, Mortensen PB. Excess early mortality in schizophrenia. Annu Rev Clin Psychol. 2014;10(1):425–48.

2.

De Hert M, Schreurs V, Vancampfort D, et al. Metabolic syndrome in people with schizophrenia: a review. World Psychiatry. 2009;8(1):15–22.

3.

Janney CA, Ganguli R, Tang G, et al. Physical activity and sedentary behavior measured objectively and subjectively in overweight and obese adults with schizophrenia or schizoaffective disorders. J Clin Psychiatry. 2015;76(10):277–84.

4.

Brown S, Birtwistle J, Roe L, et al. The unhealthy lifestyle of people with schizophrenia. Psychol Med. 1999;29(3):697–701.

5.

Seeman MV. Obesity in schizophrenia. J Obes Manag. 2017;1(1):10–24.

6.

Annamalai A, Tek C. An overview of diabetes management in schizophrenia patients: office based strategies for primary care practitioners and endocrinologists. Int J Endocrinol. 2015;2015:969182.

7.

Hamoui N, Kingsbury S, Anthone GJ, et al. Surgical treatment of morbid obesity in schizophrenic patients. Obes Surg. 2004;14(3):349–52.

8.

Tek C, Kucukgoncu S, Guloksuz S, et al. Antipsychotic-induced weight gain in first-episode psychosis patients: a meta-analysis of differential effects of antipsychotic medications. Early Interv Psychiatry. 2016;10(3):193–202.

9.

Spertus J, Horvitz-Lennon M, Abing H, et al. Risk of weight gain for specific antipsychotic drugs: a meta-analysis. NPJ Schizophr. 2018;4(1):12.

10.

Scheen AJ, De Hert MA. Abnormal glucose metabolism in patients treated with antipsychotics. Diabetes Metab. 2007;33(3):169–75.

11.

Rummel-Kluge C, Komossa K, Schwarz S, et al. Head-to-head comparisons of metabolic side effects of second generation antipsychotics in the treatment of schizophrenia: a systematic review and meta-analysis. Schizophr Res. 2010;123(2–3):225–33.

12.

Ryan MCM, Collins P, Thakore JH. Impaired fasting glucose tolerance in first-episode, drug-naive patients with schizophrenia. Am J Psychiatry. 2003;160(2):284–9.

13.

Perry BI, Mcintosh G, Weich S, et al. The association between first-episode psychosis and abnormal glycaemic control: systematic review and meta-analysis. Lancet Psychiatry. 2016;3(11):1049–105.

14.

Annamalai A, Kosir U, Tek C. Prevalence of obesity and diabetes in patients with schizophrenia. World J Diabetes. 2017;8(8):390–6.

15.

Mamakou V, Thanopoulou A, Gonidakis F, et al. Schizophrenia and type 2 diabetes mellitus. Psychiatriki. 2018;29(1):64–73.

16.

Weiden PJ, Mackell JA, McDonnell DD. Obesity as a risk factor for antipsychotic noncompliance. Schizophr Res. 2004;66(1):51–7.

17.

Dixon L, Postrado L, Delahanty J, et al. The association of medical comorbidity in schizophrenia with poor physical and mental health. J Nerv Ment Dis. 1999;187(8):496–502.

18.

O'Brien PE, Hindle A, Brennan L, et al. Long-term outcomes after bariatric surgery: a systematic review and meta-analysis of weight loss at 10 or more years for all bariatric procedures and a single-centre review of 20-year outcomes after adjustable gastric banding. Obes Surg. 2019;29(1):3–14.

19.

Elder KA, Wolfe BM. Bariatric surgery: a review of procedures and outcomes. Gastroenterology. 2007;132(6):2253–71.

20.

Busetto L, Dicker D, Azran C, et al. Practical recommendations of the Obesity Management Task Force of the European Association for the Study of Obesity for the Post-Bariatric Surgery Medical Management. Obes Facts. 2017;10(6):597–632.

21.

Mechanick JI, Youdim A, Jones DB, et al. Clinical practice guidelines for the perioperative nutritional, metabolic, and nonsurgical support of the bariatric surgery patient 2013 update. Cosponsored by American Association of Clinical Endocrinologists, the Obesity Society, and the American Society for Metabolic and Bariatric Surgery. Obesity (Silver Spring). 2013;21(0 1):S1–27.

22.

Kouidrat Y, Amad A, Stubbs B, et al. Surgical management of obesity among people with schizophrenia and bipolar disorder: a systematic review of outcomes and recommendations for future research. Obes Surg. 2017;27(7):1889–95.

23.

Fuchs HF, Laughter V, Harnsberger CR, et al. Patients with psychiatric comorbidity can safely undergo bariatric surgery with equivalent success. Surg Endosc. 2016;30(1):251–8.

24.

Shelby SR, Labott S, Stout RA. Bariatric surgery: a viable treatment option for patients with severe mental illness. Surg Obes Relat Dis. 2015;11(6):1342–8.

25.

Archid R, Archid N, Meile T, et al. Patients with schizophrenia do not demonstrate worse outcome after sleeve gastrectomy: a short-term cohort study. Obes Surg. 2019;29(2):506–10.

26.

Domecq JP, Prutsky G, Leppin A, et al. Drugs commonly associated with weight change: a systematic review and meta-analysis. J Clin Endocrinol Metab. 2015;100(2):363–70.

27.

Kay SR, Fiszbein A, Opler LA. The Positive and Negative Syndrome Scale (PANSS) for schizophrenia. Schizophr Bull. 1987;13(2):261–76.

28.

Chaves AC, Shirakawa I. Escala das sindromes negativa e positiva - PANSS e seu uso no Brasil. Rev Psiquiatr clín (São Paulo). 1998;337–43.

29.

American Psychiatric Association. Diagnostic and Statistical Manual of Mental Disorders (DSM-5). 5th ed. Arlinton, VA: American Psychiatric Association; 2013.

30.

IFSO – International Federation for the Surgery of Obesity and Metabolic Disorders. Retrieved November 28, 2019, from http://www.ifso.com/pdf/easo-guidelines-practical- recommendations-of-the-obesity.pdf.

31.

Odom J, Zalesin KC, Washington TL, et al. Behavioral predictors of weight regain after bariatric surgery. Obes Surg. 2010;20(3):349–56.

32.

Magro DO, Geloneze B, Delfini R, et al. Long-term weight regain after gastric bypass: a 5-year prospective study. Obes Surg. 2008;18(6):648–51.
Funding
This study was financed in part by the Coordenação de Aperfeiçoamento de Pessoal de Nível Superior - Brasil (CAPES) - Finance Code 001.
Ethics declarations
Conflict of Interest
The authors declare that they have no conflict of interest.
Ethical Approval
All procedures performed in studies involving human participants were in accordance with the ethical standards of the institutional and/or national research committee and with the 1964 Helsinki declaration and its later amendments or comparable ethical standards.
Additional information
Publisher's Note
Springer Nature remains neutral with regard to jurisdictional claims in published maps and institutional affiliations.
About this article
Cite this article
Brito, M.E., Sampaio, I.M., Ferreira, A.C. et al. Patients with Schizophrenia Undergoing Gastric Bypass Surgery: a Case Series Study. OBES SURG 30, 3813–3821 (2020). https://doi.org/10.1007/s11695-020-04702-1
Keywords
Schizophrenia

Obesity

Bariatric surgery

Mental illness