Abstract
Purpose
The abdominal magnetic resonance (MR) examinations have been increasingly applied in patients with obesity. However, few studies analyzed the appropriateness of this examination. This study is aimed to evaluate the feasibility and clinical value of upper abdominal MR in quantification of visceral/subcutaneous adipose tissue (VAT/SAT) and liver fat fraction (LFF) in patients before and after bariatric surgery.
Methods
All patients who underwent bariatric surgery from November 2017 to November 2019 in the prospectively maintained, IRB-approved database of our institution were queried. The images of all MR studies were retrospectively reviewed and analyzed.
Results
In total, 570 patients with 837 upper abdominal MR examinations were analyzed. The VAT/SAT can be clearly visualized and quantified on fat liver acquisition with volume acceleration-flexible (LAVA-Flex) sequence. The present rate of a single axial slice at the level of the L1–L2 intervertebral disc was 93.1% (779/837). The LFF could be quantitatively evaluated on all of the proton density fat fraction (PDFF) maps (100%, 837/837). Occasional findings may include cholelithiasis, cysts, hepatic hemangioma, and renal angiomyolipoma, which can be clearly diagnosed by MR.
Conclusion
The upper abdominal MR is featured by well feasibility and clear clinical value when applying in patients with obesity. We can use the results to do clinical research and evaluate obesity-related disease risks before and after surgery, thus providing suggestions to choose the type of surgery for patients with different risk levels in the future. MR scanning including fat LAVA-Flex images with the inclusion of L1–L2 level and PDFF measurements is suggested for the VAT/SAT/LFF quantification.
Trial Registration
Access options
Buy single article
Instant access to the full article PDF.
US$ 39.95
Tax calculation will be finalised during checkout.
Subscribe to journal
Immediate online access to all issues from 2019. Subscription will auto renew annually.
US$ 79
Tax calculation will be finalised during checkout.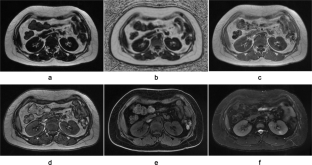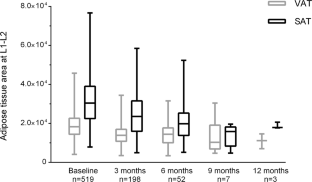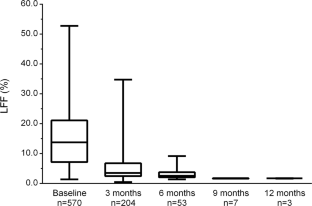 References
1.

NCD Risk Factor Collaboration (NCD-RisC). Trends in adult body-mass index in 200 countries from 1975 to 2014: a pooled analysis of 1698 population-based measurement studies with 19.2 million participants. Lancet. 2016;387(10026):1377–96.

2.

Bower G, Toma T, Harling L, et al. Bariatric surgery and non-alcoholic fatty liver disease: a systematic review of liver biochemistry and histology. Obes Surg. 2015;25(12):2280–9.

3.

Bastien M, Poirier P, Lemieux I, et al. Overview of epidemiology and contribution of obesity to cardiovascular disease. Prog Cardiovasc Dis. 2014;56(4):369–81.

4.

Wang Y, Rimm EB, Stampfer MJ, et al. Comparison of abdominal adiposity and overall obesity in predicting risk of type 2 diabetes among men. Am J Clin Nutr. 2005;81(3):555–63.

5.

Cheng X, Zhang Y, Wang C, et al. The optimal anatomic site for a single slice to estimate the total volume of visceral adipose tissue by using the quantitative computed tomography (QCT) in Chinese population. Eur J Clin Nutr. 2018;72(11):1567–75.

6.

Brown RE, Kuk JL, Lee S. Measurement site influences abdominal subcutaneous and visceral adipose tissue in obese adolescents before and after exercise. Pediatr Obes. 2015;10(2):98–104.

7.

Idilman IS, Aniktar H, Idilman R, et al. Hepatic steatosis: quantification by proton density fat fraction with MR imaging versus liver biopsy. Radiology. 2013;267(3):767–75.

8.

Tang A, Tan J, Sun M, et al. Nonalcoholic fatty liver disease: MR imaging of liver proton density fat fraction to assess hepatic steatosis. Radiology. 2013;267(2):422–31.

9.

Schweitzer L, Geisler C, Pourhassan M, et al. What is the best reference site for a single MRI slice to assess whole-body skeletal muscle and adipose tissue volumes in healthy adults? Am J Clin Nutr. 2015;102(1):58–65.

10.

Li M. Alterations of liver fat fraction features examined by magnetic resonance imaging following bariatric surgery: a self-controlled observational study. Obes Surg. 2020:in press.

11.

Bosy-Westphal A, Kossel E, Goele K, et al. Contribution of individual organ mass loss to weight loss-associated decline in resting energy expenditure. Am J Clin Nutr. 2009;90(4):993–1001.

12.

Gero D, Raptis DA, Vleeschouwers W, et al. Defining global benchmarks in bariatric surgery: a retrospective multicenter analysis of minimally invasive Roux-en-Y gastric bypass and sleeve gastrectomy. Ann Surg. 2019;270(5):859–67.

13.

Hui S et al. Observed changes in brown, white, hepatic and pancreatic fat after bariatric surgery: evaluation with MRI. Eur Radiol. 2019;29(2):849–56.

14.

Ji Y, Yiorkas AM, Frau F, et al. Genome-wide and abdominal MRI data provide evidence that a genetically determined favorable adiposity phenotype is characterized by lower ectopic liver fat and lower risk of type 2 diabetes, heart disease, and hypertension. Diabetes. 2019;68(1):207–19.

15.

Marinou K, Hodson L, Vasan SK, et al. Structural and functional properties of deep abdominal subcutaneous adipose tissue explain its association with insulin resistance and cardiovascular risk in men. Diabetes Care. 2014;37(3):821–9.

16.

Hausman GJ. The origin and purpose of layers of subcutaneous adipose tissue in pigs and man. Horm Mol Biol Clin Invest. 2018;33(1)

17.

Gao Y, Wang YC, Lu CQ, et al. Correlations between the abdominal fat-related parameters and severity of coronary artery disease assessed by computed tomography. Quant Imaging Med Surg. 2018;8(6):579–87.

18.

Said A, Ghufran A. Epidemic of non-alcoholic fatty liver disease and hepatocellular carcinoma. World J Clin Oncol. 2017;8(6):429–36.

19.

Yan Y, Liu J, Zhao X, et al. Abdominal visceral and subcutaneous adipose tissues in association with cardiometabolic risk in children and adolescents: the China Child and Adolescent Cardiovascular Health (CCACH) study. BMJ Open Diabetes Res Care. 2019;7(1):e000824.

20.

EASL-ALEH Clinical Practice Guidelines. Non-invasive tests for evaluation of liver disease severity and prognosis. J Hepatol. 2015;63(1):237–64.

21.

Loomba R. Role of imaging-based biomarkers in NAFLD: recent advances in clinical application and future research directions. J Hepatol. 2018;68(2):296–304.

22.

Abou HB et al. Role of routine abdominal ultrasound before bariatric surgery: review of 937 patients. Obes Surg. 2018;28(9):2696–9.

23.

Mizrahi I, Abubeih A', Rachmuth J, et al. Routine upper gastrointestinal fluoroscopy before laparoscopic sleeve gastrectomy: is it necessary? Obes Surg. 2019;29(6):1704–8.
Acknowledgments
The authors would like to thank all of the involved study investigators, staffs, clinicians, nurses, and technicians for dedicating their time and skills to the completion of this study.
Funding
This study was supported by Grant No. 61801311 from the National Natural Science Foundation of China (Han Lv), No. [2015] 160 from Beijing Scholars Program (Zhenchang Wang), Grant No. 7182044 from Beijing Natural Science Foundation (Han Lv), No. PX2018001 from Beijing Hospitals Authority (Han Lv), QML20180103 from Beijing Hospitals Authority Youth Programme (Han Lv), No. YYZZ2017B01 from Beijing Friendship Hospital, Capital Medical University (Han Lv), and No. 2019M660717 from China Postdoctoral Science Foundation (Han Lv).
Ethics declarations
Conflict of Interest
The authors declare that they have no conflict of interest.
Statement of Informed Consent
Informed consent was obtained from all individual participants included in this study.
Statement of Human and Animal Rights
All procedures performed in studies involving human participants were in accordance with the ethical standards of the institutional and/or national research committee and with the 1964 Helsinki Declaration and its later amendments or comparable ethical standards. This study was approved by the Ethics Committees of Beijing Friendship Hospital, Capital Medical University.
Additional information
Publisher's Note
Springer Nature remains neutral with regard to jurisdictional claims in published maps and institutional affiliations.
About this article
Cite this article
Lv, H., Li, M., Liu, Y. et al. The Clinical Value and Appropriateness Criteria of Upper Abdominal Magnetic Resonance Examinations in Patients Before and After Bariatric Surgery: a Study of 837 Images. OBES SURG 30, 3784–3791 (2020). https://doi.org/10.1007/s11695-020-04688-w
Keywords
MR

Obesity

Bariatric surgery

Adipose tissue

Liver fat fraction