Abstract
Purpose
The benefit of exercise training on lipid profile in bariatric surgery patients is scarce. We assess the effect of a supervised exercise-training program on lipid profile following bariatric surgery.
Materials and Methods
A total of 60 patients were prospectively recruited, of those 49 completed the study (age 41 ± 11 years; body mass index 45.9 ± 6.1 kg/m2, 75% women). The bariatric surgery procedures performed were sleeve gastrectomy (SG) (n = 24) and biliopancreatic diversion with duodenal switch (BPD-DS) (n = 25). Of the 49 patients who completed the study, 34 had been randomized to a 12-week supervised exercise training program (exercise group) between the 3rd and the 6th month following bariatric surgery (SG = 17 and BPD-DS = 17). Fasting blood samples and anthropometric measurements were performed preoperatively and at 3, 6, and 12 months after bariatric surgery.
Results
At 6 months and 12 months, percentage of weight loss was similar between groups (6 months: − 29.6 ± 5.5 vs. − 27.8 ± 7.7%; P = 0.371; 12 months: − 38.4 ± 10.4 vs. − 37.9 ± 9.5%; P = 0.876 exercise vs. control). Both groups had an increase in HDL values between the 3nd and the 6th month following bariatric surgery. There was a significantly greater increment in HDL values in the exercise group (0.18 ± 0.14 vs. 0.07 ± 0.12 mmol/L, P = 0.014; exercise vs. control).
Conclusion
Our results showed a beneficial effect of a 12-week supervised exercise-training program in bariatric surgery patients showing similar weight loss on HDL-cholesterol levels without additional effect on LDL-cholesterol levels.
Access options
Buy single article
Instant access to the full article PDF.
US$ 39.95
Tax calculation will be finalised during checkout.
Subscribe to journal
Immediate online access to all issues from 2019. Subscription will auto renew annually.
US$ 79
Tax calculation will be finalised during checkout.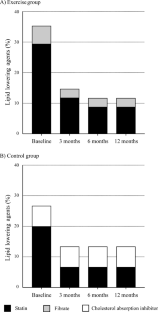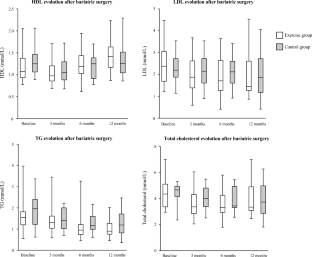 References
1.

Repas T. Obesity and dyslipidemia. S D Med. 2011;64(7):241–3. 5, 7 passim

2.

Zlabek JA, Grimm MS, Larson CJ, et al. The effect of laparoscopic gastric bypass surgery on dyslipidemia in severely obese patients. Surg Obes Relat Dis. 2005;1(6):537–42.

3.

Poirier P, Eckel RH. Obesity and cardiovascular disease. Curr Atheroscler Rep. 2002;4(6):448–53.

4.

Cunha FM, Oliveira J, Preto J, et al. The effect of bariatric surgery type on lipid profile: an age, sex, body mass index and excess weight loss matched study. Obes Surg. 2016;26(5):1041–7.

5.

Kraus WE, Houmard JA, Duscha BD, et al. Effects of the amount and intensity of exercise on plasma lipoproteins. N Engl J Med. 2002;347(19):1483–92.

6.

Kodama S, Tanaka S, Saito K, et al. Effect of aerobic exercise training on serum levels of high-density lipoprotein cholesterol: a meta-analysis. Arch Intern Med. 2007;167(10):999–1008.

7.

Pattyn N, Cornelissen VA, Eshghi SR, et al. The effect of exercise on the cardiovascular risk factors constituting the metabolic syndrome: a meta-analysis of controlled trials. Sports Med. 2013;43(2):121–33. Pubmed Central PMCID: PMC3693431

8.

Anderssen SA, Carroll S, Urdal P, et al. Combined diet and exercise intervention reverses the metabolic syndrome in middle-aged males: results from the Oslo diet and exercise study. Scand J Med Sci Sports. 2007;17(6):687–95.

9.

Kelley GA, Kelley KS, Tran ZV. Exercise, lipids, and lipoproteins in older adults: a meta-analysis. Prev Cardiol. 2005 Fall;8(4):206–14. Pubmed Central PMCID: PMC2447857.

10.

Ryan DH, Johnson WD, Myers VH, et al. Nonsurgical weight loss for extreme obesity in primary care settings: results of the Louisiana obese subjects study. Arch Intern Med. 2010;170(2):146–54.

11.

Snowling NJ, Hopkins WG. Effects of different modes of exercise training on glucose control and risk factors for complications in type 2 diabetic patients: a meta-analysis. Diabetes Care. 2006;29(11):2518–27.

12.

Waleh MQ. Impacts of physical activity on the obese. Prim Care. 2016;43(1):97–107. ix

13.

Marcon ER, Baglioni S, Bittencourt L, et al. What is the best treatment before bariatric surgery? Exercise, exercise and group therapy, or conventional waiting: a randomized controlled trial. Obes Surg. 2017;27(3):763–773.

14.

Marcon ER, Gus I, Neumann CR. Impact of a minimum program of supervised exercises in the cardiometabolic risk in patients with morbid obesity. Arq Bras Endocrinol Metabol. 2011;55(5):331–8. Impacto de um programa minimo de exercicios fisicos supervisionados no risco cardiometabolico de pacientes com obesidade morbida

15.

Alam S, Stolinski M, Pentecost C, et al. The effect of a six-month exercise program on very low-density lipoprotein apolipoprotein B secretion in type 2 diabetes. J Clin Endocrinol Metab. 2004 Feb;89(2):688–94.

16.

Leon AS, Sanchez OA. Response of blood lipids to exercise training alone or combined with dietary intervention. Med Sci Sports Exerc. 2001;33(6 Suppl):S502–15. discussion S28–9

17.

Janssen I, Fortier A, Hudson R, et al. Effects of an energy-restrictive diet with or without exercise on abdominal fat, intermuscular fat, and metabolic risk factors in obese women. Diabetes Care. 2002;25(3):431–8.

18.

Banz WJ, Maher MA, Thompson WG, et al. Effects of resistance versus aerobic training on coronary artery disease risk factors. Exp Biol Med (Maywood). 2003;228(4):434–40.

19.

Heffron SP, Parikh A, Volodarskiy A, et al. Changes in lipid profile of obese patients following contemporary bariatric surgery: a meta-analysis. Am J Med. 2016;129(9):952–9.

20.

Piche ME, Auclair A, Harvey J, et al. How to choose and use bariatric surgery in 2015. Can J Cardiol. 2015;31(2):153–66.

21.

Ruiz-Tovar J, Zubiaga L, Llavero C, et al. Serum cholesterol by morbidly obese patients after laparoscopic sleeve gastrectomy and additional physical activity. Obes Surg. 2014;24(3):385–9.

22.

Wefers JF, Woodlief TL, Carnero EA, et al. Relationship among physical activity, sedentary behaviors, and cardiometabolic risk factors during gastric bypass surgery-induced weight loss. Surg Obes Relat Dis. 2017;13(2):210–9.

23.

Auclair A, Martin J, Bastien M, et al. Is there a role for visceral adiposity in inducing type 2 diabetes remission in severely obese patients following biliopancreatic diversion with duodenal switch surgery? Obes Surg. 2016;26(8):1717–27.

24.

Auclair A, Piché ME, Biertho L, et al. Changes in fat-free mass and muscle mass at 6 and 12 months after biliopancreatic diversion with duodenal switch surgery. Surg Obes Relat Dis. 2020; [Epub ahead of print].

25.

Marceau P, Hould FS, Simard S, et al. Biliopancreatic diversion with duodenal switch. World J Surg. 1998;22(9):947–54.

26.

Marceau P, Biron S, Hould FS, et al. Duodenal switch: long-term results. Obes Surg. 2007;17(11):1421–30.

27.

Piche ME, Martin J, Cianflone K, et al. Changes in predicted cardiovascular disease risk after biliopancreatic diversion surgery in severely obese patients. Metabolism. 2014;63(1):79–86.

28.

Martin J, Bergeron S, Pibarot P, et al. Impact of bariatric surgery on N-terminal fragment of the prohormone brain natriuretic peptide and left ventricular diastolic function. Can J Cardiol. 2013;29(8):969–75.

29.

Friedewald WT, Levy RI, Fredrickson DS. Estimation of the concentration of low-density lipoprotein cholesterol in plasma, without use of the preparative ultracentrifuge. Clin Chem. 1972;18(6):499–502.

30.

Laboratory Circ. CardioRisk Calculator. 2019 [cited 2019]; Available from: http://www.circl.ubc.ca/cardiorisk-calculator.html.

31.

Ren ZQ, Lu GD, Zhang TZ, et al. Effect of physical exercise on weight loss and physical function following bariatric surgery: a meta-analysis of randomised controlled trials. BMJ Open. 2018;8(10):e023208. Pubmed Central PMCID: PMC6252776

32.

Aminian A, Zelisko A, Kirwan JP, et al. Exploring the impact of bariatric surgery on high density lipoprotein. Surg Obes Relat Dis. 2015;11(1):238–47.

33.

Nguyen NT, Varela E, Sabio A, et al. Resolution of hyperlipidemia after laparoscopic Roux-en-Y gastric bypass. J Am Coll Surg. 2006;203(1):24–9.

34.

Barter P. HDL-C: role as a risk modifier. Atheroscler Suppl. 2011;12(3):267–70.

35.

Genest J, McPherson R, Frohlich J, et al. 2009 Canadian Cardiovascular Society/Canadian guidelines for the diagnosis and treatment of dyslipidemia and prevention of cardiovascular disease in the adult - 2009 recommendations. Can J Cardiol. 2009;25(10):567–79. Pubmed Central PMCID: PMC2782500

36.

Hegele RA, Gidding SS, Ginsberg HN, et al. Nonstatin low-density lipoprotein-lowering therapy and cardiovascular risk reduction-statement from ATVB council. Arterioscler Thromb Vasc Biol. 2015;35(11):2269–80. Pubmed Central PMCID: PMC4758700

37.

Turk Y, Theel W, Kasteleyn MJ, et al. High intensity training in obesity: a meta-analysis. Obes Sci Pract. 2017;3(3):258–71. Pubmed Central PMCID: PMC5598019

38.

Miller M, Stone NJ, Ballantyne C, et al. Triglycerides and cardiovascular disease: a scientific statement from the American Heart Association. Circulation. 2011;123(20):2292–333.

39.

Shah M, Snell PG, Rao S, et al. High-volume exercise program in obese bariatric surgery patients: a randomized, controlled trial. Obesity (Silver Spring). 2011;19(9):1826–34.
Funding
This study was funded by the Fondation de l'Institut Universitaire de Cardiologie et de Pneumologie de Québec-Université Laval and partly by the Canadian Institutes of Health Research (CIHR #273291) granted to Dr. Poirier.
Ethics declarations
Conflict of Interest
Simon Marceau has financial relationship from Medtronic and Johnson & Johnson (consulting fees and honoraria for lectures). The other authors declare that they have no conflict of interest.
Ethical Approval
All procedures performed in studies involving human participants were in accordance with the ethical standards of the institutional and/or national research committee and with the 1964 Helsinki declaration and its later amendments or comparable ethical standards.
Informed Consent
Informed consent was obtained from all individual participants included in the study.
Additional information
Publisher's Note
Springer Nature remains neutral with regard to jurisdictional claims in published maps and institutional affiliations.
Electronic supplementary material
About this article
Cite this article
Tardif, I., Auclair, A., Piché, ME. et al. Impact of a 12-Week Randomized Exercise Training Program on Lipid Profile in Severely Obese Patients Following Bariatric Surgery. OBES SURG 30, 3030–3036 (2020). https://doi.org/10.1007/s11695-020-04647-5
Keywords
Lipid

Lipoprotein

Exercise

Bariatric surgery

Severe obesity