Abstract
Background
Elevated lipoprotein(a) (Lp(a)) level is an independent risk factor for cardiovascular diseases. Lifestyle intervention studies targeting weight loss revealed little to no significant changes in Lp(a) levels. The impact of interventions that induce substantial weight loss, such as bariatric surgery, on Lp(a) levels is currently unclear.
Objective
To determine the acute and long-term impact of bariatric surgery on Lp(a) levels in patients with severe obesity.
Methods
Sixty-nine patients with severe obesity underwent biliopancreatic diversion with duodenal switch (BPD-DS) surgery. The lipid profile was evaluated and Lp(a) levels were measured before surgery and at 6 and 12 months after BPD-DS surgery.
Results
Median Lp(a) levels at baseline were 11.1 (4.1–41.6) nmol/L. Six months and 12 months after the BDP-DS surgery, we observed an improvement of lipid profile. At 6 months, we observed a 13% decrease in Lp(a) levels (9.7 (2.9–25.6) nmol/L, p < 0.0001) but this decrease was not sustained at 12 months (11.1 (3.9–32.8) nmol/L, p = 0.8). When the patients were separated into tertiles according to Lp(a) levels at baseline, we observed that the Lp(a) reduction at 12 months after BPD-DS surgery remained significant but modest in patients of the top Lp(a) tertile.
Conclusion
Our results suggest that BPD-DS surgery modestly reduces Lp(a) levels in the short term (6 months) in patients with severe obesity but this improvement is sustained over time only in patients with higher Lp(a) levels.
Access options
Buy single article
Instant access to the full article PDF.
US$ 39.95
Tax calculation will be finalised during checkout.
Subscribe to journal
Immediate online access to all issues from 2019. Subscription will auto renew annually.
US$ 79
Tax calculation will be finalised during checkout.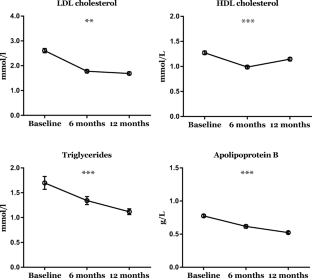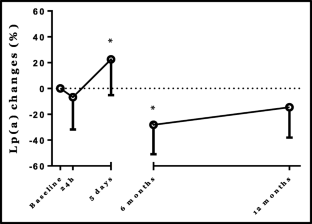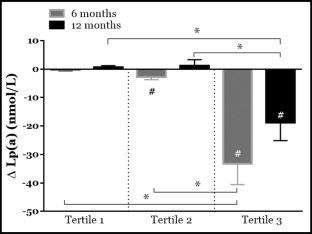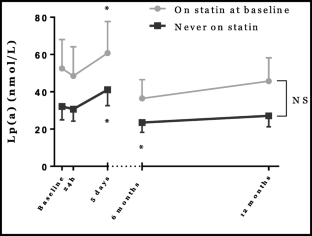 References
1.

Clarke R, Peden JF, Hopewell JC, et al. Genetic variants associated with Lp(a) lipoprotein level and coronary disease. N Engl J Med. 2009;361(26):2518–28.

2.

Emdin CA, Khera AV, Natarajan P, et al. Phenotypic characterization of genetically lowered human lipoprotein(a) levels. J Am Coll Cardiol. 2016;68(25):2761–72.

3.

Boerwinkle E, Leffert CC, Lin J, et al. Apolipoprotein(a) gene accounts for greater than 90% of the variation in plasma lipoprotein(a) concentrations. J Clin Invest. 1992;90(1):52–60.

4.

Nordestgaard BG, Chapman MJ, Ray K, et al. Lipoprotein(a) as a cardiovascular risk factor: current status. Eur Heart J. 2010;31(23):2844–53.

5.

Sonnichsen AC, Richter WO, Schwandt P. Reduction of lipoprotein (a) by weight loss. Int J Obes. 1990;14(6):487–94.

6.

Kiortsis DN, Tzotzas T, Giral P, et al. Changes in lipoprotein(a) levels and hormonal correlations during a weight reduction program. Nutr Metab Cardiovasc Dis. 2001;11(3):153–7.

7.

Berk KA, Yahya R, Verhoeven AJM, et al. Effect of diet-induced weight loss on lipoprotein(a) levels in obese individuals with and without type 2 diabetes. Diabetologia. 2017;60(6):989–97.

8.

Piche ME, Auclair A, Harvey J, et al. How to choose and use bariatric surgery in 2015. Can J Cardiol. 2015;31(2):153–66.

9.

Boyer M, Lévesque V, Poirier P, et al. Impact of a 1-year lifestyle modification program on plasma lipoprotein and PCSK9 concentrations in patients with coronary artery disease. J Clin Lipidol. 2016;10(6):1353–61.

10.

Boman L, Ericson M. Lipoprotein a levels after intestinal bypass operation for morbid obesity. Obes Surg. 1997;7(2):125–7.

11.

Williams DB, Hagedorn JC, Lawson EH, et al. Gastric bypass reduces biochemical cardiac risk factors. Surg Obes Relat Dis. 2007;3(1):8–13.

12.

Lin BX, Weiss MC, Parikh M, et al. Changes in lipoprotein(a) following bariatric surgery. Am Heart J. 2018;197:175–6.

13.

Piché M-È, Martin J, Cianflone K, et al. Changes in predicted cardiovascular disease risk after biliopancreatic diversion surgery in severely obese patients. Metabolism. 2014;63(1):79–86.

14.

Friedewald WT, Levy RI, Fredrickson DS. Estimation of the concentration of low-density lipoprotein cholesterol in plasma, without use of the preparative ultracentrifuge. Clin Chem. 1972;18(6):499–502.

15.

To VT, Huttl TP, Lang R, et al. Changes in body weight, glucose homeostasis, lipid profiles, and metabolic syndrome after restrictive bariatric surgery. Exp Clin Endocrinol Diabetes. 2012;120(9):547–52.

16.

Woodard GA, Peraza J, Bravo S, et al. One year improvements in cardiovascular risk factors: a comparative trial of laparoscopic Roux-en-Y gastric bypass vs. adjustable gastric banding. Obes Surg. 2010;20(5):578–82.

17.

Kronenberg F, Utermann G. Lipoprotein(a): resurrected by genetics. J Intern Med. 2013;273(1):6–30.

18.

Santonocito C, De Loecker I, Donadello K, et al. C-reactive protein kinetics after major surgery. Anesth Analg. 2014;119(3):624–9.

19.

Langsted A, Varbo A, Kamstrup PR, et al. Elevated lipoprotein(a) does not cause low-grade inflammation despite causal association with aortic valve stenosis and myocardial infarction: a study of 100,578 individuals from the general population. J Clin Endocrinol Metab. 2015;100(7):2690–9.

20.

Missala I, Kassner U, Steinhagen-Thiessen E. A systematic literature review of the association of lipoprotein(a) and autoimmune diseases and atherosclerosis. Int J Rheumatol. 2012;2012:480784.

21.

Langsted A, Kamstrup PR, Nordestgaard BG. Lipoprotein(a): fasting and nonfasting levels, inflammation, and cardiovascular risk. Atherosclerosis. 2014;234(1):95–101.

22.

Muller N, Schulte DM, Turk K, et al. IL-6 blockade by monoclonal antibodies inhibits apolipoprotein (a) expression and lipoprotein (a) synthesis in humans. J Lipid Res. 2015;56(5):1034–42.

23.

Illan-Gomez F, Gonzalvez-Ortega M, Orea-Soler I, et al. Obesity and inflammation: change in adiponectin, C-reactive protein, tumour necrosis factor-alpha and interleukin-6 after bariatric surgery. Obes Surg. 2012;22(6):950–5.

24.

Schultz O, Oberhauser F, Saech J, et al. Effects of inhibition of interleukin-6 signalling on insulin sensitivity and lipoprotein (a) levels in human subjects with rheumatoid diseases. PLoS One. 2010;5(12):e14328.

25.

Shin MJ, Blanche PJ, Rawlings RS, et al. Increased plasma concentrations of lipoprotein(a) during a low-fat, high-carbohydrate diet are associated with increased plasma concentrations of apolipoprotein C-III bound to apolipoprotein B-containing lipoproteins. Am J Clin Nutr. 2007;85(6):1527–32.

26.

Silaste ML, Rantala M, Alfthan G, et al. Changes in dietary fat intake alter plasma levels of oxidized low-density lipoprotein and lipoprotein(a). Arterioscler Thromb Vasc Biol. 2004;24(3):498–503.

27.

Faghihnia N, Tsimikas S, Miller ER, et al. Changes in lipoprotein(a), oxidized phospholipids, and LDL subclasses with a low-fat high-carbohydrate diet. J Lipid Res. 2010;51(11):3324–30.

28.

Ginsberg HN, Kris-Etherton P, Dennis B, et al. Effects of reducing dietary saturated fatty acids on plasma lipids and lipoproteins in healthy subjects: the DELTA Study, protocol 1. Arterioscler Thromb Vasc Biol. 1998;18(3):441–9.

29.

Haring B, von Ballmoos MC, Appel LJ, et al. Healthy dietary interventions and lipoprotein (a) plasma levels: results from the Omni Heart Trial. PLoS One. 2014;9(12):e114859.

30.

Jahansouz C, Xu H, Hertzel AV, et al. Bile acids increase independently from hypocaloric restriction after bariatric surgery. Ann Surg. 2016;264(6):1022–8.

31.

Chennamsetty I, Claudel T, Kostner KM, et al. Farnesoid X receptor represses hepatic human APOA gene expression. J Clin Invest. 2011;121(9):3724–34.

32.

Calmarza P, Bajador E, Lapresta C, et al. Effect of biliary obstruction on lipoprotein(a) concentration. Clin Investig Arterioscler. 2014;26(5):218–23.

33.

Reyes-Soffer G, Pavlyha M, Ngai C, et al. Effects of PCSK9 inhibition with alirocumab on lipoprotein metabolism in healthy humans. Circulation. 2017;135(4):352–62.

34.

Arsenault BJ, Petrides F, Tabet F, et al. Effect of atorvastatin, cholesterol ester transfer protein inhibition, and diabetes mellitus on circulating proprotein subtilisin kexin type 9 and lipoprotein(a) levels in patients at high cardiovascular risk. J Clin Lipidol. 2018;12(1):130–6.
Funding
This work was supported by operating grants from the Canadian Institutes of Health Research. We would like to thank Sylvain Pouliot for his technical help. M-E.P. is a recipient of a studentship from the Fonds de Recherche du Québec-Santé (FRQS). P.M. holds a FRQS research Chair on the Pathobiology of Calcific Aortic Valve Disease. B.J.A. holds a junior scholar award from the Fonds de Recherche du Québec: Santé (FRQ-S). P.P. is a senior scholar from the FRQ-S. A.C.C. is the recipient of the GlaxoSmithKline Chair in Diabetes of the Université de Sherbrooke.
Ethics declarations
The ethics committee of the IUCPQ approved the experimental protocol and all patients gave their written informed consent before being included in the study.
Conflict of Interest
André Tchernof and Laurent Biertho report grants from Johnson & Johnson Medical and grants from Medtronic, during the conduct of the study. All other authors declare that they have no conflict of interest.
Additional information
Publisher's Note
Springer Nature remains neutral with regard to jurisdictional claims in published maps and institutional affiliations.
About this article
Cite this article
Després, AA., Piché, ME., Auclair, A. et al. Acute and Chronic Impact of Biliopancreatic Diversion with Duodenal Switch Surgery on Plasma Lipoprotein(a) Levels in Patients with Severe Obesity. OBES SURG 30, 3714–3720 (2020). https://doi.org/10.1007/s11695-020-04450-2
Received:

Revised:

Accepted:

Published:

Issue Date:
Keywords
Lipoprotein(a)

Severe obesity

Bariatric surgery

Low-density lipoprotein cholesterol

Statins