Abstract
Craniopharyngioma and its treatment lead to weight gain and pituitary hormone deficiencies. This study aimed to investigate the effectiveness of bariatric surgery for treatment of hypothalamic obesity after craniopharyngioma therapy. Five patients with hypothalamic obesity after craniopharyngioma treatment were included. Patients were treated with sleeve gastrectomy or Roux-en-Y gastric bypass and individually matched to 2 control patients treated for common obesity. At 2 years of follow-up, total and excess weight loss in cases were 14.7% (p = 0.002) and 38.0% (p = 0.001), respectively; differences between both groups were 13.6% (p = 0.02) and 31.6% (p = 0.03). Minor postoperative alterations in hormone substitution in all 5 cases were observed. Thus, bariatric surgery induced significant weight loss in patients with craniopharyngioma-related hypothalamic obesity, even though a superior weight loss in controls was observed.
This is a preview of subscription content, log in to check access.
Access options
Buy single article
Instant access to the full article PDF.
US$ 39.95
Price includes VAT for USA
Subscribe to journal
Immediate online access to all issues from 2019. Subscription will auto renew annually.
US$ 99
This is the net price. Taxes to be calculated in checkout.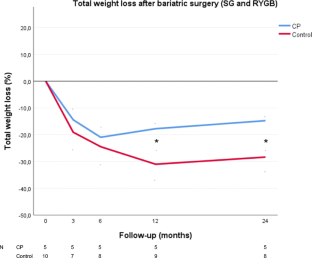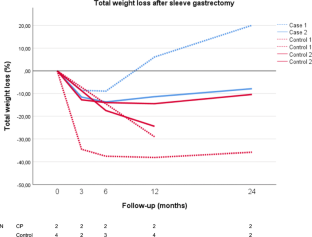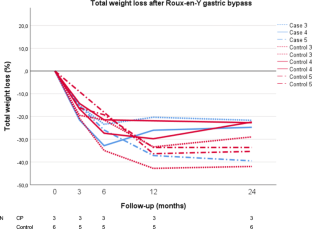 References
1.

Elowe-Gruau E, Beltrand J, Brauner R, et al. Childhood craniopharyngioma: hypothalamus-sparing surgery decreases the risk of obesity. J Clin Endocrinol Metab. 2013;98(6):2376–82.

2.

Roth CL. Hypothalamic obesity in craniopharyngioma patients: disturbed energy homeostasis related to extent of hypothalamic damage and its implication for obesity intervention. J Clin Med. 2015;4(9):1774–97.

3.

Rakhshani N, Jeffery AS, Schulte F, Barrera M, Atenafu EG, Hamilton JK. Evaluation of a comprehensive care clinic model for children with brain tumor and risk for hypothalamic obesity. Obesity (Silver Spring, Md). 2010;18(9):1768–74.

4.

Sjostrom L, Narbro K, Sjostrom CD, et al. Effects of bariatric surgery on mortality in Swedish obese subjects. N Engl J Med. 2007;357(8):741–52.

5.

Page-Wilson G, Wardlaw SL, Khandji AG, et al. Hypothalamic obesity in patients with craniopharyngioma: treatment approaches and the emerging role of gastric bypass surgery. Pituitary. 2012;15(1):84–92.

6.

Rottembourg D, O'Gorman CS, Urbach S, et al. Outcome after bariatric surgery in two adolescents with hypothalamic obesity following treatment of craniopharyngioma. J Pediatr Endocrinol Metab. 2009;22(9):867–72.

7.

Trotta M, Da Broi J, Salerno A, et al. Sleeve gastrectomy leads to easy management of hormone replacement therapy and good weight loss in patients treated for craniopharyngioma. Updat Surg. 2017;69(1):95–9.

8.

Inge TH, Pfluger P, Zeller M, et al. Gastric bypass surgery for treatment of hypothalamic obesity after craniopharyngioma therapy. Nat Clin Pract Endocrinol Metab. 2007;3(8):606–9.

9.

Wijnen M, Olsson DS, van den Heuvel-Eibrink MM, et al. Efficacy and safety of bariatric surgery for craniopharyngioma-related hypothalamic obesity: a matched case-control study with 2 years of follow-up. Int J Obes. 2017;41(2):210–6.

10.

Tomlinson JW, Holden N, Hills RK, et al. Association between premature mortality and hypopituitarism. West midlands prospective hypopituitary study group. Lancet. 2001;357(9254):425–31.

11.

Padwal R, Brocks D, Sharma AM. A systematic review of drug absorption following bariatric surgery and its theoretical implications. Obes Rev. 2010;11(1):41–50.

12.

Weismann D, Pelka T, Bender G, et al. Bariatric surgery for morbid obesity in craniopharyngioma. Clin Endocrinol. 2013;78(3):385–90.

13.

Miras AD, le Roux CW. Mechanisms underlying weight loss after bariatric surgery. Nat Rev Gastroenterol Hepatol. 2013;10(10):575–84.

14.

de Vile CJ, Grant DB, Hayward RD, et al. Obesity in childhood craniopharyngioma: relation to post-operative hypothalamic damage shown by magnetic resonance imaging. J Clin Endocrinol Metab. 1996;81(7):2734–7.

15.

Rao RS. Bariatric surgery and the central nervous system. Obes Surg. 2012;22(6):967–78.

16.

Wolf P, Winhofer Y, Smajis S, et al. Hormone substitution after gastric bypass surgery in patients with hypopituitarism secondary to craniopharyngioma. Endocr Pract. 2016;22(5):595–601.

17.

Mah PM, Jenkins RC, Rostami-Hodjegan A, et al. Weight-related dosing, timing and monitoring hydrocortisone replacement therapy in patients with adrenal insufficiency. Clin Endocrinol. 2004;61(3):367–75.
Acknowledgements
The authors would like to thank the Biostatistics Unit of the Faculty of Medicine and Health Sciences at Ghent University.
Ethics declarations
Conflict of Interest
Garrez I. and Lapauw B. declare that they have no conflict of interest; Van Nieuwenhove Y. reports consultancy fees from Olympus and grants from Kom op tegen kanker outside the submitted work.
Ethical Approval
All procedures performed in this study involving human participants were in accordance with the ethical standards of the institutional and/or national research committee and with the 1964 Helsinki Declaration and its later amendments or comparable ethical standards.
Informed Consent
Informed consent was obtained from all individual participants included in the study.
Additional information
Publisher's Note
Springer Nature remains neutral with regard to jurisdictional claims in published maps and institutional affiliations.
About this article
Cite this article
Garrez, I., Lapauw, B. & Van Nieuwenhove, Y. Bariatric Surgery for Treatment of Hypothalamic Obesity After Craniopharyngioma Therapy: a Matched Case–Control Study. OBES SURG (2020). https://doi.org/10.1007/s11695-020-04391-w
Keywords
Craniopharyngioma

Hypothalamic obesity

Bariatric surgery

Sleeve gastrectomy

Roux-en-Y gastric bypass

Hormone substitution