Abstract
Introduction
For the acquisition of skills in laparoscopic surgery, practices in experimental labs are gaining increasing relevance. Activities in experimental labs include Pelvitrainers, virtual reality simulators, and experimental animals (frequently pigs). However, the best model for surgical formation is the performance of interventions on cadavers. The Thiel method gives the body elasticity, which allows the performance of laparoscopic procedures.
Methods
An observational prospective study was performed on surgeons attending to two courses of laparoscopic bariatric surgery on cadavers embalmed by the Thiel method. A questionnaire was given to the participants (students and professors) when finishing the course. Similarities between the procedures performed on cadavers and on patients were investigated. The satisfaction degree was also analyzed.
Results
The students recognized that the Thiel cadaver presents elasticity and aspect similar to the patient, and the practice on cadavers is considered the best method for the formation in laparoscopic bariatric surgery. The assistants were extremely satisfied with the acquired skills and considered that these courses should be included in the formation programs for bariatric surgery. The results of the survey on professors agreed with the students in considering the practice on cadavers as the best method for the formation in laparoscopic bariatric surgery. However, they highlighted as drawbacks of the Thiel cadaver, the absence of bleeding, and excessive elasticity of the tissues.
Conclusion
The participants (students and professors) to the courses of laparoscopic bariatric surgery on cadaver Thiel recognize that these are the most similar model to real conditions in bariatric surgery.
This is a preview of subscription content, log in to check access.
Access options
Buy single article
Instant access to the full article PDF.
US$ 39.95
Price includes VAT for USA
Subscribe to journal
Immediate online access to all issues from 2019. Subscription will auto renew annually.
US$ 99
This is the net price. Taxes to be calculated in checkout.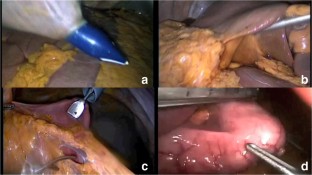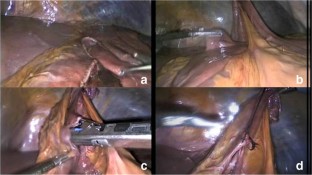 References
1.

Targarona EM, Salvador Sanchis JL, Morales Conde S. Advanced training in laparoscopic surgery: what is the best model? Cir Esp. 2010;87(1):1–3.

2.

Scott DJ, Young WN, Tesfay ST, et al. Laparoscopic skills training. Am J Surg. 2001;182:137–42.

3.

Sroka G, Feldman LS, Vassiliou MC, et al. Fundamentals of laparoscopic surgery simulator training to proficiency improves laparoscopic performance in the operating room-a randomized controlled trial. Am J Surg. 2010;199:115–20.

4.

Delgado F, Gómez-Abril S, Montalvá E, et al. Formación del residente en cirugía laparoscópica: un reto actual. Cir Esp. 2003;74(3):134–8.

5.

Scott DJ, Bergen PC, Rege RV, et al. Laparoscopic training on bench models: better and more cost effective than operating room experience? J Am Coll Surg. 2000;191(3):272–83.

6.

Saá Álvarez R, Losada Rodríguez J, Colina Alonso A. Enseñanza de la Cirugía: nuevos tiempos, nuevos métodos. Cir Esp. 2012;90(1):17–23.

7.

Mac Fadyen JBV. Teaching, training, and clinical surgery. Surg Endosc. 2004;18:361–2.

8.

Usón Gargallo J, Sánchez Margallo FM, Díaz-Güemes L, et al. Modelos experimentales en la cirugía laparoscópica urológica. Actas Urol Esp. 2006;30(5):443–50.

9.

Aggarwal R, Darzi A. Technical-skills training in the 21st century. N Engl J Med. 2006;355:2695–6.

10.

Giger U, Frésard I, Häfliger A, et al. Laparoscopic training on Thiel human cadavers: a model to teach advanced laparoscopic procedures. Surg Endosc. 2008;22(4):901–6.

11.

Benkhadra M, Gérard J, Genelot D, et al. Thiel's embalming method widely known? A world survey about its use. Surg Radiol Anat. 2011;33:359–63.

12.

Groscurth P, Eggli P, Kapfhammer J, et al. Gross anatomy in the surgical curriculum in Switzerland: improved cadaver preservation, anatomical models, and course development. Anat Rec (New Anat). 2001;265:254–6.

13.

Thiel W. The preservation of the whole corpse with natural color. Ann Anat. 1992;174:185–95.

14.

Thiel W. Supplement to the conservation of an entire cadaver according to W. Thiel. Ann Anat. 2002;184(3):267–9.

15.

Fitzpatrick CM, Kolesari GL, Brasel KJ. Teaching anatomy with surgeons' tools: use of the laparoscope in clinical anatomy. Clin Anat. 2001;14(5):349–53.

16.

Morán C. Ser médicos sin tocar un cadáver. Diario El País. [versión electrónica] 2103. [Consultado 22-01-2013]: Disponible en: http://sociedad.elpais.com/sociedad/2013/01/21/actualidad/1358788802_664958.html

17.

Anatomy educators: making anatomy necessary and attractive to modern audiences. Clin Anat. 2011;24:398–408.

18.

Zaid H, Ward D, Sammann A, et al. Integrating surgical skills education into the anatomy laboratory. J Surg Res. 2010;158(1):36–42.

19.

Bertone VH, Blasi E, Ottone NE, et al. Preservación de Cadáveres con Mantenimiento de las Principales Propiedades Físicas del Vivo. Método de Walther Thiel. Rev Arg Anat Onl. 2011;2(3):89–92.
Acknowledgments
The authors want to thank the following professors for their supports during the performance of the courses: Carlos Moreno, MD, PhD (Hospital Mancha Centro, Ciudad Real, Spain), Peter Vorwald, MD, PhD and Maria Posada, MD (Fundacion Jimenez Diaz, Madrid, Spain), Camilo Castellon, MD, PhD and Alejandro Garcia (Hospital Rey Juan Carlos, Madrid, Spain), Ramon Corripio, MD (Hospital La Paz, Madrid, Spain), Francisco Sanchez del Campo, MD, PhD (Universidad Miguel Hernandez, Alicante, Spain), Jose Luis Salvador, MD, PhD (Hospital de Castellon, Spain), Jose Antonio Ramirez, MD, PhD (Hospital San Roque, Maspalomas, Gran Canaria, Spain), and Angel Carrillo, MD, PhD (Universidad de La Laguna, Tenerife, Spain).
Ethics declarations
Conflict of Interest
The authors declare that they have no conflict of interest.
Statement of Informed Consent
Informed consent was obtained from all individual participants included in the study.
Statement of Human Rights
All procedures performed in this study were in accordance with the ethical standards of the institutional research committee and with the 1964 Helsinki declaration and its later amendments.
Additional information
Publisher's Note
Springer Nature remains neutral with regard to jurisdictional claims in published maps and institutional affiliations.
About this article
Cite this article
Ruiz-Tovar, J., Prieto-Nieto, I., García-Olmo, D. et al. Training Courses in Laparoscopic Bariatric Surgery on Cadaver Thiel: Results of a Satisfaction Survey on Students and Professors. OBES SURG 29, 3465–3470 (2019). https://doi.org/10.1007/s11695-019-04003-2
Keywords
Formation

Bariatric surgery

Laparoscopy

Thiel