Abstract
Background
Post intragastric balloon placement symptoms like nausea and vomiting have been the major cause of a high rate of early removal. Common therapy with ondansetron alone, or in combination, with prokinetic agents have been shown to have very little or no effect. Recently, an improved therapy based on aprepitant and ondansetron combination showed a significant improvement in symptoms management. Lack of aprepitant availability in several countries and patients difficulties to follow the right prescription convinced us to explore other pharmacological options.
Objective
Evaluate safety and efficacy of a netupitant and palonosetron-combined drug and to reduce and control post Elipse® placement symptoms
Methods
Between January and March 2018, 30 patients (9 male, 21 female), (mean weight 97.8 and mean BMI 34.7), underwent Elispe® placements, at 550 ml volume, in an outpatient fashion. All patients received a single pill 300 mg netupitant/0.5 mg palonosetron 6 h prior to placement. All patients received ondansetron 4 mg prescription to be taken as needed. A daily VAS score to report intensity of nausea, vomit, cramps, gastric pain, satiety for the first week post-placement was completed.
Results
4/30 (13%) reported vomiting on days 1, 2, and 3; 9/30 (30%) reported nausea higher than score 4 on days 1, 2, and 3; 8/30 (26.6%) reported gastric pain higher than score 4 on days 1, 2, and 3.
Conclusion
In our experience, the use of a single-pill netupitant/palonosetron resulted to be very easy to administer and effective in reducing vomit, nausea, and gastric pain in 87%, 70%, and 73.4% patients respectively, ameliorating the post Elipse™ placements symptoms safely.
Access options
Buy single article
Instant access to the full article PDF.
USD 39.95
Price excludes VAT (USA)
Tax calculation will be finalised during checkout.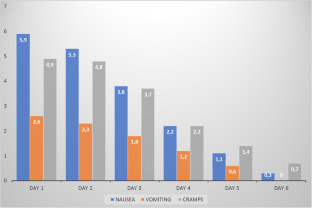 References
Genco A, Bruni T, Doldi SB, et al. Bio Enterics intragastric balloon: the Italian experience with 2,515 patients. Obes Surg. 2005;15(8):1161–4.

Ponce J, Woodman G, Swain J, et al. The REDUCE pivotal trial: a prospective, randomized controlled pivotal trial of a dual intragastric balloon for the treatment of obesity. Surg Obes Relat Dis. 2015;11:874–81.

Imaz I, Martínez-Cervell C, García-Alvarez EE, et al. Safety and effectiveness of the intragastric balloon for obesity. A meta-analysis. Obes Surg. 2008;18(7):841–6.

Machytka E, Gaur S, Chuttani R, et al. Elipse, the first procedureless gastric balloon for weight loss: a prospective, observational, open-label, multicenter study. Endoscopy. 2017;49(2):154–60.

Trang J, Lee SS, Miller A, et al. Incidence of nausea and vomiting after intragastric balloon placement in bariatric patients - a systematic review and meta-analysis. Int J Surg. 2018;57:22–9.

Van Hee R, Van Wiemeersch S, Lasters MD, et al. Use of anti-emetics after intragastric balloon placement: experience with three different drug treatment. Obes Surg. 2003;13(6):932–7.

Jeffey B, Eduard T, Miriam G, et al. A highly effective anti-vomiting regimen post Intragastric balloon implantation. Presentation number: Mo 1952

Aapro M, Jordan K, Gralla RJ, et al. Safety and efficacy of NEPA, an oral fixed combination of netupitant and palonosetron, in older patients. J Geriatr Oncol. 2017 Jan;8(1):56–63.

Rugo HS, Rossi G, Rizzi G, et al. Efficacy of NEPA (netupitant/palonosetron) across multiple cycles of chemotherapy in breast cancer patients: a subanalysis from two phase III trials. Breast. 2017;33:76–82.

Clark-Snow RA, Vidall C, Börjeson S, et al. Fixed combination antiemetic: a literature review on prevention of chemotherapy-induced nausea and vomiting using netupitant/palonosetron. Clin J Oncol Nurs. 2018;22(2):E52–63.

Dennis J, Leonard J, Baker DE, et al. Netupitant/Palonosetron. Hosp Pharm. 2015;50(4):310–25.

Navari RM. Profile of netupitant/palonosetron (NEPA) fixed dose combination and its potential in the treatment of chemotherapy-induced nausea and vomiting (CINV). Drug Des Devel Ther. 2014;17(9):155–61.

Falk V, Eccles JK, KarmalI S, et al. Intragastric balloon removal: puncture, dilate, deflate. Journal of the Canadian Association of Gastroenterology, Volume 1, Issue suppl_2, February 2018, Pages 449–450

Genco A, Ernesti I, Ienca R, et al. Safety and efficacy of a new swallowable intragastric balloon not needing endoscopy: early Italian experience. Obes Surg. 2018;28(2):405–9.

Raftopoulos I, Giannakou A. The Elipse balloon, a swallowable gastric balloon for weight loss not requiring sedation, anesthesia or endoscopy: a pilot study with 12-month outcomes. Surg Obes Relat Dis. 2017;13(7):1174–82.

Abdelhamid SA, Kamel MS. A prospective controlled study to assess the antiemetic effect of midazolam following intragastric balloon insertion. J Anaesthesiol Clin Pharmacol. 2014;30(3):383–6.
Ethics declarations
Conflict of Interest
Roberta Ienca and Cristiano Giardiello are consultants for Allurion; Faruq Badiuddin is an advisor for Allurion. The authors declare that there are no other conflicts of interest for this study.
Ethical Approval
All procedures performed in the studies involving human participants were in accordance with the ethical standards of the institutional and/or national research committee and with the 1964 Helsinki declaration and its later amendments or comparable ethical standards.
Informed Consent
Informed consent was obtained from all individual participants included in the study.
Additional information
Publisher's Note
Springer Nature remains neutral with regard to jurisdictional claims in published maps and institutional affiliations.
About this article
Cite this article
Ienca, R., Giardiello, C., Scozzarro, A. et al. Improving Nausea and Vomiting Post-Elipse Balloon: a Novel Single-Dose Regimen of 300 mg Netupitant/0.5 mg Palonosetron Hydrochloride. OBES SURG 29, 2952–2956 (2019). https://doi.org/10.1007/s11695-019-03937-x
Published:

Issue Date:

DOI: https://doi.org/10.1007/s11695-019-03937-x
Keywords
Weight loss

Obesity

Intra-gastric balloon

Intra-gastric balloon drug therapy

Overweight

Elispe balloon

Anti-emetic drug

Balloon side effects

Nausea

Vomiting