Abstract
Background
No real consensus regarding the definition of dumping syndrome (DS) seems to exist and few subtyping is used in clinical practice. Knowledge is needed for correct design of trials and establishment of uniform treatment strategies. The aim of this study is to explore the distribution of clinical characteristics related to the subtypes of DS.
Methods
A comprehensive search was performed in Cochrane, Google Scholar, PubMed, and ResearchGate. Data were collected on the definition and diagnostics of DS used in each study.
Results
Twenty-seven clinical trials were included. Seventeen articles clearly provided a definition of DS and ten of these differentiated between early and late DS. Diagnose of DS was based on clinical symptoms (24 articles), hemodynamic parameters (e.g., tachycardia, hypotension; 9 articles), and biochemical analysis (e.g., blood sugar level; 12 articles). Questionnaires were used in 13 articles. A total of 67 different symptoms were correlated with dumping syndrome. Two symptoms were exclusively correlated with early and nine with late DS. Nine articles differentiated between early and late dumping based on timing since the last meal. Hypoglycemia was correlated with late DS in ten articles.
Conclusions
This study reveals a vast heterogeneity in the definition and clinical characteristics of DS after RYGB. We feel that a standardized definition is required to provide a firm parameter in the evaluation and setup of clinical trials. A better understanding and description of the definition and diagnostic criteria of DS after RYGB is crucial to improve scientific reporting.
Access options
Buy single article
Instant access to the full article PDF.
US$ 39.95
Tax calculation will be finalised during checkout.
Subscribe to journal
Immediate online access to all issues from 2019. Subscription will auto renew annually.
US$ 79
Tax calculation will be finalised during checkout.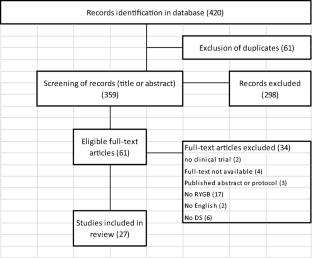 References
1.

Adams TD, Davidson LE, Litwin SE, et al. Weight and metabolic outcomes 12 years after gastric bypass. N Engl J Med. 2017;377:1143–55.

2.

Fried M, Yumuk V, Oppert JM, et al. Interdisciplinary European guidelines on metabolic and bariatric surgery. Obes Facts. 2013;6:449–68.

3.

van Beek AP, Emous M, Laville M, et al. Dumping syndrome after esophageal, gastric or bariatric surgery: pathophysiology, diagnosis, and management. Obes Rev. 2017 Jan;18(1):68–85.

4.

Higgins JPT, Green S. Cochrane Handbook for Systematic Reviews of Interventions Version 5.1.0 [updated March 2011]. The Cochrane Collaboration; 2011. www.handbook.cochrane.org.

5.

Moher D, Liberati A, Tetzlaff J, et al. Preferred reporting items for systematic reviews and meta-analyses: the PRISMA statement. J Clin Epidemiol. 2009;62(10):1006–12.

6.

Arman GA, Himpens J, Bolckmans R, et al. Medium-term outcomes after reversal of Roux-en-Y gastric bypass. Obes Surg. 2018;28:781–90.

7.

Dapri G, Cadière GB, Himpens J. Laparoscopic reconversion of Roux-en-Y gastric bypass to original anatomy: technique and preliminary outcomes. Obes Surg. 2011;21:1289–95.

8.

Emous M, Wolffenbuttel BH, Totté E, et al. The short- to mid-term symptom prevalence of dumping syndrome after primary gastric-bypass surgery and its impact on health-related quality of life. Surg Obes Relat Dis. 2017;13:1489–500.

9.

Fernández-Esparrach G, Lautz DB, Thompson CC. Peroral endoscopic anastomotic reduction improves intractable dumping syndrome in Roux-en-Y gastric bypass patients. Surg Obes Relat Dis. 2010;6:36–40.

10.

Kalarchian MA, King WC, Devlin MJ, et al. Surgery-related gastrointestinal symptoms in a prospective study of bariatric surgery patients: 3-year follow-up. Surg Obes Relat Dis. 2017;13:1562–71.

11.

Kalarchian MA, Marcus MD, Courcoulas AP, et al. Self-report of gastrointestinal side effects after bariatric surgery. Surg Obes Relat Dis. 2014;10:1202–7.

12.

Lakdawala M, Limas P, Dhar S, et al. Laparoscopic revision of Roux-en-Y gastric bypass to sleeve gastrectomy: a ray of hope for failed Roux-en-Y gastric bypass: laparoscopic revision of RYGB to SG. Asian J Endosc Surg. 2016;9:122–7.

13.

Laurenius A, Engström M. Early dumping syndrome is not a complication but a desirable feature of Roux-en-Y gastric bypass surgery: Patients' perspective on dumping syndrome. Clin Obes. 2016;6:332–40.

14.

Frantzides CT, Carlson MA, Shostrom VK, et al. A survey of dumping symptomatology after gastric bypass with or without lesser omental transection. Obes Surg. 2011;21:186–93.

15.

Laurenius A, Werling M, Roux CW, et al. Dumping symptoms is triggered by fat as well as carbohydrates in patients operated with Roux-en-Y gastric bypass. Surg Obes Relat Dis. 2017;13:1159–64.

16.

Leitman IM, Virk CS, Avgerinos DV, et al. Early results of trans-oral endoscopic plication and revision of the gastric pouch and stoma following Roux-en-Y gastric bypass surgery. JSLS. 2010;14:217–20.

17.

Nguyen NQ, Debreceni TL, Bambrick JE, et al. Rapid gastric and intestinal transit is a major determinant of changes in blood glucose, intestinal hormones, glucose absorption and postprandial symptoms after gastric bypass: GI transit and glycemic responses after RYGB. Obesity. 2014;22:2003–9.

18.

Nguyen NQ, Debreceni TL, Burgstad CM, et al. Effects of fat and protein preloads on pouch emptying, intestinal transit, glycaemia, gut hormones, glucose absorption, blood pressure and gastrointestinal symptoms after Roux-en-Y gastric bypass. Obes Surg. 2016;26:77–84.

19.

Ramadan M, Loureiro M, Laughlan K, et al. Risk of dumping syndrome after sleeve gastrectomy and Roux-en-Y gastric bypass: early results of a multicentre prospective study. Gastroenterol Res Pract. 2016;2016:1–5.

20.

Ritz P, Vaurs C, Bertrand M, et al. Usefulness of acarbose and dietary modifications to limit glycemic variability following Roux-en-Y gastric bypass as assessed by continuous glucose monitoring. Diabetes Technol Ther. 2012;14:736–40.

21.

Stier C, Chiappetta S. Endoluminal revision (OverStitch TM, Apollo endosurgery) of the dilated gastroenterostomy in patients with late dumping syndrome after proximal Roux-en-Y gastric bypass. Obes Surg. 2016;26:1978–84.

22.

Wölnerhanssen BK, Meyer-Gerspach AC, Peters T, et al. Incretin effects, gastric emptying and insulin responses to low oral glucose loads in patients after gastric bypass and lean and obese controls. Surg Obes Relat Dis. 2016;12:1320–7.

23.

Carter C, Fernandez A, McNatt S, et al. Conversion from gastric bypass to sleeve gastrectomy for complications of gastric bypass. Surg Obes Relat Dis. 2015;11:S178–9.

24.

Dalcanale L, Oliveira CP, Faintuch J, et al. Long-term nutritional outcome after gastric bypass. Obes Surg. 2010;20:181–7.

25.

Heinlein CR. Dumping syndrome in Roux-en-Y bariatric surgery patients: are they prepared. Bariatric Nurs Surg Patient Care. 2009;4:39–47.

26.

Kellogg TA, Bantle JP, Leslie DB, et al. Postgastric bypass hyperinsulinemic hypoglycemia syndrome: characterization and response to a modified diet. Surg Obes Relat Dis. 2008;4:492–9.

27.

Nielse JB, Pedersen AM, Gribsholt SB, et al. Prevalence, severity, and predictors of symptoms of dumping and hypoglycemia after Roux-en-Y gastric bypass. Surg Obes Relat Dis. 2016;12:1562–8.

28.

Padoin AV, Neto MG, Moretto M, et al. Obese patients with type 2 diabetes submitted to banded gastric bypass: greater incidence of dumping syndrome. Obes Surg. 2009;19:1481–4.

29.

Sima E, Hedberg J, Sundbom M. Gastrointestinal symptoms, weight loss and patient satisfaction 5 years after gastric bypass: a study of three techniques for the gastrojejunal anastomosis. Surg Endosc. 2016;30:1553–8.

30.

Valderas JP, Ahuad J, Rubio L, et al. Acarbose improves hypoglycaemia following gastric bypass surgery without increasing glucagon-like peptide 1 levels. Obes Surg. 2012;22:582–6.

31.

Vilallonga R, Vrande S, Himpens J. Laparoscopic reversal of Roux-en-Y gastric bypass into normal anatomy with or without sleeve gastrectomy. Surg Endosc. 2013;27:4640–8.

32.

Arts J, Caenepeel P, Bisschops R, et al. Efficacy of the longacting repeatable formulation of the somatostatin analogue octreotide in postoperative dumping. Clin Gastroenterol Hepatol. 2009;7:432–7.

33.

Sigstad H. A clinical diagnostic index in the diagnosis of the dumping syndrome. Changes in plasma volume and blood sugar after a test meal. Acta Med Scand. 1970;188:479–86.

34.

Laurenius A, Olbers T, Näslund I, et al. Dumping syndrome following gastric bypass: validation of the dumping symptom rating scale. Obes Surg. 2013;23(6):740–55.

35.

Hertz AF. The cause and treatment of certain unfavorable after-effects of gastro-enterostomy. Ann Surg. 1913;58(4):466–72.

36.

Andrews, EW. Dumping stomach and other results of gastrojejunostomy: operative cure by disconnecting old stoma. Surg Clin Chicago. 1920;4:883–892.

37.

Anderson CD, Gunn RT, Watt JK. Results of partial gastrectomy in treatment of peptic ulcer. Br Med J. 1955;1(4912):508–11.

38.

Machella TE. The mechanism of the post-gastrectomy "dumping" syndrome. Ann Surg. 1949;130:145–59.

39.

Lawaetz O, Blackburn AM, Bloom SR, et al. Gut hormone profile and gastric emptying in the dumping syndrome. A hypothesis concerning the pathogenesis. Scand J Gastroenterol. 1983;18:73–80.

40.

Gilbert JAL, Dunlop DM. Hypoglycemia following partial gastrectomy. Br Med J. 1947;30:330.

41.

Vecht J, Masclee AA, Lamers CB. The dumping syndrome. Current insights into pathophysiology, diagnosis and treatment. Scand J Gastroenterol Suppl. 1997;223:21–7.

42.

Eloy R, Garaud JC, Moody A, et al. Jejunal factor stimulating insulin release in the isolated perfused canine pancreas and jejunum. Horm Metab Res. 1975;7:461–7.

43.

Abrahamsson N, Engstrom BE, Sundbom M, et al. GLP1 analogs as treatment of postprandial hypoglycemia following gastric bypass surgery: a potential new indication? Eur J Endocrinol. 2013;169:885–9.

44.

Keller J, Bassotti G, Clarke J, et al. Advances in the diagnosis and classification of gastric and intestinal motility disorders. Nat Rev Gastroenterol Hepatol. 2018;15:291–308.
Ethics declarations
Conflict of Interest
The authors declare that they have no conflict of interest.
Ethical Approval Statement
This article does not contain any studies with human participants or animals performed by any of the authors.
Informed Consent Statement
Does not apply.
Additional information
Publisher's Note
Springer Nature remains neutral with regard to jurisdictional claims in published maps and institutional affiliations.
Appendix I – syntaxes used for the search in the different available databases
Appendix I – syntaxes used for the search in the different available databases
exp. dumping syndrome/co, di, dm, dt, ep, et, pc, si, su, th [Complication, Diagnosis, Disease Management, Drug Therapy, Epidemiology, Etiology, Prevention, Side Effect, Surgery, Therapy]
Cochrane
MeSH descriptor: [Dumping Syndrome] explode all trees
Web of science
TS = (dumping AND syndrome)
PubMed publisher
("Dumping Syndrome"[Mesh]) AND "Gastric Bypass"[Mesh]
Google scholar
allintitle: "dumping syndrome" and "gastric bypass".
About this article
Cite this article
Gys, B., Plaeke, P., Lamme, B. et al. Heterogeneity in the Definition and Clinical Characteristics of Dumping Syndrome: a Review of the Literature. OBES SURG 29, 1984–1989 (2019). https://doi.org/10.1007/s11695-019-03818-3
Keywords
RYGB

Dumping

Syndrome

Definition

Heterogeneity

Review