Abstract
Background
Knotless barbed sutures can eliminate knot tying during the bariatric surgery (BS). Since effects reported on patients and surgeons are ambiguous, this study is determined to identify the effectiveness and safety of knotless barbed suture in BS.
Methods
PubMed, EMBASE, Cochrane Register of Clinical Studies, and ClinicalTrials.gov were searched for randomized controlled trials (RCTs) and cohort studies comparing barbed sutures with conventional sutures in BS (until July 2, 2018). Quality assessment was conducted due to Cochrane's recommendations. Review Manager was applied to analyze the data, and we performed subgroup analyses based on study design type and surgery type.
Results
A total of four cohort studies (25,505 patients, low to moderate risk of bias) and four RCTs (1480 patients, low to moderate risk of bias) proved eligible. BS includes laparoscopic Roux-en-Y gastric bypass and laparoscopic sleeve gastrectomy. Comparing to conventional suture, pooling data showed that suture time (MD = − 4.87, 95%CI − 8.82 to − 0.92, P = 0.02) and operative time (MD = − 7.88, 95%CI − 14.10 to − 1.67, P = 0.01) declined significantly in the barbed group. Although no significant change was in the overall postoperative complications and hospital stay, subgroup analysis of RCTs suggested that significantly, fewer bleeding conditions happened in barbed groups.
Conclusions
Although quality of all the studies was relatively moderate and the number of the included studies was limited, the barbed suture may have the potentiality to be an effective and reliable technique and extend the application in other bariatric surgeries. More evidence with randomized design, larger sample sizes, and longer follow-up need to compel validations of this state-of-the-art in the future.
This is a preview of subscription content, log in to check access.
Access options
Buy single article
Instant access to the full article PDF.
US$ 39.95
Price includes VAT for USA
Subscribe to journal
Immediate online access to all issues from 2019. Subscription will auto renew annually.
US$ 99
This is the net price. Taxes to be calculated in checkout.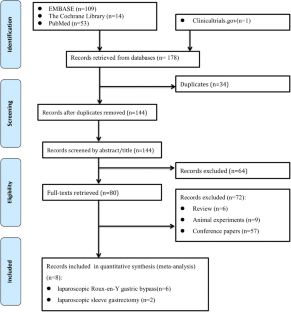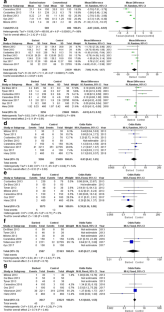 References
1.

Ng M, Fleming T, Robinson M, et al. Global, regional, and national prevalence of overweight and obesity in children and adults during 1980-2013: a systematic analysis for the Global Burden of Disease Study 2013. Lancet. 2014;384(9945):766–81.

2.

Finkelstein EA, Khavjou OA, Thompson H, et al. Obesity and severe obesity forecasts through 2030. Am J Prev Med. 2012;42(6):563–70.

3.

Arterburn DE, Courcoulas AP. Bariatric surgery for obesity and metabolic conditions in adults. BMJ. 2014;349:g3961.

4.

Angrisani L, Santonicola A, Iovino P, et al. Bariatric surgery worldwide 2013. Obes Surg. 2015;25(10):1822–32.

5.

Ritter EM, McClusky 3rd DA, Gallagher AG, et al. Real-time objective assessment of knot quality with a portable tensiometer is superior to execution time for assessment of laparoscopic knot-tying performance. Surg Innov. 2005;12(3):233–7.

6.

Facy O, De Blasi V, Goergen M, et al. Laparoscopic gastrointestinal anastomoses using knotless barbed sutures are safe and reproducible: a single-center experience with 201 patients. Surg Endosc. 2013;27(10):3841–5.

7.

Ruff GL. The history of barbed sutures. Aesthet Surg J. 2013;33(3 Suppl):12s–6s.

8.

Warner JP, Gutowski KA. Abdominoplasty with progressive tension closure using a barbed suture technique. Aesthet Surg J. 2009;29(3):221–5.

9.

Lin YF, Lai SK, Liu QY, et al. Efficacy and safety of barbed suture in minimally invasive radical prostatectomy: a systematic review and meta-analysis. Kaohsiung J Med Sci. 2017;33(3):107–15.

10.

Lin Y, Lai S, Huang J, et al. The efficacy and safety of knotless barbed sutures in the surgical field: a systematic review and meta-analysis of randomized controlled trials. Sci Rep. 2016;6:23425.

11.

Weld KJ, Ames CD, Hruby G, et al. Evaluation of a novel knotless self-anchoring suture material for urinary tract reconstruction. Urology. 2006;67(6):1133–7.

12.

Rashid RM, Sartori M, White LE, et al. Breaking strength of barbed polypropylene sutures: rater-blinded, controlled comparison with nonbarbed sutures of various calibers. Arch Dermatol. 2007;143(7):869–72.

13.

Rogula T, Khorgami Z, Bazan M, et al. Comparison of reinforcement techniques using suture on staple-line in sleeve gastrectomy. Obes Surg. 2015;25(11):2219–24.

14.

Dindo D, Demartines N, Clavien PA. Classification of surgical complications: a new proposal with evaluation in a cohort of 6336 patients and results of a survey. Ann Surg. 2004;240(2):205–13.

15.

Higgins JP, Altman DG, Gotzsche PC, et al. The Cochrane Collaboration's tool for assessing risk of bias in randomised trials. BMJ. 2011;343:d5928.

16.

Stang A. Critical evaluation of the Newcastle-Ottawa scale for the assessment of the quality of nonrandomized studies in meta-analyses. Eur J Epidemiol. 2010;25(9):603–5.

17.

Costantino F, Dente M, Perrin P, et al. Barbed unidirectional V-Loc 180 suture in laparoscopic Roux-en-Y gastric bypass: a study comparing unidirectional barbed monofilament and multifilament absorbable suture. Surg Endosc. 2013;27(10):3846–51.

18.

Bautista T, Shabbir A, Rao J, et al. Enterotomy closure using knotless and barbed suture in laparoscopic upper gastrointestinal surgeries. Surg Endosc. 2016;30(4):1699–703.

19.

De Blasi V, Facy O, Goergen M, et al. Barbed versus usual suture for closure of the gastrojejunal anastomosis in laparoscopic gastric bypass: a comparative trial. Obes Surg. 2013;23(1):60–3.

20.

Vidarsson B, Sundbom M, Edholm D. Shorter overall operative time when barbed suture is used in primary laparoscopic gastric bypass: a cohort study of 25,006 cases. Surg Obes Relat Dis. 2017;13(9):1484–8.

21.

Milone M, Di Minno MN, Galloro G, et al. Safety and efficacy of barbed suture for gastrointestinal suture: a prospective and randomized study on obese patients undergoing gastric bypass. J Laparoendosc Adv Surg Tech A. 2013;23(9):756–9.

22.

Gys B, Gys T, Lafullarde T. The use of unidirectional knotless barbed suture for enterotomy closure in Roux-en-Y gastric bypass: a randomized comparative study. Obes Surg. 2017;27(8):2159–63.

23.

Hany M, Ibrahim M. Comparison between stable line reinforcement by barbed suture and non-reinforcement in sleeve gastrectomy: a randomized prospective controlled study. Obes Surg. 2018;28:2157–64.

24.

Carandina S, Tabbara M, Bossi M, et al. Staple line reinforcement during laparoscopic sleeve gastrectomy: absorbable monofilament, barbed suture, fibrin glue, or nothing? Results of a prospective randomized study. J Gastrointestin Surg. 2016;20(2):361–6.

25.

Kadirkamanathan SS, Shelton JC, Hepworth CC, et al. A comparison of the strength of knots tied by hand and at laparoscopy. J Am Coll Surg. 1996;182(1):46–54.

26.

Maconi G, Sampietro GM, Parente F, et al. Contrast radiology, computed tomography and ultrasonography in detecting internal fistulas and intra-abdominal abscesses in Crohn's disease: a prospective comparative study. Am J Gastroenterol. 2003;98(7):1545–55.

27.

Pickhardt PJ, Bhalla S, Balfe DM. Acquired gastrointestinal fistulas: classification, etiologies, and imaging evaluation. Radiology. 2002;224(1):9–23.

28.

Yavuz A, Bulus H. The effect of reinforcement methods with knotted and knotless sutures: comparison of burst pressures. J Laparoendosc Adv Surg Tech A. 2017;27(6):629–32.

29.

Vakil JJ, O'Reilly MP, Sutter EG, et al. Knee arthrotomy repair with a continuous barbed suture: a biomechanical study. J Arthroplast. 2011;26(5):710–3.

30.

Gililland JM, Anderson LA, Sun G, et al. Perioperative closure-related complication rates and cost analysis of barbed suture for closure in TKA. Clin Orthop Relat Res. 2012;470(1):125–9.

31.

Zorn KC, Trinh QD, Jeldres C, et al. Prospective randomized trial of barbed polyglyconate suture to facilitate vesico-urethral anastomosis during robot-assisted radical prostatectomy: time reduction and cost benefit. BJU Int. 2012;109(10):1526–32.
Funding
This study is supported by Grant No. 81403276 and No. 81873197 from the National Natural Science Foundation of China and Grant No. JH20140066 from the Technology Support Program of Science and Technology Department of Sichuan Province.
Ethics declarations
Conflict of Interest
The authors declare that they have no conflict of interest.
Additional information
Publisher's Note
Springer Nature remains neutral with regard to jurisdictional claims in published maps and institutional affiliations.
Electronic supplementary material
About this article
Cite this article
Lin, Y., Long, Y., Lai, S. et al. The Effectiveness and Safety of Barbed Sutures in the Bariatric Surgery: a Systematic Review and Meta-analysis. OBES SURG 29, 1756–1764 (2019). https://doi.org/10.1007/s11695-019-03744-4
Keywords
Barbed suture

Bariatric surgery

Surgical technique

Systematic review