Abstract
Background
Pain management after bariatric surgery is challenging. Recent trials have been exploring the role of intravenous (IV) acetaminophen in multimodal analgesic therapy. This systematic review and meta-analysis assessed the effect of IV acetaminophen compared to placebo for pain management after bariatric surgery.
Methods
A comprehensive search of MEDLINE, Embase, CENTRAL, and PubMed databases were performed. Randomized controlled trials (RCTs) comparing IV acetaminophen to placebo as part of multimodal pain management after bariatric surgery in patients with obesity were included. Key outcomes were analyzed using random-effects meta-analysis, and the certainty of evidence was assessed using the Grading of Recommendations, Assessment, Development, and Evaluation (GRADE).
Results
Four RCTs including 349 patients met the inclusion criteria, of whom 175 were provided IV acetaminophen and 174 were provided placebo. Patients given IV acetaminophen demonstrated a lower postoperative pain score (mean difference (MD) − 0.66, 95% CI − 1.03 to − 0.28, P < 0.001) 24 h after surgery and lower postoperative opioid use (MD − 6.44, 95% CI − 9.26 to − 3.61, P < 0.001; I2 = 0%) in morphine equivalent doses (MED) within 24 h compared with the placebo group. There was no significant difference in length of stay between groups (MD − 0.26, 95% CI − 0.55 to 0.03, P = 0.08).
Conclusions
The use of IV acetaminophen after bariatric surgery is effective in reducing pain score after 24 h and postoperative opioid doses, but not length of stay. Provided the benefits of IV acetaminophen, its addition to postoperative care and enhanced recovery programs may be warranted.
This is a preview of subscription content, log in to check access.
Access options
Buy single article
Instant access to the full article PDF.
US$ 39.95
Price includes VAT for USA
Subscribe to journal
Immediate online access to all issues from 2019. Subscription will auto renew annually.
US$ 99
This is the net price. Taxes to be calculated in checkout.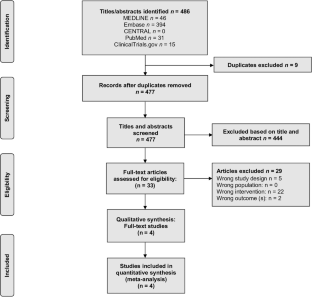 References
1.

Chang S-H, Stoll CRT, Song J, et al. The effectiveness and risks of bariatric surgery. JAMA Surg. 2014;149(3):275–87.

2.

World Health Organization. Obesity and overweight. 2016. Available from: https://www.who.int/news-room/fact-sheets/detail/obesity-and-overweight. Accessed 24 Oct 2018.

3.

Apfelbaum JL, Chen C, Mehta SS, et al. Postoperative pain experience: results from a national survey suggest postoperative pain continues to be undermanaged. Anesth Analg. 2003;97(2):534–40. table of contents.

4.

Chou R, Gordon DB, De Leon-Casasola OA, et al. Management of postoperative pain: a clinical practice guideline from the American Pain Society, the American Society of Regional Anesthesia and Pain Medicine, and the American Society of Anesthesiologists' Committee on Regional Anesthesia, Executive Committee, and Administrative Council. J Pain. 2016;17(2):131–57.

5.

Benyamin R, Trescot AM, Datta S, et al. Opioid complications and side effects. Pain Physician. 2008;11(Suppl 2):S105–20.

6.

Lopez PP, Stefan B, Schulman CI, et al. Prevalence of sleep apnea in morbidly obese patients who presented for weight loss surgery evaluation: more evidence for routine screening for obstructive sleep apnea before weight loss surgery. Am Surg. 2008;74(9):834–8.

7.

Kalra M, Inge T, Garcia V, et al. Obstructive sleep apnea in extremely overweight adolescents undergoing bariatric surgery. Obes Res. 2005;13(7):1175–9.

8.

Gallagher SF, Haines KL, Osterlund LG, et al. Postoperative hypoxemia: common, undetected, and unsuspected after bariatric surgery. J Surg Res. 2010;159(2):622–6.

9.

Apfelbaum JL, Ashburn MA, Connis RT, et al. Practice guidelines for acute pain management in the perioperative setting. Anesthesiology. 2012;116(2):248–73.

10.

Food and Drug Administration. Ofirmev Label | Highlights of Prescribing Information. 2010. Available from: https://www.accessdata.fda.gov/drugsatfda_docs/label/2010/022450lbl.pdf.

11.

Atef A, Fawaz AA. Intravenous paracetamol is highly effective in pain treatment after tonsillectomy in adults. Eur Arch Oto-Rhino-Laryngology. 2008;265(3):351–5.

12.

Memis D, Inal MT, Kavalci G, et al. Intravenous paracetamol reduced the use of opioids, extubation time, and opioid-related adverse effects after major surgery in intensive care unit. J Crit Care. 2010;25(3):458–62.

13.

Sinatra RS, Jahr JS, Reynolds LW, et al. Efficacy and safety of single and repeated administration of 1 gram intravenous acetaminophen injection (paracetamol) for pain management after major orthopedic surgery. Anesthesiology. 2005;102(4):822–31.

14.

Jibril F, Sharaby S, Mohamed A, et al. Intravenous versus oral acetaminophen for pain: systematic review of current evidence to support clinical decision-making. Can J Hosp Pharm. 2015;68(3):238–47.

15.

Blank JJ, Berger NG, Dux JP, et al. The impact of intravenous acetaminophen on pain after abdominal surgery: a meta-analysis. J Surg Res. 2018;227:234–45.

16.

Wasserman I, Poeran J, Zubizarreta N, et al. Impact of intravenous acetaminophen on perioperative opioid utilization and outcomes in open colectomies. Anesthesiology. 2018;129(1):77–88.

17.

Moher D, Liberati A, Tetzlaff J and Altman D. The PRISMA Group. Preferred reporting items for systematic reviews and meta-analyses: the PRISMA statement. Ann Intern Med 2009;151(4):264–269.

18.

Blaudszun G, Lysakowski C, Elia N, et al. Effect of perioperative systemic α2 agonists on postoperative morphine consumption and pain intensity. Anesthesiology. 2012;116(6):1312–22.

19.

Practical Pain Management. Opioid conversions and opioid dosing calculator - opioid conversion calculator. 1999. Available from: https://opioidcalculator.practicalpainmanagement.com/conversion.php.

20.

Higgins JPT, Altman DG, Gøtzsche PC, et al. The Cochrane Collaboration's tool for assessing risk of bias in randomised trials. BMJ. 2011;343:5928.

21.

Guyatt GH, Oxman AD, Vist GE, et al. GRADE: an emerging consensus on rating quality of evidence and strength of recommendations. BMJ. 2008;336(7650):924–6.

22.

The Cochrane Collaboration. GRADEpro GDT. Cochrane community. 2017.

23.

Wan X, Wang W, Liu J, et al. Estimating the sample mean and standard deviation from the sample size, median, range and/or interquartile range. BMC Med Res Methodol. 2014;14(1):135.

24.

Strode MA, Sherman W, Mangieri CW, et al. Randomized trial of OFIRMEV versus placebo for pain management after laparoscopic sleeve gastrectomy. Surg Obes Relat Dis. 2016;12(4):772–7.

25.

El Chaar M, Stoltzfus J, Claros L, et al. IV acetaminophen results in lower hospital costs and emergency room visits following bariatric surgery: a double-blind, prospective, randomized trial in a single accredited bariatric center. J Gastrointest Surg. 2016;20(4):715–24.

26.

Lange M, Lee CW, Knisely T, et al. Efficacy of intravenous acetaminophen in length of stay and postoperative pain control in laparoscopic Roux-en-Y gastric bypass surgery patients. Bariatr Surg Pract Patient Care. 2018;13(3):103–8.

27.

Cooke FE, Samuels JD, Pomp A, et al. A randomized, double-blind, placebo-controlled trial of intravenous acetaminophen on hospital length of stay in obese individuals undergoing sleeve gastrectomy. Obes Surg. 2018;28(10):2998–3006.

28.

Remy C, Marret E, Bonnet F. Effects of acetaminophen on morphine side-effects and consumption after major surgery: meta-analysis of randomized controlled trials † †presented in part at the annual meeting of the Société Française d'Anesthésie-Réanimation, Paris, April 2004. Br J Anaesth. 2005;94(4):505–13.

29.

Balshem H, Helfand M, Schünemann HJ, et al. GRADE guidelines: rating the quality of evidence. J Clin Epidemiol. 2011;64(4):401–6.

30.

Thorell A, MacCormick AD, Awad S, et al. Guidelines for perioperative care in bariatric surgery: enhanced recovery after surgery (ERAS) society recommendations. World J Surg. 2016;40(9):2065–83.

31.

White PF, Kehlet H, Neal JM, et al. The role of the anesthesiologist in fast-track surgery: from multimodal analgesia to perioperative medical care. Anesth Analg. 2007;104(6):1380–96.

32.

Maund E, McDaid C, Rice S, et al. Paracetamol and selective and non-selective non-steroidal anti-inflammatory drugs for the reduction of morphine-related side-effects after major surgery: a systematic review. Br J Anaesth. 2011;106(3):292–7.

33.

Olsen MF, Bjerre E, Hansen MD, et al. Pain relief that matters to patients: systematic review of empirical studies assessing the minimum clinically important difference in acute pain. BMC Med. 2017;15(1):35.

34.

Mechanick JI, Youdim A, Jones DB, et al. Clinical practice guidelines for the perioperative nutritional, metabolic, and nonsurgical support of the bariatric surgery patient--2013 update: cosponsored by American Association of Clinical Endocrinologists, The Obesity Society, and American Society for Metabolic & Bariatric Surgery. Obesity (Silver Spring). 2013;21:S1–27.

35.

Felix EL, Kettelle J, Mobley E, et al. Perforated marginal ulcers after laparoscopic gastric bypass. Surg Endosc. 2008;22(10):2128–32.

36.

Khoueir P, Black MH, Crookes PF, et al. Prospective assessment of axial back pain symptoms before and after bariatric weight reduction surgery. Spine J. 2009;9(6):454–63.

37.

Korenkov M, Shah S, Sauerland S, et al. Impact of laparoscopic adjustable gastric banding on obesity co-morbidities in the medium- and long-term. Obes Surg. 2007;17(5):679–83.

38.

Raebel MA, Newcomer SR, Reifler LM, et al. Chronic use of opioid medications before and after bariatric surgery. JAMA. 2013;310(13):1369–76.

39.

Saules KK, Wiedemann A, Ivezaj V, et al. Bariatric surgery history among substance abuse treatment patients: prevalence and associated features. Surg Obes Relat Dis. 2010;6(6):615–21.
Ethics declarations
Conflict of Interest
The authors declare that they have no conflict of interest.
Ethical Approval Statement
For this type of study formal consent is not required.
Informed Consent Statement
Does not apply.
Additional information
Publisher's Note
Springer Nature remains neutral with regard to jurisdictional claims in published maps and institutional affiliations.
Electronic Supplementary Material
About this article
Cite this article
Lee, Y., Yu, J., Doumouras, A.G. et al. Intravenous Acetaminophen Versus Placebo in Post-bariatric Surgery Multimodal Pain Management: a Meta-analysis of Randomized Controlled Trials. OBES SURG 29, 1420–1428 (2019). https://doi.org/10.1007/s11695-019-03732-8
Keywords
Acetaminophen

Postoperative pain management

Multimodal analgesia

Meta-analysis