Abstract
Background
Hepatitis C virus (HCV) is an important cause of liver cirrhosis and its complications. The safety and efficacy of bariatric surgery in patients with HCV infection is not clear.
Methods
Charts were reviewed to identify patients with HCV infection before bariatric surgery. Bariatric surgical patients with non-alcoholic steatohepatitis (NASH) and without NASH (non-NASH) were recruited as comparative groups. Demographic variables, perioperative data, follow-up, and HCV-related parameters were extracted and compared.
Results
Forty-seven bariatric patients between 2000 and 2016 that suffered from HCV infection were identified. The mean age and body mass index (BMI) at baseline were 34.5 ± 9.9 years and 40.4 ± 7.7 kg/m2, respectively. The HCV(+) group was associated with female sex, older age, lower BMI, and waist circumference than both NASH and non-NASH groups. Both HCV(+) and NASH groups had higher liver function tests and incidence of metabolic syndrome than non-NASH group. The HCV(+) group had lower uric acid and albumin level than the NASH group. Early major postoperative complication occurred in 1 (2.1%) patient of the HCV(+) group. At follow-up, the mean BMI decreased to 29.1 ± 7.1 kg/m2 and total weight loss was 25% for the HCV(+) group at 5 years after surgery. The weight loss curves were similar between the HCV(+) group and NASH group. During follow-up, no patients died but one patient with HCV(+) developed flare up of hepatitis after gastric bypass. The mean liver transaminase level remained in normal range for the HCV(+) group.
Conclusion
Co-existence of HCV infection does not influence the outcome of bariatric surgery but continued monitoring of the liver function is indicated.
This is a preview of subscription content, log in to check access.
Access options
Buy single article
Instant access to the full article PDF.
US$ 39.95
Price includes VAT for USA
Subscribe to journal
Immediate online access to all issues from 2019. Subscription will auto renew annually.
US$ 99
This is the net price. Taxes to be calculated in checkout.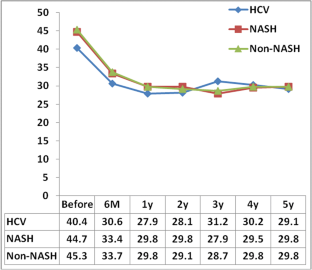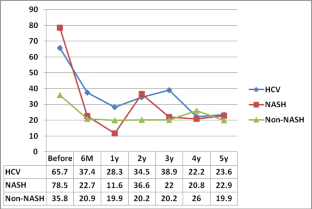 References
1.

Buchwald H, Avidor Y, Brauwald E, et al. Bariatric surgery: a systematic review and meta-analysis. JAMA. 2004;292:1724–37.

2.

Dixon JB, Bhathal PS, O'brein PE. Nonalcoholic fatty liver disease: predictors of alcoholic steatohepatitis and liver fibrosis in severely obese. Gastroenterology. 2001;121:91–100.

3.

Papadia FS, Marinari GM, Camerini G, et al. Liver damage in severely obese patients: a clinical-biochemical-morphologic study on 1,000 liver biopsies. Obes Surg. 2004;14:952–8.

4.

Abrams GA, Kunde SS, Lazenby AJ, et al. Portal fibrosis and hepatic steatosis in morbidly obese subjects: a spectrum of non-alcoholic fatty liver disease. Hepatology. 2004;40:475–83.

5.

Ong JP, Elariny H, Collantes R, et al. Predictors of nonalcoholic steatohepatitis and advanced fibrosis in morbidly obese patients. Obes Surg. 2005;15:661–9.

6.

Liew PL, Lee WJ, Lee YC, et al. Hepatic histopathology of morbid obesity: concurrence of other forms of chronic liver disease. Obes Surg. 2006;16:1584–93.

7.

Jan A, Narwaria M, Mahawar KK. A systematic review of bariatric surgery in patients with liver cirrhosis. Obes Surg. 2015;25(8):1518–26.

8.

Lavanchy D. The global burden of hepatitis C. Liver Int. 2009;29:74–81.

9.

Alberti A, Vario A, Ferrari A, et al. Review article: chronic hepatitis C – natural history and cofactors. Aliment Pharmacol Ther. 2005;22(suppl):74–8.

10.

Liew PL, Lee WJ, Wang W, et al. Fatty liver disease: predictors of nonalcoholic steatohepatitis and gallbladder disease in morbid obesity. Obes Surg. 2008;18:847–53.

11.

Brunt EM, Janney CG, Bisceglie AMD, et al. Nonalcoholic steatohepatitis: a proposal for grading and staging histologic lesions. Am J Gastroenterol. 1999l;94:2467–74.

12.

Kleiner DE, Brunt EM, Natta MV, et al. Design and validation of a histological scoring system for nonalcoholic fatty liver disease. Hepatology. 2005;41:1313–21.

13.

Machado MV, Cortez-Pinto H. Non-invasive diagnosis of non-alcoholic fatty liver disease: a critical appraisal. J Hepatol. 2013;58:1007–19.

14.

EI-Zayadi AR, Anis M. Hepatitis C virus induced insulin resistance impairs response to anti viral therapy. World J Gastroenterol. 2012;18(3):212–24.

15.

Sanyal AJ, Banas C, Sargeant C, et al. Similarities and differences in outcomes of cirrhosis due to nonalcoholic steatohepatitis and hepatitis C. Hepatology. 2006;43:682–9.

16.

Machado MV, Cortez-Pinto H. Insulin resistance and steatosis in chronic hepatitis C. Am Hepatol. 2009;8:S-67–75.

17.

Gordan A, MacLean CA, Pederson JS, et al. Hepatic steatosis in chronic hepatitis B and C: predictors, distribution and effect on fibrosis. J Hepatol. 2005;43:38–44.

18.

Joo EJ, Chang Y, Yeom JS, et al. Hepatitis B virus infection and decreased risk of nonalcoholic fatty liver disease: a cohort study. Hepatology. 2017;65(3):828–35.

19.

Lee WJ, Wang W, Lee YC, et al. Clinical characteristics and outcome of morbidly obese bariatric patients with concurrent hepatitis B viral infection. Obes Surg. 2008;18:584–94.

20.

Dixon JB, Bhathal PS, Hughes NR, et al. Non alcoholic fatty liver disease: improvement in liver histological analysis with weight loss. Hepatology. 2004;39(6):1647–54.

21.

Clark JM, Alkhuraishi ARA, Solga SF, et al. Roux-en-Y gastric bypass improves liver histology in patients with non-alcoholic fatty liver disease. Obes Res. 2005;13(7):1180–6.

22.

Tai CM, Huang CK, Hwang JC, et al. Improvement of nonalcoholic fatty liver disease after bariatric surgery in morbidly obese Chinese patients. Obes Surg. 2012;22:1016–21.

23.

Guillaume L, Robert C, Francois P, et al. Bariatric surgery for curing NASH in the morbidly obese? J Hepatol. 2013;58:1249–51.

24.

Praveen R, Rachel MG, Saravana K, et al. The effect of surgically induced weight loss on nonalcoholic fatty liver disease in morbidly obese Indians: "NASHOST" prospective observational trial. Surg Obes Relat Dis. 2015;11:1315–22.

25.

Taitano AA, Markow M, Finan JE, et al. Bariatric surgery improves histological features of nonalcoholic fatty liver disease and liver fibrosis. J Gastrointest Surg. 2015;19:429–37.

26.

Ulitsky A, Ananthakrishnan AN, Komorowski R, et al. A noninvasive clinical scoring model predicts risk of nonalcoholic steatohepatitis in morbidly obese patients. Obes Surg. 2010;20:68.

27.

Dixon JB, Bhathal PS, O'Brien PE. Weight loss and nonalcoholic fatty liver disease: falls in gamma-glutamyl transferase concentrations are associated with histologic improvement. Obes Surg. 2006;16:1278–86.

28.

Chen CY, Lee WJ, Lee HN, et al. Laparoscopic conversion of gastric bypass complication to sleeve gastrectomy: technique and early results. Obes Surg. 2016;26:2014–21.
Funding
This work was supported by grant NSC 90-2314-B-385-001 from the National Science Council, R.O.C.
Ethics declarations
Conflict of Interest
The authors declare that they have no conflict of interest.
Ethical Approval
All procedures performed in studies involving human participants were in accordance with the ethical standards of the institutional and/or national research committee and with the 1964 Helsinki Declaration and its later amendments or comparable ethical standards.
Informed Consent
This article does not contain any studies with human participants or animal performed by any of the authors. For this type of study, formal consent is not required. Informed consent does not apply to the submission.
Additional information
Publisher's Note
Springer Nature remains neutral with regard to jurisdictional claims in published maps and institutional affiliations.
About this article
Cite this article
Han, M., Lee, W., Chen, J. et al. Clinical Characteristics and Outcome of Morbidly Obese Bariatric Patients with Concurrent Hepatitis C Viral Infection. OBES SURG 29, 828–834 (2019). https://doi.org/10.1007/s11695-018-3615-z
Keywords
Bariatric surgery

HCV infection

Weight loss

Liver transaminase