Abstract
This systematic review and meta-analysis aims to establish the effects of bariatric surgery on male sex hormones, sperm parameters, and sexual function. We searched MEDLINE, EMBASE, Web of Science, and Scopus from database inception through June 2018. Articles were eligible for inclusion if they examined the effect of bariatric surgery on male sex hormones and sperm parameters in patients with obesity. Primary outcomes of interest were sex hormones and sperm quality. Secondary outcome was sexual function (International Index of Erectile Function (IIEF) score). Pooled estimates were calculated using random effects meta-analysis. A total of 28 cohort studies with 1022 patients were identified from 3896 potentially relevant citations. Both free and calculated testosterone levels were significantly increased after bariatric surgery (mean difference (MD) − 7.47 nM, 95% CI − 8.62 to − 6.31, p < 0.001 and MD − 0.05 nM, 95% CI − 0.07 to − 0.02, p < 0.001, respectively). Consistent with the increase in testosterone, LH, FSH, and SHBG levels were also significantly increased after surgery. In contrast, free and total estradiol and prolactin levels were significantly decreased after bariatric surgery. From studies that reported the IIEF score, bariatric surgery led to a significant increase in erectile function after surgery (MD − 0.46, 95% CI − 0.89 to − 0.02, p = 0.04). However, bariatric surgery did not affect sperm quality, DHEA, androstenedione, and inhibin B levels. Sustained weight-loss induced by bariatric surgery had a significant effect on increasing male sex hormones and decreasing female sex hormones in male patients with obesity. However, sperm quality and function were not improved after surgery.
Access options
Buy single article
Instant access to the full article PDF.
USD 39.95
Price excludes VAT (USA)
Tax calculation will be finalised during checkout.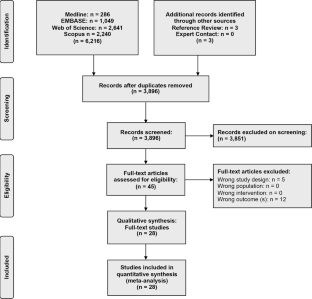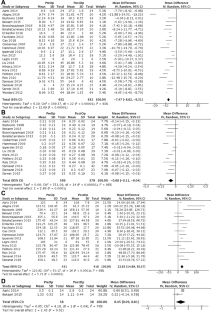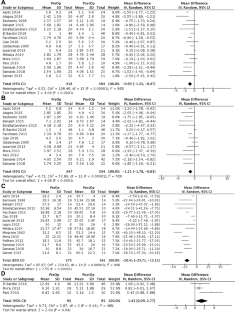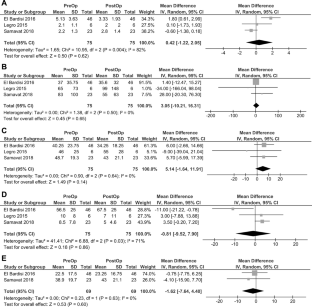 References
Nguyen DM, El-Serag HB. The epidemiology of obesity. Gastroenterol Clin N Am. 2010;39:1–7.

Katib A. Mechanisms linking obesity to male infertility. Cent Eur J Urol. 2015;68:79–85.

Kolotkin RL, Binks M, Crosby RD, et al. Obesity and sexual quality of life. Obesity. 2006;14:472–9.

Hammoud AO, Gibson M, Peterson CM, et al. Impact of male obesity on infertility: a critical review of the current literature. Fertil Steril Elsevier. 2008;90:897–904.

Palmer NO, Bakos HW, Fullston T, et al. Impact of obesity on male fertility, sperm function and molecular composition. Spermatogenesis. 2012;2:253–63.

Sallmén M, Sandler DP, Hoppin JA, et al. Reduced fertility among overweight and obese men. Epidemiology. 2006;17:520–3.

Carlsen E, Giwercman A, Keiding N, et al. Evidence for decreasing quality of semen during past 50 years. BMJ. 1992;305:609–13.

Jensen TK, Jørgensen N, Nordstro U, et al. Human semen quality in the new millennium: a prospective cross- sectional population-based study of 4867 men. BMJ Open. 2012;2:14.

GBD 2015 Obesity Collaborators, Afshin A, Forouzanfar MH, et al. Health effects of overweight and obesity in 195 countries over 25 years. N Engl J Med. 2017;377:13–27.

Grossmann M, Tang Fui M, Dupuis P. Lowered testosterone in male obesity: mechanisms, morbidity and management. Asian J Androl. 2014;16:223–31.

Zumoff B, Miller LK, Strain GW. Reversal of the hypogonadotropic hypogonadism of obese men by administration of the aromatase inhibitor testolactone. Metabolism. 2003;52:1126–8.

Kerr JB, Millar M, Maddocks S, et al. Stage-dependent changes in spermatogenesis and sertoli cells in relation to the onset of spermatogenic failure following withdrawal of testosterone. Anat Rec. 1993;235:547–59.

Chavarro JE, Toth TL, Wright DL, et al. Body mass index in relation to semen quality, sperm DNA integrity, and serum reproductive hormone levels among men attending an infertility clinic. Fertil Steril. 2010;93:2222–31.

Cohe PG. The hypogonadal-obesity cycle: role of aromatase in modulating the testosterone-estradiol shunt - a major factor in the genesis of morbid obesity. Med Hypotheses. 1999;49–51.

Phillips KP, Tanphaichitr N. Mechanisms of obesity-induced male infertility. Expert Rev Endocrinol Metab. 2010;229–51.

Sheynkin Y, Jung M, Yoo P, et al. Increase in scrotal temperature in laptop computer users. Hum Reprod. 2005;20:452–5.

SHAFIK A, OLFAT S. Lipectomy in the treatment of scrotal lipomatosis. Br J Urol. 1981;53:55–61.

Håkonsen L, Thulstrup A, Aggerholm A, Olsen J, Bonde J, Andersen C, et al. Does weight loss improve semen quality and reproductive hormones? results from a cohort of severely obese men. Reprod Health. 2011;8.

Sarwer DB, Spitzer JC, Wadden TA, et al. Sexual functioning and sex hormones in men who underwent bariatric surgery. Surg Obes Relat Dis Elsevier. 2015;11:643–51.

The Role of Bariatric Surgery in Improving Reproductive Health. 2015.

Bastounis EA, Karayiannakis AJ, Syrigos K, et al. Sex hormone changes in morbidly obese patients after vertical banded gastroplasty. Eur Surg Res. 1998;30:43–7.

Hammoud A, Gibson M, Hunt SC, et al. Effect of Roux-en-Y gastric bypass surgery on the sex steroids and quality of life in obese men. J Clin Endocrinol Metab. 2009;94:1329–32.

di Frega AS, Dale B, Di Matteo L, et al. Secondary male factor infertility after Roux-en-Y gastric bypass for morbid obesity: case report. Hum Reprod. 2005;20:997–8.

Moher D, Liberati A, Tetzlaff J, et al. Preferred reporting items for systematic reviews and meta-analyses: the PRISMA statement. Ann Intern Med. 2009;151:264–9.

Rosen RC, Riley A, Wagner G, et al. The international index of erectile function (IIEF): a multidimensional scale for assessment of erectile dysfunction. Urology. 1997;49:822–30.

Rosen RC, Cappelleri JC, Smith MD, et al. Development and evaluation of an abridged, 5-item version of the International Index of Erectile Function (IIEF-5) as a diagnostic tool for erectile dysfunction. Int J Impot Res. 1999;11:319–26.

Slim K, Nini E, Forestier D, et al. Methodological index for non-randomized studies (minors): development and validation of a new instrument. ANZ J Surg. 2003;73:712–6.

Wan X, Wang W, Liu J, et al. Estimating the sample mean and standard deviation from the sample size, median, range and/or interquartile range. BMC Med Res Methodol BioMed Central. 2014;14:135.

Pontiroli AE, Gniuli D, Mingrone G. Early effects of gastric banding (LGB) and of biliopancreatic diversion (BPD) on insulin sensitivity and on glucose and insulin response after OGTT. Obes Surg. 2010;20:474–9.

Globerman H, Shen-Orr Z, Karnieli E, et al. Inhibin B in men with severe obesity and after weight reduction following gastroplasty. Endocr Res. 2005;31:17–26.

Alagna S, Cossu M, Gallo P, et al. Biliopancreatic diversion: long-term effects on gonadal function in severely obese men. Surg Obes Relat Dis. 2006;2:82–6.

Reis LO, Favaro WJ, Barreiro GC, et al. Erectile dysfunction and hormonal imbalance in morbidly obese male is reversed after gastric bypass surgery: a prospective randomized controlled trial. Int J Androl. 2010;33:736–44.

Ranasinghe WKB, Wright T, Attia J, et al. Effects of bariatric surgery on urinary and sexual function. BJU Int. 2011;107:88–94.

Pellitero S, Olaizola I, Alastrue A, et al. Hypogonadotropic hypogonadism in morbidly obese males is reversed after bariatric surgery. Obes Surg. 2012;22:1835–42.

Woodard G, Ahmed S, Podelski V, et al. Effect of Roux-en-Y gastric bypass on testosterone and prostate-specific antigen. Br J Surg. 2012;99:693–8.

Botella-Carretero JI, Balsa JA, Gómez-Martin JM, et al. Circulating free testosterone in obese men after bariatric surgery increases in parallel with insulin sensitivity. J Endocrinol Investig. 2013;36:227–32.

Facchiano E, Scaringi S, Veltri M, et al. Age as a predictive factor of testosterone improvement in male patients after bariatric surgery: preliminary results of a monocentric prospective study. Obes Surg. 2013;23:167–72.

Ippersiel V, Lepot A, Gruson D, et al. Hypogonadotropic hypogonadism among a population of obese men: prevalence, risk factors and reversibility after weight loss induced by bariatric surgery. ESPEN J Elsevier. 2013;8:e37–43.

Luconi M, Samavat J, Seghieri G, et al. Determinants of testosterone recovery after bariatric surgery: is it only a matter of reduction of body mass index? Fertil Steril. 2013;99:1872–1879.e1.

Mora M, Aranda GB, de Hollanda A, et al. Weight loss is a major contributor to improved sexual function after bariatric surgery. Surg Endosc. 2013;27:3197–204.

Aarts E, van Wageningen B, Loves S, et al. Gonadal status and outcome of bariatric surgery in obese men. Clin Endocrinol. 2014;81:378–86.

Mihalca R, Copăescu C, Sirbu A, et al. Laparoscopic sleeve gastrectomy improves reproductive hormone levels in morbidly obese males -- a series of 28 cases. Chirurgia (Bucur). 2014;109:198–203.

Samavat J, Facchiano E, Lucchese M, et al. Hypogonadism as an additional indication for bariatric surgery in male morbid obesity? Eur J Endocrinol. 2014;171:555–60.

Samavat J, Facchiano E, Cantini G, et al. Osteocalcin increase after bariatric surgery predicts androgen recovery in hypogonadal obese males. Int J Obes. 2014;38:357–63.

Legro RS, Kunselman AR, Meadows JW, et al. Time-related increase in urinary testosterone levels and stable semen analysis parameters after bariatric surgery in men. Reprod Biomed Online NIH Public Access. 2015;30:150–6.

Bekaert M, Van Nieuwenhove Y, Calders P, et al. Determinants of testosterone levels in human male obesity. Endocrine. 2015;50:202–11.

Kun L, Pin Z, Jianzhong D, et al. Significant improvement of erectile function after Roux-en-Y gastric bypass surgery in obese Chinese men with erectile dysfunction. Obes Surg. 2015;25:838–44.

Boonchaya-anant P, Laichuthai N, Suwannasrisuk P, et al. Changes in testosterone levels and sex hormone-binding globulin levels in extremely obese men after bariatric surgery. Int J Endocrinol. 2016;2016:1–5.

El Bardisi H, Majzoub A, Arafa M, et al. Effect of bariatric surgery on semen parameters and sex hormone concentrations: a prospective study. Reprod BioMed Online. 2016;33:606–11.

Gao J, Zhang M, Zhu C, et al. The change in the percent of android and gynoid fat mass correlated with increased testosterone after laparoscopic sleeve gastrectomy in Chinese obese men: a 6-month follow-up. Obes Surg. 2018;28:1960–5.

Liu F, Tu Y, Zhang P, et al. Decreased visceral fat area correlates with improved total testosterone levels after Roux-en-Y gastric bypass in obese Chinese males with type 2 diabetes: a 12-month follow-up. Surg Obes Relat Dis. 2018;14:462–8.

Pham NH, Bena J, Bhatt DL, et al. Increased free testosterone levels in men with uncontrolled type 2 diabetes five years after randomization to bariatric surgery. Obes Surg. 2018;28:277–80.

Samavat J, Cantini G, Lotti F, et al. Massive weight loss obtained by bariatric surgery affects semen quality in morbid male obesity: a preliminary prospective double-armed study. Obes Surg. 2018;28:69–76.

Dallal RM, Chernoff A, O'Leary MP, et al. Sexual dysfunction is common in the morbidly obese male and improves after gastric bypass surgery. J Am Coll Surg. 2008;207:859–64.

Aftab SS, Kumar S, Barber T. The role of obesity and type 2 diabetes mellitus in the development of male obesity-associated secondary hypogonadism. Clin Endocrinol (Oxf). 2012.

de Boer H, Verschoor L, Ruinemans-Koerts J, et al. Letrozole normalizes serum testosterone in severely obese men with hypogonadotropic hypogonadism. Diabetes Obes Metab. 2005;7:211–5.

Akingbemi BT. Estrogen regulation of testicular function. Reprod Biol Endocrinol. 2005;3:51.

Cabler S, Agarwal A, Flint M, Du Plessis SS. Obesity: modern man's fertility nemesis. Asian J Androl. 2010;480–9.

Zirkin BR, Chen H. Regulation of Leydig cell steroidogenic function during Aging1. Biol Reprod Oxford University Press. 2000;63:977–81.

Fraczek M, Kurpisz M. Inflammatory mediators exert toxic effects of oxidative stress on human spermatozoa. J Androl Wiley-Blackwell. 2006;28:325–33.

Banks WA, DiPalma CR, Farrell CL. Impaired transport of leptin across the blood-brain barrier in obesity. Peptides. 1999;20:1341–5.

Caprio M, Isidori AM, Carta AR, et al. Expression of functional leptin receptors in rodent Leydig cells. Endocrinology. 1999;140:4939–47.

Handisurya A, Riedl M, Vila G, et al. Serum vaspin concentrations in relation to insulin sensitivity following RYGB-induced weight loss. Obes Surg. 2010;20:198–203.

Buggs C, Weinberg F, Kim E, et al. Insulin augments GnRH-stimulated LHβ gene expression by Egr-1. Mol Cell Endocrinol. 2006;249:99–106.

Sullivan ME, Thompson CS, Dashwood MR, Khan MA, Jeremy JY, Morgan RJ, et al. Nitric oxide and penile erection: is erectile dysfunction another manifestation of vascular disease? Cardiovasc Res. 1999;658–65.

Wang C, Jackson G, Jones TH, Matsumoto AM, Nehra A, Perelman MA, et al. Low testosterone associated with obesity and the metabolic syndrome contributes to sexual dysfunction and cardiovascular disease risk in men with type 2 diabetes. Diabetes Care. 2011;1669–75.

Dhindsa S, Miller MG, McWhirter CL, et al. Testosterone concentrations in diabetic and nondiabetic obese men. Diabetes Care. 2010;33:1186–92.

Sermondade N, Massin N, Boitrelle F, et al. Sperm parameters and male fertility after bariatric surgery: three case series. Reprod BioMed Online. 2012;24:206–10.

Bloomberg RD, Fleishman A, Nalle JE, et al. Nutritional deficiencies following bariatric surgery: what have we learned? Obes Surg Springer-Verlag. 2005;15:145–54.

Coupaye M, Puchaux K, Bogard C, et al. Nutritional consequences of adjustable gastric banding and gastric bypass: a 1-year prospective study 290. Obes Surg. 2009;19:56–65.

Bavaresco M, Paganini S, Lima TP, et al. Nutritional course of patients submitted to bariatric surgery. Obes Surg. 2010;20:716–21.

Poitou Bernert C, Ciangura C, Coupaye M, et al. Nutritional deficiency after gastric bypass: diagnosis, prevention and treatment. Diabetes Metab. 2007;33:13–24.

Magnusdottir EV, Thorsteinsson T, Thorsteinsdottir S, et al. Persistent organochlorines, sedentary occupation, obesity and human male subfertility. Hum Reprod. 2005;20:208–15.

Wen J-P, Wen L-Y, Zhao Y-J, et al. Effect of bariatric surgery on sexual function and sex hormone levels in obese patients: a meta-analysis. J Endocr Soc Oxford University Press. 2018;2:117–32.

Mong JA, Cusmano DM, Mong J, et al. Sex differences in sleep: impact of biological sex and sex steroids. Philos Trans R Soc Lond Ser B Biol Sci. 2016;371:20150110.

Morley JE, Kaiser FE, Perry HM, et al. Longitudinal changes in testosterone, luteinizing hormone, and follicle-stimulating hormone in healthy older men. Metabolism. 1997;46:410–3.

Sharma R, Biedenharn KR, Fedor JM, et al. Lifestyle factors and reproductive health: taking control of your fertility. Reprod Biol Endocrinol. 2013;11:66.
Ethics declarations
Conflict of Interest
The authors declare that they have no conflict of interest.
Ethical Approval Statement
For this type of study formal consent is not required.
Informed Consent Statement
Does not apply.
Electronic supplementary material
About this article
Cite this article
Lee, Y., Dang, J.T., Switzer, N. et al. Impact of Bariatric Surgery on Male Sex Hormones and Sperm Quality: a Systematic Review and Meta-Analysis. OBES SURG 29, 334–346 (2019). https://doi.org/10.1007/s11695-018-3557-5
Published:

Issue Date:

DOI: https://doi.org/10.1007/s11695-018-3557-5
Keywords