Abstract
Introduction
A multimodal pain treatment including local anesthetics is advised for perioperative analgesia in bariatric surgery. Due to obesity, bariatric surgery patients are at risk of respiratory complications. Opioid consumption is an important risk factor for hypoventilation. Furthermore, acute postoperative pain is an important risk factor for chronic postsurgical pain. In this study, we aimed to evaluate whether preperitoneal anesthesia with bupivacaine would reduce pain and opioid consumption after bariatric surgery.
Methods
One hundred adults undergoing laparoscopic bariatric surgery were randomized to receive either preperitoneal bupivacaine 0.5% or normal saline before incision. Postoperative opioid consumption, postoperative pain, and postoperative recovery parameters were assessed for the first 24 h after surgery. One year after surgery, chronic postsurgical pain and influence of pain on daily living were evaluated.
Results
Postoperative opioid consumption during the first hour after surgery was 2.8 ± 3.0 mg in the bupivacaine group, whereas in the control group, it was 4.4 ± 3.4 mg (p = 0.01). Pain scores were significantly reduced in this first hour at rest and at 6 h during mobilization on the ward. One year after surgery, the incidence of chronic postsurgical pain was 13% in the bupivacaine group versus 40% in the placebo group.
Conclusion
This study shows that preperitoneal local anesthesia with bupivacaine results in a reduction in opioid consumption and postoperative pain and seems to lower the incidence rate of chronic postsurgical pain after laparoscopic bariatric surgery.
Access options
Buy single article
Instant access to the full article PDF.
US$ 39.95
Tax calculation will be finalised during checkout.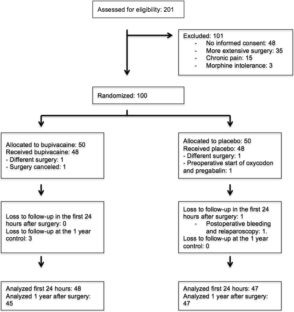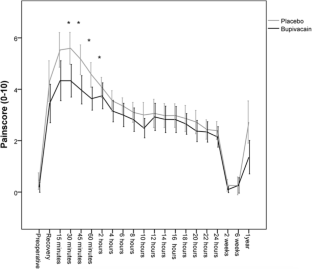 References
1.

Haslam DW, James WP. Obesity. Lancet. 2005;366(9492):1197–209.

2.

Bergland A, Gislason H, Raeder J. Fast-track surgery for bariatric laparoscopic gastric bypass with focus on anaesthesia and peri-operative care. Experience with 500 cases. Acta Anaesthesiol Scand. 2008 Nov;52(10):1394–9.

3.

Guth ES, Murali S. Revisiting your diet after weight loss surgery. JAMA. 2017;317(10):1090.

4.

Slomski A. Bariatric surgery has durable effects in controlling diabetes. JAMA. 2017;317(16):1615.

5.

Dogan K, Kraaij L, Aarts EO, et al. Fast-track bariatric surgery improves perioperative care and logistics compared to conventional care. Obes Surg. 2015 Jan;25(1):28–35.

6.

Ogunnaike BO, Jones SB, Jones DB, et al. Anesthetic considerations for bariatric surgery. Anesth Analg. 2002 Dec;95(6):1793–805.

7.

Cabrera Schulmeyer MC, de la Maza J, Ovalle C, et al. Analgesic effects of a single preoperative dose of pregabalin after laparoscopic sleeve gastrectomy. Obes Surg. 2010 Dec;20(12):1678–81.

8.

Schumann R. Anaesthesia for bariatric surgery. Best Pract Res Clin Anaesthesiol. 2011;25(1):83–93. Review

9.

O'Neill T, Allam J. Anaesthetic considerations and management of the obese patient presenting for bariatric surgery. 2010 21(1): 16–23.

10.

Bamgbade OA, Oluwole O, Khaw RR. Perioperative analgesia for fast-track laparoscopic bariatric surgery. Obes Surg. 2017 Jan 24;27:1828–34.

11.

Hoofwijk DM, Fiddelers AA, Peters ML, et al. Prevalence and predictive factors of chronic postsurgical pain and poor global recovery 1 year after outpatient surgery. Clin J Pain. 2015 Dec;31(12):1017–25.

12.

Fletcher D, Stamer UM, Pogatzki-Zahn E, et al. Chronic postsurgical pain in Europe: an observational study. Eur J Anaesthesiol. 2015;32(10):725–34.

13.

Parsons B, Schaefer C, Mann R, et al. Economic and humanistic burden of post-trauma and post-surgical neuropathic pain among adults in the United States. J Pain Res. 2013 Jun 17;6:459–69.

14.

Andersen LP, Werner MU, Rosenberg J, et al. Analgesic treatment in laparoscopic gastric bypass surgery: a systematic review of randomized trials. Obes Surg. 2014;24(3):462–70.

15.

Schulz KF, Altman DG, Moher D. CONSORT 2010 statement: updated guidelines for reporting parallel group randomised trials. BMC Med. 2010;8(1):18.

16.

Dempsey JA, Veasey SC, Morgan BJ, et al. Pathophysiology of sleep apnea. Physiol Rev. 2010;90(1):47–112.

17.

Cottam DR, Fisher B, Atkinson J, et al. A randomized trial of bupivicaine pain pumps to eliminate the need for patient controlled analgesia pumps in primary laparoscopic Roux-en-Y gastric bypass. Obes Surg. 2007 May;17(5):595–600.

18.

Symons JL, Kemmeter PR, Davis AT, et al. A double-blinded, prospective randomized controlled trial of intraperitoneal bupivacaine in laparoscopic Roux-en-Y gastric bypass. J Am Coll Surg. 2007;204(3):392–8.

19.

Alkhamesi NA, Kane JM, Guske PJ, et al. Intraperitoneal aerosolization of bupivacaine is a safe and effective method in controlling postoperative pain in laparoscopic Roux-en-Y gastric bypass. J Pain Res. 2008 Dec 1;1:9–13.

20.

Albrecht E, Kirkham KR, Endersby RV, et al. Ultrasound-guided transversus abdominis plane (TAP) block for laparoscopic gastric-bypass surgery: a prospective randomized controlled double-blinded trial. Obes Surg. 2013 Aug;23(8):1309–14.

21.

Sinha A, Jayaraman L, Punhani D. Efficacy of ultrasound-guided transversus abdominis plane block after laparoscopic bariatric surgery: a double blind, randomized, controlled study. Obes Surg. 2013 Apr;23(4):548–53.

22.

Fustran N, Dalmau A, Ferreres E, et al. Postoperative analgesia with continuous wound infusion of local anaesthesia vs saline: a double-blind randomized, controlled trial in colorectal surgery. Color Dis. 2015 Apr;17(4):342–50.

23.

Pavlidis TE, Atmatzidis KS, Papaziogas BT, et al. The effect of preincisional periportal infiltration with ropivacaine in pain relief after laparoscopic procedures: a prospective, randomized controlled trial. JSLS. 2003 Oct-Dec;7(4):305–10.

24.

Moncada R, Martinaitis L, Landecho M, et al. Does preincisional infiltration with bupivacaine reduce postoperative pain in laparoscopic bariatric surgery? Obes Surg. 2016 Feb;26(2):282–8.

25.

Ruiz-Tovar J, Muñoz JL, Gonzalez J, et al. Postoperative pain after laparoscopic sleeve gastrectomy: comparison of three analgesic schemes (isolated intravenous analgesia, epidural analgesia associated with intravenous analgesia and port-sites infiltration with bupivacaine associated with intravenous analgesia). Surg Endosc. 2017 Jan;31(1):231–6.

26.

Madan AK, Ternovits CA, Speck KE, et al. Inpatient pain medication requirements after laparoscopic gastric bypass. Obes Surg. 2005 Jun-Jul;15(6):778–81.

27.

Macrae WA. Chronic post-surgical pain: 10 years on. Br J Anaesth. 2008 Jul;101(1):77–86.

28.

Høgestøl IK, Chahal-Kummen M, Eribe I, et al. Chronic abdominal pain and symptoms 5 years after gastric bypass for morbid obesity. Obes Surg. 2017 Jun;27(6):1438–45.
Acknowledgements
We thank our colleagues from the Department of Anesthesia and Surgery for their assistance in carrying out this study. We thank Bram Maatman for assisting us in obtaining the 1-year results of our study. We thank Lian Roovers for helping with the statistical analysis of this study.
Ethics declarations
This manuscript adheres to the CONSORT guidelines [15]. This trial has been registered in the European Clinical Trials Database, number 2012-002618-38 and has been approved by both the national and local ethics committee (NL40740.091.12).
Conflict of Interest
The authors declare that they have no conflict of interest.
Ethical Statement
All procedures performed in studies involving human participants were in accordance with the ethical standards of the institutional and national research committee and with the 1964 Helsinki declaration and its later amendments or comparable ethical standards.
Consent Statement
Informed consent was obtained from all individual participants included in the study.
Additional information
Institutional Review Board
CMO Arnhem-Nijmegen, p/a Radboudumc, huispost 628, Postbus 9101, 6500 HB Nijmegen, the Netherlands. Phone: +31 24 3613154
About this article
Cite this article
Boerboom, S.L., de Haes, A., vd Wetering, L. et al. Preperitoneal Bupivacaine Infiltration Reduces Postoperative Opioid Consumption, Acute Pain, and Chronic Postsurgical Pain After Bariatric Surgery: a Randomized Controlled Trial. OBES SURG 28, 3102–3110 (2018). https://doi.org/10.1007/s11695-018-3341-6
Keywords
Local anesthesia

Bupivacaine

Gastric bypass surgery

Postoperative pain

Chronic pain

Acute pain