Abstract
Cerebral cortical thickness is associated with memory and intelligence test scores and serves as a measure for changes in cortical gray matter. Previous studies suggest reduced cortical thickness in patients with obesity. This study aimed to investigate changes in cortical thickness following bariatric surgery. Magnetic resonance imaging (MRI) data of five patients were analyzed preoperatively and 6 months postoperatively to assess changes in global measures of cortical thickness. No patients were lost to follow-up. This study provides preliminary evidence of brain change following surgery, suggests increases in cerebral cortical thickness in patients with greater excess weight loss, and indicates the need for further investigation using larger samples and correlation with neurocognitive measures, such as memory recall.
Access options
Buy single article
Instant access to the full article PDF.
US$ 39.95
Tax calculation will be finalised during checkout.
Subscribe to journal
Immediate online access to all issues from 2019. Subscription will auto renew annually.
US$ 79
Tax calculation will be finalised during checkout.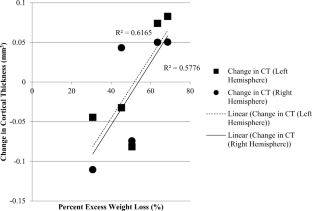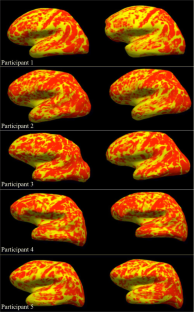 References
1.

Gunstad J, Paul RH, Cohen RA, et al. Relationship between body mass index and brain volume in healthy adults. Int J Neurosci. 2008;118(11):1582–93. https://doi.org/10.1080/00207450701392282.

2.

Hawkins MAW, Alosco ML, Spitznagel MB, et al. The association between reduced inflammation and cognitive gains after bariatric surgery. Psychosom Med. 2015;77(6):688–96. https://doi.org/10.1097/PSY.0000000000000125.

3.

Stillman CM, Weinstein AM, Marsland AL, et al. Body-brain connections: the effects of obesity and behavioral interventions on neurocognitive aging. Front Aging Neurosci. 2017;9:115. https://doi.org/10.3389/fnagi.2017.00115. eCollection 2017. Review

4.

Spitznagel MB, Hawkins M, Alosco M, et al. Neurocognitive effects of obesity and bariatric surgery. Eur Eat Disord Rev. 2015;23(6):488–95. https://doi.org/10.1002/erv.2393. Review.

5.

Shalev D, Arbuckle MR. Metabolism and memory: obesity, diabetes, and dementia. Biol Psychiatry. 2017;82(11):e81–3. https://doi.org/10.1016/j.biopsych.2017.09.025.

6.

Marqués-Iturria I, Pueyo R, Garolera M, et al. Frontal cortical thinning and subcortical volume reductions in early adulthood obesity. Psychiatry Res. 2013;214(2):109–15. https://doi.org/10.1016/j.pscychresns.2013.06.004.

7.

Veit R, Kullmann S, Heni M, et al. Reduced cortical thickness associated with visceral fat and BMI. Neuroimage Clin. 2014;6:307–11. https://doi.org/10.1016/j.nicl.2014.09.013. eCollection 2014.

8.

Thiara G, Cigliobianco M, Muravsky A, et al. Evidence for neurocognitive improvement after bariatric surgery: a systematic review. Psychosomatics. 2017;58(3):217–27. https://doi.org/10.1016/j.psym.2017.02.004. Review

9.

Pereira JB, Ibarretxe-Bilbao N, Marti MJ, et al. Assessment of cortical degeneration in patients with Parkinson's disease by voxel-based morphometry, cortical folding, and cortical thickness. Hum Brain Mapp. 2012;33(11):2521–34. https://doi.org/10.1002/hbm.21378.

10.

Narr KL, Woods RP, Thompson PM, et al. Relationships between IQ and regional cortical gray matter thickness in healthy adults. Cereb Cortex. 2007;17(9):2163–71.

11.

Walhovd KB, Fjell AM, Dale AM, et al. Regional cortical thickness matters in recall after months more than minutes. NeuroImage. 2006;31(3):1343–51.

12.

Bernardoni F, King JA, Geisler D, et al. Weight restoration therapy rapidly reverses cortical thinning in anorexia nervosa: a longitudinal study. NeuroImage. 2016;130:214–22. https://doi.org/10.1016/j.neuroimage.2016.02.003.

13.

King JA, Geisler D, Ritschel F, et al. Global cortical thinning in acute anorexia nervosa normalizes following long-term weight restoration. Biol Psychiatry. 2015;77(7):624–32. https://doi.org/10.1016/j.biopsych.2014.09.005.

14.

Fischl B. FreeSurfer. NeuroImage. 2012;62(2):774–81. https://doi.org/10.1016/j.neuroimage.2012.01.021. Review.

15.

Alosco ML, Spitznagel MB, Strain G, et al. Improved memory function two years after bariatric surgery. Obesity (Silver Spring). 2014;22(1):32–8. https://doi.org/10.1002/oby.20494.

16.

Fischl B, Dale AM. Measuring the thickness of the human cerebral cortex from magnetic resonance images. Proc Natl Acad Sci U S A. 2000;97(20):11050–5.
Ethics declarations
Approval for this study was provided by Stanford University's Institutional Review Board, and participants completed written, informed consent.
Conflict of Interest
The authors declare that they have no conflict of interest.
About this article
Cite this article
Bohon, C., Garcia, L.C. & Morton, J.M. Changes in Cerebral Cortical Thickness Related to Weight Loss Following Bariatric Surgery. OBES SURG 28, 2578–2582 (2018). https://doi.org/10.1007/s11695-018-3317-6
Keywords
Bariatric surgery

Obesity

Weight loss

Cortical thickness