Abstract
Background
Smoking cessation had been typically associated with weight gain. We have reported that there is no relationship between tobacco use and weight loss after bariatric surgery in the short term. The objective of this study was to establish the relationship between weight loss and the smoking habit in patients undergoing bariatric surgery and to analyze weight loss on severe smokers and on those patients who stopped smoking during the long-term postoperative period.
Methods
One hundred eighty-four patients included in our previous study were contacted by phone at 7 years after sleeve gastrectomy. They were again divided into three groups: (A) smokers, (B) ex-smokers, and (C) non-smokers. Demographics and weight loss at 6, 12, 24, and 7 years were analyzed. Smokers were subdivided for further analysis into the following: group A1: heavy smokers, group A2: non-heavy smokers, group A3: active smokers after surgery, and group A4: quitters after surgery. Student test was used for statistics.
Results
One hundred two patients were included. The follow-up was 80.74 ± 7.25 month. Group A: 29 patients, group B: 34 patients, and group C: 39 patients. Mean BMI was 34.35 ± 8.44 kg/m2 and the %EWL was 56.95 ± 27. The subgroup analysis showed the following composition: group A1: 6 patients, group A2: 23 patients, group A3: 23 patients, and group A4: 6 patients. Weight loss difference among groups and subgroups was statistically non-significant.
Conclusions
This study reaffirms the hypothesis that weight loss among bariatric patients is independent from smoking habit even at long-term follow-up and regardless from cessation.
Access options
Buy single article
Instant access to the full article PDF.
USD 39.95
Price excludes VAT (USA)
Tax calculation will be finalised during checkout.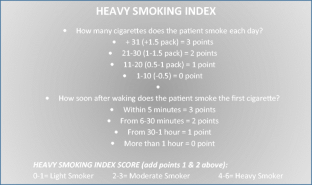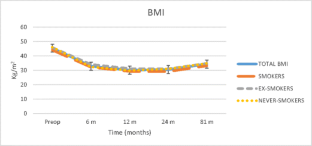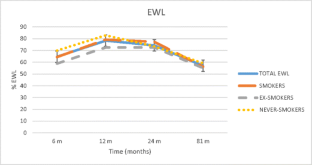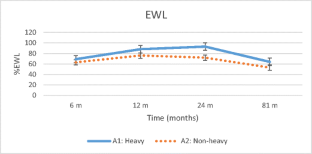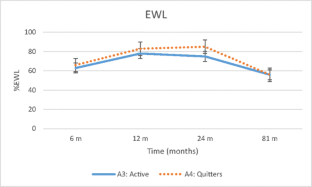 References
Burden of tobacco in the US centers for disease control and prevention website: http://www.cdc.gov/tobacco/campaign/tips/resources/data/cigarette-smoking-in-united-states.html. Updated May 2016. Accessed October 2016.

Wee CC, Phillips RS, Legedza ATR, et al. Heath care expenditures associated with overweight and obesity among US adults: importance of age and race. Am J Public Health. 2005;95:159–65.

Picot J, Jones J, Colquitt JL, et al. The clinical effectiveness and cost-effectiveness of bariatric (weight loss) surgery for obesity: a systematic review and economic evaluation. Health Technol Assess. 2009;13(41):1–190.

Livhits M, Mercado C, Yermilov I, et al. Preoperative predictors of weight loss following bariatric surgery: systematic review. Obes Surg. 2012;22(1):70–89. https://doi.org/10.1007/s11695-011-0472-4.

Williamson D, Madans J, Anda R. Smoking cessation and severity of weight gain in a national cohort. N Engl J Med. 1991;324:739–45.

Organización Panamericana de la Salud. La estrategia de cooperación de la OPS/OMS con Argentina 2017-2021. Buenos Aires: OPS; 2017. Available: http://iris.paho.org/xmlui/bitstream/handle/123456789/34360/OPSARG17023_spa.pdf?sequence=5&isAllowed=y

Moser F, Signorini F, Maldonado P, et al. Relationship between tobacco use and weight loss after bariatric surgery. Obes Surg. 2015;26:1777–81. https://doi.org/10.1007/s11695-015-2000-4.

Chabrol H, Niezborala M, Chastan E, et al. Comparison of the heavy smoking index and of the Fagerstrom test for nicotine dependence in a sample of 749 cigarette smokers. Addict Behav. 2005;30(7):1474–7.

Chatkin R, Mottin C, Chatkin J. Smoking among morbidly obese patients. BMC Pulm Med. 2010;10:61.

Kazdin AE. Symptom substitution, generalization, and response covariation: implications for psychotherapy outcome. Psychol Bull. 1982;91(2):349–65.

Bak M, Simpson S, Darling R. The potential for cross-addiction in post-bariatric surgery patients: considerations for primary care nurse practitioners. J Am Assoc Nurs Pract. 2016;28:675–82. https://doi.org/10.1002/2327-6924.12390.

Hindle A, García X, Brennan L. Early post-operative psychosocial and weight predictors of later outcome in bariatric surgery: a systematic literature review. Obes Rev. 2017;2016:317–34. https://doi.org/10.1111/obr.12496.

Atilla N, Arpag H, Bozkus F, et al. Can we predict the perioperative pulmonary complications before laparoscopic sleeve gastrectomy: original research. Obes Surg. 2017;27:1524–8. https://doi.org/10.1007/s11695-016-2522-4.

LaMasters T. Comment on: should recent smoking be a contraindication for sleeve gastrectomy? Surg Obes Relat Dis. 2017;13:1136–7. https://doi.org/10.1016/j.soard.2017.03.029.

Lent MR, Hayes SM, Wood GC, et al. Smoking and alcohol use in gastric bypass patients. Eat Behav. 2013;14(4):460–3.

Conason A, Teixeira J, Hsu CH, et al. Substance use following bariatric weight loss surgery. JAMA Surg. 2013;148(2):145–50.

Adams C, Gabriele J, Baillie L, et al. Tobacco use and substance use disordersas predictorsof postoperative weigh loss 2 years after bariatric surgery. J Behav Heath Serv Res. 2012;39(4):462–71.

Maniscalco M, Carratú P, Faraone S, et al. Smoking habit in severe obese after bariatric procedures. Tob Induc Dis. 2015;13:20.

Merrill RM, Richardson JS. Validity of self-reported height, weight, and body mass index: findings from the National Health and Nutrition Examination Survey, 2001-2006. Prev Chronic Dis. 2009;6(4):A121.

Lores Obradors L, Monsó Molas E, Rosell Gratacós A, et al. Do patients lie about smoking during follow-up in the respiratory medicine clinic? Arch Bronconeumol. 1999;35(5):219–22.

Christian N, King W, Yanovski S, et al. Validity of self-reported weights following bariatric surgery. JAMA. 2013. December 11;310(22):2454–6. https://doi.org/10.1001/jama.2013.281043.

Diamantis T, Apostolou K, Alexandrou A, et al. Review of long-term weight loss results after laparoscopic sleeve gastrectomy. Surg Obes Relat Dis. 2014;10(1):177–83.

Hirth D, Jones E, Rothchild K, et al. Laparoscopic sleeve gastrectomy: long-term weight loss outcomes. Surg Obes Relat Dis. 2015;11(5):1004–7.
Ethics declarations
For this type of study, formal consent is not required.
Conflict of Interest
The authors declare that they have no competing interests.
Informed Consent
Does not apply.
About this article
Cite this article
Signorini, F.J., Polero, V., Viscido, G. et al. Long-Term Relationship Between Tobacco Use and Weight Loss after Sleeve Gastrectomy. OBES SURG 28, 2644–2649 (2018). https://doi.org/10.1007/s11695-018-3217-9
Published:

Issue Date:

DOI: https://doi.org/10.1007/s11695-018-3217-9
Keywords
Smoking

Tobacco

Sleeve gastrectomy

Sleeve

Bariatric

Weight loss

Smoking habits

Substance abuse