Abstract
Background
Body contouring surgery after massive weight loss was shown to ameliorate the patient's quality of life and to enhance physical and psychological well-being. However, numerous patients are still obese when presenting for body contouring surgery, not able to lose additional weight for various reasons. Data regarding general feasibility, outcome, and postoperative complications in obese patients is rare. The aim of this study was to investigate the outcome in body contouring procedures in obese patients.
Methods
A retrospective chart review of 65 cases in 42 patients was performed. Patients with a body mass index (BMI) > 35 kg/m2 at the time of operation were enrolled and all different types of body contouring surgery were included. Complications were classified as major (need for surgical intervention) and minor complications.
Results
The median BMI of all patients was 38 kg/m2 (range 35.1–65.1 kg/m2). The majority of performed types of body contouring was abdominal body contouring (panniculectomy n = 27 (42%), abdominoplasty n = 12 (18%)). Complications occurred in 27 cases (41.5%). Twenty-one cases (32.3%) were classified as minor complications, six (9.2%) as major complications. The most common major complications were hematoma and wound dehiscence; the most common minor complication was seroma.
Conclusion
A reasonable risk for complications is well known in body contouring surgery especially in obese patients. It is imperative to discuss related risks and expected results. Taking several points into account concerning the perioperative management, reduction of major complications is possible even in still obese patients, making body contouring surgery a discussible option.
This is a preview of subscription content, log in to check access.
Access options
Buy single article
Instant access to the full article PDF.
US$ 39.95
Price includes VAT for USA
Subscribe to journal
Immediate online access to all issues from 2019. Subscription will auto renew annually.
US$ 99
This is the net price. Taxes to be calculated in checkout.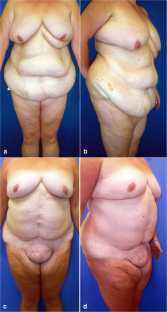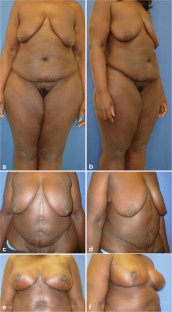 References
1.

NCD Risk Factor Collaboration (NCD-RisC). Trends in adult body-mass index in 200 countries from 1975 to 2014: a pooled analysis of 1698 population-based measurement studies with 19.2 million participants. Lancet. 2016; 87(10026):1377–96.

2.

Lauby-Secretan B, Scoccianti C, Loomis D, et al. Body fatness and cancer—viewpoint of the IARC Working Group. N Engl J Med. 2016;375(8):794–8.

3.

Lementowski PW, Zelicof SB. Obesity and osteoarthritis. Am J Orthop (Belle Mead, NJ). 2008;37(3):148–51.

4.

Colquitt JL, Pickett K, Loveman E, et al. Surgery for weight loss in adults. Cochrane Database Syst Rev. 2014;8(8):Cd003641.

5.

van der Beek ES, Te Riele W, Specken TF, et al. The impact of reconstructive procedures following bariatric surgery on patient well-being and quality of life. Obes Surg. 2010;20(1):36–41.

6.

Song AY, Rubin JP, Thomas V, et al. Body image and quality of life in post massive weight loss body contouring patients. Obesity (Silver Spring, MD). 2006;14(9):1626–36.

7.

Modarressi A, Balague N, Huber O, et al. Plastic surgery after gastric bypass improves long-term quality of life. Obes Surg. 2013;23(1):24–30.

8.

Klassen AF, Cano SJ, Scott A, et al. Satisfaction and quality-of-life issues in body contouring surgery patients: a qualitative study. Obes Surg. 2012;22(10):1527–34.

9.

Kavalukas SL, Barbul A. Nutrition and wound healing: an update. Plast Reconstr Surg. 2011;127(Suppl 1):38s–43s.

10.

Pierpont YN, Dinh TP, Salas RE, et al. Obesity and surgical wound healing: a current review. ISRN Obes. 2014;2014:638936.

11.

Momeni A, Heier M, Bannasch H, et al. Complications in abdominoplasty: a risk factor analysis. J Plast Reconstr Aesthet Surg. 2009;62(10):1250–4.

12.

Dragu A, Schnurer S, Unglaub F, et al. Wide topical negative pressure wound dressing treatment for patients undergoing abdominal dermolipectomy following massive weight loss. Obes Surg. 2011;21(11):1781–6.

13.

Ludolph I, Fried FW, Kneppe K, et al. Negative pressure wound treatment with computer-controlled irrigation/instillation decreases bacterial load in contaminated wounds and facilitates wound closure. Int Wound J. 2018;15:978–84.

14.

Rogliani M, Silvi E, Labardi L, et al. Obese and nonobese patients: complications of abdominoplasty. Ann Plast Surg. 2006;57(3):336–8.

15.

Vastine VL, Morgan RF, Williams GS, et al. Wound complications of abdominoplasty in obese patients. Ann Plast Surg. 1999;42(1):34–9.

16.

Neaman KC, Hansen JE. Analysis of complications from abdominoplasty: a review of 206 cases at a university hospital. Ann Plast Surg. 2007;58(3):292–8.

17.

Arthurs ZM, Cuadrado D, Sohn V, et al. Post-bariatric panniculectomy: pre-panniculectomy body mass index impacts the complication profile. Am J Surg. 2007;193(5):567–70. discussion 70

18.

Ghnnam W, Elrahawy A, Moghazy ME. The effect of body mass index on outcome of abdominoplasty operations. World J Plast Surg. 2016;5(3):244–51.

19.

Troppmann C, Santhanakrishnan C, Kuo JH, et al. Impact of panniculectomy on transplant candidacy of obese patients with chronic kidney disease declined for kidney transplantation because of a high-risk abdominal panniculus: a pilot study. Surgery. 2016;159(6):1612–22.

20.

Bailey CM, Troppmann C, Kuo J, et al. Panniculectomy in end-stage renal disease: six-year experience of performing panniculectomy in preparation for renal transplant. Ann Plast Surg. 2015;74(Suppl 1):S9–11.

21.

Kuo JH, Troppmann C, Perez RV, et al. Panniculectomy in preparation for renal transplantation: a new indication for an old procedure to reduce renal transplantation-associated wound complications. Plast Reconstr Surg. 2011;128(6):1236–40.

22.

Zuelzer HB, Ratliff CR, Drake DB. Complications of abdominal contouring surgery in obese patients: current status. Ann Plast Surg. 2010;64(5):598–604.

23.

Mericli AF, Drake DB. Abdominal contouring in super obese patients: a single-surgeon review of 22 cases. Ann Plast Surg. 2011;66(5):523–7.

24.

Giordano S, Victorzon M, Stormi T, et al. Desire for body contouring surgery after bariatric surgery: do body mass index and weight loss matter? Aesthet Surg J. 2014;34(1):96–105.

25.

Evers Larsson U, Mattsson E. Functional limitations linked to high body mass index, age and current pain in obese women. Int J Obes Relat Metab Disord. 2001;25(6):893–9.

26.

Powell JL, Kasparek DK, Connor GP. Panniculectomy to facilitate gynecologic surgery in morbidly obese women. Obstet Gynecol. 1999;94(4):528–31.

27.

Pearl ML, Valea FA, Disilvestro PA, et al. Panniculectomy in morbidly obese gynecologic oncology patients. Int J Surg Investig. 2000;2(1):59–64.

28.

Rasmussen RW, Patibandla JR, Hopkins MP. Evaluation of indicated non-cosmetic panniculectomy at time of gynecologic surgery. Int J Gynaecol Obstet. 2017;138(2):207–11.

29.

Nemerofsky RB, Oliak DA, Capella JF. Body lift: an account of 200 consecutive cases in the massive weight loss patient. Plast Reconstr Surg. 2006;117(2):414–30.

30.

Coon D, Gusenoff JA, Kannan N, et al. Body mass and surgical complications in the postbariatric reconstructive patient: analysis of 511 cases. Ann Surg. 2009;249(3):397–401.

31.

Manahan MA, Shermak MA. Massive panniculectomy after massive weight loss. Plast Reconstr Surg. 2006;117(7):2191–7. discussion 8-9

32.

Dragu A, Horch RE. Concept of reconstructive body shaping in obesity. Evidence-based therapy algorithm. Chirurg. 2014;85(1):37–41. Plastische Korperkorrektur im Gesamtkonzept der Adipositastherapie. Evidenzbasierter Therapiealgorithmus ger

33.

Hillenbrand A, Henne-Bruns D, Wolf AM. Panniculus, giant hernias and surgical problems in patients with morbid obesity. GMS Interdiscip Plast Reconstr Surg DGPW. 2012;1:Doc05.

34.

Birgisson G, Park AE, Mastrangelo Jr MJ, et al. Obesity and laparoscopic repair of ventral hernias. Surg Endosc. 2001;15(12):1419–22.

35.

Tsereteli Z, Pryor BA, Heniford BT, et al. Laparoscopic ventral hernia repair (LVHR) in morbidly obese patients. Hernia. 2008;12(3):233–8.

36.

Novitsky YW, Cobb WS, Kercher KW, et al. Laparoscopic ventral hernia repair in obese patients: a new standard of care. Arch Surg. 2006;141(1):57–61.
Ethics declarations
Conflict of Interest
The authors declare that they have no conflict of interest.
Ethical Approval
For this type of study, formal consent is not required.
Additional information
Publisher's Note
Springer Nature remains neutral with regard to jurisdictional claims in published maps and institutional affiliations.
About this article
Cite this article
Hauck, T., Schmitz, M., Horch, R.E. et al. Operating on the Edge? Body Contouring Procedures in Patients with Body Mass Index Greater 35. OBES SURG 29, 1563–1570 (2019). https://doi.org/10.1007/s11695-018-03697-0
Keywords
Body contouring surgery

Bariatric surgery

Obesity

Complications