Abstract
Purpose
Non-alcoholic fatty liver disease (NAFLD) is present in up to 90% of bariatric surgery patients. Previous literature has demonstrated an improvement in liver steatosis and fibrosis in post-bariatric surgery patients. Our study aims to investigate if bariatric surgery results in an improvement in NAFLD fibrosis scores, and if this correlates with weight loss.
Methods
A retrospective study was conducted on all patients who underwent bariatric surgery from 2010 to 2016 in our institution. Patients who had a redo bariatric surgery or concomitant gastric pathologies were excluded. Indications for bariatric surgery followed the Asia-Pacific Metabolic and Bariatric Surgery Society guidelines.
Results
There were 192 patients in this study, with the majority being females (n = 120, 63%). Mean age was 42.7 ± 10.2 years old. Pre-operative mean weight and body mass index (BMI) were 113 ± 27.9 kg and 41.6 ± 7.98 kg/m2 respectively. The mean pre-operative NAFLD fibrosis score was − 1.27. Six-month and 1-year follow-up post-surgery demonstrated a decrease in mean weight to 90.6 and 85.9 kg and a decrease in mean BMI to 33.8 and 31.6 kg/m2. Mean NAFLD scores improved from − 1.27 to − 1.56 to − 2.00. The correlation between weight loss and NAFLD fibrosis score improvement was statistically significant at the first post-operative year (r-coefficient = 0.36, p value ≤ 0.001).
Conclusion
Bariatric surgery results in weight reduction as well as an improvement in the NAFLD fibrosis score. The degree of weight loss predicts the extent of improvement in NAFLD fibrosis scores. More long-term studies need to be conducted to assess if this effect is permanent.
This is a preview of subscription content, log in to check access.
Access options
Buy single article
Instant access to the full article PDF.
US$ 39.95
Price includes VAT for USA
Subscribe to journal
Immediate online access to all issues from 2019. Subscription will auto renew annually.
US$ 99
This is the net price. Taxes to be calculated in checkout.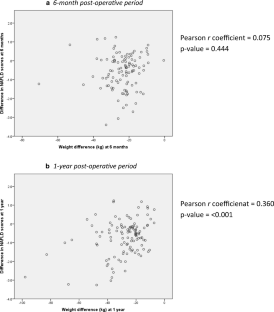 References
1.

Pillai AA, Rinella ME. Non-alcoholic fatty liver disease: is bariatric surgery the answer? Clinics in Liver Disease. 2009;13(4):689–710.

2.

Sasaki A, Nitta H, Otsuka K, et al. Bariatric surgery and non-alcoholic fatty liver disease: current and potential future treatments. Front Endocrinol. 2014;5:164.

3.

Kleiner DE, Makhlouf HR. Histology of NAFLD and NASH in adults and children. Clinics in liver disease. 2016;20(2):293–312.

4.

Musso G, Gambino R, Cassader M, et al. Meta-analysis: natural history of non-alcoholic fatty liver disease (NAFLD) and diagnostic accuracy of non-invasive tests for liver disease severity. Ann Med. 2011;43(8):617–49.

5.

Angulo P, Hui JM, Marchesini G, et al. The NAFLD fibrosis score: a noninvasive system that identifies liver fibrosis in patients with NAFLD. Hepatology. 2007;45:846–54.

6.

Browning JD, Szczepaniak LS, Dobbins R, et al. Prevalence of hepatic steatosis in an urban population in the United States: impact of ethnicity. Hepatology. 2004;40:1387–95.

7.

Ekstedt M, Franzén LE, Mathiesen UL, et al. Long-term follow-up of patients with NAFLD and elevated liver enzymes. Hepatology. 2006;44:865–73.

8.

Adams LA, Lymp JF, St Sauver J, et al. The natural history of nonalcoholic fatty liver disease: a population-based cohort study. Gastroenterology. 2005;129:113–21.

9.

Machado M, Marques-Vidal P, Cortez-Pinto H. Hepatic histology in obese patients undergoing bariatric surgery. J Hepatol. 2006;45(4):600–6.

10.

Cimini FA, Barchetta I, Carotti S, et al. Relationship between adipose tissue dysfunction, vitamin D deficiency and the pathogenesis of non-alcoholic fatty liver disease. World J Gastroenterol. 2017 May 21;23(19):3407–17.

11.

Oh MK, Winn J, Poordad F. Review article: diagnosis and treatment of non-alcoholic fatty liver disease. Aliment Pharmacol Ther. 2008;28:503–22.

12.

Nakano M, Murohisa T, Imai Y, et al. Validity of the NAFLD fibrosis score in a Japanese population. Nihon Shokakibyo Gakkai Zasshi. 2012;109:751–9.

13.

Treeprasertsuk S, Björnsson E, Enders F, et al. NAFLD fibrosis score: a prognostic predictor for mortality and liver complications among NAFLD patients. World J Gastroenterol. 2013;19(8):1219–29.

14.

Lassailly G, Caiazzo R, Pattou F, et al. Bariatric surgery for curing NASH in the morbidly obese. J Hepatol. 2013;58(6):1249–51.

15.

Mummadi RR, Kasturi KS, Chennareddygari S, et al. Effects of bariatric surgery on nonalcoholic fatty liver disease: systematic review and meta-analysis. Clin Gastroenterol Hepatol. 2008;6(12):1396–402.

16.

Gasteyger C, Larsen TM, Vercruysse F, et al. Effect of a dietary-induced weight loss on liver enzymes in obese subjects. Am J Clin Nutr. 2008;87(5):1141–7.

17.

Mathurin P, Hollebecque A, Amalsteen L, et al. Prospective study of the long-term effects of bariatric surgery on liver injury in patients without advanced disease. Gastroenterology. Aug 2009;137(2):532–40.

18.

Cazzo E, Jimenez LS, Pareja JC, et al. Effect of Roux-en-Y gastric bypass on non-alcoholic fatty liver disease evaluated through NAFLD fibrosis score: a prospective study. Obes Surg. 2015;25:982–5.

19.

Abangah G, Yousefi A, Asadollahi R, et al. Correlation of body mass index and serum parameters with ultrasonographic grade of fatty change in non-alcoholic fatty liver disease. Iran Red Cres Med J. 2014 January;16(1):e12669.

20.

Fassio E, Alvarez E, Dominguez N, et al. Natural history of non-alcoholic steatohepatitis: a longitudinal study of repeat liver biopsies. Hepatology. 2004;40(4):820–6.

21.

Nickel F, Tapking C, Benner L, et al. Bariatric surgery as an efficient treatment for non-alcoholic fatty liver disease in a prospective study with 1-year follow up. Obes Surg. 2017 Nov 9; https://doi.org/10.1007/s11695-017-3012-z.[Epubaheadofprint].

22.

Fischer L, Wekerle AL, Bruckner T, et al. BariSurg trial: sleeve gastrectomy versus Roux-en-Y gastric bypass in obese patients with BMI 35–60 kg/m2—a multi-centre randomized patient and observer blind non-inferiority trial. BMC Surg. 2015;15(1):87.
Ethics declarations
Conflict of Interest
The authors declare that they have no conflict of interest.
Informed Consent
For this type of study, formal consent is not required.
Additional information
Publisher's Note
Springer Nature remains neutral with regard to jurisdictional claims in published maps and institutional affiliations.
About this article
Cite this article
Yeo, S.C., Ong, W.M., Cheng, K.S.A. et al. Weight Loss After Bariatric Surgery Predicts an Improvement in the Non-alcoholic Fatty Liver Disease (NAFLD) Fibrosis Score. OBES SURG 29, 1295–1300 (2019). https://doi.org/10.1007/s11695-018-03676-5
Keywords
Bariatric surgery

Metabolic surgery

Weight loss

Non-alcoholic fatty liver disease

Liver fibrosis

NAFLD fibrosis score