Abstract
Background
Vitamin and mineral deficiencies are a major concern after biliopancreatic diversion (BPD) and BPD with duodenal switch (BPD/DS). Evidence-based guidelines how to prevent or how to treat deficiencies in these patients are currently lacking. The aim of the current study is to give an overview of postsurgical deficiencies and how to prevent and treat these deficiencies.
Methods
Retrospective evaluation of a 1-year structured monitoring and treatment schedule for various deficiencies in 34 patients after BPD or BPD/DS.
Results
Patients were introduced into the program 12–90 months after surgery. Vitamin B1, B6, B9, and B12 deficiencies could be prevented by mean daily doses of 2.75 mg, 980 μg, 600 μg, and 350 μg, respectively. However, many patients continued to develop deficiencies of vitamin A, D, iron, calcium, and zinc despite major dose adjustments. Current observations suggest that at least total daily doses of 200 mg Fe in premenopausal women and 100 mg in men, 100 mg of Zinc, 3000 mg of calcium, and weekly doses of at least 50,000 IU solubilized vitamin A and vitamin D are needed to prevent the occurrence of major deficiencies.
Conclusion
Exceptionally high supplementation doses are needed to prevent and treat vitamin and mineral deficiencies in patients after BPD or BPD/DS. Further refinement and simplification of treatment schedules is needed. Focus on improvement of compliance to treatment is recommended.
Access options
Buy single article
Instant access to the full article PDF.
US$ 39.95
Tax calculation will be finalised during checkout.
Subscribe to journal
Immediate online access to all issues from 2019. Subscription will auto renew annually.
US$ 79
Tax calculation will be finalised during checkout.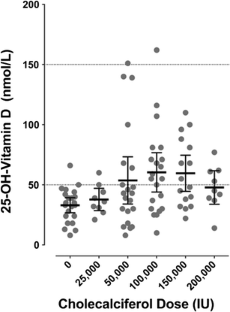 References
1.

Homan J, Betzel B, Aarts EO, et al. Vitamin and mineral deficiencies after biliopancreatic diversion and Biliopancreatic diversion with duodenal switch—the rule rather than the exception. Obes Surg. 2015;25(9):1626–32.

2.

Mechanick JI, Youdim A, Jones DB, et al. Clinical practice guidelines for the perioperative nutritional, metabolic, and nonsurgical support of the bariatric surgery patient—2013 update: cosponsored by American Association of Clinical Endocrinologists, the Obesity Society, and American Society for Metabolic & Bariatric Surgery. Surg Obes Relat Dis. 2013;9(2):159–91.

3.

Dolan K, Hatzifotis M, Newbury L, et al. A clinical and nutritional comparison of biliopancreatic diversion with and without duodenal switch. Ann Surg. 2004;240(1):51–6.

4.

Marceau P, Biron S, Hould FS, et al. Duodenal switch improved standard biliopancreatic diversion: a retrospective study. Surg Obes Relat Dis. 2009;5(1):43–7.

5.

Topart P, Becouarn G, Salle A, et al. Biliopancreatic diversion requires multiple vitamin and micronutrient adjustments within 2 years of surgery. Surg Obes Relat Dis. 2014;10(5):936–41.

6.

Nett P, Borbely Y, Kroll D. Micronutrient supplementation after biliopancreatic diversion with duodenal switch in the long term. Obes Surg. 2016;26(10):2469–79.

7.

Dogan K, Aarts EO, Koehestanie P, et al. Optimization of vitamin suppletion after roux-en-Y gastric bypass surgery can lower postoperative deficiencies: a randomized controlled trial. Medicine (Baltimore). 2014;93(25):e169.

8.

Haase H, Overbeck S, Rink L. Zinc supplementation for the treatment or prevention of disease: current status and future perspectives. Exp Gerontol. 2008;43(5):394–408.

9.

Prasad AS. Zinc: role in immunity, oxidative stress and chronic inflammation. Curr Opin Clin Nutr Metab Care. 2009;12(6):646–52.

10.

Ruz M, Carrasco F, Rojas P, et al. Zinc absorption and zinc status are reduced after roux-en-Y gastric bypass: a randomized study using 2 supplements. Am J Clin Nutr. 2011;94(4):1004–11.

11.

Tupe RP, Chiplonkar SA. Zinc supplementation improved cognitive performance and taste acuity in Indian adolescent girls. J Am Coll Nutr. 2009;28(4):388–96.

12.

Homan J, Ruinemans-Koerts J, Aarts EO, et al. Management of vitamin K deficiency after biliopancreatic diversion with or without duodenal switch. Surg Obes Relat Dis. 2016;12(2):338–44.

13.

Dalcanale L, Oliveira CP, Faintuch J, et al. Long-term nutritional outcome after gastric bypass. Obes Surg. 2010;20(2):181–7.

14.

Kumar P, Hamza N, Madhok B, et al. Copper deficiency after gastric bypass for morbid obesity: a systematic review. Obes Surg. 2016;26(6):1335–42.

15.

William JH, Danziger J. Magnesium deficiency and proton-pump inhibitor use: a clinical review. J Clin Pharmacol. 2016;56(6):660–8.
Ethics declarations
Funding
This study was not funded.
Conflict of Interest
IMCJ and FJB are consultants for FitForMe, manufacturers of WLS forte®, Rotterdam, the Netherlands. All other authors have nothing to declare.
About this article
Cite this article
Homan, J., Schijns, W., Aarts, E.O. et al. Treatment of Vitamin and Mineral Deficiencies After Biliopancreatic Diversion With or Without Duodenal Switch: a Major Challenge. OBES SURG 28, 234–241 (2018). https://doi.org/10.1007/s11695-017-2841-0
Keywords
BPD

BPD/DS

Vitamin and mineral deficiencies

Treatments